Peloton has announced a limited time offer on refurbished Bikes. From March 15 through April 24 customers can secure a refurbished Peloton Bike directly from Peloton for $1,045 plus $250 for delivery and set-up. This is $450 less than it would cost to purchase a new Bike.
Peloton has launched a new landing page with more information on the offer, and also sent out a marketing email:
Now's your chance to kick your goals into high gear with the refurbished Peloton Bike. For a limited time only, we're offering the chance to buy a refurbished Bike for $1,045 (plus $250 for delivery and setup).
We've refurbished each Peloton Bike, so it's ready to help you unlock your full potential. Offer is only for select areas and only while supplies last. Save today by chatting with a team member to confirm your offer eligibility by providing your zip code.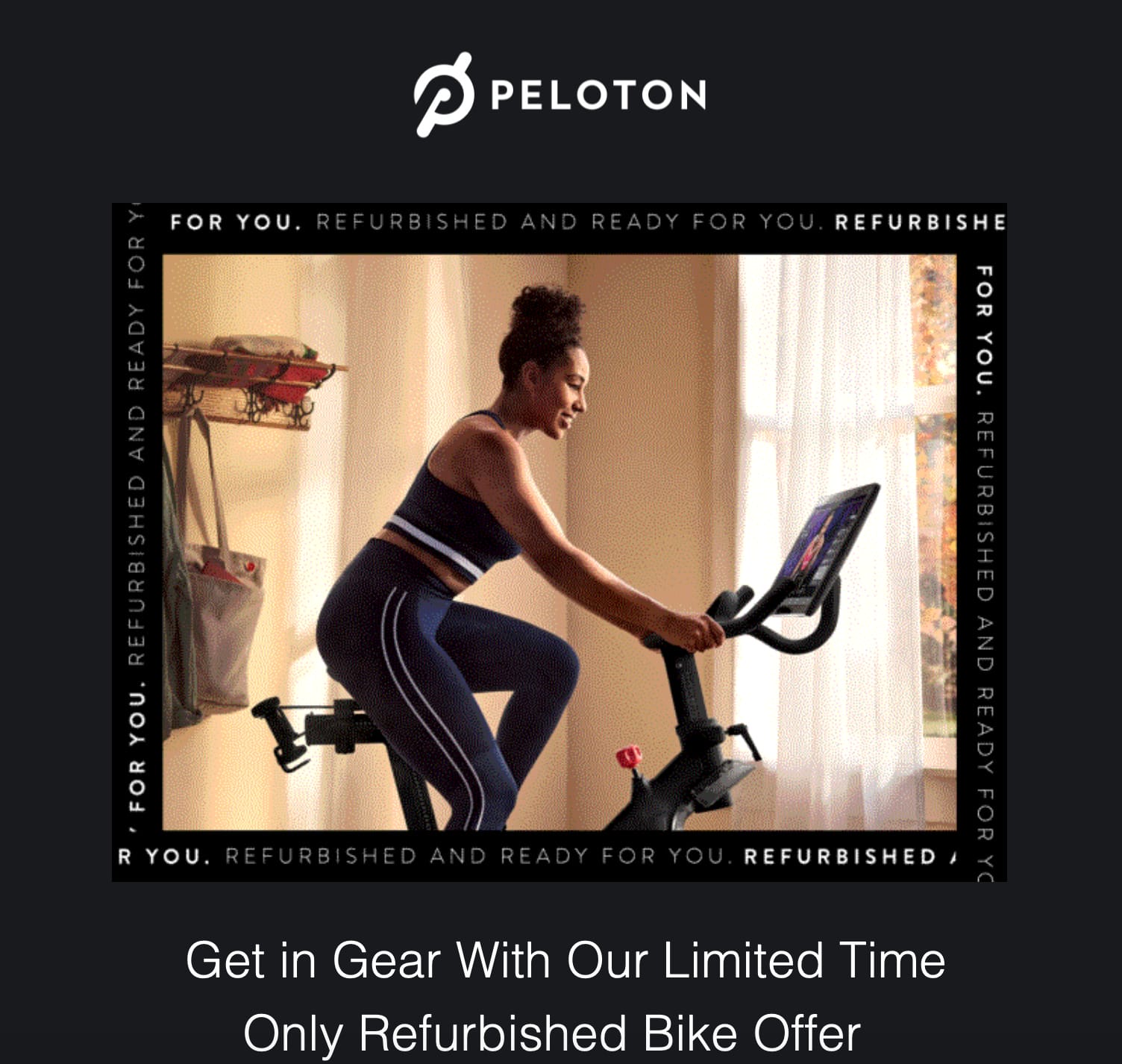 Refurbished Bikes are inspected, repaired, and tested to ensure the measure up to Peloton's product standards. Each refurbished Bike also comes with new pedals, and any defective parts have been replaced or repaired. Finally, Peloton offers the standard 12 month limited warranty that comes with all Peloton Bike purchases. The refurbished Bike will be delivered and set up like all other hardware.
As the email indicates, there are some details to note in the fine print of the offer:
The offer is subject to availability, delivery, and radius restrictions.
This offer is only available while supplies last.
All sales are final.
In order to determine your eligibility to purchase a refurbished Peloton Bike you must initiate a chat with Peloton Support via the landing page. The landing page states you should have "received an email invitation directly from Peloton"
Peloton has offered refurbished Bikes in the past, sometimes to Peloton App (digital-only) Members, other times to certain zip codes such as in New York City and Chicago. Peloton has previously floated the idea of eventually launching a certified pre-owned program, but has not yet been able to build up the inventory from trade-ins to launch a nationwide effort, until this offering.
If you're interested in other ways to purchase a previously-owned Peloton Bike, be sure to check out our Guide to Buying a Used Peloton Bike.
Peloton has other offers ongoing right now, including a "Treat Yourself, Treat Your Friends" offer for current members, and an extended 100 day at-home trial. Peloton also recently announced the One Peloton Club, which allows customers located within a 30 mile radius of selected showrooms to rent a Peloton Bike and cancel at any time.
You can visit https://www.onepeloton.com/refurbished for additional details regarding Peloton's latest refurbished Bike offer.
---
Want to be sure to never miss any Peloton news? Sign up for our newsletter and get all the latest Peloton updates & Peloton rumors sent directly to your inbox.