Following this morning's Wall Street Journal report, Peloton has made it official and announced the new products. Peloton has updated their home page showing off the new products and there is a new blog post as well. There is also a video going over some of the design changes of the new bike.
We'll detail all the news about the Bike+ and Tread below, and we also have a special episode of Pelo Buddy TV looking at the news if you prefer video format!
Wondering what's different in Peloton's new premium Bike+?
New 23.8″ rotating video screen
Improved Speakers
One-touch GymKit integration for Apple Watches
Auto-Follow digital resistance system (optional feature to automatically change resistance based on what instructors say)
Adjustment levers changed to knobs.
The cost of the new Peloton Bike+ will be $2,495 USD (£2,295 GBP/$3,295 CAD/€2,690 EUR).
The Bike+ will be available for sale in all markets tomorrow, September 9th.
As part of this, the existing Bike will have its priced lowered to $1,895 USD.
Peloton has also officially confirmed Bike Bootcamps, which we reported about earlier. The initial instructor lineup will include Jess Sims, Robin Arzon, and Cody Rigsby.
Peloton has also confirmed the new lower cost Tread as well. As previously reported, the current generation Tread will stay available for sale, and become the "Tread+". The new lower cost product will simply be known as the "Tread"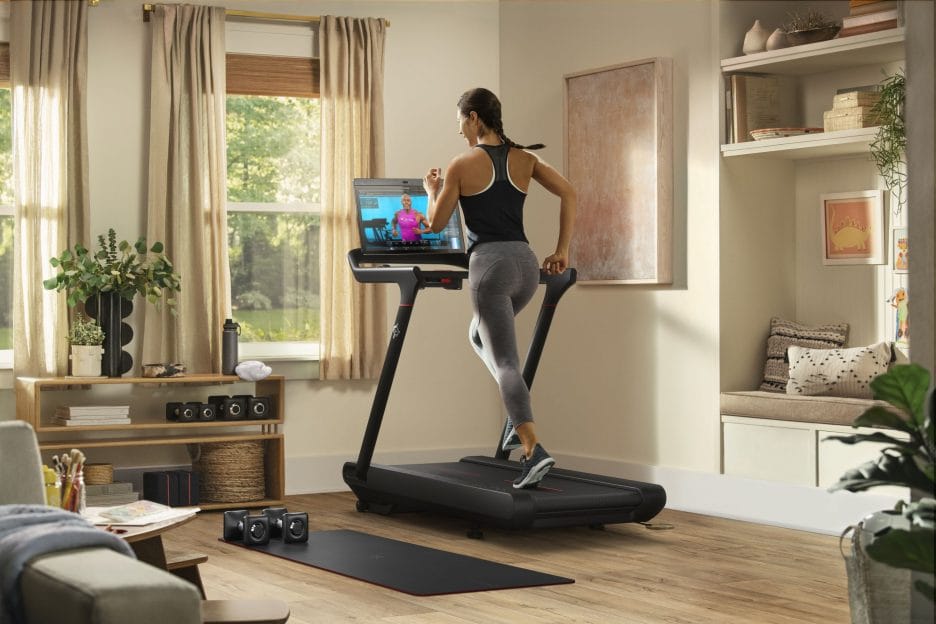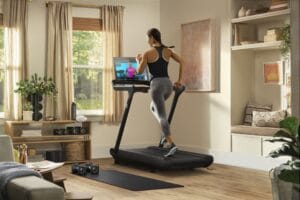 What's officially new in the lower cost Tread:
New 23.8″ rotating video screen (same as the bike)
Smaller size = 68" L x 33" W x 62" H [This is compared to the 72.5" L x 36.5" W x 72" H of Tread+]
Change from slats to a belt
The lowest cost Tread will be $2,495 USD ($3,295 CAD /£2,295 GBP).
Availability is more delayed with this – UK will be first on December 26, 2020, with the US, Canada, and Germany getting the lower cost Tread in early 2021.
Peloton also revealed they have a trade-in program in the US. Owners wanting to buy the new Bike+ can trade in their existing bike for a $700 rebate, as well as free yoga & toning set.
Peloton also confirmed an automatic refund program for those who recently purchased the existing bike.
For the newest Members of our Peloton family, we want you to know how much we value your commitment to Peloton. That's why we're automatically refunding Members who are still within the 30-Day Home Trial window or are awaiting delivery of their original Peloton Bike the $350 price difference plus tax, which will appear on your original form of payment in 7-10 business days. Refunds to Affirm loans used to finance your purchase will reduce the balance of your loan, which may reduce the number of payments and/or the amount of your final payment, but your standard monthly payment will remain the same. If you would prefer to return your current Bike and purchase a Bike+ at an additional cost and with added wait time, please reach out to our Member Support team and we will get back to you in the next 2-3 weeks with estimated timing to complete your Bike return and Bike+ purchase.
This is a developing story, more coming soon
---
Want to be sure to never miss any Peloton news? Sign up for our newsletter and get all the latest Peloton updates & Peloton rumors sent directly to your inbox.