Several people who have recently ordered a new Peloton bike have reported that they have received an email from someone at Peloton, asking them to set up a time to call in order to provide them with a "special offer".
As reported by a Peloton user to us today, we have found out that this special offer ends up being an offer to get a refurbished bike, instead of a new bike. Specifically, you are able to purchase the bike for $1,695, which ends up being a $550 discount. If you used a referral or promo code, that is still valid. The downside is that a refurbished bike is not eligible for a 30 day home trial, and you may not buy an extended warranty. However, you do still get the standard 1 year warranty. In addition, the expected delivery time usually ends up being about the same.
Reports of these special offers started trickling out this week, and now with the updated information from the earnings call, helps shine some light on why it is being offered. This helps Peloton get rid of an inventory of bikes they have that have been returned from the free trial period, and lets some of the new bikes that would have been shipped to NYC be distributed to other locations. Standard practice is that bikes returned from the home trial get a new seat post and screen if necessary, and then the rest of the frame is inspected and cleaned before being sent to the new owner.
If you didn't get the offer, this unfortunately isn't one you can reach out to support to try to get. The Peloton team has a list they are going through, based on specific locations and available inventory. So if you get the email, great. If not, enjoy riding the brand new Peloton bike you are about to get!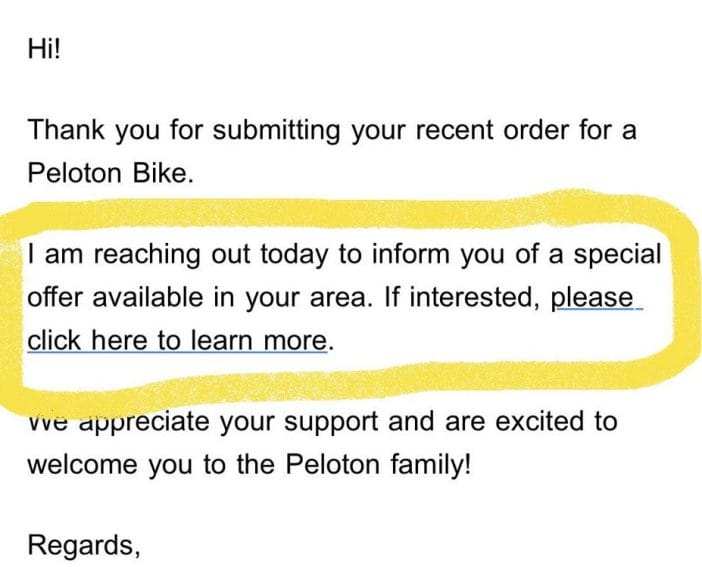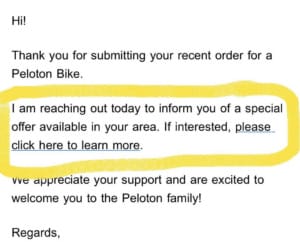 ---
Want to be sure to never miss any Peloton news? Sign up for our newsletter and get all the latest Peloton updates & Peloton rumors sent directly to your inbox.