Update – Peloton boxing officially launched in December.
It appears Peloton might be closer to "finally" launching boxing classes – or Kendall Toole is trolling everyone again.
This week, it was discovered that Kendall Toole has a new Spotify playlist titled "MuthaF***** Finally 🥊" [the title has been lightly censored for this post] – that's a boxing glove emoji at the end if your browser doesn't display it correctly. (Update – Shortly after this article was published, the playlist was removed or made private. You can still see it in the screenshot below).
The most logical reading of this playlist title implies that boxing is coming very soon (after delays for unknown reasons), and Kendall is very excited about it and working on her first boxing playlist – and accidentally did so on a public Spotify playlist instead of a private one. Assuming this is the case, there is still no guarantee how soon the launch will be – as instructors can start building their playlists out for classes as early as they would like.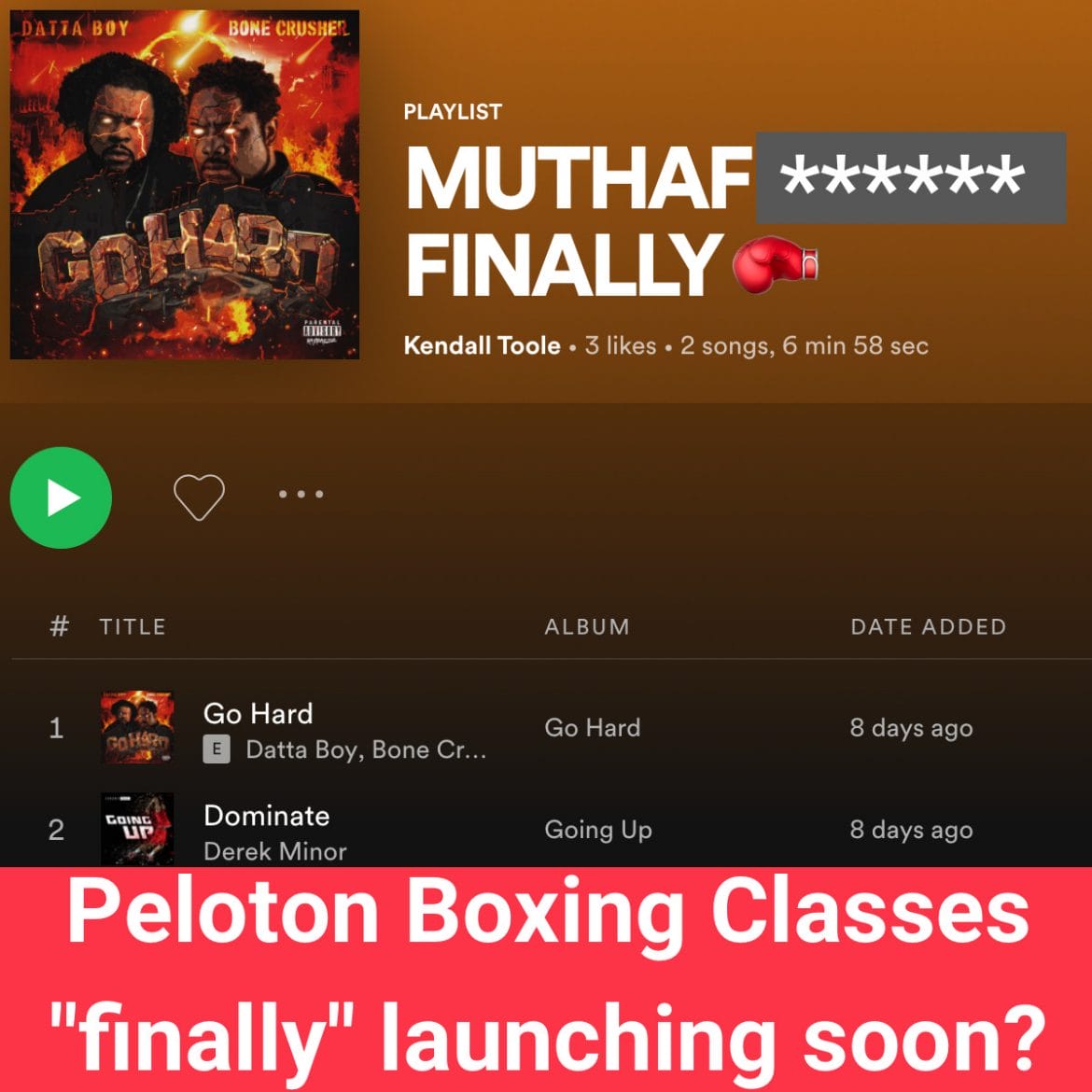 Of course, Kendall does have a history of teasing about boxing – like this post from early September announcing an Emo ride where she tricked everyone into thinking it might be boxing. Meaning this playlist could be another prank.
However, if you're just now hearing about the possibility of Peloton boxing, this is not the first piece of evidence pointing towards it. Both Bradley Rose and Selena Samuela have previously heavily hinted boxing was coming. You can see video clips of both of them teasing it in the article linked here.
In addition, Peloton themselves sent out a survey to members asking them their thoughts on boxing classes this spring.
Several of the new coaches hired in the past year have boxing experience as well. Bradley Rose, Callie Gullickson, and Rad Lopez all have previously taught boxing classes. In addition to these new hires, several other coaches like Kendall Toole, Selena Samuela, Olivia Amato, and Jess Sims all have previous experience teaching boxing classes.
Do you think this is finally a clue Peloton boxing is closer to being released, or just Kendall having more fun with the Peloton community?
---
Want to be sure to never miss any Peloton news? Sign up for our newsletter and get all the latest Peloton updates & Peloton rumors sent directly to your inbox.