Earlier this month, Peloton officially announced their plans to expand into Australia, where Peloton will be bringing their Bike, Bike+, and Tread to later in 2021. However, Peloton will continue to expand to other international markets as well. In a recent interview with KeyBanc (prior to Australia being announced), Peloton's CFO Jill Woodworth spoke about international expansion. She indicated that they would expand "at the right pace", and that might be 1-2 new markets a year.
So if Peloton might add another new market in the next year, where would it be? Peloton's trademark filings might give us a possible indication (and this was one early indication about Australia too). The World Intellectual Property Organization (or WIPO) provides a tool allowing you to see what trademarks have been registered around the world (H/T to @BobTreemore on Twitter for pointing out the tool).
Currently, the WIPO tool shows over 140 different trademarks Peloton has filed worldwide. The below list shows which countries Peloton has been filing trademarks in, which could indicate the markets Peloton is most seriously considering further expansion into.
List of future countries Peloton might expand to, based on trademarks
China
Korea
Israel
Mexico
New Zealand
Philippines
Singapore
Switzerland
(You may notice that the trademarks from China do not show up in the WIPO tool, however, another trademark system does show Peloton working on trademark filings in China).
An important caveat here is just because a trademark is filed in a country does not guarantee that Peloton will eventually launch there. Some might be filed as a defensive mechanism, or just as potential groundwork that never comes to fruition. However, like we saw with Australia, these also could be early indicators of which markets are getting the most consideration. In the same interview mentioned above with Jill Woodworth, she mentioned Asia was definitely a future goal, but that was likely more a long term expansion than short to medium term.
One thing to keep in mind is that we've seen some job postings that indicate Peloton might be planning to launch Spanish language classes soon as well. John Foley has also indicated that more foreign languages would be coming to the platform "in the coming quarters"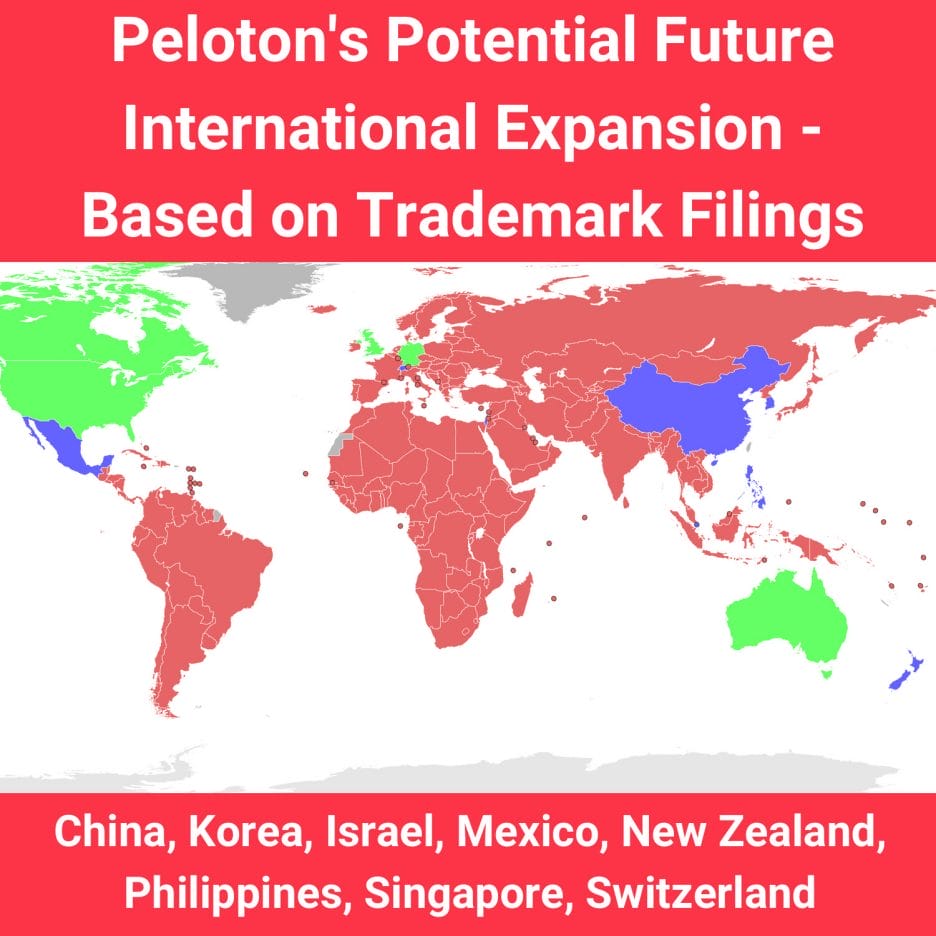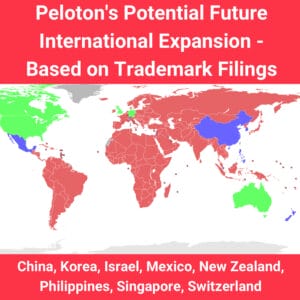 ---
Want to be sure to never miss any Peloton news? Sign up for our newsletter and get all the latest Peloton updates & Peloton rumors sent directly to your inbox.