Yesterday, Peloton CEO John Foley spoke at the Goldman Sachs Technology Conference. The conversation was led by Heath Terry, Managing Director at GS, and he spent around 45 minutes asking a number of questions to John. You can listen to a full reply of the conversation for the next 90 days at the link above.
One of the topics that was covered was international expansion – and how Peloton might grow to be a truly global company. John Foley replied that Peloton still intended to launch market by market for the time being, as they felt good about their approach of having showrooms, branded vans doing deliveries, and the whole premium Peloton experience. He stated that Peloton would be launching in new markets "in the coming years" (we've been reporting how Australia is likely one of those new markets). However, he then followed that up by specifically saying that Peloton would be launching new languages "in the coming quarters" – a potentially quicker time frame than new markets.
With that officially confirmed, it seems it's just a matter of when. Today, some new job postings surfaced by Bob Treemore on Twitter seem to indicate that Peloton classes in Spanish are one of the new languages Peloton is looking at targeting. The job listings are for the PSNY studio in New York – a Production Coordinator and Production Manager role. Those jobs in itself are nothing new – however, in the job listing, both roles are requesting the candidates have "Proficiency in Spanish"
Spanish language classes do not necessarily mean a full Peloton launch in Spanish speaking countries however – Peloton could be looking at launching in some of those countries with just the Peloton Digital app. Those countries would not be able to buy a Peloton Bike or Tread, but instead would be able to start experiencing Peloton through the Peloton digital app. This would allow Peloton to start dipping their feet into new markets, building brand awareness, and experimenting before (or while) they were building out the infrastructure needed for a full launch in the country. John Foley stated during the interview that they "probably would experiment with that idea" – although there were a few complexities, like different music licensing issues for different countries.
We'll continue to report on new markets and languages as more information becomes available – look for more information in the coming days & weeks!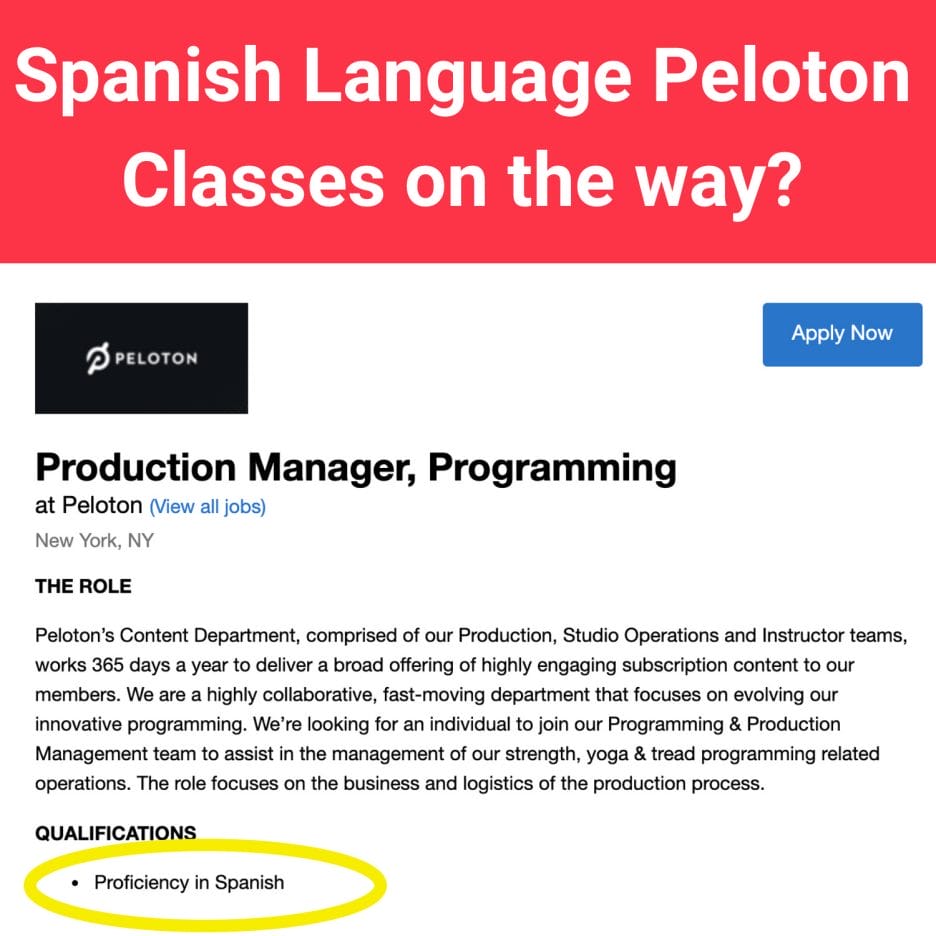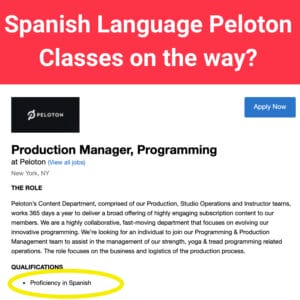 ---
Want to be sure to never miss any Peloton news? Sign up for our newsletter and get all the latest Peloton updates & Peloton rumors sent directly to your inbox.