Earlier this week we shared a report about "Peloton Lanebreak" – an upcoming video game mode that will be added to the Peloton Bike & Bike+. Over the past few days, some more information has been revealed about the Peloton Video Game in various interviews and articles.
First – if you were wondering "How do I sign up for Peloton Lanebreak?" or "Is there a beta for the Peloton video game Lanebreak?" – CNBC reported that the plan is for there to be a large beta program for the game this fall or winter that members should be able to opt into playing. However, the current release schedule is that Lanebreak would not be officially released until sometime early in 2022.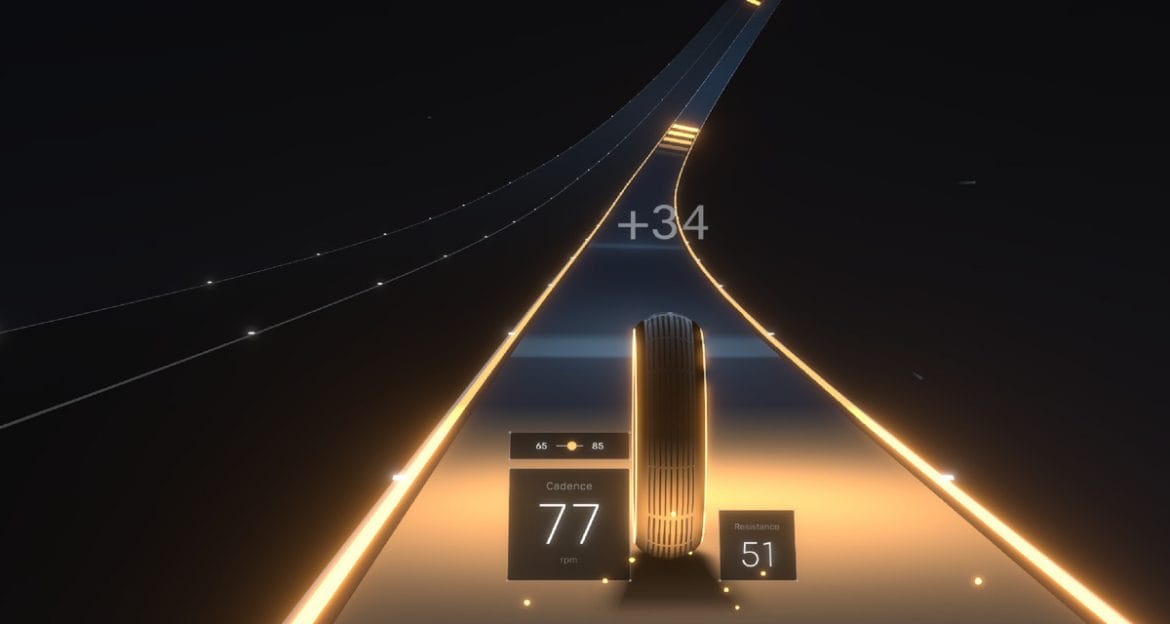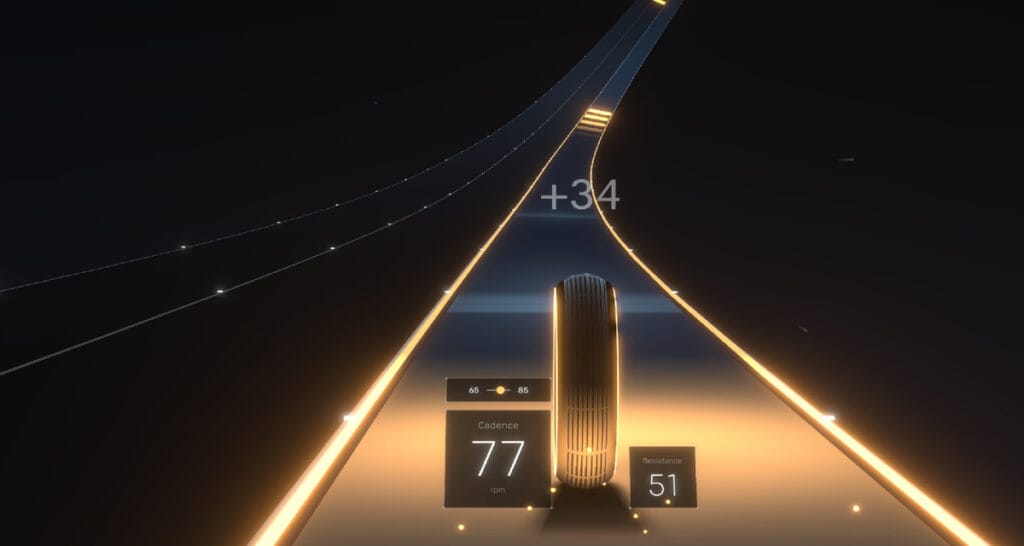 Also, at this time the focus is on having Lanebreak be available for the Bike & Bike+. A Tread version might be in the works later once the Bike version has been out and tested for a while.
More details were shared in a press article Peloton published about the game. First, they shared a little bit about the gameplay:
Lanebreak is a rhythm-based game on Bike and Bike+ rooted in something core to Peloton's DNA, music. Players are challenged to match and sustain their resistance or cadence according to the cues on the tablet to get the highest score possible, which they can then compare with other Members. Along the virtual track, riders control their cadence with their leg speed and can "switch lanes" left or right by turning the resistance knob. They face multiple obstacles, all synchronized with the beat of the music. Members can choose from a number of different levels based on specific playlists, workout types and lengths, with each level having difficulties ranging from beginner to expert.
Gizmodo then shared even more information about the gameplay of Peloton Lanebreak. Their article also points out there will be a way to play against or challenge other Peloton members in Lanebreak:
The concept seems similar to your typical rhythm games, except instead of tapping your screen, you're incentivized to pedal at a certain cadence or resistance along a Tron-like virtual highway. The resistance knob lets you pick between lanes, with the easiest on the left and the hardest on the right. In each lane, there are also various challenges (i.e., breaking obstacles, filling up gauges, etc.) that are synced to the beat. For example, "pickups" are points that a player collects when they stay on the right track and match a song's beat and tempo. "Streams" are visible "veins" that appear in various lanes that gives players points based on how well they match a cadence range. Lastly, "Breakers" are objects that require you to reach a certain output in a limited time period—like two measures in a song to build up to a certain level of power. There also seems to be a social element, as users can redeem points and challenge other members.
The Peloton press release also revealed that the development was the result of small tests they had been doing with members – and that there is a version of Lanebreak that is being played right now with a small group of members on their Bikes & Bike+ prior to an official beta release this fall.
A quote from David Packles, Peloton's senior director of product, in the Gizmodo article shared their approach to developing the game:
Packles also noted that though they're still in the early stages of development, the intent is for Lanebreak to have a minimalistic feel, be heavily based on music, and have good replayability.


"Newness and continuing to grow our library is a core tenet of Peloton, so we'll be making sure to regularly add levels [for Lanebreak]," Packles said. "This is something that we will continue to evolve our library for, just like we would our Peloton library."
Over the past few years, Peloton has slowly been adding software developers to their team with experience for features like this. Job postings have looked for those with video game experience, as well as the Unity development platform, which is a 2D, 3D, VR and AR game development platform. For example, one previous job posting was for a "Senior Unity Engineer". The top level overview of the person they were looking for was "a game developer comfortable with rapid prototyping and iteration while keeping focus on bringing a product to market." Peloton Lanebreak could very well be that product they are rapidly prototyping on and now bringing to market.
Peloton has also stated that the name "Lanebreak" is subject to change prior to the official release.
We'll continue to share more information on the Peloton Lanebreak video game as it becomes available.
---
Want to be sure to never miss any Peloton news? Sign up for our newsletter and get all the latest Peloton updates & Peloton rumors sent directly to your inbox.