A company out of the UK is launching a new product on Kickstarter today designed to allow you to use your Peloton Bike or Bike+ on the Zwift platform. It's called the "SHIFT Smart Trainer". Not only does it broadcast an approximation of your Peloton metrics to Zwift for you, but it will automatically adjust your Peloton's resistance to simulate the difficulty of the course you are riding on Zwift. Current pricing on Kickstarter is for £199 / $265 / EUR222 per unit, and there is a 20% off early bird discount.
The video embedded below gives an overview of the device, provided by the SHIFT team.
Note that in the video they show Zwift running on the Peloton bike tablet multiple times. While this is technically possible to do, it requires some command line knowledge of a computer, and isn't something officially supported by SHIFT (or Peloton). You should assume that you will want to run Zwift on one of the numerous other platforms it supports (iPad, Apple TV, Mac, PC, etc).
The SHIFT Smart Trainer will be available for both the Bike+ and Bike (although requires a different unit for each). SHIFT expects Bike orders to ship in March, while Bike+ orders won't ship until May.
How does the SHIFT Smart Trainer device actually work for bringing Peloton bikes to Zwift? From their video & descriptions, you'll carefully install the SHIFT device over your resistance knob (however, there's no need to attach it to any cables or anything like that). The SHIFT has a small touch screen that allows you to calibrate the device, connect it with Bluetooth, as well as control the difficulty. SHIFT replaces the resistance terminology with the gearing terminology commonly found on road bikes. The SHIFT device then allows you to control this gearing, which adjusts difficulty (& therefore resistance) in increments of either one or five.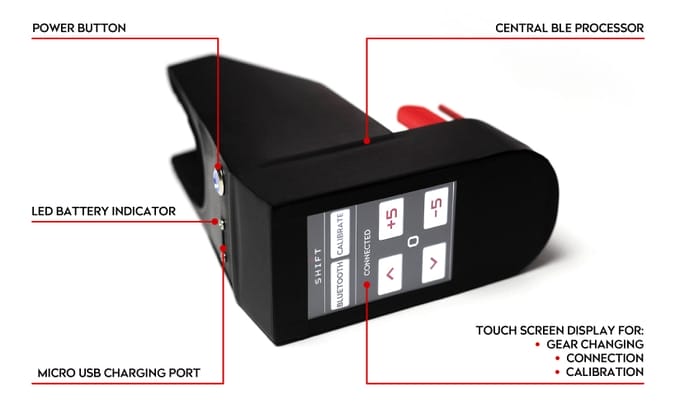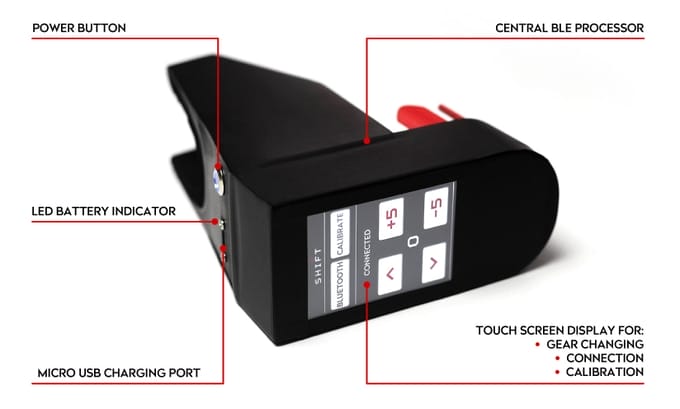 In a Zwift ride, the course broadcasts what the difficulty or gradient of the road is. As the gradient changes, SHIFT will then adjust your resistance to be either easier, or harder, by automatically turning the resistance knob for you, simulating a more difficult or easier road. As this happens, your "gearing" shown on SHIFT does not change. In the real world, as you hit a hill, you'd then shift your gears to make it easier to go up a hill. As SHIFT changes the resistance for you (based on the resistance Zwift is broadcasting), you can then change your gearing on the SHIFT touchscreen to create the same effect of making it easier or harder (and in the background, SHIFT is simply turning the resistance knob of your Peloton Bike/Bike+ for you beyond whatever adjustment was done to create the elevation gradient).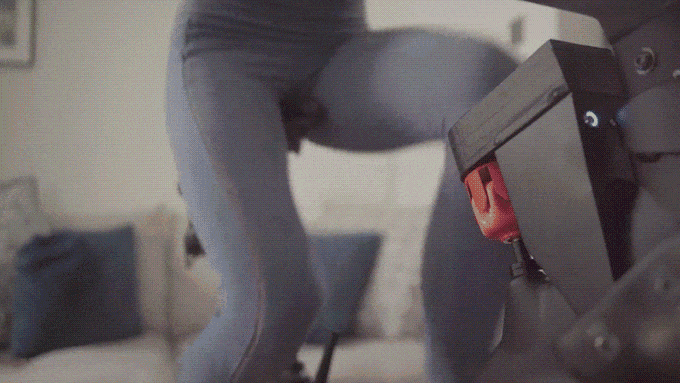 As we mentioned earlier, the SHIFT device installs simply by mounting to your resistance knob. You may be wondering, as we did, how it then is able to get your power/output number from the Peloton and broadcast it to Zwift, since it doesn't plug into the Peloton, and the Peloton Bike/Bike+ itself doesn't broadcast power or output externally.
It turns out, SHIFT is not broadcasting the actual power from your Peloton. Instead, the SHIFT team has developed a "power profile" which mimics the underlying power output of the Peloton bike & Bike+. During the initial calibration process, you are able to map your Peloton Bike's resistance to the SHIFT device. The SHIFT team told us that they recognize that calibration can vary greatly between individual Peloton bikes, and made the decision that rather than solve for Peloton's calibration issues, they "would rather account for this in their solution by ensuring that all users would have the same power output on their bike in both a spinning class and when cycling in Zwift." Here is a direct quote from their team on this setup & calibration
We have built an easy calibration process as we want to ensure you get the most accurate set-up when using SHIFT. Using SHIFT's integrated touchscreen, you'll be able to calibrate against your own bike's resistance range in 10% increments. Allowing you to accurately set where 0% resistance and 100% resistance (and everything in between) is on your own Bike. This eradicates any discrepancies that may exist across different bikes and ensures we perfectly align with your bikes own power curve – giving you a consistent output experience both on Zwift and Peloton cycling.
How well this calibration and power profile works in the real world is one of the biggest questions we have about this project. If you don't particularly care how accurate the power is, this might not be a concern for you (and as we know, how accurate the power is of original Peloton bikes is a question ripe for debate as well). However, there are can be a lot of play even within a 1% change of the knob on Peloton – so we look forward to getting more information about this aspect of the SHIFT Smart Trainer.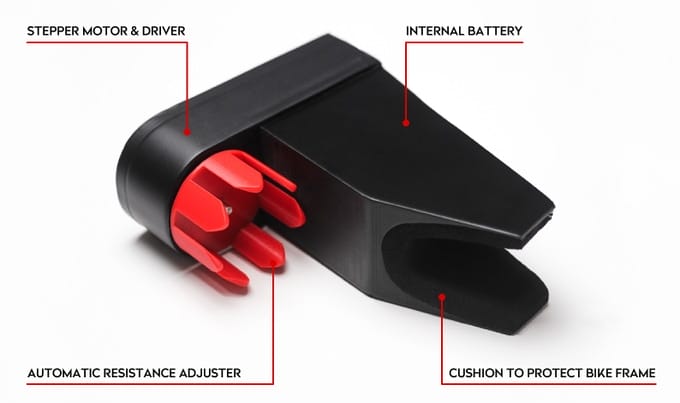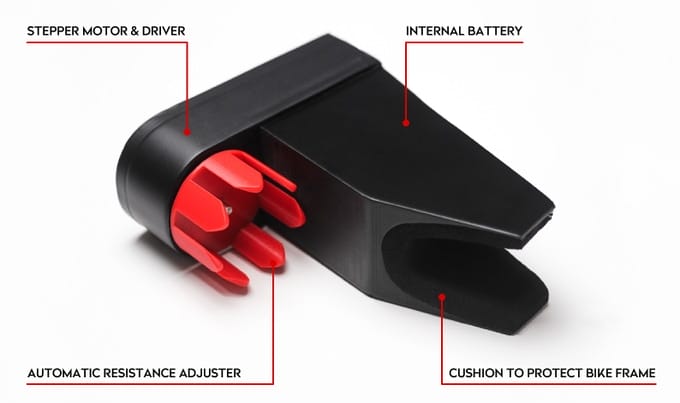 If you're someone who uses the "emergency stop button" (pressing down on the resistance knob), the SHIFT team tells us that this will still be possible, although it will require slightly more pressure. They are experimenting with a few solutions for this before deciding what to use in the final SHIFT device.
One other thing to keep in mind is that to work properly, SHIFT will require you to use a Bluetooth cadence sensor, which will not be provided. Almost any Bluetooth cadence sensor should work (such as the Wahoo cadence sensor [Note – our affiliate link]). You will end up connecting your cadence sensor via Bluetooth to SHIFT. You then connect the SHIFT device to the Zwift cadence module, and SHIFT will rebroadcast your cadence for you. Without a Bluetooth cadence sensor, SHIFT will not be able to estimate your power output.
The goal for battery life of SHIFT is at least 4 hours. If you stack a bunch of rides in one day, this might be slightly limiting. The SHIFT team told us you should be able to plug the unit in while riding to extend the battery life, you'll just have to be careful about routing the cable.
While right now the SHIFT team is promoting Zwift integration, they tell us they plan to eventually integrate with other platforms like TrainerRoad, Rouvy, RGT, BKOOL, Sufferfest, etc.
We're also told that additional configuration options may be available in the future. For example, right now you are stuck with the gearing ratios that come with the device – but this might be configurable in the future to better mimic whatever gearing is on your own road bike.
The SHIFT team also notes that in the future (later in 2021) they might add an option for remote Bluetooth buttons that you can add to your handlebars, to allow you to change your gears without removing your hand from the handlebars.
As you consider backing this, keep in mind that this is not the only solution out there to bring Peloton onto Zwift (although none that also change resistance for you). You can swap the pedals on the bike for some power pedals, like the Favero Assioma pedals (either dual or single) [Note – affiliate links], or the Garmin Vector pedals. You would then pair the power pedals as a Bluetooth power meter sensor on Zwift, and be ready to ride. This is a pricier solution, although it's more flexible & accurate (but doesn't provide resistance changes for you).
Alternatively, there are some DIY projects that you can install on a Raspberry Pi, and with a few cables, capture the Peloton data and rebroadcast it to Zwift. One such project (and again, it doesn't provide resistance changes for you, simply the broadcasting of metrics to Zwift) is gymnasticon, which we'll have a writeup and demo of in the next few weeks. With a project like that, there's always a chance Peloton could try to start encrypting the signal sent over their cables, although we're not sure Peloton has the capability for an update like that remotely.
If you already have Power Pedals, it's still possible to use SHIFT if you want the resistance changes. In this case, you would connect your power pedals as the Power source in Zwift, and SHIFT to the controllable module of Zwift. With this setup, you would be getting the more accurate power from your power pedals, and SHIFT would control resistance for you to adjust for gradients.
As with any Kickstarter project, you should do your research before deciding to back it. Don't get attached to any shipping timelines provided, as these have a tendency to slip and delay. The information we provided above is an overview of the product, not necessarily a recommendation. We've spoken with the SHIFT team and they'll be sending a unit our way to do a hands-on review down the road.
You can find the SHIFT Smart Trainer here on Kickstarter.
---
Want to be sure to never miss any Peloton news? Sign up for our newsletter and get all the latest Peloton updates & Peloton rumors sent directly to your inbox.