As Peloton becomes increasingly popular, more and more accessories start to pop up. This week, we're trying out Top Form Design's The SpinTray!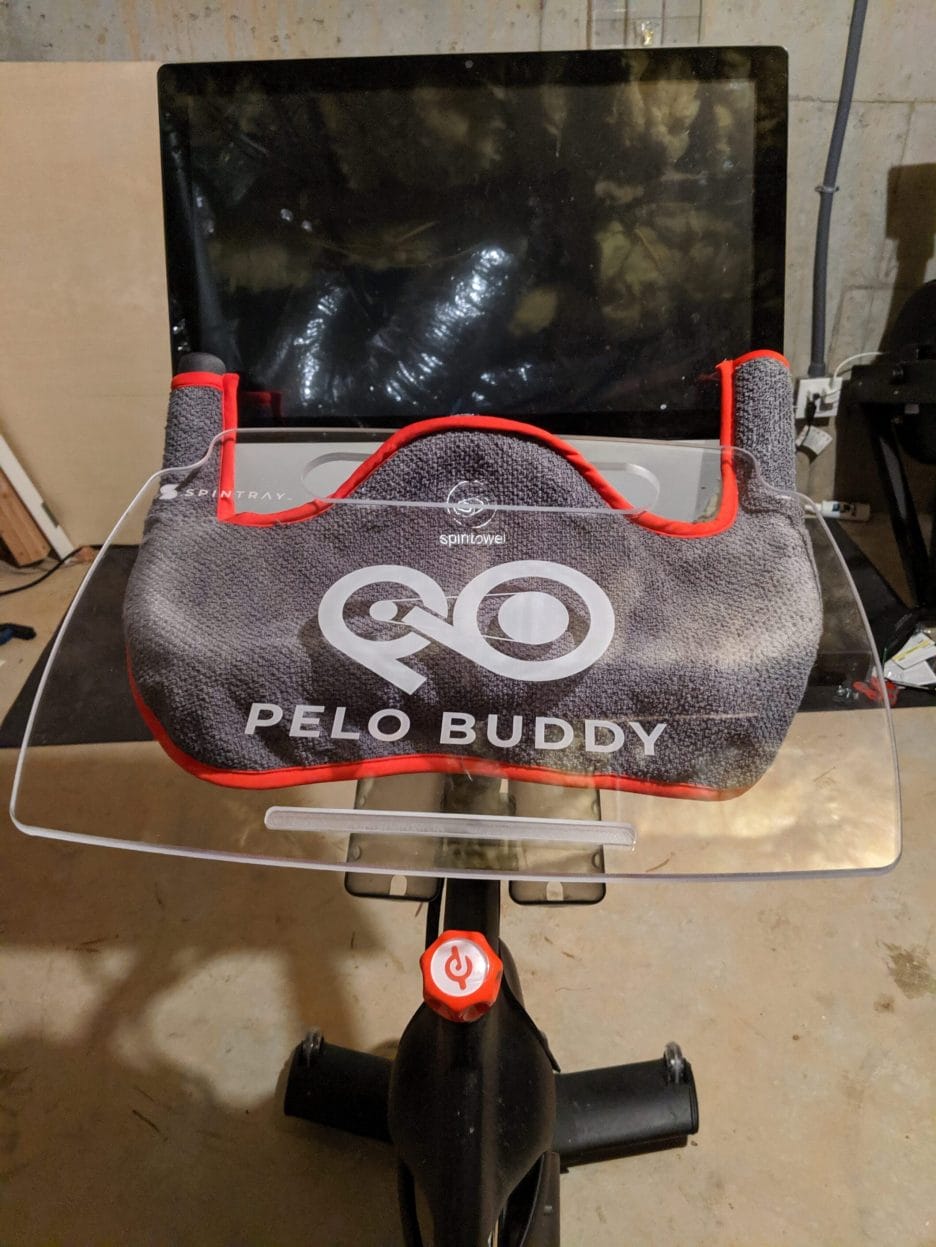 What is SpinTray?
SpinTray is just what its name suggests: a tray that hooks onto your Peloton's handlebars to hold a laptop or tablet to turn your bike into a workstation. This is great for the times you need to get your creative juices flowing or would have to choose between work or a workout.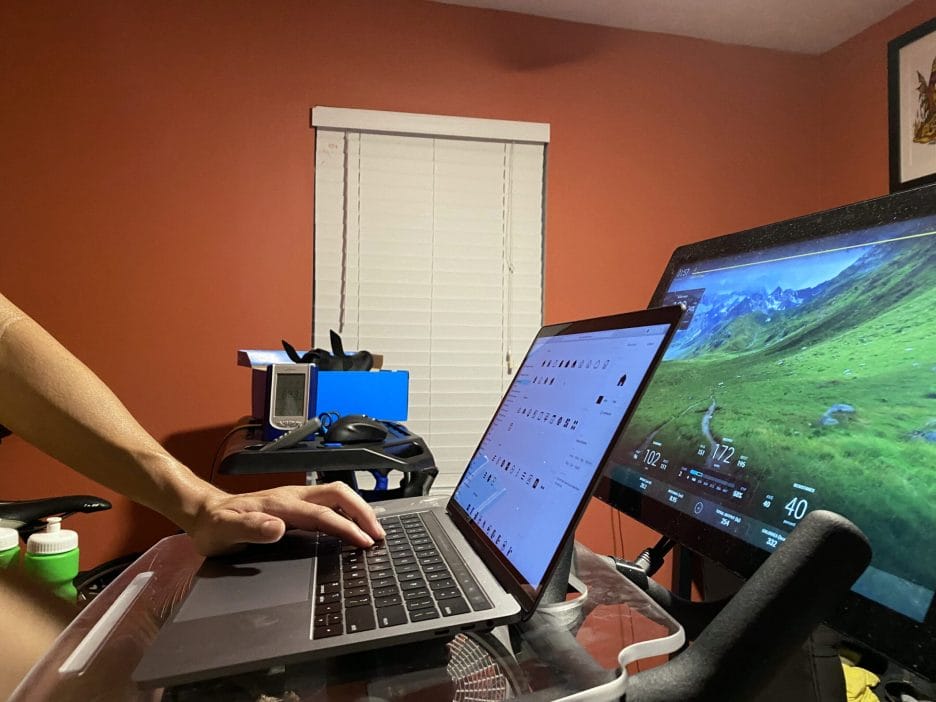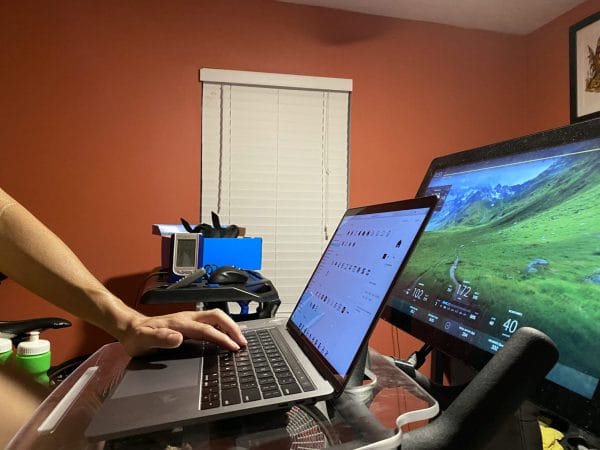 Design
The SpinTray is elegantly designed and very sturdy. It is clear, so you can still see your resistance knop and check in on your form occasionally. SpinTray can even engrave your logo or leaderboard name on your SpinTray for a personal touch.
The SpinTray can easily hold anything from a kindle to a 15″ laptop with no wobble or concerns about the tray falling. With our 15″ laptop, we found that it did not budge at all on the tray. We physically tried to slide the laptop off the SpinTray and found it difficult to do so – alleviating any concerns we had with items accidentally falling off. Part of what makes the SpinTray so stable is its size. Measuring 14″x19″, you have plenty of surface area to organize your laptop and even a mouse. The downside of this much space is that, depending on your height and bike fit, your knees may end up hitting the tray. We had around 10 different users try out our SpinTray to ask about this issue. We found that for the vast majority of people, they are able to use the SpinTray with no issues, and their knees have enough clearance to still ride as normal.
Chris, who is 6'0″ tall, was the only person who found that it wasn't a perfect fit for their bike settings. His feedback was that with his normal bike settings, for optimal riding position, he found that his knees came very close to hitting the tray and in fact did a few times if he didn't pay close attention to form. Additionally, with the height of his handlebars, the tray sat at such a position where his wrists were forced into a upward position when trying to type, causing some slight discomfort after several minutes of typing. He was able to make slight adjustments to the saddle position (slide it back slightly) and handlebars (lower them slightly) to get a more ideal fit and not have his knees hit the tray anymore.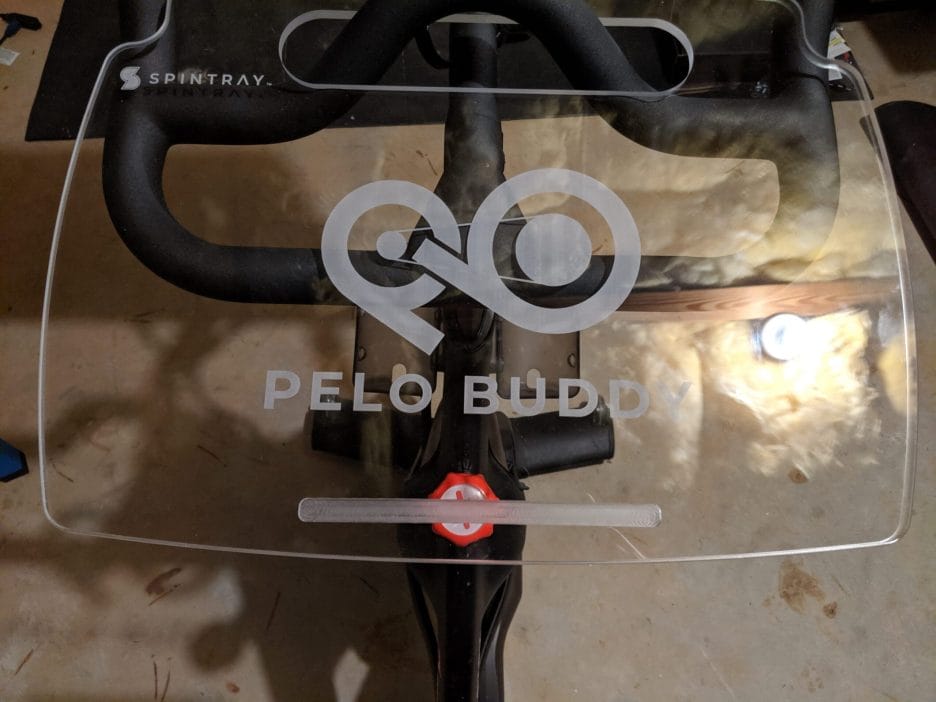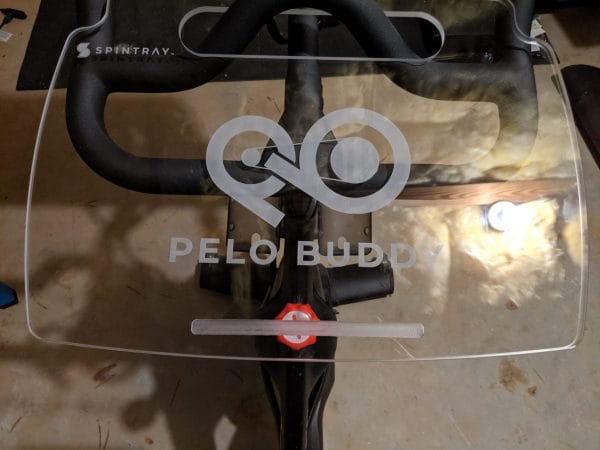 Another user who was 6'3″ didn't mention any issues with hitting the tray. I'm 5″8′ and had about 2″ of clearance, while my husband is the same height and had less than 1″, so a lot of it probably involves your individual proportions and your preferred bike fit. If you do find yourself in the situation where your knees are close to hitting the tray or the angle to your laptop is a bit off – Peloton bikes are quick and easy to adjust to give yourself a little more clearance.
Intended Use
Perhaps the most important thing to note is that SpinTray was designed with a leisurely scenic ride in mind. You won't want to use this during a 90-minute sweat session or a Tabata class with Robin. You can't ride out of the saddle with the SpinTray attached. If you are looking for an easy pedal or a recovery ride and need to get some work or reading done, then SpinTray is for you. Aside from potential sweat damage to your electronics, the resistance knob can be difficult to reach while you're pedaling with the SpinTray. But again, you're probably not trying to create your next PowerPoint manifesto while you're pedaling at heavy resistance or super high cadence, so being able to change the resistance won't be a priority during these rides. The SpinTray is super easy to remove – it literally just slides on and off the top of your handlebars, with a total setup or removal time of approximately 5 seconds.
Are you interested in trying out a SpinTray? Use The SpinTray Discount Code of "PeloBuddy" at their online shop for 10% off!
Note that we were sent the SpinTray for purposes of making this review. If you purchase with the The Spintray discount code above, not only do you save a few dollars, but you also support our site.
---
Want to be sure to never miss any Peloton news? Sign up for our newsletter and get all the latest Peloton updates & Peloton rumors sent directly to your inbox.