Peloton announced today that they now have an official "college strategy" which will see them partnership with universities, colleges, and some of the athletes themselves.
Update – The University of Michigan Bike is now available for sale.
As stated in the press release, their goal is to:
Bring the brand's impactful and entertaining workouts to campuses through its world class content, co-branded Peloton Bikes, and elevated on-site experiences. Building on the brand's commitment to empower anyone, anywhere, anytime, Peloton's college campus integrations will bring the magic of Peloton to students, alumni, and fans across the country through three strategic pillars.
While Peloton states they will be working with many universities and colleges in the coming months, they also shared they are launching this effort with a partnership with the University of Michigan.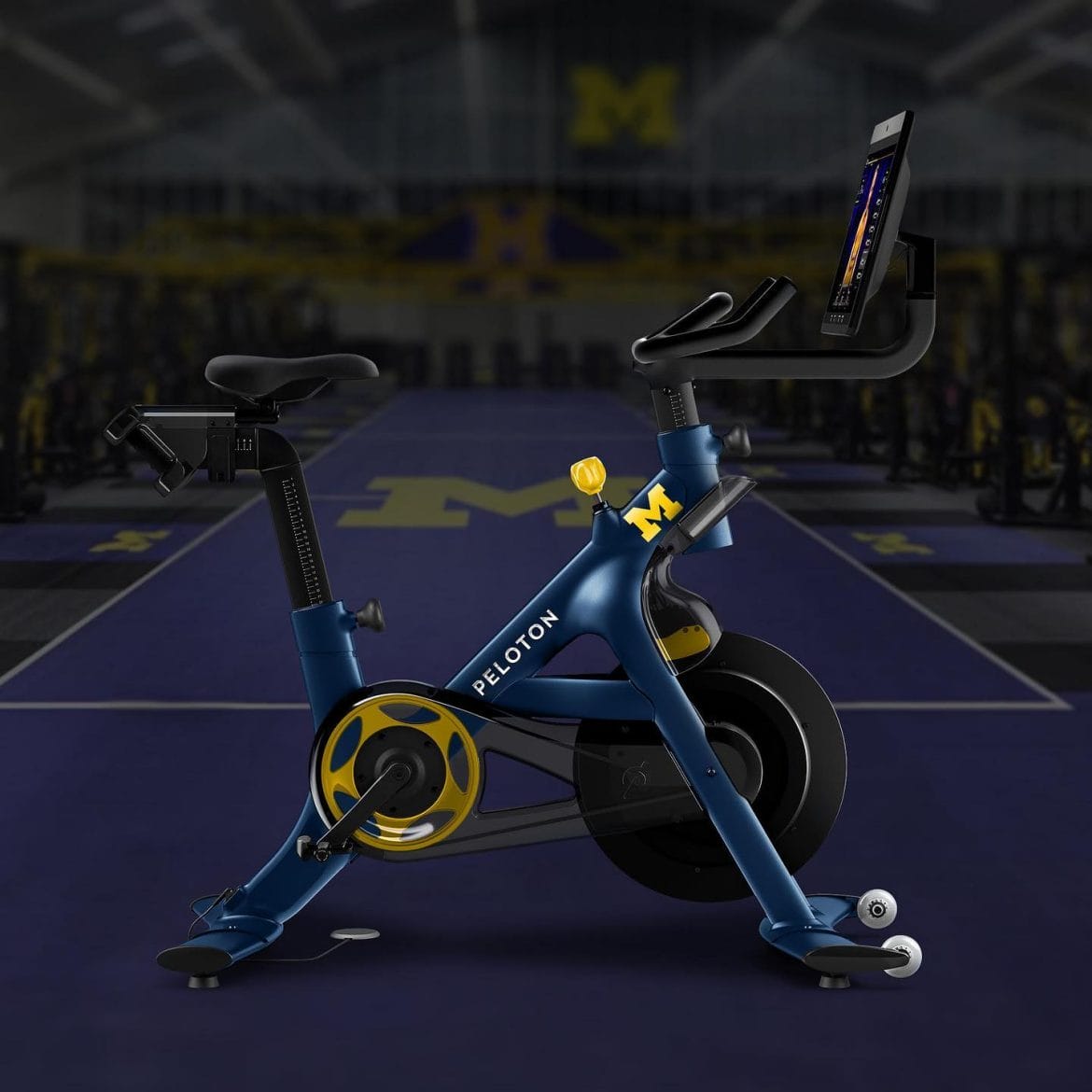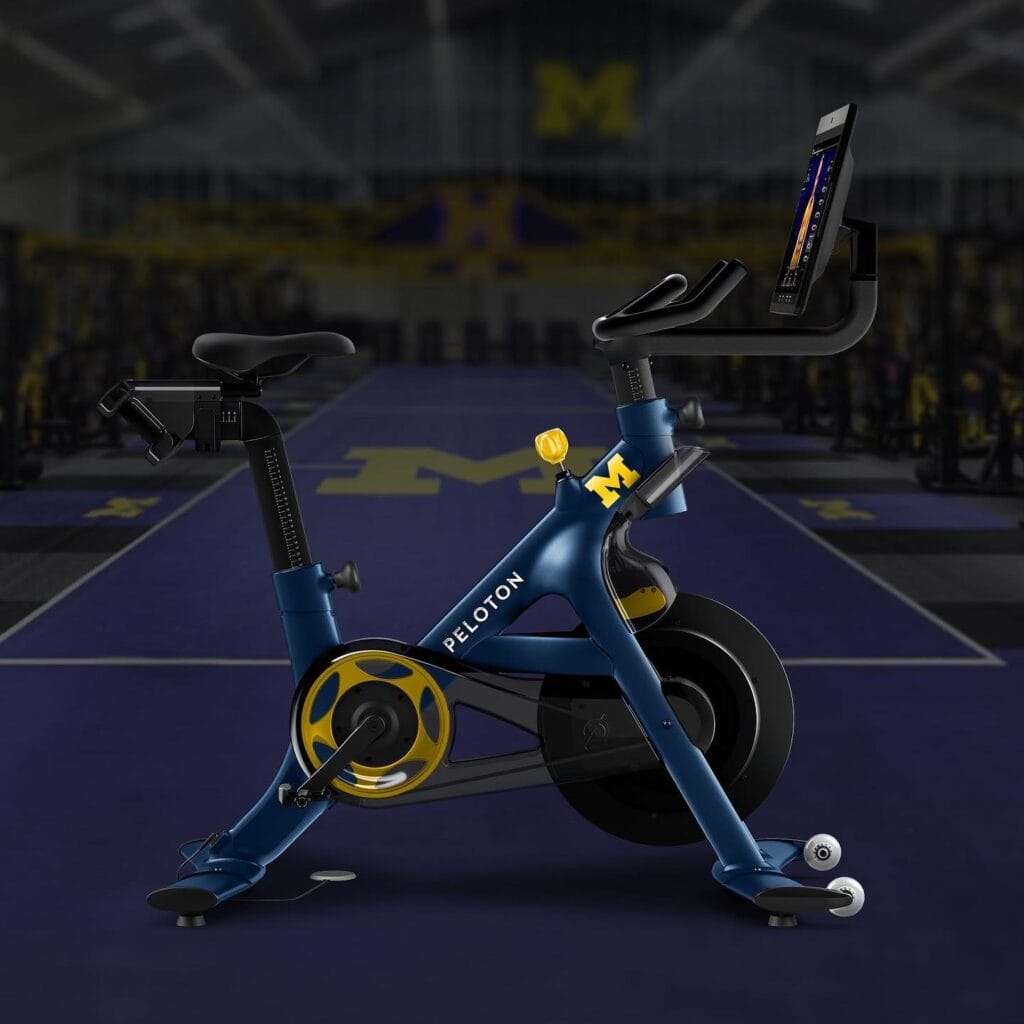 This will see Peloton on the sideline of games, in social media posts, as well as with some NIL partnerships with the athletes.
The innovative collaboration will bring a first-of-their kind co-branded Peloton Bikes to the football sidelines to replace the aerobic bikes currently used by players at the Big House. Co-branded Peloton Bikes will also be utilized in various Michigan Athletics training facilities (not available for purchase). Peloton will support University of Michigan football, basketball, hockey, and Olympic Sports teams and fans with fitness instruction, co-branded content, and in-venue activations. Michigan Football Cinematic Game Recaps on MGoBlue.com and social platforms will be powered by Peloton. Additionally, Peloton will sponsor "The Maize Rage," the student cheering section at Michigan men's and women's basketball games.


Peloton will also integrate Michigan student-athlete influencers in an expanded name, image and likeness (NIL) campaign to better reach students, alumni, and fans to build brand awareness, drive participation in promotional activities, and inspire them to pursue their fitness ambitions.
With this Peloton University of Michigan partnership, and other upcoming college collaborations, Peloton is trying to raise awareness in 3 ways: with branded integrations, app discounts, and social media contents from students & athletes.
Branded Integrations: Working with colleges and universities, Peloton will offer co-branding opportunities that may include its Bikes and apparel. Additionally, working with partners, Peloton will bring to life in-game activations including "hype moments" and unique appearances featuring its world-renowned Instructors. Peloton will work with colleges to develop bespoke benefits for their students, that may include integration of Peloton Connected Fitness Units (CFUs) in college recreational and/or athletic facilities, as well as the opportunity to purchase co-branded Bikes or rent refurbished Peloton equipment. Finally, Peloton will also partner to create opportunities for alumni and fans to experience related benefits.
Concessionary Offers: Nation-wide, Peloton is offering special pricing of $6.99/month for Peloton's App One tier, for active undergrad and graduate students. This benefit offers access to expert fitness content for their active lifestyles. To access the special student rate, individuals should go here. Additionally, Peloton offers K-12 US teachers, college educators, and administrators access to discounted offers for its world class connected fitness portfolio. Learn more about these special offers via this link.
Social Media Engagement: Delivering on its commitment to support anyone, anytime, anywhere, Peloton will be expanding creator partnerships to feature college student athletes. These collaborations will amplify Peloton's fitness expertise more readily to sports-minded Gen Z students, fans, and alumni alike.
This new initiative is part of the recently rebranded "Peloton Business" segment of the company that was announced last week.
Last month Peloton had teased on their social about custom & different bike colors – we are still waiting for more news about that initiative as well.
---
Want to be sure to never miss any Peloton news? Sign up for our newsletter and get all the latest Peloton updates & Peloton rumors sent directly to your inbox.