This week, Appfigures, who is a a company that provides tools and reporting data for mobile apps, published a report that estimated the amount of revenue Peloton has been making over time in the Google Play & Apple App Store. The graph runs from January 2019 and goes through a few weeks ago, tracking revenue earned from in-app sales (i.e. Digital Subscriptions) in the Peloton iOS & Android apps.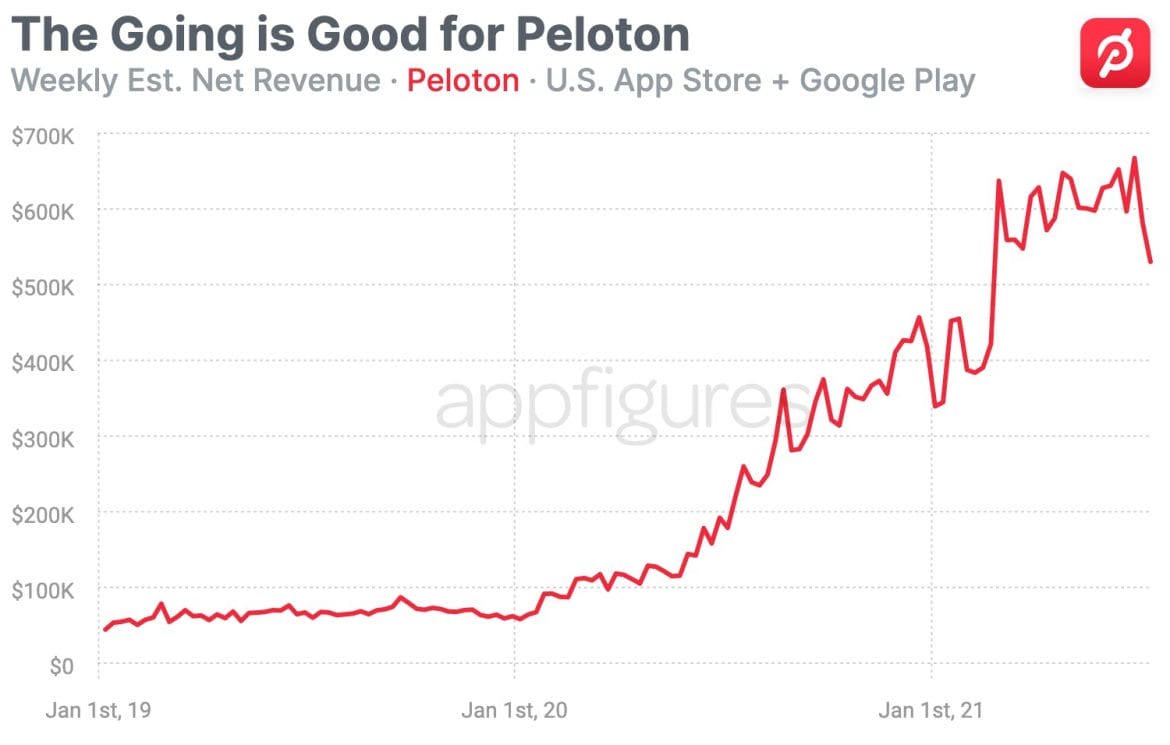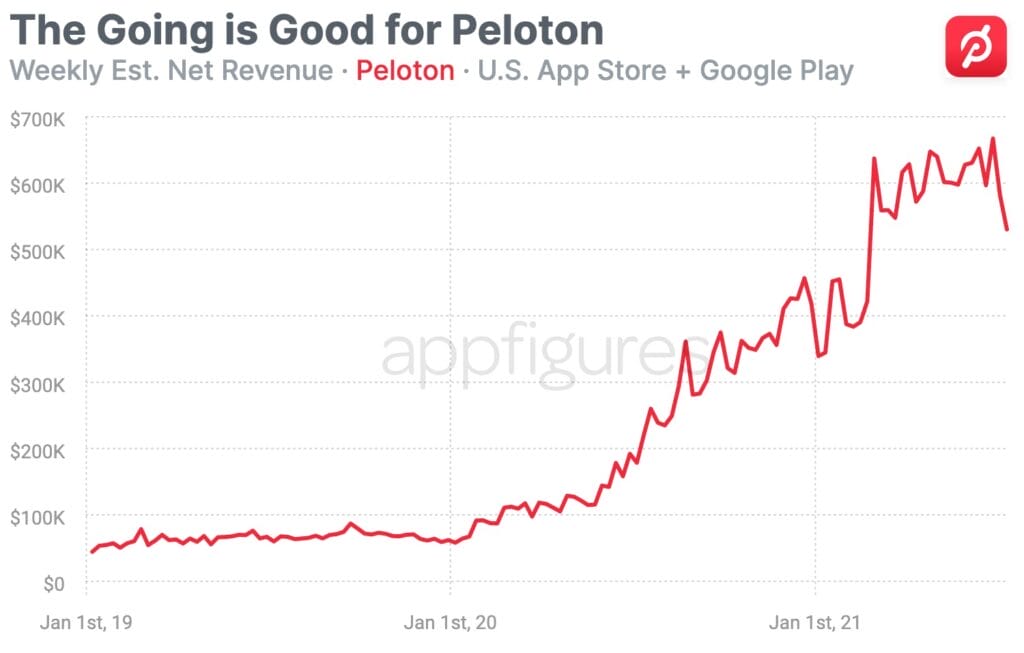 From their post:
At the end of 2019, Peloton was adding about $10K/day of net revenue from content through its app in the U.S. By April of 2020, net revenue had already more than doubled to $25K/day, according to our estimates. Daily revenue doubled again by the end of summer, with $50K/day in August of 2020, and in June of 2021, net revenue was hitting six digits.
Appfigures itself notes the numbers shown in the graph are estimates, but, there are a few key things to keep in mind when looking this data. First – Peloton Digital app users have the choice of subscribing either through subscriptions in Apple/Android, or, you can subscribe on your own through Peloton's website. The report is the revenue from the iOS App Store + Google Play – which means that subscriptions outside of those, such as Peloton's own subscription signup mentioned above, are likely not counted here. Secondly – the App is available on other Digital platforms like Roku, SkyTV, Amazon, and more – which aren't factored into the above estimates. Thirdly – the AppFigures data was only for the US app stores. The Peloton Digital app is also available in Canada, the United Kingdom, Germany, and now Australia – so there are definitely addition subscribers (and therefore revenue) from all of those countries not reported here.
All of this is to say that the above estimated numbers should not be seen as an estimate for total revenue of all Peloton Digital subscribers, but just a portion of it. Instead, the more interesting view & reason for sharing this data is just visualizing the growth of the app over time.
As a public company, Peloton reports their revenue and earnings every quarter. However, Peloton reports one "Subscription" revenue number, and does not break out the All-Access Subscriptions from their Digital subscriptions – it is just one lump sum. In the most recent quarter that data is available for (Q321 / Jan-March 2021), Peloton reported that their total subscription revenue was $239.4 million. Again, that is for both Digital & All-Access. On earning calls in the past, Peloton has stated how they mainly see Peloton Digital as a way to get people into the Peloton ecosystem, with the goal of upselling them to buy a Bike or Tread and converting to the more expensive all-access membership. They also shared that they have slowly been getting more successful over time at these conversion and have been seeing their conversation rate of people from Digital to All-Access growing in recent months. They do not (currently) see, or try to make, Peloton Digital as a profit maker on its own.
Why did AppFigures look at this data? Because they believe with the upcoming release of Peloton's Lanebreak video game, Peloton will have the ability to expand their app user base. Doing so will then allow them to increase their revenue as well. AppFigures notes that demand for workout apps is super high in January, and declines in February – but gamification through a video game would allow them to keep more users using the app & Peloton subscription.
How does this tie back to games? Working out requires discipline, and while some have it, more don't. That's why we see demand for workout apps skyrocket in January, only to decline by February. Every year. With a game, Peloton can literally gamify the workout experience, hooking its audience and making sure they continue to use its equipment and app. Another way to say it is, Peloton is going down-market because there's a lot of opportunity for growth there, and a game is a very easy way to do that.
However, it seems Peloton currently plans to only release Lanebreak (the Peloton video game) on the Bike/Bike+ (and possibly future hardware down the line). Current statements haven't mentioned about this being available through the app. Instead, much like how scenic rides are now only available for All-Access memberships, LaneBreak might be another feature only available through All-Access as another way to justify the higher price. That would mean Lanebreak might not be able to help Digital subscribers remain engaged, but it would help all of those All-Access users, which are the majority of Peloton's user base.
You can find the original report from Appfigures here.
---
Want to be sure to never miss any Peloton news? Sign up for our newsletter and get all the latest Peloton updates & Peloton rumors sent directly to your inbox.