Peloton is back with another artist series, this time featuring the music of producer, rapper, singer, and songwriter Pharrell Williams! Peloton officially announced the series via Instagram:
Clap along with hits that span genres and generations as we spotlight the hitmaker @pharrell in our first-ever Producer Series, featuring music he's made as a producer, writer, or performer.
📅 Classes start April 6 with @assal_arian, @tobiasheinze_de, @afrow_cliff, @jermainejohnsonuk, @hannahfrankson, @nicosarani, @adrianwilliamsnyc, @tune2tunde, and @denis__morton.
Note that Peloton is referring to this series as their first-ever "Producer Series" – meaning that there may be songs included in the class playlists that Pharrell doesn't actually perform on, but that he produced or wrote.
The series will launch on Thursday, April 6 and will include nine classes across at least five modalities, including three classes in German. You can find the complete class list below:
Pharrell Williams Peloton Classes & Schedule & Workouts – Featured Artist Series
20 min. Pharrell Williams Full Body Strength [German] – Assal Arian – 4/6/23 @ 3:00am ET
30 min. Pharrell Williams Run [German] – Tobias Heinze – 4/6/23 @ 11:30am ET [On Demand]
30 min. Pharrell Williams Ride [German] – Cliff Dwenger – 4/6/23 @ 1:30pm ET
30 min. Pharrell Williams Run – Jermaine Johnson – 4/6/23 @ 2:30pm ET [On Demand]
30 min. Pharrell Williams Ride – Hannah Frankson – 4/6/23 @ 2:30pm ET
30 min. Pharrell Williams Yoga Flow – Nico Sarani – 4/6/23 @ 6:30pm ET
20 min. Pharrell Williams Row – Adrian Williams – 4/6/23 @ 7:30pm ET
20 min. Pharrell Williams Glutes & Legs Strength – Tunde Oyeneyin – 4/8/23 @ 10:00am ET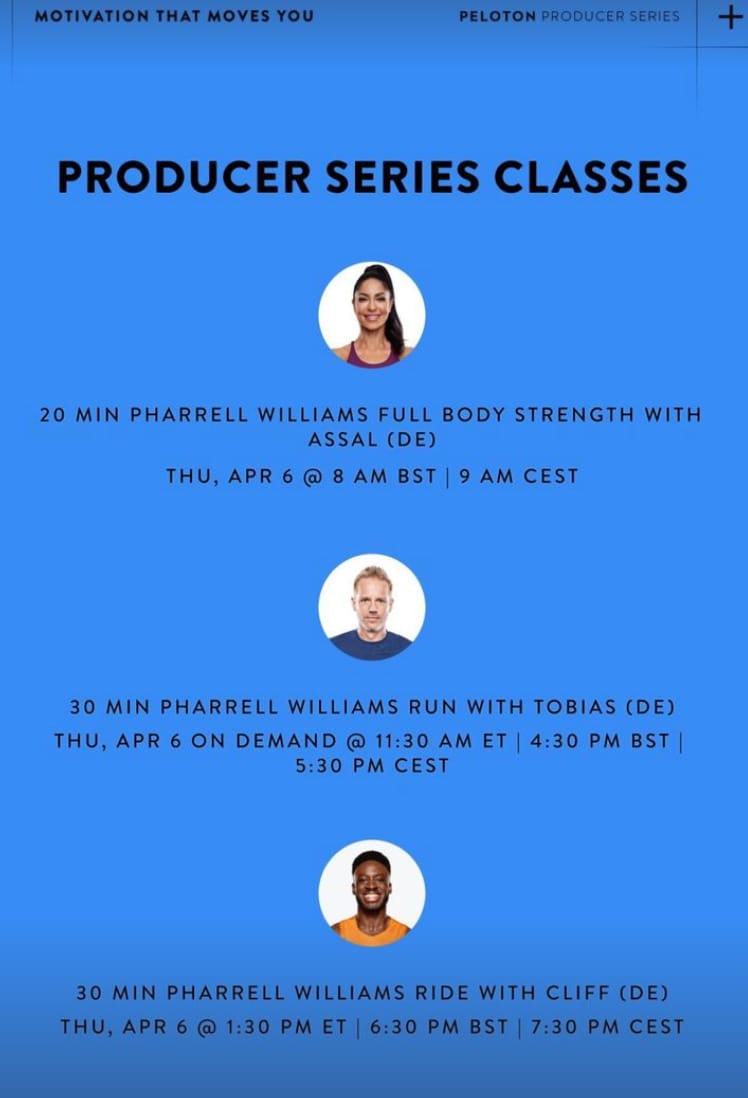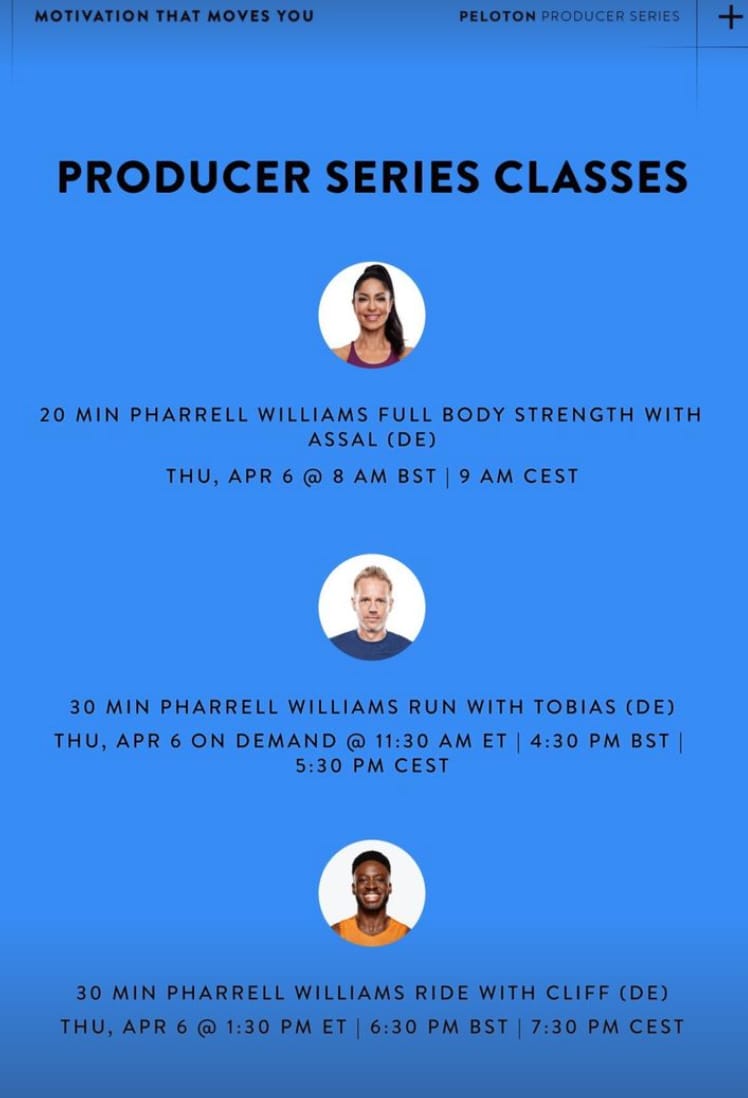 Note that Peloton's caption on their Instagram post also includes Denis Morton as one of the instructors for the series, but there are no classes on the live upcoming schedule, so it will likely be a pre-recorded on demand drop.
We first reported this series was on the way last week, when Peloton added new artist series classes throughout the month of April to the studio booking site. Members can also expect artist series with De La Soul and Tupac later this month.
Members will receive an artist series badge for completing any of the Pharrell Williams classes. If you're interested in collecting other badges, you can check out our guide.
To explore previous Peloton artist series, you can browse the complete list via our site.
Will you be opting into the Pharrell Williams artist series?
---
Want to be sure to never miss any Peloton news? Sign up for our newsletter and get all the latest Peloton updates & Peloton rumors sent directly to your inbox.