Everyone was expecting Peloton to have an amazing quarter, and they did not disappoint. This afternoon Peloton released their earnings for the fourth quarter of 2020, as well as the full results for fiscal year 2020. We'll cover a few highlights members might find most interesting from the call. If you're looking for a deep dive into the numbers, covering things like EBITDA, check out your favorite financial news website, or check out the full results here. In after-hours trading, Peloton's stock was rising on the news from this report.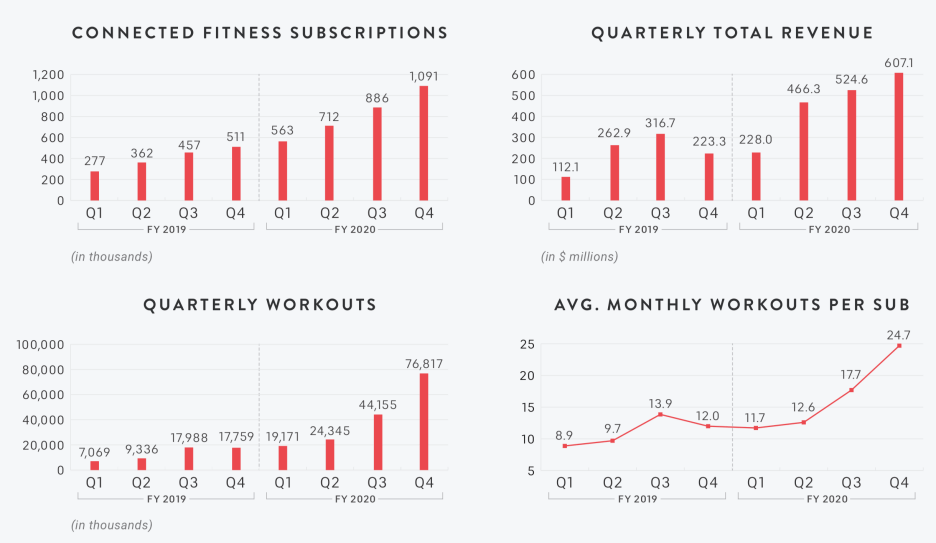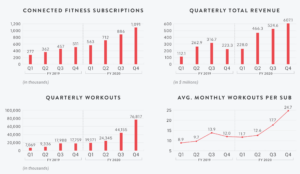 Peloton Q4 & FY2020 Earnings Overview
Peloton CEO John Foley opened the call with this statement: "The heart of our strategy is increasing the value proposition of our platform, including expanding our portfolio of connected fitness products, investing in new fitness verticals, adding innovative software features, and continuing to improve our overall member experience"
Over the fourth quarter, sales increased 172%, to a total revenue of $607.1 million. Hardware sales accounted for $485.9 million of this, or 80% of the total revenue. The other 20% of their revenue came from subscriptions. (Note that as of this report, apparel sales are now reported in with hardware sales, as Peloton views this mainly as a function of the referral program).
Peloton also reported their first quarter of profitability, with a profit of $89.1 million
Peloton also crossed the million 'connected fitness subscribers' (or active subscribers with hardware) mark for the first time, ending the quarter with 1.09 million. Average number of workouts hit 24.7 per member per month.
All of these numbers exceeded Peloton's previous guidance. With this high interest, however, came delivery backlogs, with new orders averaging 6-8 weeks of delivery. On the call, they stated that they don't be able to expect to significantly lower this delivery window for several months. However, they report that their new manufacturing facility for Tonic is still expected to come online in December, which has flexibility for both Treads and Bikes, and will signigifantly increase unit capacity.
Peloton's Bike and Bike+ Highlights
Sales of the original Bike are the major driver of all of Peloton's earnings right now. It was also revealed that the reason Peloton chose to drop the price by $350 was that, with financing, it allowed them to advertise the original bike as being priced at "$49/month" now. Even with the Bike+ and new Tread coming to market, Peloton expects the original bike to be their number one selling product for a long time.
Peloton's Tread & Tread+ Highlights
As part of the earnings call, a few questions came up about the Tread and Tread+. It was mentioned that if demand for bikes wasn't so high, the Tread could have had orders open at the same time as the Bike+. However, with there being such a demand for the bikes right now and a 6-8 week delivery backlog, Peloton felt it needed more time to streamline things more and bring more manufacturing online first.
As part of this, Peloton mentioned they don't expect sales of the new Tread to have a material impact on their fiscal year 2021 results – but they do for 2022. Another comment made it sound like the initial rollout of the new Tread might be slightly slower than the Bike+, to ensure they maintain a high quality product. One interesting note is that the profit margin is roughly the same on the Tread as it is on the Tread+.
Peloton's Strength Product
Peloton continues to send mixed signals about strength. We know that they approached at least one company, Tempo, about an acquisition earlier this year. And they are clearly interested in the category. Speaking about strength, John Foley said "We love strength, we need to win strength". He then followed that with "We're clearly going to win cardio. And so strength is an important vertical for us to put a flag down on. Clearly, if you're going to move all of your fitness programming into the home, strength is another compliment to your cardio we need to win"
However, when he then talked about how they would win it, he framed it more from the content perspective, rather than hardware, saying "With respect to other products in the marketplace, we haven't seen anything…personally that I'm that excited about. I like to workout with free weights, and bands, and body weight, and we're going to offer that in such volume that we think we're going to be able to win with our current approach"
That said, we still think a strength product to compete with devices like Tonal and others might be something that is quietly in the works, either as an in-house product, or potential acquisition. See our previous report on their plans in this area, including some key hires.
Speaking of in-house products, there was no teasing of the Peloton Rower, but they did mention they continue to invest money into R&D.
Other Items
Peloton stated that digital subscribers continue to grow, and while not nearly as profitable as connected fitness subscribers, they were pleased with the number of users upgrading from digital to full products.
Peloton has continued to keep advertising to a minimum, which helped with profitability this quarter. In future quarters they expect to begin upping their ad spending again.
Users under 35, as well as households earning under $100,000 are growing segments that Peloton expects to be able to further attract with their new lower priced products.
---
Want to be sure to never miss any Peloton news? Sign up for our newsletter and get all the latest Peloton updates & Peloton rumors sent directly to your inbox.