Peloton officially announced today that they will be increasing their monthly subscription costs for US & Canadian Peloton members for the first time ever. At the same time, they will be lowering the initial purchase price of the Bike, Bike+, and Tread.
Starting June 1st, the "All Access Membership" will increase from $39 USD / month to to $44 USD / month – a $5 monthly increase. In Canada, the cost will increase from $49 to $55 / month. This is the cost for members who own Peloton's hardware (Bike, Tread, etc). The cost for digital only members is remaining unchanged. Other international markets will not see a price change at this time.
This change is said to be going into place for all members in the US & Canada – nobody will be grandfathered in to their old prices.
At the same time the subscription costs are going up, the price for the Peloton hardware is being lowered. CNBC has a report on what those prices will be – and says they will go into effect at 6:00pm ET tonight. (Update – The below pricing did go live at around 6:00pm ET).
The original Peloton Bike will lower to $1,445 from the current $1,745 (inclusive of shipping)
The new Peloton Bike+ will lower to $1,995 from the current $2,495 (inclusive of shipping)
The new Peloton Tread will lower to $2,695 from the current $2,845 (inclusive of shipping)
No mention of the Peloton Tread+, which is still under a recall and not for sale
Peloton said the subscription price increase is so the company can continue to help them create great content for members:
We're increasing the price of our all-access membership in North America after eight years without a price increase. During those eight years, we've made significant investments to improve the quality of the subscription experience. We've consistently added content, disciplines, music, instructors, and new features, across three products: the Peloton Bike, Tread and Guide. Our Members are also getting more out of their Membership: monthly workouts per All-Access Membership more than tripled from 4.4 in October-December 2014 to 15.5 in October-December 2021. There's a cost to creating exceptional content and an engaging platform, and this price increase will help us continue to deliver for our Members.
In their post announcing the change, Peloton provided this graphic as to how much more value there is now as justification for the increase.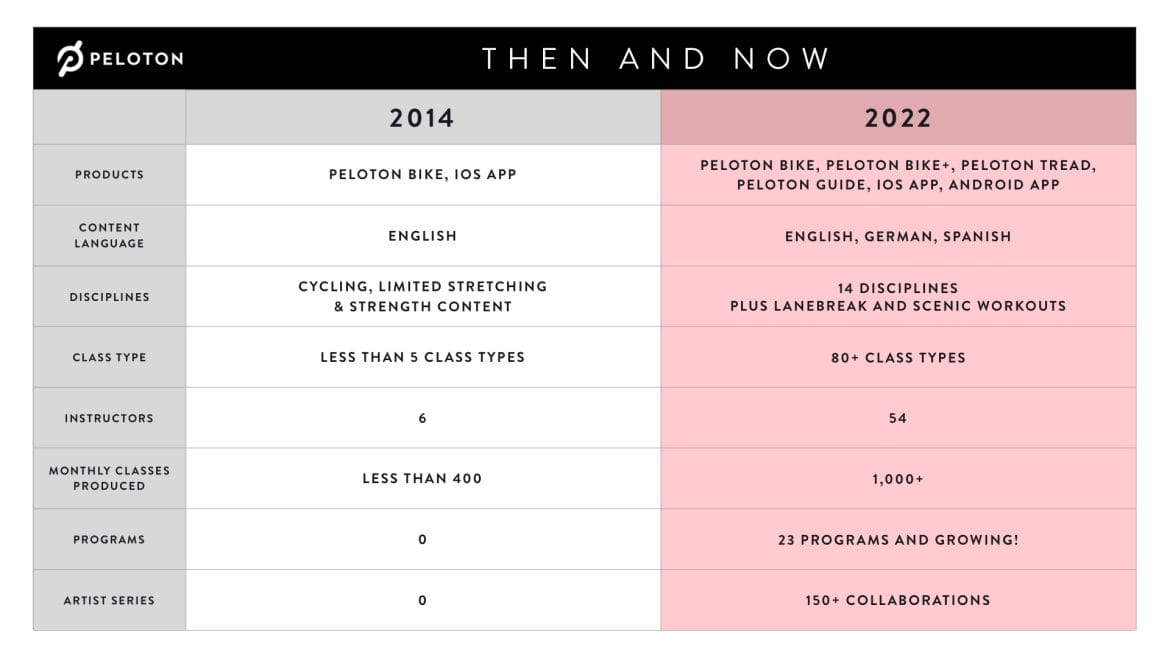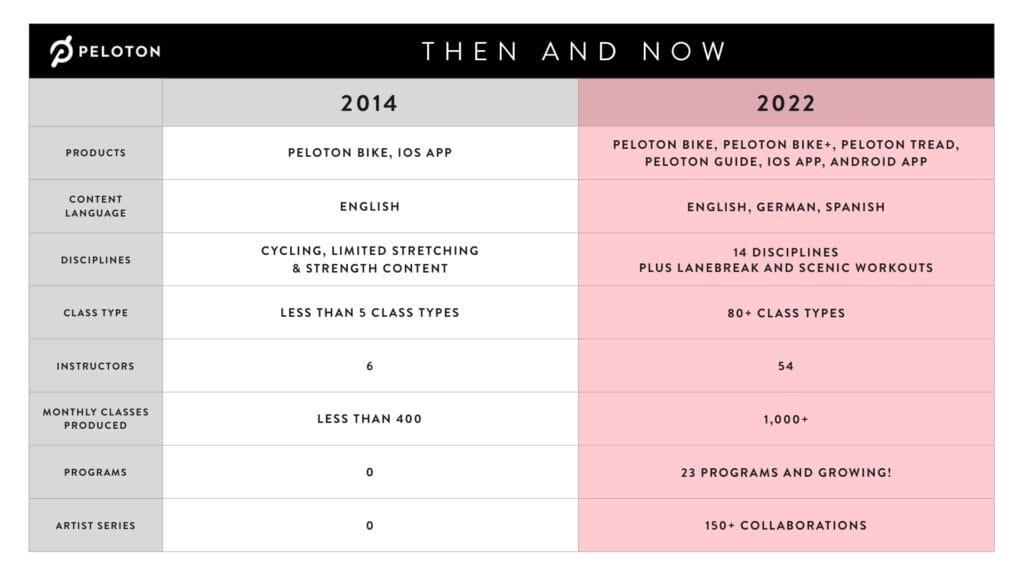 Peloton attributes the change to Peloton CEO Barry McCarthy's new vision to continue to grow the community.
We have an unwavering commitment to deliver the best connected-fitness experience anytime, anywhere. The pricing changes we are announcing today are part of our new CEO Barry McCarthy's vision to grow our community as we continue to deliver for our Members and shareholders as the leading global connected fitness platform.
This is a developing story and will be updated.
---
Want to be sure to never miss any Peloton news? Sign up for our newsletter and get all the latest Peloton updates & Peloton rumors sent directly to your inbox.