Update – At the end of July, it appears Peloton pushed out an update the disabled this workaround. So if you are halfway through a program, you might not want to try this as you could lose your progress. Test with a brand new program first.
During Peloton Homecoming this past weekend, Peloton announced a number of new features. One of these was a revamp of their training plans, which they are calling "Programs 2.0".
Prior to this update, programs were a sorted list of classes, broken into weeks. Now, in Programs 2.0, Peloton is recommending which days classes should be taken, and has added a scorecard & overview so you can track your progress better through the programs. There are also now badges for each program. (Love badges? See a list of them and how to earn them here.)
However, the rollout of these new programs has had the unfortunate side effect of locking people out of programs they had already started. There are two different reasons for this. First, is that some classes are now "exclusive" to programs. For example, many of the classes that are part of the "Road To Your 26.2" could previously be found by browsing the on-demand library. Now, those classes are "locked" and are only accessible in the appropriate week of the program. If you search the on-demand library they have disappeared.
This would normally be fine, except that you are not able to skip past Week 1 of a new training program. So if you were on Week 5 of the "Road To Your 26.2" program – it is now not possible for you to access the classes you were supposed to take. The Peloton app will show you that you have the classes coming up, but you are not able to skip to Week 5 in the program to actually start on of the classes – the app will keep you at Week 1.
Many people have contacted customer support about this. Responses have ranged from "We apologize, please just restart with Week 1 of the new program" to "We've notified our engineering team, and hundreds of bug reports have been filed. At this time we don't have any estimate for when a fix might be in place for this"
Until an official fix is rolled out (if one is), there is a workaround for this. And it's relatively simple! You can see a quick demo embedded in the video below (or here on YouTube), or we have directions immediately under the video. Important Note – If you've already started the program, by leaving it you will lose progress you have made, so keep that in mind when considering if you want to use this trick.
Locked Peloton Program Workaround
Below are the steps on how to trick the Peloton app into letting you start back into the correct week of the program. These steps should be done from your phone, and work on both Android, iPhones, and iPads. (Note that further down in the article, we have some alternate ways to workaround this, that involve just taking individual classes and not joining the programs).
Update – As we share above, this workaround might no longer work. See the alternatives lower down to try taking individual classes instead. If you try this workaround, try with a new program you haven't started yet to confirm it still works.
If you have already joined the program, go ahead and leave it (Again, keep in mind by leaving the program you'll lose any progress you've made in it, so just consider that).
Go to the Date & Time settings on your phone (in the Settings app).
Change your time from being set automatically, to being set manually.
Manually set your date to (X-1) weeks in the past, where X is the Week number of the program you want to start at. For example, if you want to join in the 4th week of a program, set your phone's date to 3 weeks in the past. This is because the week you join counts as week 1.
Go back to the Peloton app, and open the Programs section.
Rejoin the Program. Once you are back in the program, go back to the main screen of the Peloton app.
Go back to the settings app.
Set your phone back to setting the date & time automatically
Go back to the Peloton app, and re-open your program.
You should now be at the week you wanted to be! You will have to start with Class 1 of that week, but if you were mid-week, you can just play it from your phone and skip to the end to unlock. You can also now jump back to previous weeks and take them if you want.
Using this trick, you should be able to get to any week you want in any Peloton program. However, this method will likely mean you don't get the new badge that is associated with the program – which we don't expect to be too big a concern for people who just want to continue their progress in a program they already started.
If you are just curious what the classes are for reach program – you can check out any of them in the list below. We have listed a few of the popular previous programs – click any program name to go to the list of classes in that program.
You can find a full directory of Peloton's training programs here, for future reference. These include the old programs, as well as newer ones like Build Your Power Zones as well as You Can Run.
As we mentioned above, some of these programs have classes that are now exclusive to them. This means you can't easily browse to them in the on-demand library. However, if you would like to take some of the classes, there are a few workarounds to taking those classes without having to join and leave the program. With the list of classes from any of the programs, you should be able to take any of the classes with a tiny bit of extra work. There are 3 ways to do this.
Taking an individual Peloton Program Class Workaround #1 – Bookmark Classes
First, you can try bookmarking the class. Any of the classes should allow you to bookmark them. However, depending on which program it is, even if you bookmark the class it will not show up in your bookmarks on your Bike or Tread. This is the case, for example, with the new Build Your Power Zones program. If this happens to you, try one of the other two methods below.
Taking an individual Peloton Program Class Workaround #2 – Access from Workout History
A second option is you can start the class on your phone or laptop, which then allows you to take the class from your workout history on the Bike, Tread, or App. For this method, here are the steps.
Click on a class link from the program list above
It doesn't matter if it opens on the website or Peloton's app – click "Start" to begin the class
If you are an app user, enjoy the class!
If you are a Bike or Tread user, hit Pause after a few seconds.
Go to your Bike or Tread, and click on your Username at the bottom left of the screen.
On your profile screen, on the left hand side, click 'Workout History'.
In the list of classes shown now, the one you just started should the first one. Click it, and you'll see the class with a message of "This Workout is still in progress"
At the top right, you'll see a button to "View Class". Click this.
You'll see the (newly redesigned) class overview popup for the class you want to take. You can click "Start" to begin the class on your Bike & Tread (or add it to your Stack for later from here).
Assuming you clicked "Start", the next screen will give you two options. One to "Resume" the class, from wherever you paused it on your phone or laptop. The other is "Start Over", which will start from the beginning. This is likely the option you want to click.
With that – you are now taking the class on your Bike or Tread.
Taking an individual Peloton Program Class Workaround #3 – Class Stacking
One final option is you can try adding the class to your stack. If you are accessing the list from a desktop or laptop, this is simple. Clicking the class will open details of that class on Peloton's website where you can just click the "Stack" icon. If you are on your phone, it is slightly trickier, as the Peloton Android & iOS app don't allow you to add classes to your stack yet. However, there is a workaround for that too. You can see a full writeup here, but the short version would be to copy and paste the link of the class (right click on it), and paste it into your phones web browser. From the web browser, you should see the Add to Stack icon for the class, which wouldn't be visible in the Peloton app on the phone. You can also try right clicking the link and using "Open in New Tab" to try to get the phone to bypass the Peloton app. Once the class is in your stack, if you go to your Bike or Tread, you will see the class show up in your Stack
Taking an individual Peloton Program Class Workaround Bonus Option – Class Scheduling?
Since class stacking works, it's likely that using the Class Scheduling feature would likely work as well. However, since you can't see a list of the classes you've scheduled on the Bike or Tread, and have to be there at the right time to see the popup, this doesn't seem like the best option. That said, if you are using the Class Scheduling feature regularly, you might want to try this – steps would be the same as Stacking above except you would use the Scheduling button instead of Stacking.
We hope this tip on how to unlock and access the full schedule in Peloton Programs 2.0 was useful. If it was, please be sure to share it with any friends or groups you have who are having issues being locked out of Peloton programs.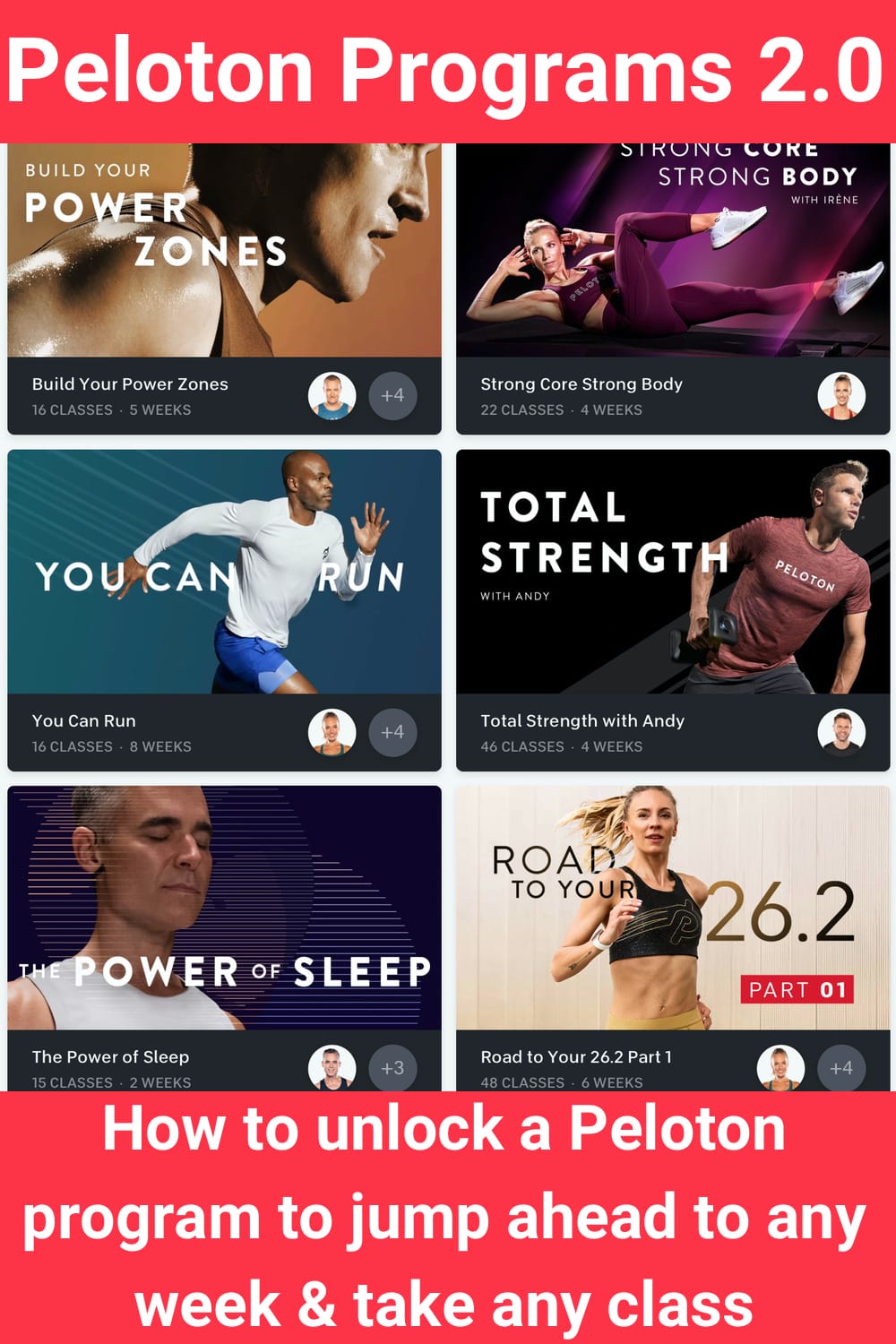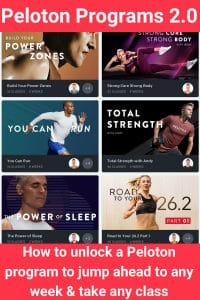 ---
Want to be sure to never miss any Peloton news? Sign up for our newsletter and get all the latest Peloton updates & Peloton rumors sent directly to your inbox.