Last month, Peloton introduced a new feature called "Class Stacking", which allows you to build a playlist of classes to take back to back without having to hunt through the on-demand library for your next class. However, only the Peloton Tread, Peloton Bike, and Peloton website have full capabilities for Peloton Stacks. Users of the Peloton iOS app, as well as the Peloton Android app, are unable to create new stacks or edit existing ones. They are only able to play existing stacks. Today, we will show you a trick to make creating & editing stacks quick and easy on both Androids and iPhones. You can see a demo of embedded in the video below (or here on YouTube if you want or the video doesn't work) – or keep reading for a walk-through of how to create & edit Peloton Stacks from an iPhone with the Peloton Digital app (or an Android!)
The first thing to know is that if you don't have any classes in your Stack, the "Up Next In Your Stack" option won't even show up in the Android or iPhone app.
To create your first stack for the iPhone (or Android), open Safari or any other web browser on your phone. You'll then go to the member pages on Peloton's website – members.onepeloton.com. From this page on Safari, you are able to create new stacks, modify your existing stack, or remove classes you no longer wish to take. If you plan to use Class Stacking often, here's a quick trick to make your life easier – you can create a home screen icon specifically for this!
We'll explain for Safari on iOS, however, there is a similar process for Chrome on Android, or Firefox on iOS, or any other browser. For Safari – from the on-demand library, click the Share icon at the bottom center of your screen – and then find the "Add To Home Screen" button.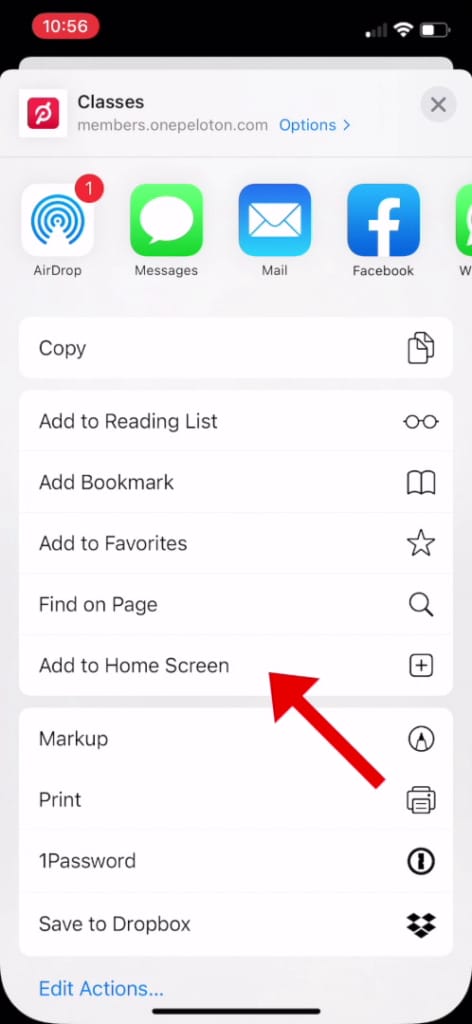 The new popup will allow you to give the home screen link a custom name (for example, you might use "Peloton Stacks") – or you can accept the default of Peloton Digital. After clicking add, you'll now find a second icon for Peloton on your desktop. It has the same exact image, but it will have your custom name you just set.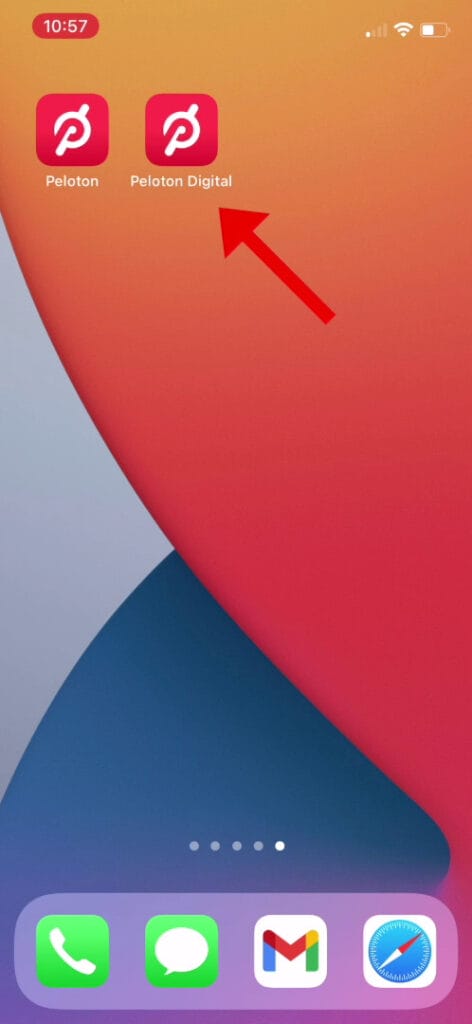 This is just a quick shortcut to auto-open the member page on the website. You can now open this second icon, and use that to build and modify your stack. You would still want use your normal Peloton icon (which is the actual app) to start your stack.
If this is your first time building stacks, here's a quick primer on how you can create and edit them from Safari or the mobile browser. After finding a class you want to add to your stack in the on-demand library, open the class. Under the preview image, the top left icon will be a nice icon for Stacking.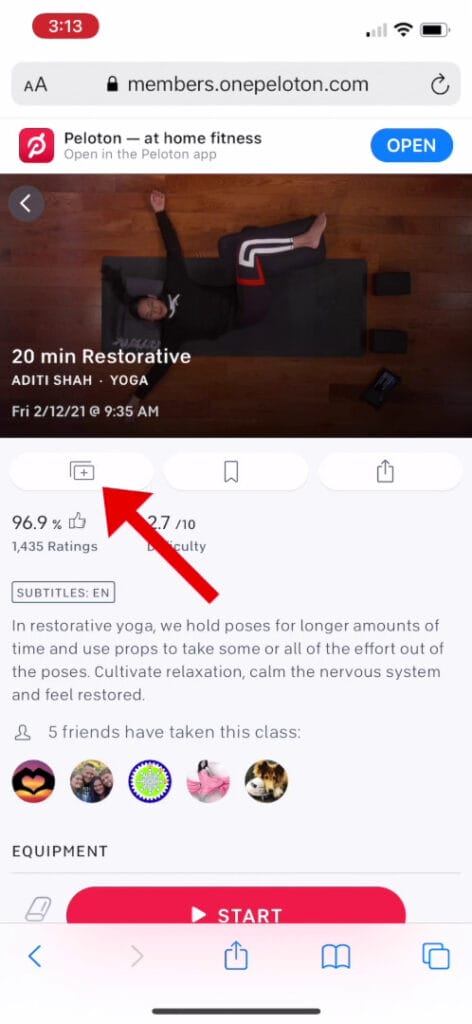 Clicking it will add the class to your stack and take you back to the library, where you should see a popup confirming the class was added to your Stack.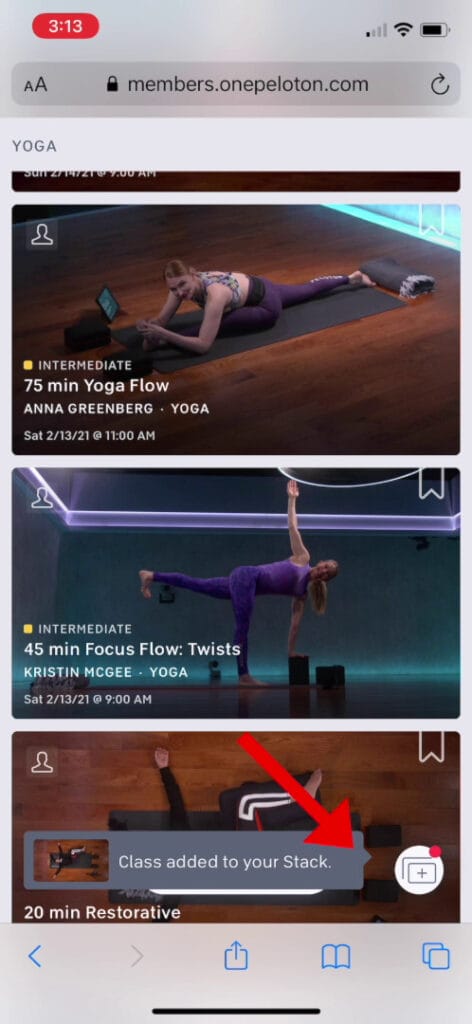 Next to the confirmation message is an icon for the Class Stack Library – which you can click at any point to see the current classes in your stack. From here, you can access the edit capabilities by clicking on "Modify".
To reorder classes in a Peloton Stack, you'll want to click and drag the far right icon next to a class. The 2nd icon from the right is a shortcut to quickly re-sort that class to be the first class. Clicking the red minus icon to the left of a class name will allow you to delete a class from your Stack. Once you are happy with the new order of your classes, hit "Done" to save your changes.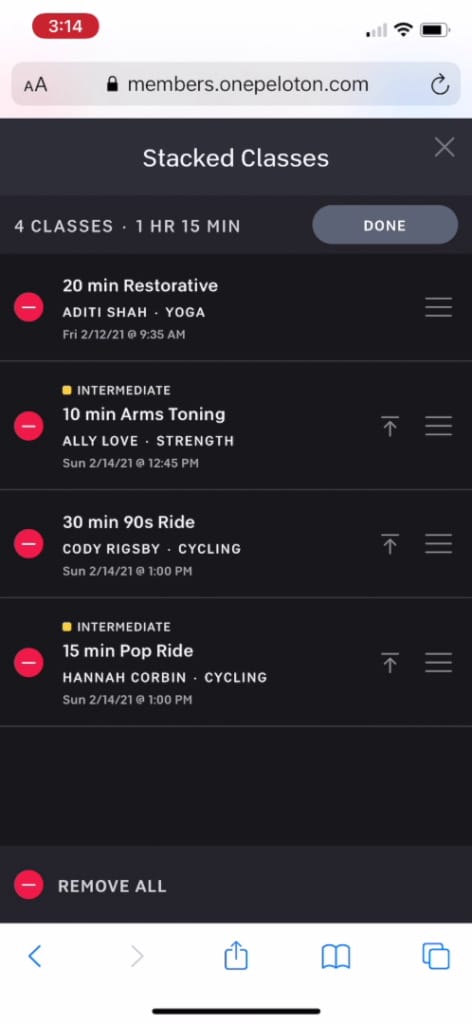 Once you are done setting up your stack using Safari (or your new custom link), you'll want to toggle back to the real Peloton Digital iOS app. Note that you may need to change to the programs tab and back to the classes tab to get the stack section to appear. Click on "Up Next In Your Stack" at the top of the on-demand library, and then you can start your stack!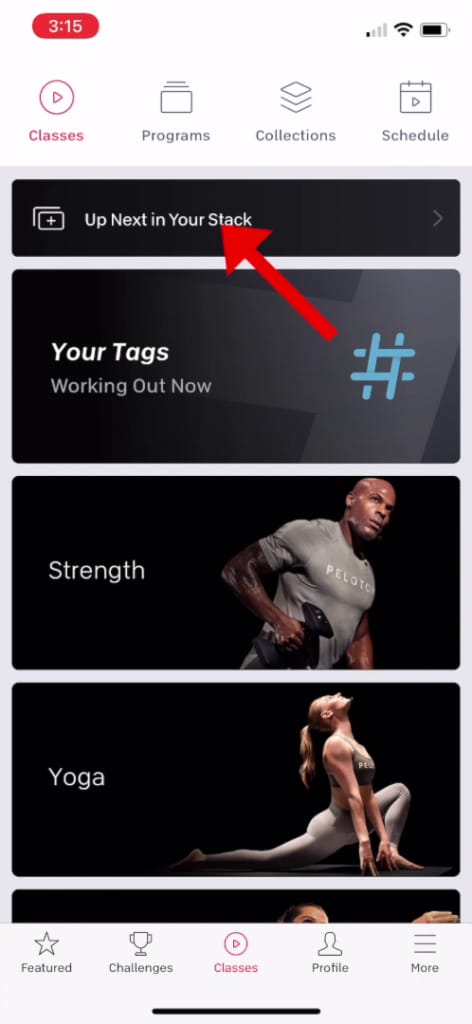 Wondering how many classes you can have in a Peloton Stack? Right now, there is a limit of 10 classes to a stack. However, as soon as you complete a class in a stack, it is automatically removed for you. Also keep in mind that you can not add live, encore, or scheduled classes to a stack at this time – it only works for regular on-demand classes.
Peloton has stated on social media they do hope to add full stack capabilities to the app in the future, but until then, hopefully this trick proves useful!
---
Want to be sure to never miss any Peloton news? Sign up for our newsletter and get all the latest Peloton updates & Peloton rumors sent directly to your inbox.