Peloton has revealed the full details of their next artist series featuring the heavy metal band Mötley Crüe. Peloton officially announced the series via Instagram:
Get ready to have a full-throttle workout to the classics of the world's most notorious rock band @motleycrue in our new Artist Series 🎸
The series will begin on Thursday, July 27, and will include seven classes across four modalities, including one classes in German.
This is also Tobias Heinze's first English class – his 10 minute warm up run which will drop on-demand will be in English, before teaching a full live run in German.
You can find the complete class list below:
Mötley Crüe Peloton Classes & Schedule & Workouts – Featured Artist Series
10 min. Mötley Crüe Warm Up Run – Tobias Heinze – 7/27/23 @ 10:30am ET [On Demand, English]
30 min. Mötley Crüe Run – Tobias Hieinze – 7/27/23 @ 11:30am ET [German]
30 min. Mötley Crüe Ride – Sam Yo – 7/27/23 @ 1:00pm ET
10 min. Mötley Crüe Arms & Lights Weights – Kendall Toole – 7/27/23 @ 1:40pm ET
20 min. Mötley Crüe Chest & Back Strength – Logan Aldridge – 7/27/23 @ 6:00pm ET
30 min. Mötley Crüe Run – Andy Speer – 7/27/23 @ 7:00pm ET
20 min. Mötley Crüe Row – Matt Wilpers – 7/27/23 @ 7:30pm ET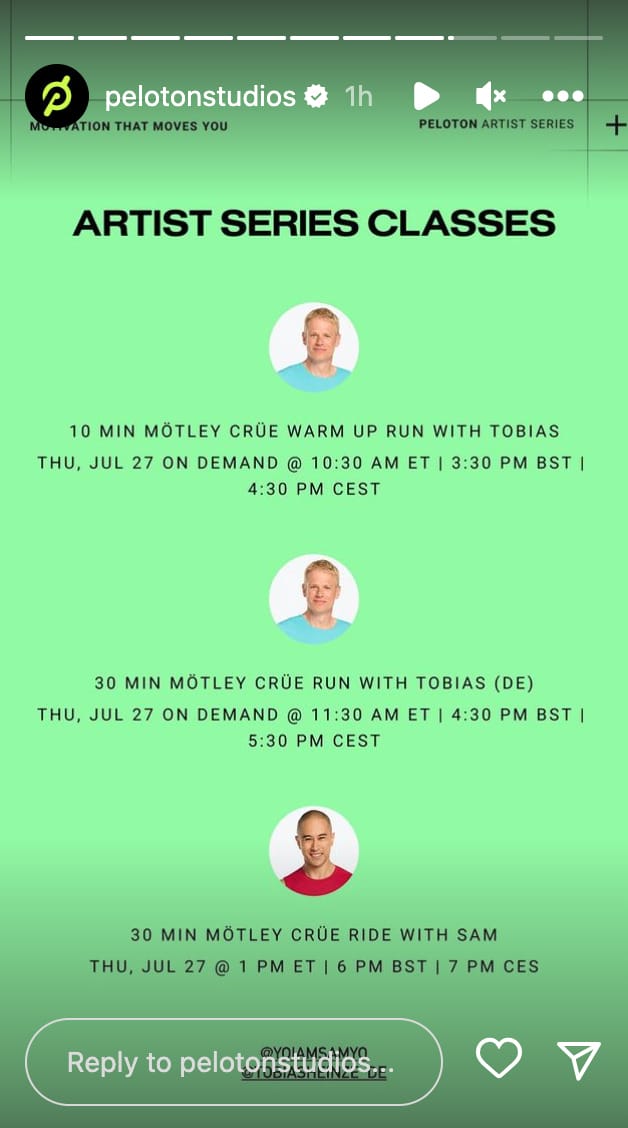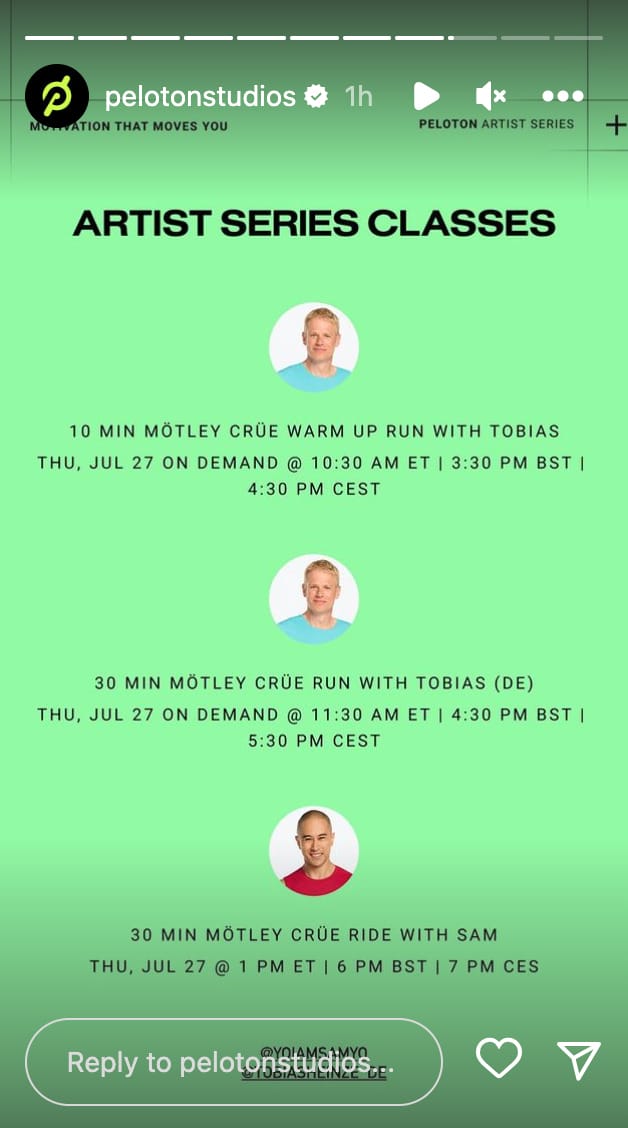 We first shared that this series was on the way in June, when Peloton added new artist series classes throughout the month of July to the studio booking site. Note that originally a Mötley Crüe Yoga Flow with Denis Morton had been on the booking site, but that class no longer appears on the upcoming schedule and was not included in Peloton's announcement.
July turned out to be an incredibly busy month for artist series. Peloton had special classes for Samara Joy, Luke Bryan, Christina Aguilera, and Busta Rhymes; and a Barbie movie soundtrack series was just announced as well.
As always, members will earn an artist series badge for completing any of the Mötley Crüe classes. If you're searching for additional badge opportunities, check out our comprehensive guide.
If you want to explore past Peloton artist series, a complete list lives on our site.
Will you be opting into Peloton's upcoming Mötley Crüe classes?
---
Want to be sure to never miss any Peloton news? Sign up for our newsletter and get all the latest Peloton updates & Peloton rumors sent directly to your inbox.