Peloton has officially another artist series for May: the Jonas Brothers! Peloton shared the full details via Instagram:
Stretch, sweat, and sing your hearts out to this week's Artist Series @jonasbrothers 🔥
Note that this artist series was announced via the @PelotonStudios Instagram account – not the main @onepeloton account.
The series will launch on Thursday, May 25 and will include seven classes across five modalities, in three languages. You can find the complete class list below:
Jonas Brothers Peloton Classes & Schedule & Workouts – Featured Artist Series
30 min. Jonas Brothers Ride [Spanish] – Camila Ramón – 5/25/23 @ 7:30am ET
15 min. Jonas Brothers Bodyweight Strength [German] – Erik Jäger – 5/25/23 @ 11:30am ET
30 min. Jonas Brothers Glutes & Legs Strength – Callie Gullickson – 5/25/23 @ 6:00pm ET
20 min. Jonas Brothers Yoga Flow – Aditi Shah – 5/25/23 @ 6:30pm ET [On-Demand Premiere]
30 min. Jonas Brothers Ride – Kendall Toole – 5/25/23 @ 7:00pm ET
30 min. Jonas Brothers Run – Olivia Amato – 5/25/23 @ 7:00pm ET
30 min. Jonas Brothers Row Bootcamp – Katie Wang – 5/25/23 @ 7:30pm ET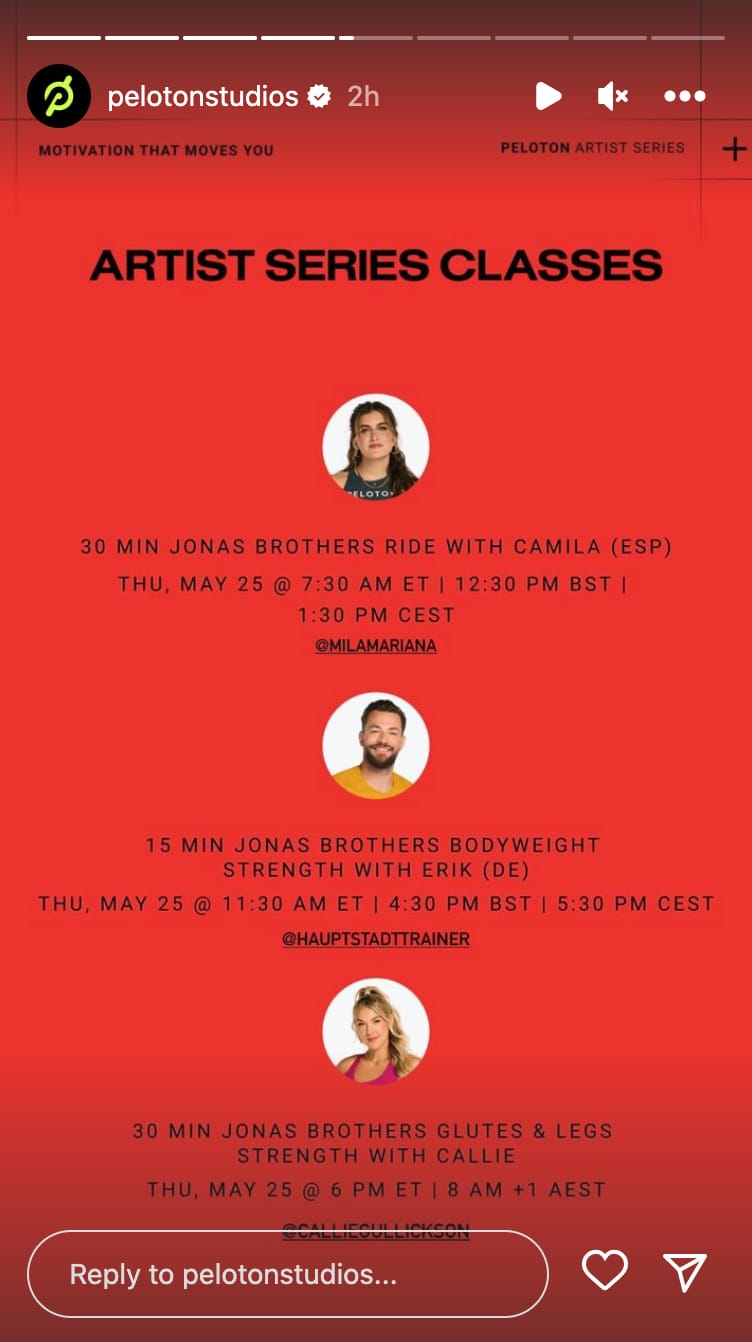 We first reported this series was on the way last month, when Peloton added new artist series classes throughout the month of May to the studio booking site. There were also artist series for the Yeah Yeah Yeahs and Bruce Springsteen earlier this month.
Note that Joe Jonas is a Peloton member and has previously appeared in Peloton content. Peloton's "On the Leaderboard" series, which debuted in 2022 and has had three episodes thus far, showcased Joe Jonas in a Tread run with Olivia Amato, which can also be taken on the bike.
Members will receive an artist series badge for completing any of the Jonas Brothers classes. You can always find a full breakdown of available badges via our guide.
To explore previous Peloton artist series, you can check out the complete list via our site.
Will you be opting into the Jonas Brothers artist series?
---
Want to be sure to never miss any Peloton news? Sign up for our newsletter and get all the latest Peloton updates & Peloton rumors sent directly to your inbox.