This morning Icon Health & Fitness (who are the makers of NordicTrack) have filed another patent infringement lawsuit against Peloton. Icon is alleging that Peloton's Bike+ is infringing on a newly granted ICON Health & Fitness patent that they received in December. The new claims revolve around the combination of Peloton's Auto-Follow feature, along with the weight rack & corresponding user interface on the Bike+ – Icon claims that both of those together infringe on their new patent.
The new patent that was granted to Icon is US 10864407, and can be viewed here. At a high level, here is what is patented:
A free weight assembly includes a cradle, an aerobic exercise element that is movable with respect to the cradle during the performance of an exercise, at least one free weight removable from the cradle, an input in communication with a processor that determines a time to instruct a user to remove the free weight, and an indicator that activates when the time to remove the free weight arrives.
Included in the patent is this high level diagram of one way the patent could be used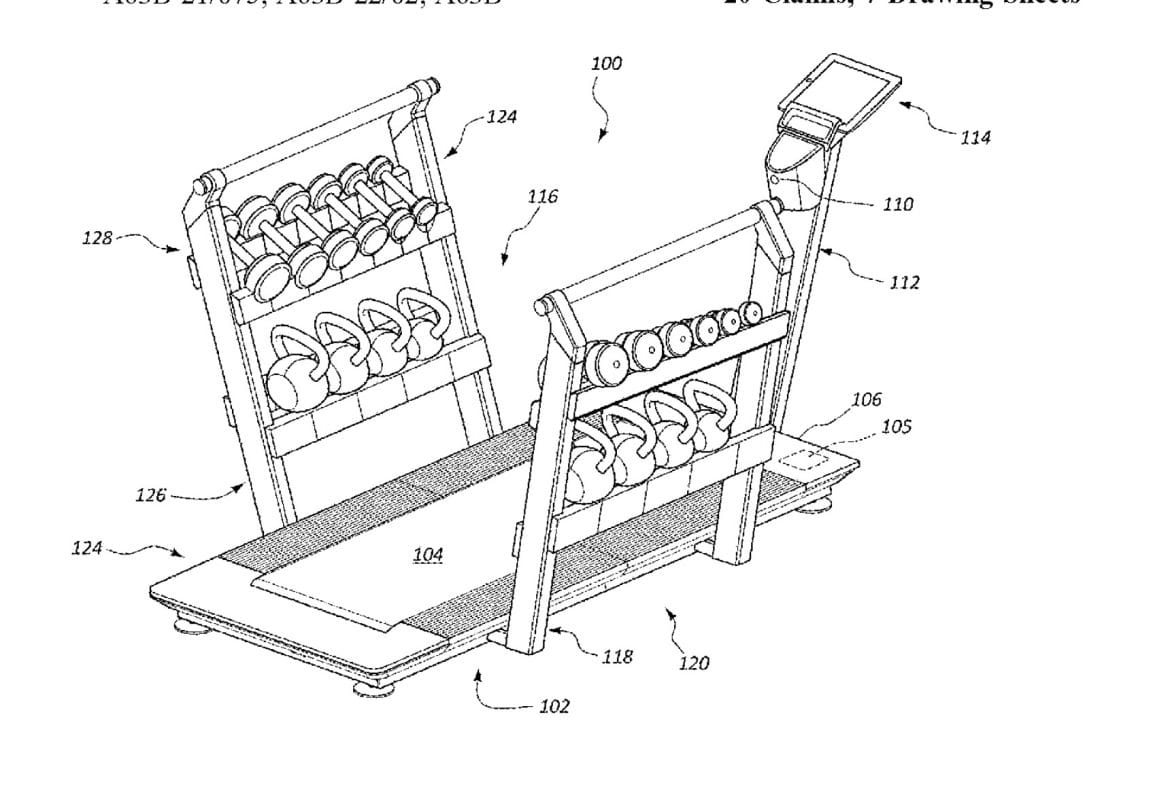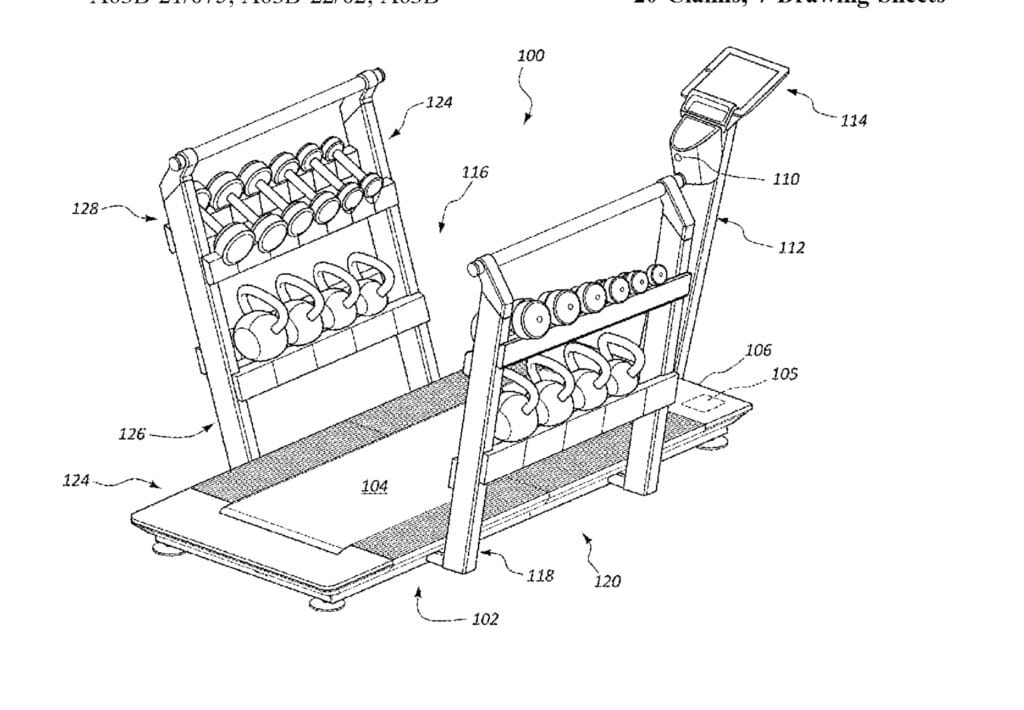 In the lawsuit, ICON laws out their case:
ICON's United States Patent No. 10,864,407 ("'407 Patent") is an example of further generations of ICON's iFit technology. The '407 Patent generally discloses and claims technology to automatically control an exercise device in conjunction with an interactive integrated weight system. This system allows a user to obtain the benefit of automatic control and programming customized for their fitness goals, and seamlessly integrates both aerobic (cardio) and anaerobic (weight/resistance training) into a single exercise using a single device. ICON's '407 Patent teaches a system that allows users to save space and time, and still obtain the benefit of a customized, automatically controlled, combined cardio and strength training workout.
In following points of the suit, Icon points out that the new Bike+ has the Auto-Follow feature, which will automatically adjust riders resistance to match what the instructor is calling out. This is how Icon shows Peloton is infringing on the part of the patent about "automatically control an exercise device"
Next, Icon shows how during some workouts, like intervals and arms, the user interface of the Peloton Bike+ shows when you are supposed to change from riding to arms segments, and back. A screenshot from the lawsuit is below:

Since the Peloton Bike+ has the weight rack on the back of the bike, the combination of this weight rack, and the user interface showing the above, is what Icon points out as infringing on the "in conjunction with an interactive integrated weight system" part of the patent.
Icon then makes the claim this new auto-follow feature is part of what can allow Peloton to charge a premium over the original Bike. They also reference the swivel screen as another big feature – although they aren't claiming infringement on this patent, Icon is claiming patent infringement there in another suit that was filed last year.
Peloton's Auto Follow feature and its interactive integrated weight system are important features to Peloton that drive demand for the Bike+, and have allowed Peloton to charge a $600 premium for the Bike+ compared to its original Bike that does not include the infringing features.
Icon also mentions in the lawsuit that they have a patent pending swiveling screen (U.S. App. No. 17/066,485), and that is yet another example of patent infringement by Peloton, stating "it is facilitating that infringement by also using ICON's patent pending swivel screen as well."
In the suit, Icon states they are requesting damages from the infringement. By making the case that their patents allow Peloton to charge a $600 premium they may be laying the groundwork for requesting that amount for every Bike+ sold. Accordingly, they are also requesting the court do a "Imposition of a constructive trust on, and an order requiring a full accounting of, the sales made by Peloton as a result of its wrongful or infringing acts alleged herein"
Icon is also requesting the court block Peloton from further use of their patented features.
Note that NordicTrack has another outstanding patent infringement lawsuit against Peloton. Last October, Icon filed suit against Peloton alleging the Bike+ swivel screen & auto-follow feature infringed on existing Icon Health & Fitness patents. However, those previous claims appear to revolve around different patents – although today's suit mentions one of those other patents & suits.
Peloton also has some outstanding lawsuits against Icon Health & Fitness. In November, Peloton sued Icon alleging they had stolen trade secrets. And last May, Peloton sued Icon alleging their live leaderboard infringed on Peloton's patents.
This news was first reported by Bloomberg Law.
---
Want to be sure to never miss any Peloton news? Sign up for our newsletter and get all the latest Peloton updates & Peloton rumors sent directly to your inbox.