Peloton competitor Flywheel emailed all subscribers of their "Flywheel At Home" service today, which was first launched in the fall of 2017, notifying them that they would be shutting down effective March 27th, 2020. The Flywheel Home Bike (formerly known as Flywheel Anywhere) was Flywheel's answer to Peloton. However, earlier this month Peloton & Flywheel settled a lawsuit, with Flywheel admitting they infringed on several Peloton patents.
At the time it wasn't clear what this meant for the Flywheel At Home service – the settlement filed with the court simply stated that Flywheel would stop infringing on the patented technology within 60 days. Today's shutdown notice means that Flywheel had no alternative solution, so shutting down their at-home service was their only choice. Note that today's news, and the aforementioned lawsuit, does not impact Flywheel studio classes or business, it is only regarding the Flywheel At Home bike and service.
Twitter user @rannsanantonio shared the email they received from Flywheel with the news and shutdown notice.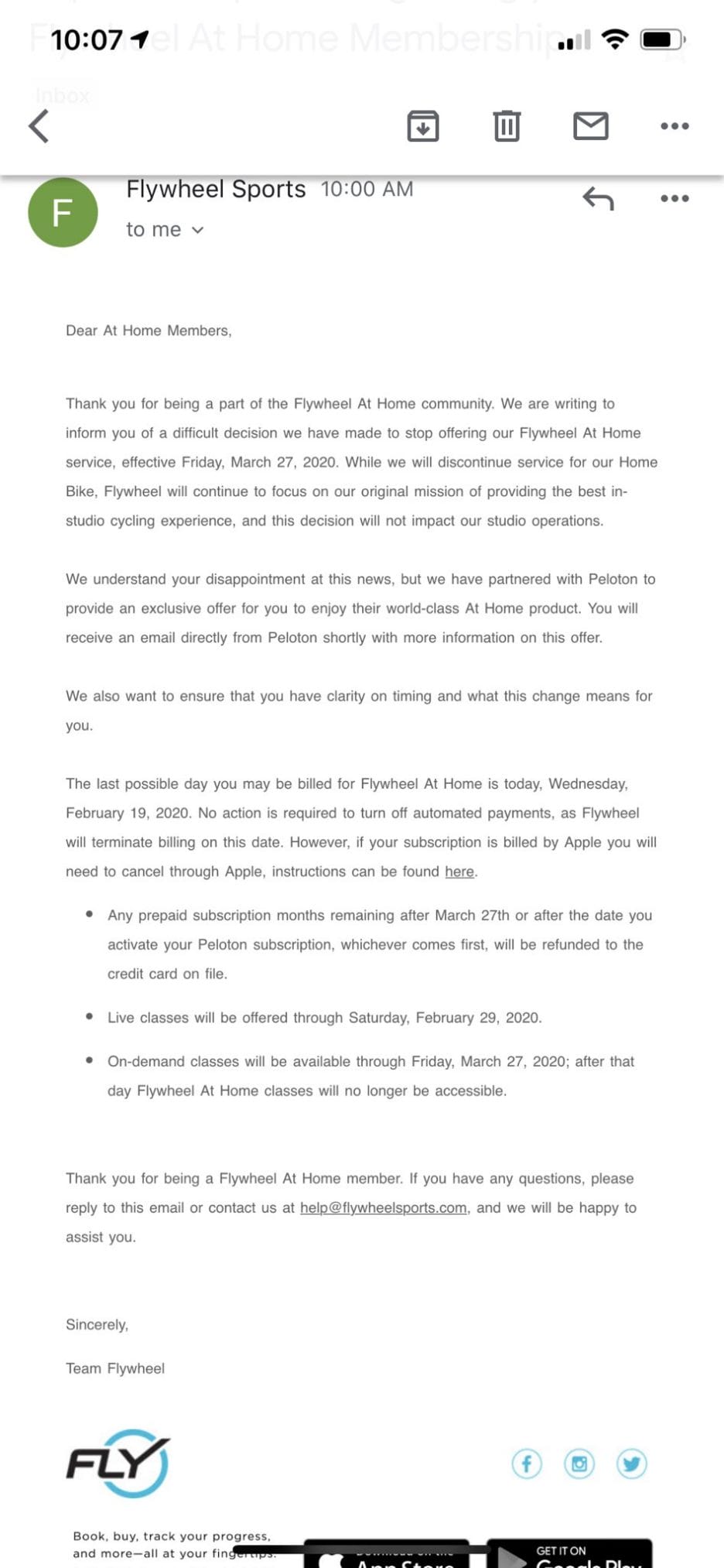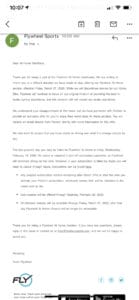 Contained in the email is reference to a "Exclusive Offer" Peloton would be making for owners of the Flywheel At Home bike:
We understand your disappointment at this news, but we have partnered with Peloton to provide an exclusive offer for you to enjoy their world-class At Home product. You will receive an email directly from Peloton shortly with more information on this offer.
We've been able to find out that this exclusive offer is users can exchange their Flywheel Home Bike for a free refurbished Peloton bike – the offer does not appear to include any free subscription time. Peloton has created a special website for Flywheel users to initiate the exchange, pictured below. The form notes that it might take up to 30 days to arrange for delivery, and the bikes will only have the standard 12 months of warranty, without the option to add on the optional 3 year extended warranty (due to the bikes being refurbished)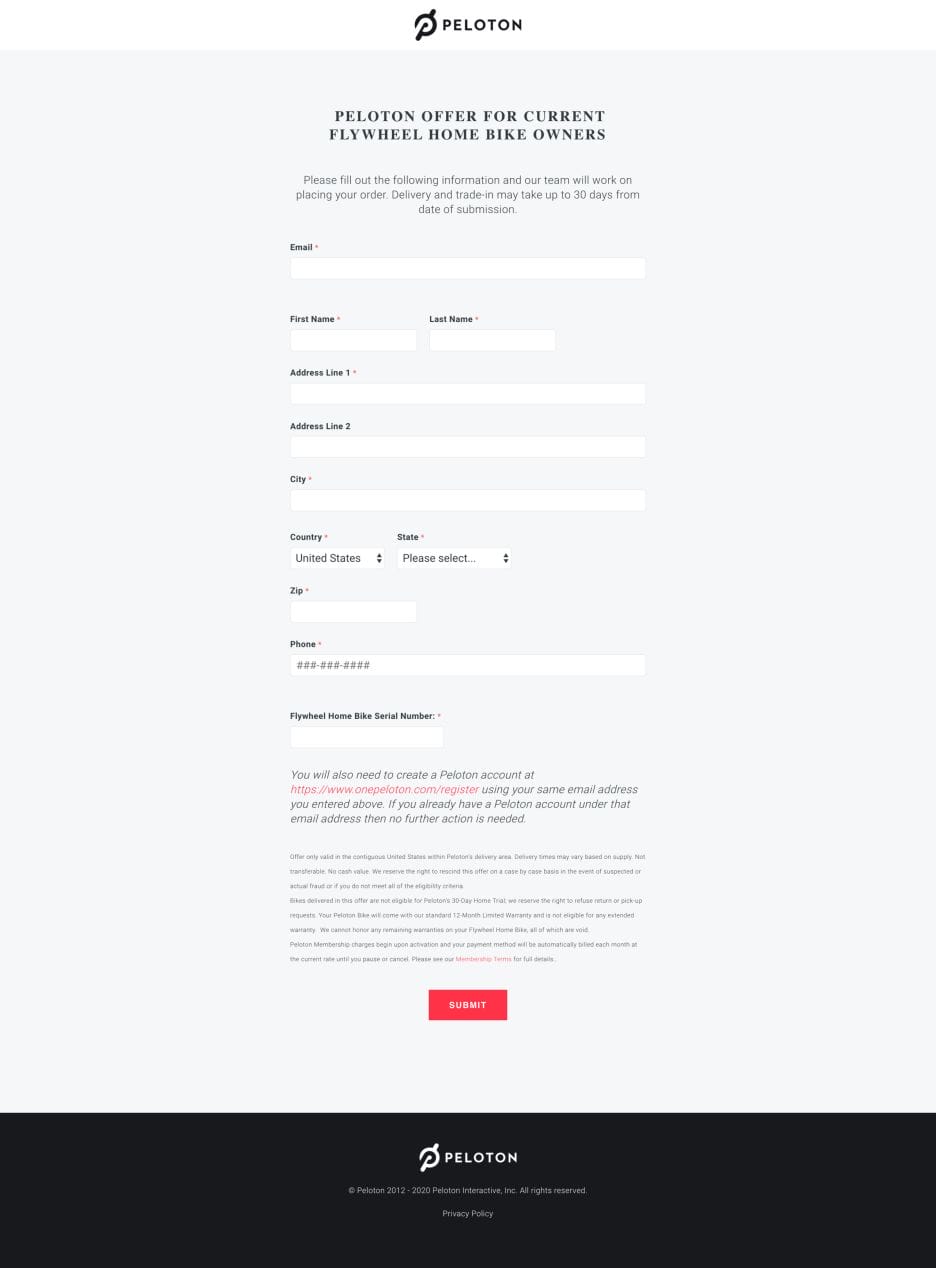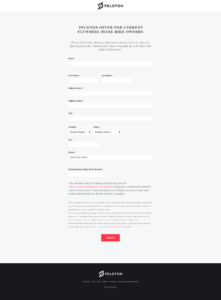 The last live Flywheel At Home live class will be on Saturday, February 29th, 2020. On demand classes will remain available until March 27th, 2020, after which point you will not be able to load any classes on the Flywheel Home Bike. Any Flywheel At Home users with questions or concerns can email the Flywheel team at help@flywheelsports.com.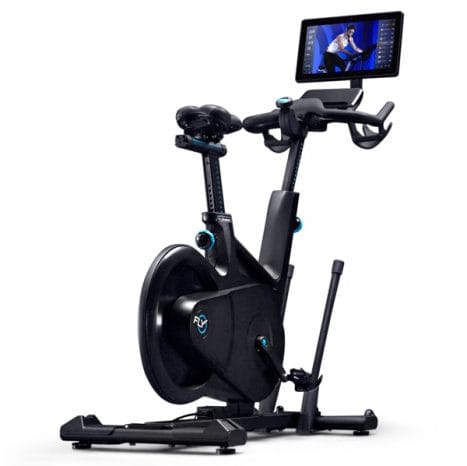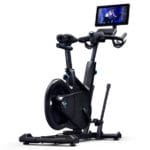 ---
Want to be sure to never miss any Peloton news? Sign up for our newsletter and get all the latest Peloton updates & Peloton rumors sent directly to your inbox.