If you've been seeing all of the news about Peloton on Tour – Peloton's replacement for Homecoming that includes five stops in cities around the world – and worrying that All for One (AFO) Music Festival has fallen by the wayside, you're not alone.
Update – The 2023 All For One Music Fest will be from Sept 7 – 9, 2023.
Nonetheless, there is nothing to fear – DJ John Michael has you covered! Peloton's DJ and Producer of Music Programming recently conducted an AMA (ask me anything) via Instagram while traveling. A follower asked: "When is AFO this year? Thanks to you and the instructors, I have new favorite artists!"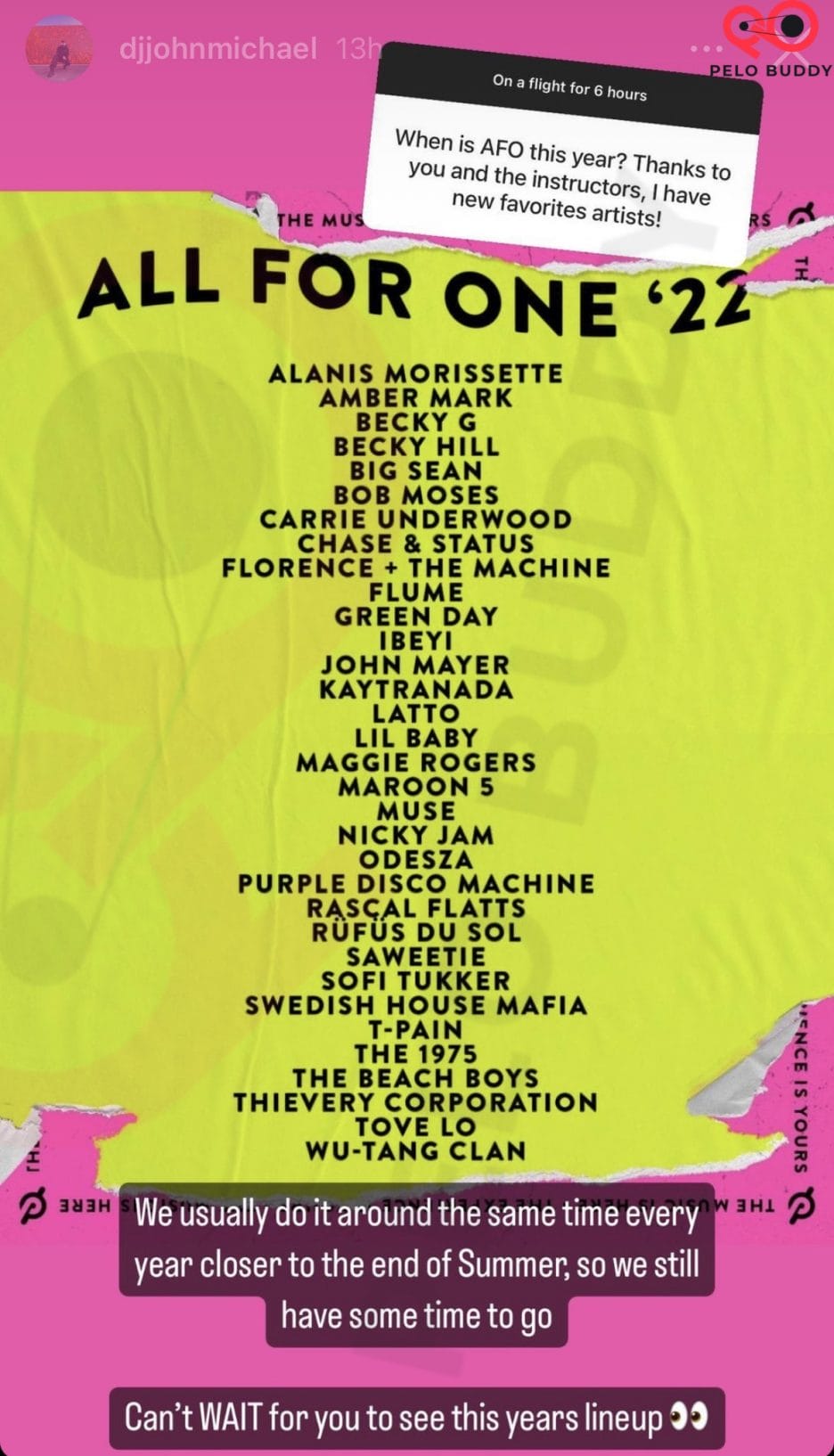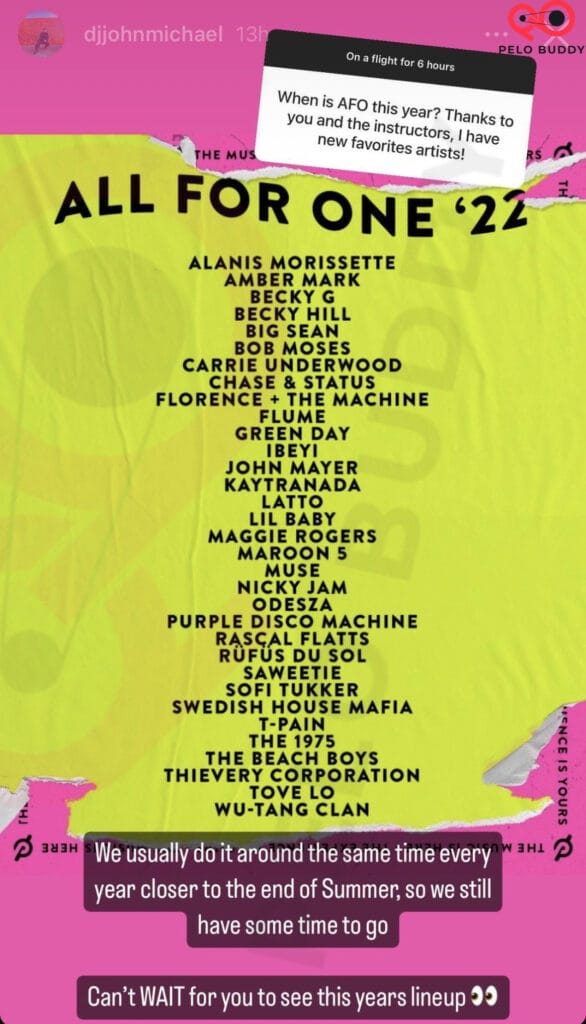 DJ John Michael confirmed that Peloton's AFO All For One Music Festival will in fact be happening in 2023. He answered the question by stating: "We usually do it around the same time every year closer to the end of Summer, so we still have some time to go. Can't WAIT for you to see this year's lineup."
Though we are unable to say with certainty, this means we can likely expect a 2023 AFO date announcement in July, and the full line-up in early to mid-August.
The 2022 AFO Music Festival took place from August 18-21. The dates were not shared until approximately one month prior. The full lineup was not announced until one week prior. Last year's AFO Music Festival featured the music of 33 artists in more than 160 classes across all modalities and taught in three languages.
That same exact weekend this year would be the same dates as the Atlanta stop of Peloton on Tour, so it's possible it could be the week before this year, and take place August 10-13, 2023, assuming they don't want a conflict with the Peloton on Tour activities. Note that John Michael did not say it would be the same exact weekend, so at this point there are still a range of dates it could be.
AFO Music Festival initially launched in 2021. 25 artists were featured throughout a mix of both live and pre-recorded on-demand drops that encored throughout the festival.
In both years, the live classes were considered the "main stage" and would have classes across modalities happening at the same exact time. Members earned a special badge for taking any All for One class.
If you want to look back at previous AFO Music Festival classes, you can find dedicated collections for both 2022 and 2021 via the App, web browser, or your hardware device.
We will post updates on the Peloton 2023 All For One Music Festival as new information becomes available!
Which artists are you hoping to see in this year's lineup?
---
Want to be sure to never miss any Peloton news? Sign up for our newsletter and get all the latest Peloton updates & Peloton rumors sent directly to your inbox.