Peloton is seeking real-life German, Australian, and UK members (and non-members) to be featured in an upcoming advertising campaign. Peloton shared the news on the Peloton Germany Facebook page, and the Peloton UK Facebook page. The post translates roughly to: 
We are looking for real Peloton enthusiasts, including non-members, who would like to play in our next campaign, present themselves, film themselves and create content.

If you like to train with the Peloton bike or tread, are at home on the Peloton app, love HIIT Cardio courses or all kinds of yoga flows, or prefer to work out with Peloton in the gym, then get in touch with us!

It doesn't matter if you are male, female or non-binary, what colour your skin is, ethnicity or body built – if you are at least 18 years old, you are more than welcome to apply. Just fill in the google form and know all about the application and payment. So what are you waiting for? Don't miss this unique opportunity: https://forms.gle/JbXs4jUbVsCdrwh59

Let's celebrate the diversity and passion of our Peloton community together! 💪

*Submitters only: successful applications will be contacted. Deadline to submit: midnight Sunday the 13th August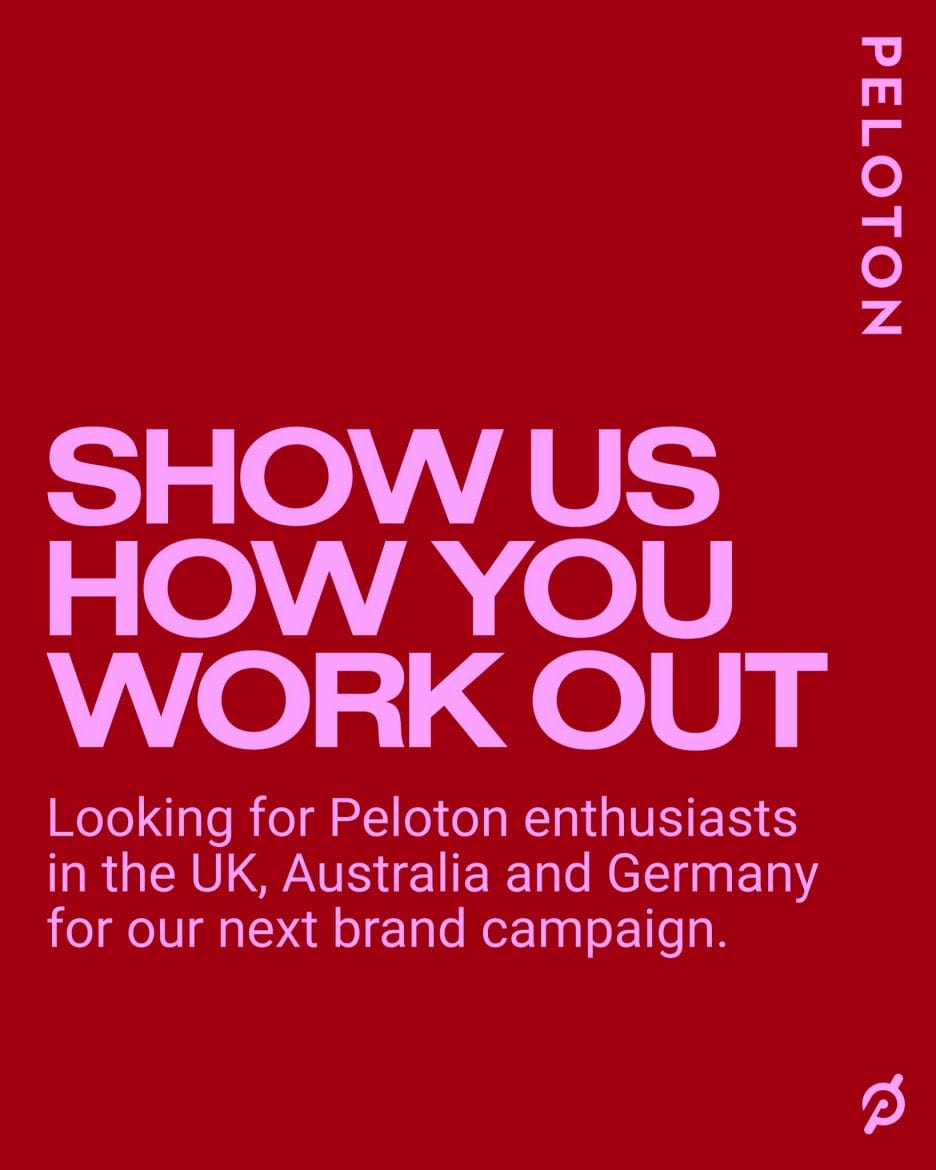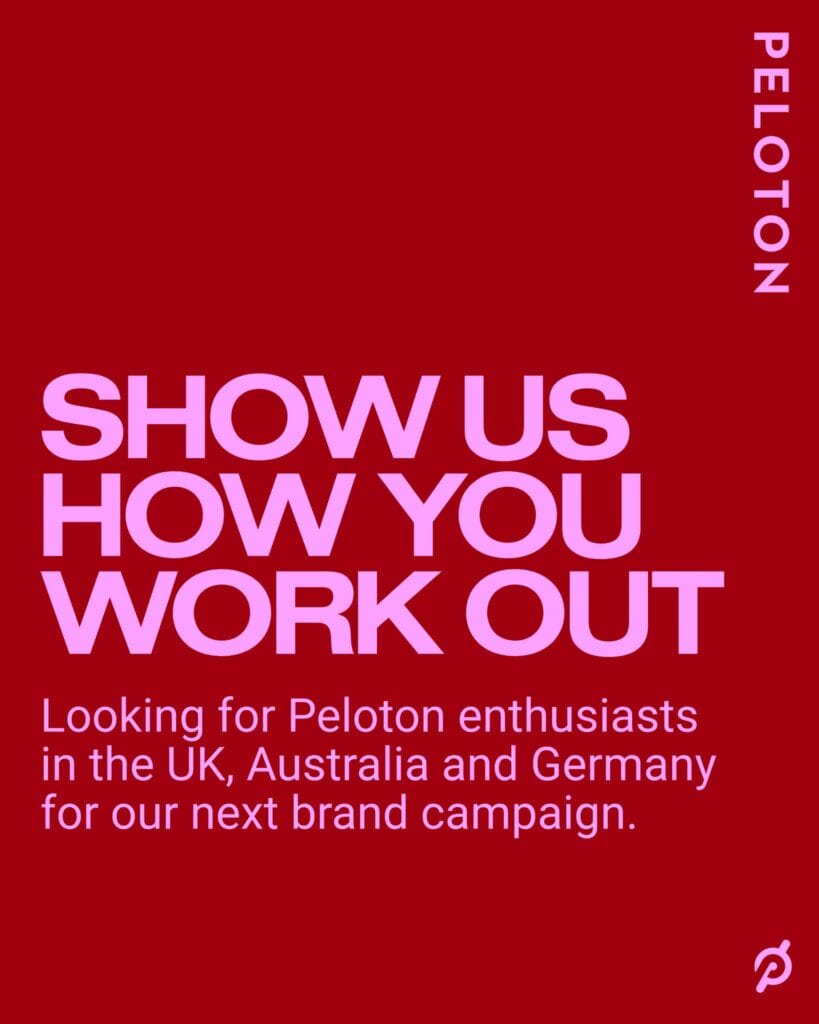 The form notes they are looking for members across various countries, saying "We are looking for passionate Peloton fans , including non-members, in Germany, UK and Australia for a paid Peloton branding campaign."
Those interested are instructed to apply via the provided Google Form in German, or the application form in English by the submission deadline of August 13, 2023. Applicants must be at least 18 years of age, but that is the only specification provided. The form asks for the below information: 
Email
Name
Residence
Clothes and shoe size
Whether you've ever starred in a commercial; and if so, what brand and when
Whether you own Peloton product
Leaderboard name
Full body photo
Video introducing yourself and why you want to participate in this project
Video of your home or where you typically do Peloton workouts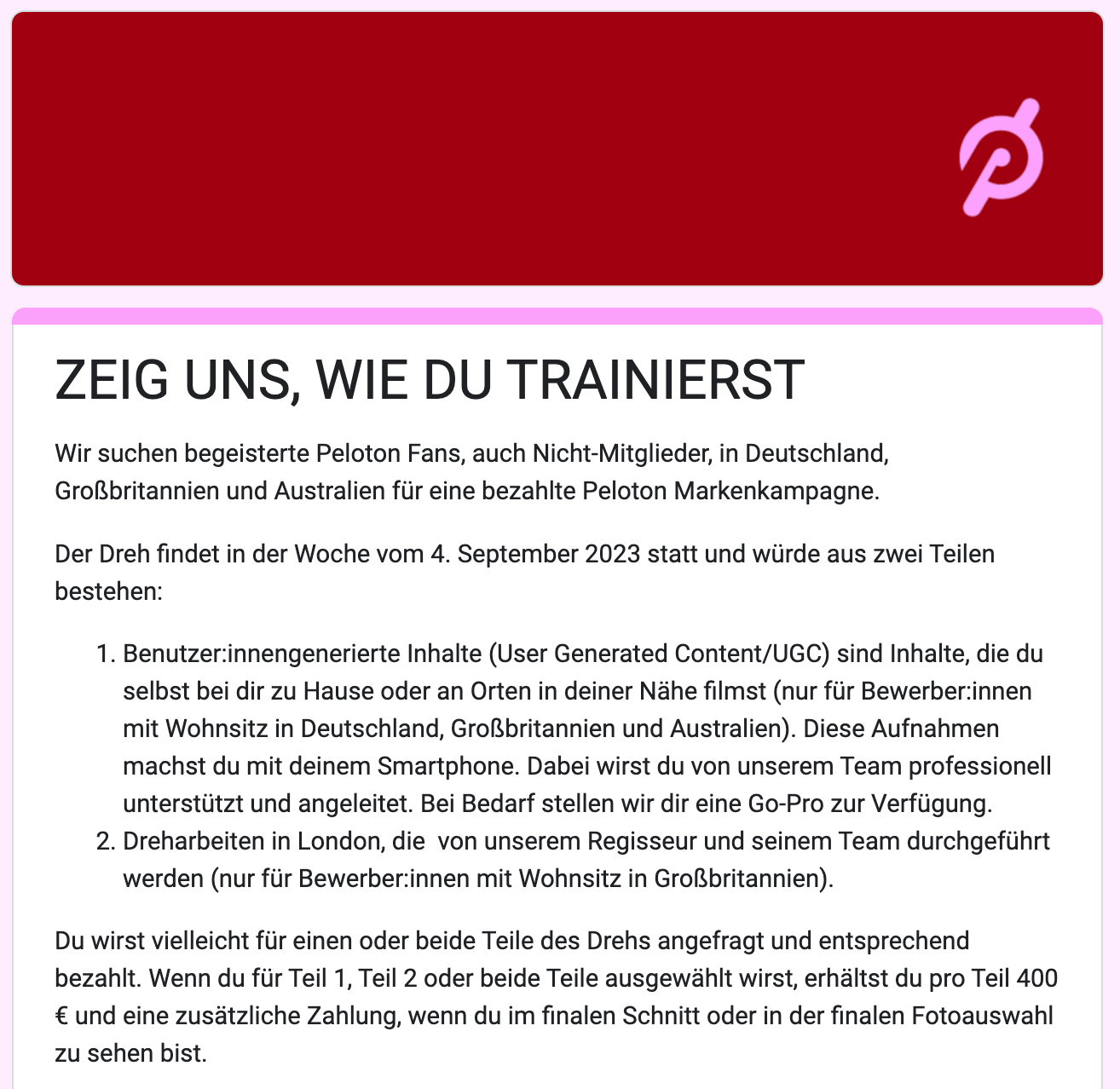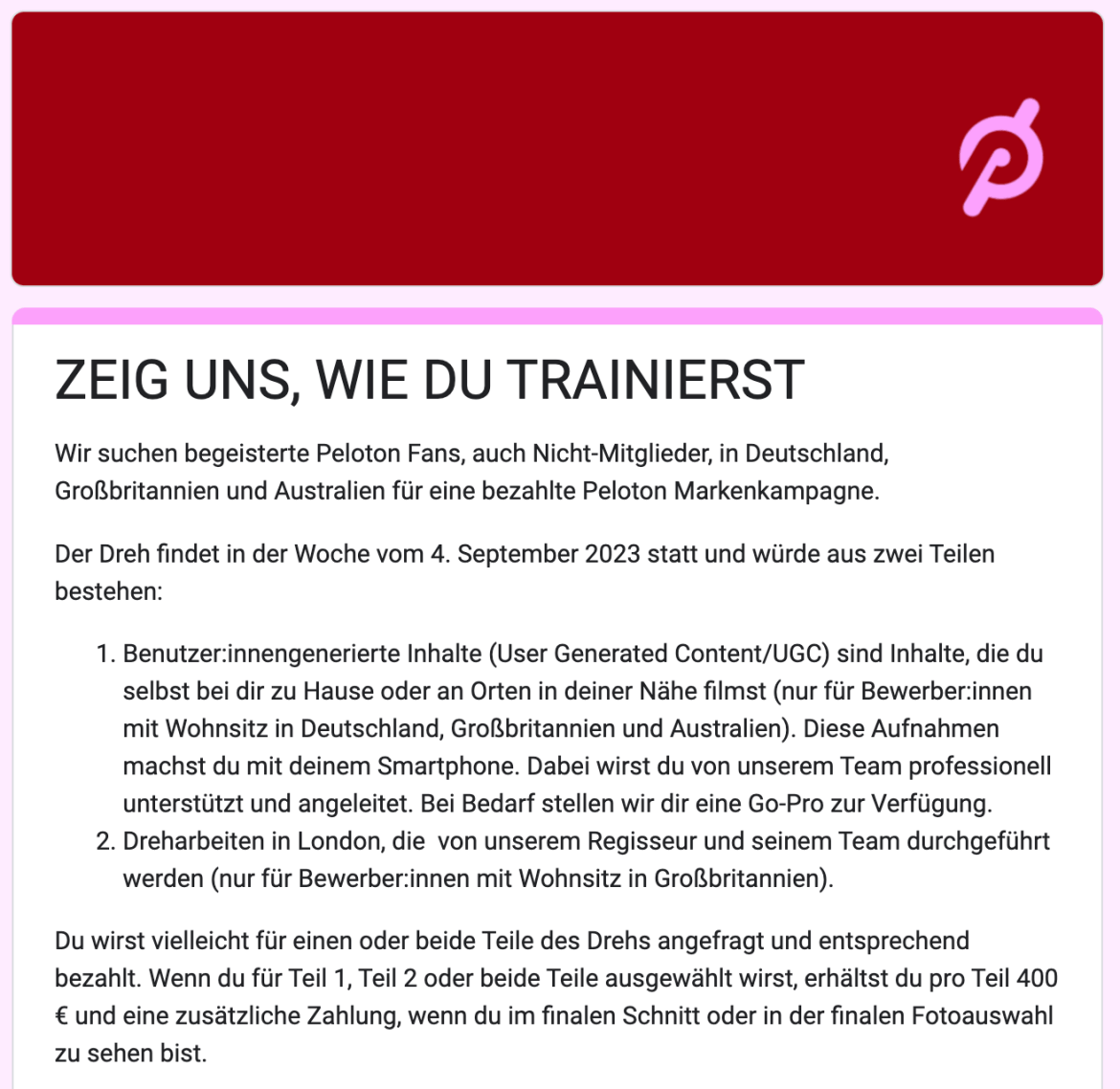 According to the form, the campaign will be filmed during the week of September 4 and consists of two different parts. There will be a user-generated content (UGC) portion in which members will film themselves, as well as a shoot with a professional team in London. Members may be asked to do only one portion, or both – but note that only United Kingdom-based members will be eligible for the in-person filming in London.
Each member will be paid €400 for their time in each portion, and will receive additional compensation if they are ultimately featured in the final campaign.
Members have had numerous opportunities to apply to be featured in upcoming Peloton campaigns this year, including with Peloton Apparel in the New York area and a nationwide open casting call.
If you're interested in applying for the casting opportunity with Peloton, be sure to complete the the application form in English, or the application form in German by Sunday, August 13.
---
Want to be sure to never miss any Peloton news? Sign up for our newsletter and get all the latest Peloton updates & Peloton rumors sent directly to your inbox.