Update – The new Peloton cycling shoes, called "Altos", are now available in the US & Canada.
Multiple pieces of information are indicating that Peloton is working on a new pair of cycling shoes for the Peloton Bike. In fact, we've now seen a Peloton instructor wearing them in a class (screenshots and videos included below in the article)!  With the most recent teases from Peloton, it seems likely that they will be announced sometime in 2022.
New Peloton Cycling Shoes for the Peloton Bike teased on social media
To start with, Peloton posted an innocent enough image across their social media channels on Sunday morning which was captioned simply as "Clip in, Peloton." The post was accompanied by a close-up picture of a Peloton-branded item.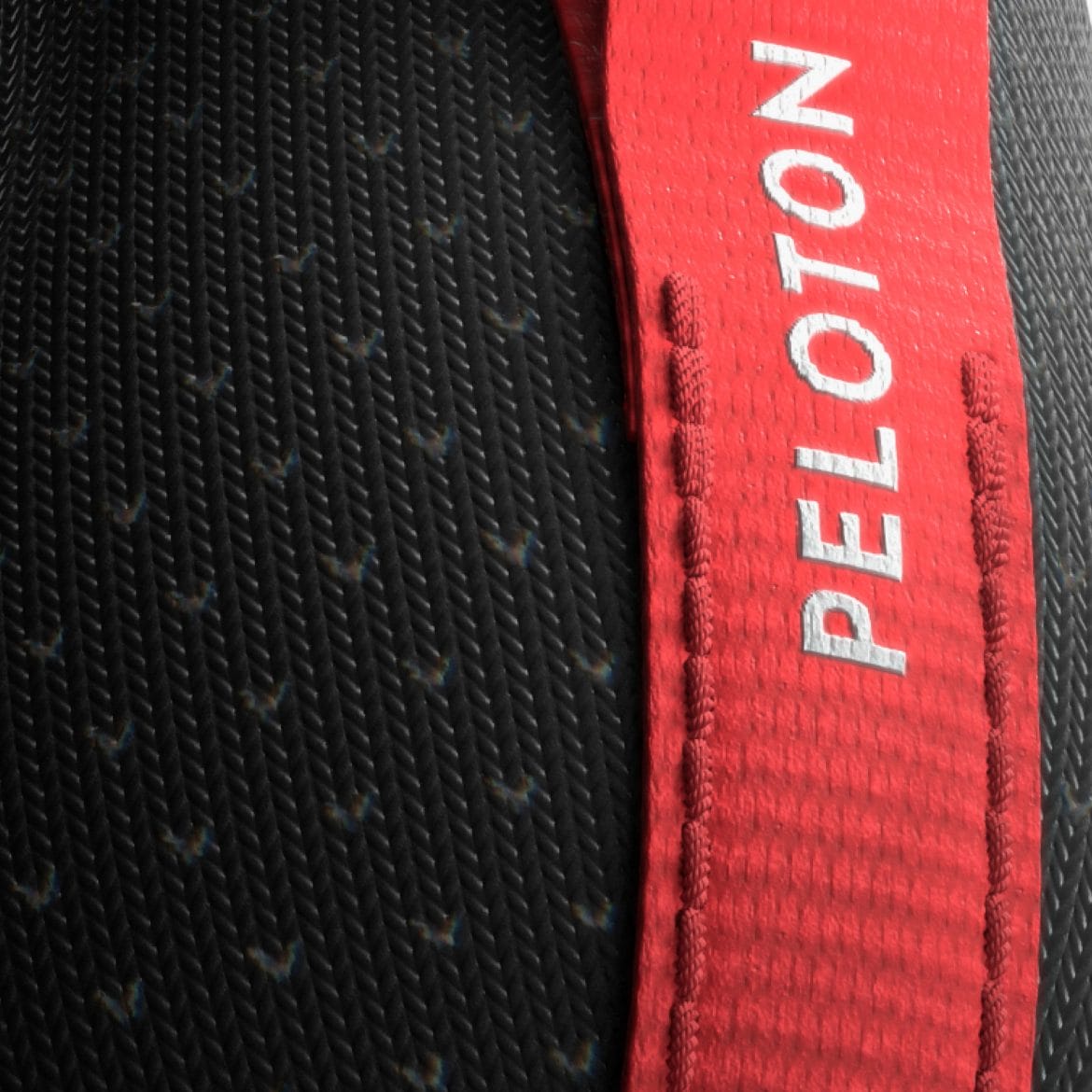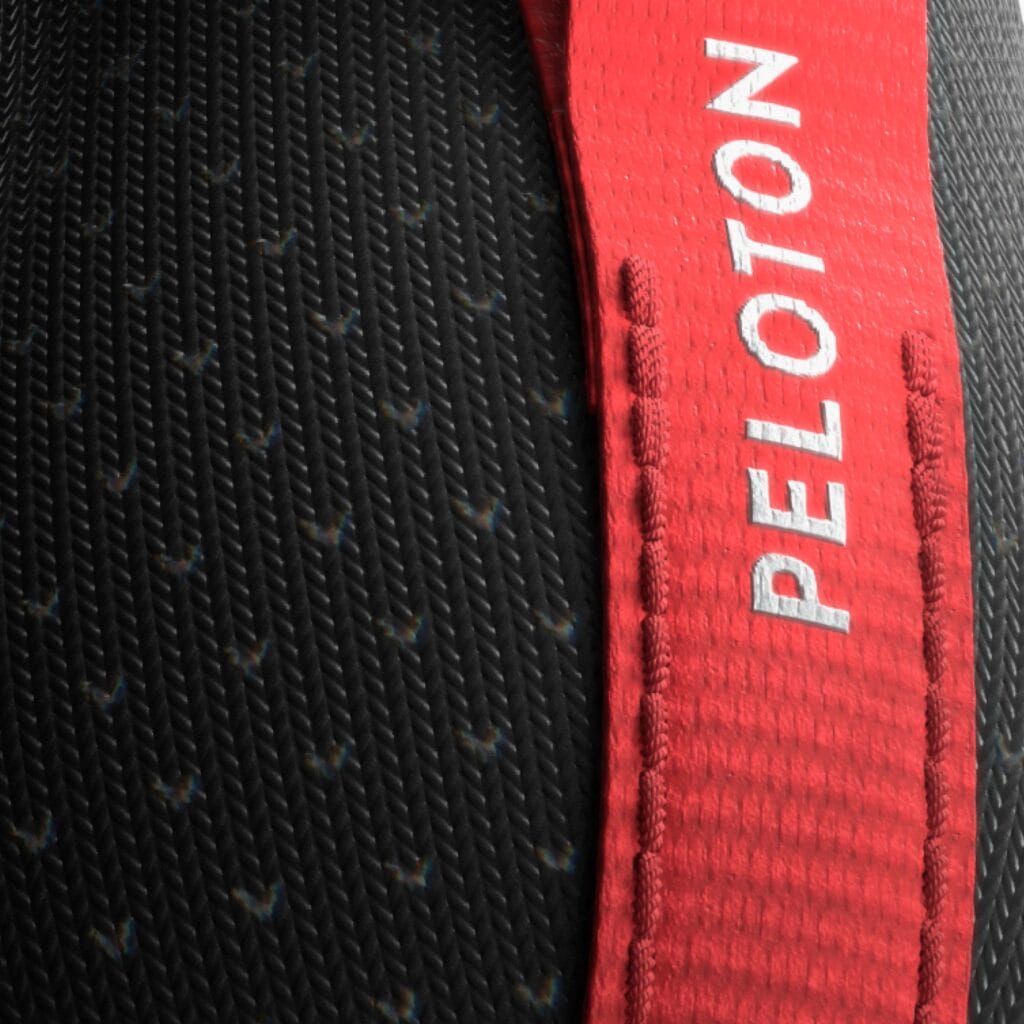 The picture appears to show the heel of a new set of Peloton brand shoes. The orange strip of Peloton branded material would be the loop on the heel of the cycling shoes, which you would use to pull up while putting your feet in, or as a strap to hang your shoes somewhere.
Unfortunately, this tease did not give an indication on what the release date for the new pair of Peloton shoes would be.
New Peloton Bike Shoes Shown In Jess Sims Bike Bootcamp Classes
The next day, Jess Sims not so subtly showed off the brand new Peloton bike shoes during her Bike Bootcamp Class.
During the pre-show, she spent about 30 seconds talking about casually fixing her shoes – and then doing quad stretches to give people a view of the new shoes. During each transition period, she called attention to the shoes as well – including demonstrating the strap to take the shoes on and off.
You can see these demos and features of the shoe from Jess' bootcamp class embedded below, or here on YouTube.
From this video, we know that the closure system for the new Peloton shoes will be velcro straps (as compared to laces or a BOA dial system). You can see Jess adjust the one velcro strap several times in the video as she takes the shoes on and off.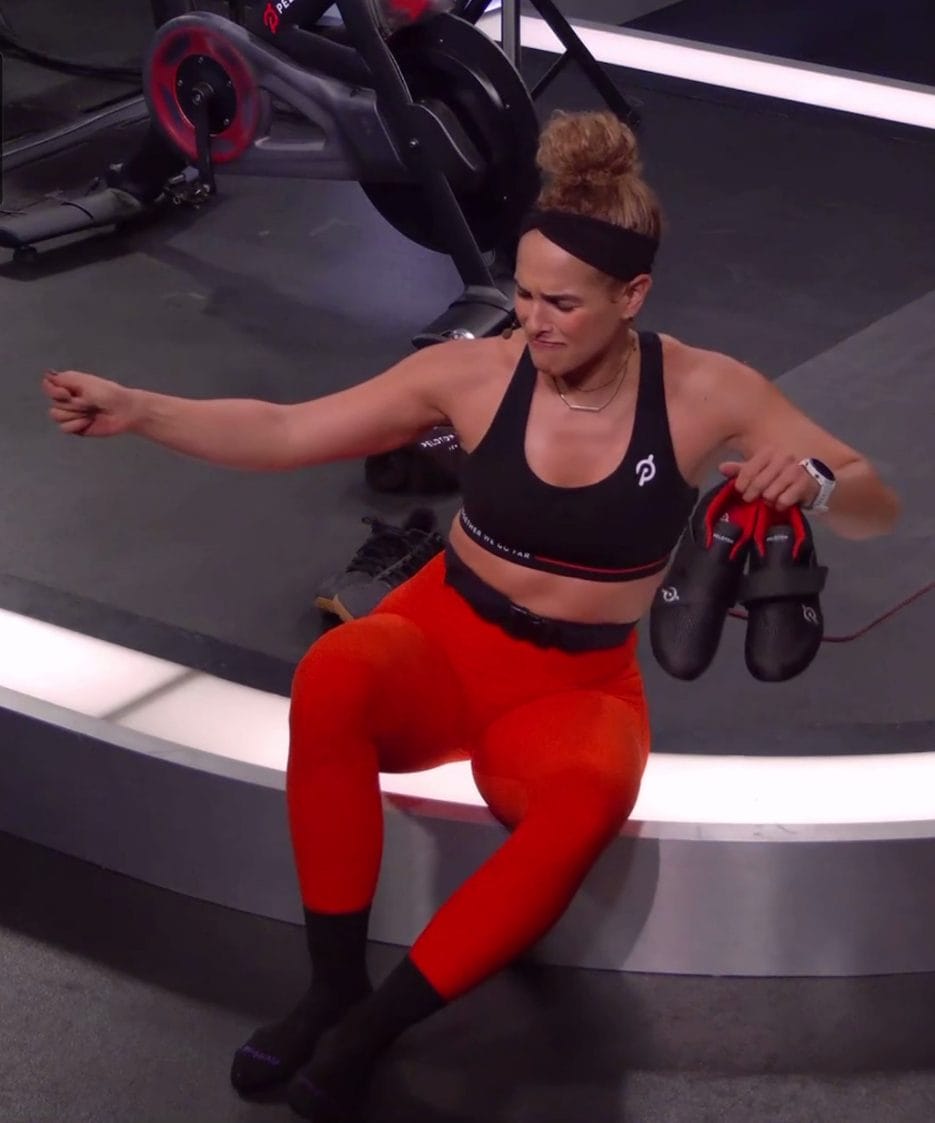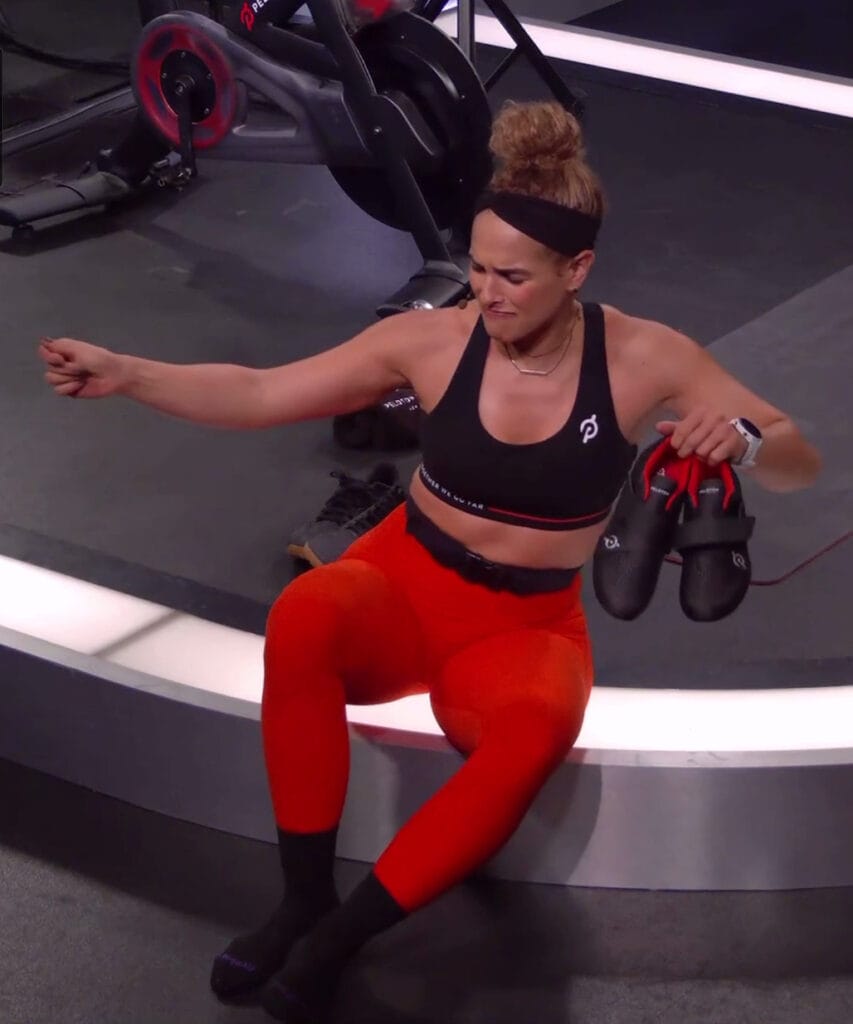 Similar to the original Peloton shoes, it looks like the new version of the Peloton bike shoes also have a 3 bolt mount system for attaching cleats.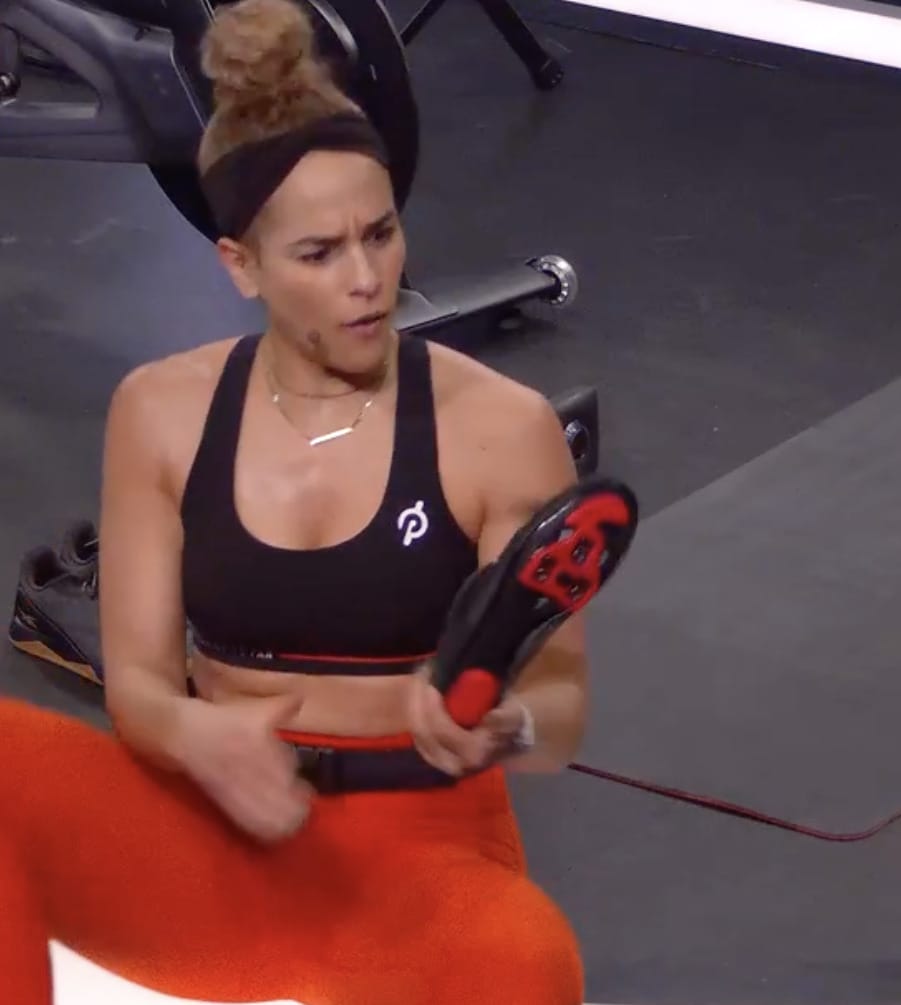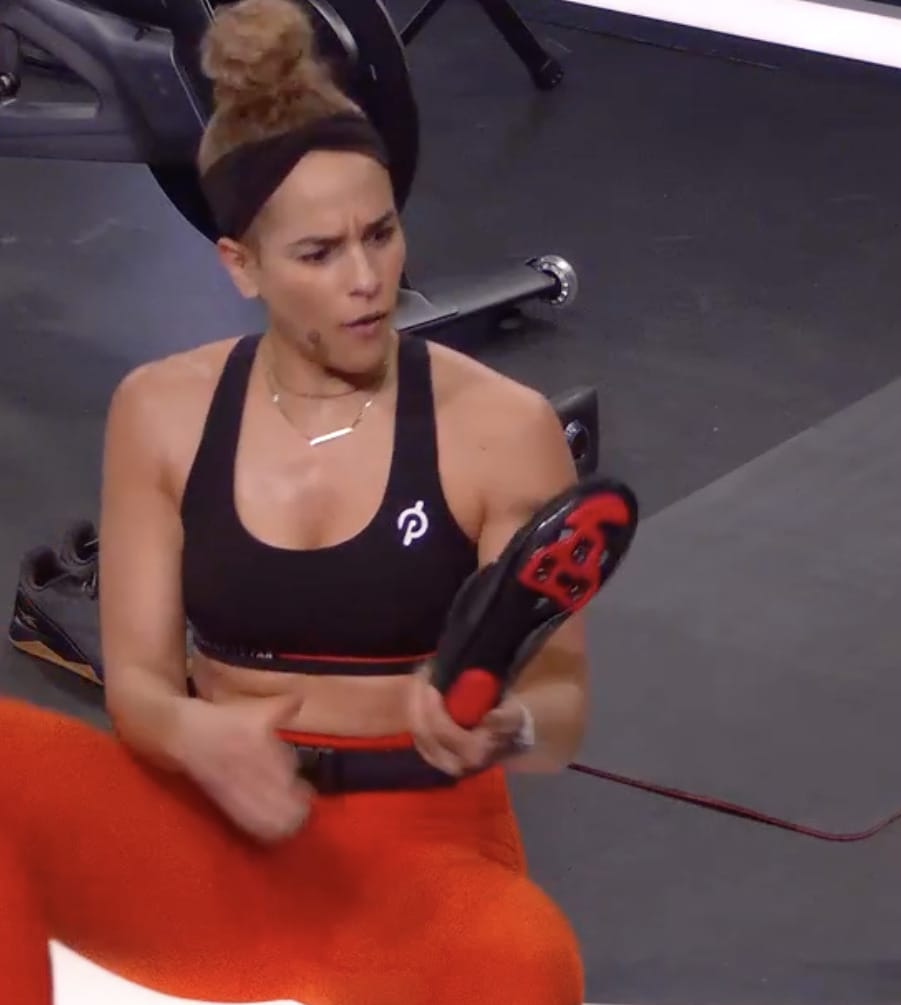 With just the social media tease, it seemed like it would be sooner rather than later for an official announcement – so a 2022 announcement seemed like a given at this point. Now that coaches are actively wearing the new Peloton shoes in classes, the official release seems like it will be be near term. We shouldn't have a situation like the Peloton Guide, where the product is "announced" but won't be available for sale for 6+ months.
Beta Tests for Peloton Shoes started last fall
In addition this information, we have heard reports that Peloton has quietly been using their Peloton Field Testing Community to beta test new cycling shoes as well. At least one round of invites went out to the community earlier this fall, asking for members who were interested in beta testing a new pair of shoes for the Peloton bike.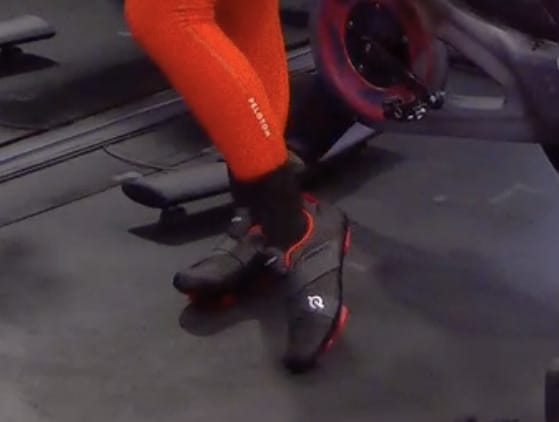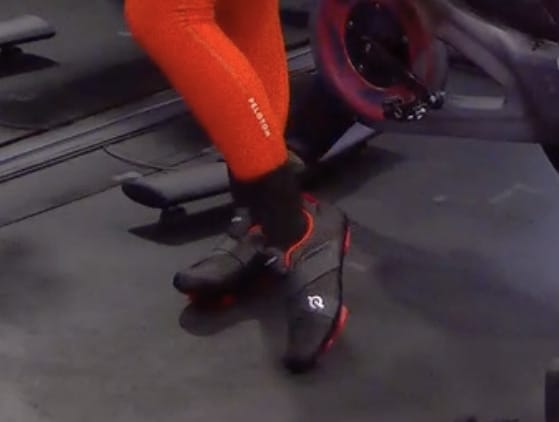 You can assume that these members have been using the shoes for almost every workout on the bike, and providing regular feedback to Peloton about how well they think the shoes perform. As part of the Peloton private-label apparel relaunch, Peloton likes to advertise the items as being "wear tested by Peloton members" – so the beta tests would qualify as part of that testing for the company.
Unanswered Questions on Peloton Spin Shoes: Shoe Stiffness? Cleat/Pedal Compatibility?
From these images and the brief look we got in the class, it's hard to glean much about the structure of the shoes themselves – whether they are breathable, lightweight, how stiff the soles of the shoes are, and other characteristics. However, the image & video does indicate that the shoes fabric might be made of a mesh/knit material – though we can't see if it has a mesh vent from this image.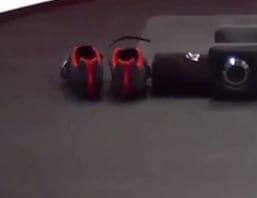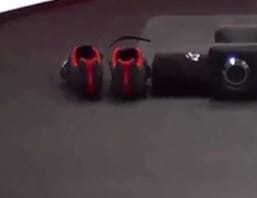 All home models of Peloton Bikes (the Peloton Bike, and Peloton Bike+), come with Look Delta pedals, so it seems safe to assume that these new shoes, like the existing models, would come with Look Delta cleats as well. As a reminder, while home bike models are Look Delta, the version found in most gyms and hotels will be fitted with SPD pedals – so you would need SPD cleats while traveling (though many are dual SPD / Toe cages so you can use regular sneakers as well). You can find a full list of hotels, gyms, and vacation rentals with Peloton Bikes & Treads around the world here.
Newbie Advice: Can You Use Any Cycling Shoes with a Peloton Bike?
If you're new to Peloton, you might wonder if you have to use Peloton shoes with a Peloton Bike (whether it's the rumored new version, or the original Peloton shoes that have been available for sales or with bundles for years).  The answer is no – you can use almost any cycling shoe with the Peloton Bike – assuming the holes on the bottom of the shoes are compatible with your cleats.  Not every shoe is compatible with every cleat type – so you should make sure that the cleat-type that matches the pedals on your bike are compatible with the type of spin shoes you are looking at.
Other Peloton Products Being Released in 2022
This would make 3 known new items that Peloton is planning to release over the course of 2022.  Still slated for "early 2022" is the Peloton Guide – a new AI camera strength device & accessory for members to use during strength classes.  The company is saying it will initially only work for strength classes, although they have beta tested it with yoga classes as well.
There will also be a brand new Peloton Heart Rate band – a Peloton heart rate monitor you wear on your forearm.  This device has been in beta testing for the majority of the last year.  In the fall, Peloton revealed that it would come bundled with the Peloton Guide strength device.  However, the heart rate band will also be available to purchase on its own as a standalone device.  Early feedback from beta testers seem to indicate this new Peloton Heart Rate band is much more accurate than the original Peloton Heart Rate chest monitor was.
Of course, the other device everyone keeps hoping for is the long-rumored Peloton Rumor.  There has yet to be any official confirmation this is coming from Peloton at time of publishing – although references in the Peloton app, and job postings, and even floor plans for the upcoming Peloton Output Park US manufacturing facility continue to make reference to it.
New Peloton Shoes: Best Cycling Shoes / Best Indoor Cycling Shoes?
Will you be looking into trying a set of new Peloton spin shoes when they end up releasing them?
There are numerous third party cycling shoes out there, from companies that have been creating shoes for decades (both for road cycling as well as ones dedicated for spin classes).  Most of these can be Peloton compatible simply by swapping out the cleats on the shoes, or the pedals on the bike. In addition to road shoes, many companies have begun creating shoes dedicated for spin classes – including models such as the Nike Superrep indoor cycling shoes, as well as the Shimano IC1 shoes.
All of this is to say – it's worth waiting to see what reviews on these new shoes are like to see if they are in the running to be the best Peloton bike shoes.  Reviews & opinions about what the best shoes are can be very subjective as well, so assuming that the shoes are available in showrooms, it might be worth visiting one in person to try them on for yourself as well.  Until then, the answer to if it's worth getting the Peloton shoes is simply: "Maybe".  We also don't know what the price of the new Peloton bike shoes will be – so also can't answer the question of "Is it worth getting the Peloton shoes" yet.
---
Want to be sure to never miss any Peloton news? Sign up for our newsletter and get all the latest Peloton updates & Peloton rumors sent directly to your inbox.