In May of 2021, Peloton announced that they would build their first US-based production factory in Ohio, which they are calling the Peloton Output Park, or POP. In August, Peloton executives, coaches, and community members came together in Ohio for the official ground breaking ceremony. The goal is for production to begin by 2023 for the new factory, which will cost Peloton an estimated $400 million.
Building a factory of any size requires numerous planning documents, floor plans, schematics and more. It is likely Peloton has been planning & designing this new factory for many months (or years). We recently had the chance to review one such document – which showed the layout of the factory, including some of the assembly lines in the factory, the location of various rooms & offices, and other logistical information.
Most of this information is there to guide construction teams and the eventual installation of the assembly lines & equipment. However, there is one piece of information contained in the plan that many in the Peloton community will find interesting.
Inside the new Peloton Output Park factory, Peloton has shown testing rooms for a Peloton Rower (in addition to their bikes & treadmills). The image below below is from one of the schematics of the Peloton Output Park factory – and shows a portion of the facility that appears to be designed for final tests & quality control of Peloton products.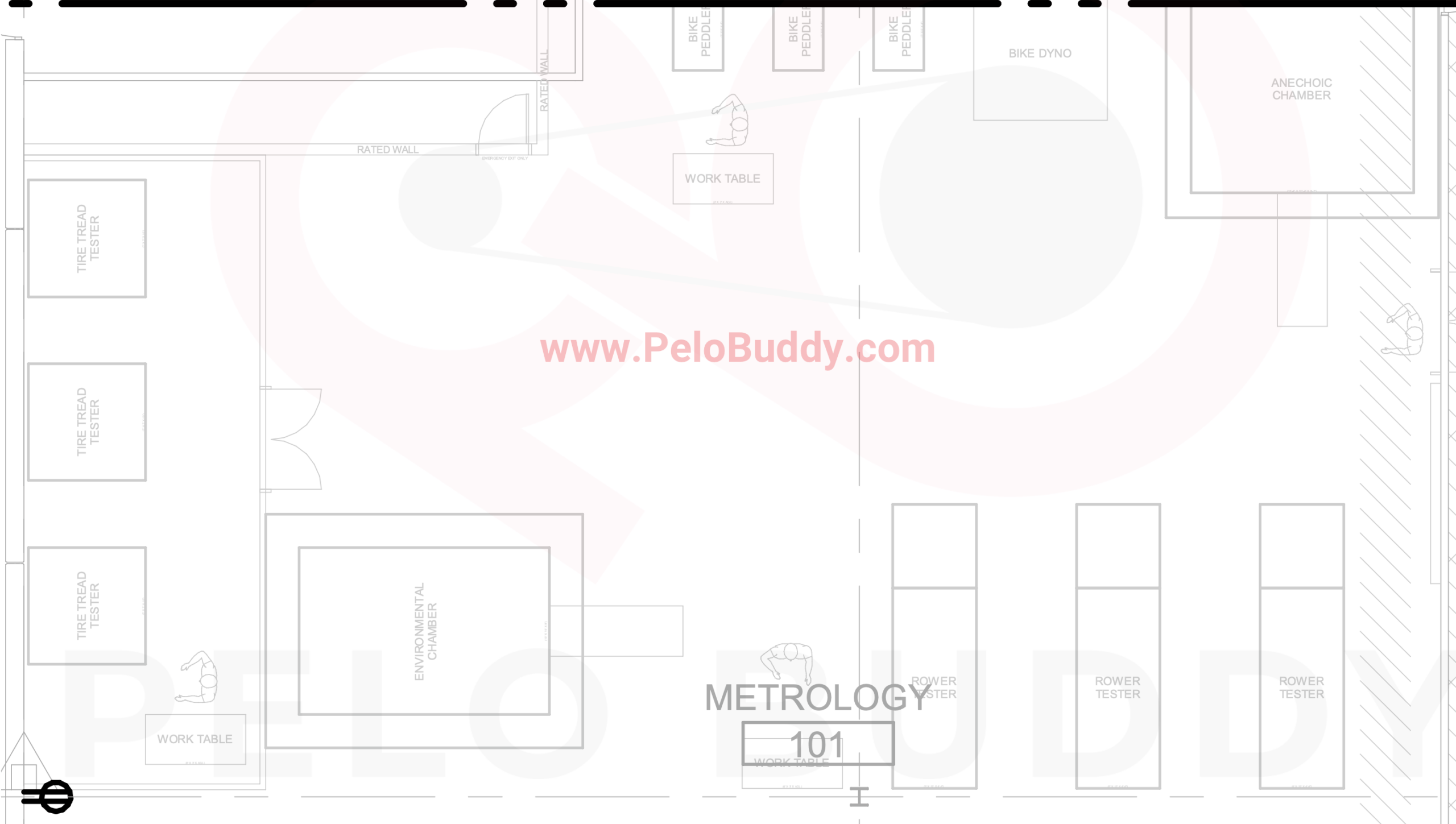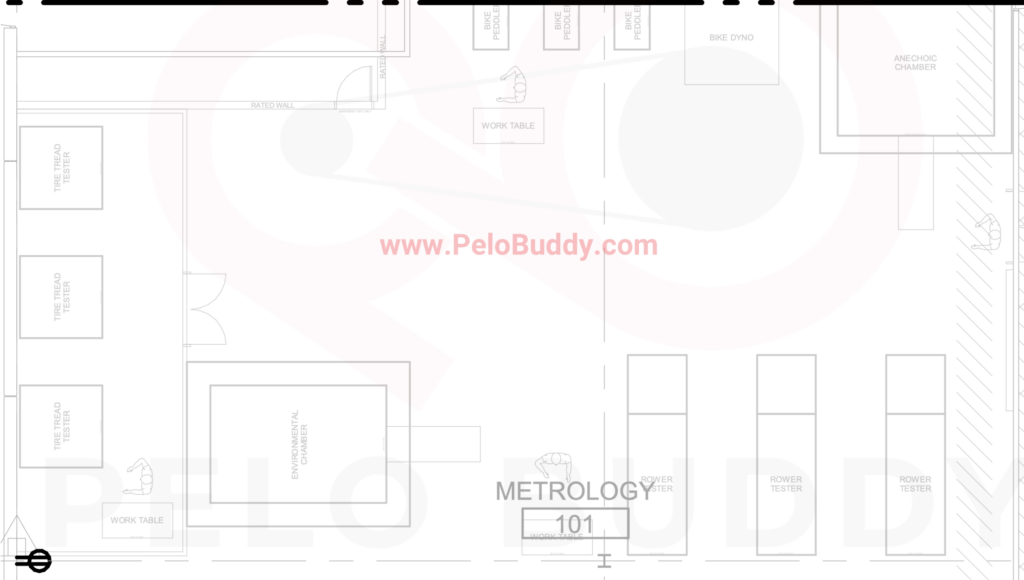 The bottom right of the image shows 3 test platforms set up for "Rower Tester" – or testing spots for the Peloton Rower.
The room the Rower Tester is in appears to be used for final stress tests for Peloton products, with equipment and gear designed for putting high mileage or volume on products. The top center of the room shows 3 "Bike Peddler" locations, which are likely devices that can automatically spin the pedals on Peloton bikes, allowing them to test & ensure the bikes can handle lots of miles.
Similarly, the far left of the room shows 3 "Tire Tread Tester" placements. We don't believe this is for testing the tread/wear of a tire. Instead, it would seem like this is using a tire or wheel, and having it continuously be spun on the Peloton Tread at varying amounts of force to stress test the Tread and see how many miles the motor can run for.
The testing room also shows plans to contain both an Anechoic Chamber and an Environmental Chamber. There is also a spot for a "Bike Dyno", which is likely shorthand for a Bike Dynamometer – designed for measuring output – which could help Peloton do final calibration tests of bikes.
The document we reviewed did not contain any clear references to testing locations for Peloton strength devices. However, recent comments from Peloton CEO John Foley continue to hint that a strength product might be the next piece of Peloton equipment released, before any "other rumored products" like the rower.
This is not the first, and won't be the last, hint at a Rower from Peloton. There have been sightings of a Rower in R&D labs, at least one job posting that has mention the Rower, hidden references to rowing in the Peloton app, and more.
If this is the first you are hearing about the Peloton Output Park, here is how Peloton described it last week in the annual report they filed with the SEC
To support our large long-term growth opportunity, on May 24, 2021, we announced plans to build our first U.S. factory. Peloton Output Park will sit on over 200 acres of land in Troy Township, Ohio and will feature more than a million square feet of manufacturing, office, and amenities space, making it one of the largest connected fitness plants in the world. This state-of-the-art factory will diversify our manufacturing footprint, provide additional capacity to support our growth, drive production efficiencies through automation and scale, and accelerate our speed-to-market. Peloton Output Park will complement our existing manufacturing assets and contract partnerships in Taiwan and the recently acquired Precor assets in North Carolina and Washington state. We expect to begin producing Bike, Bike+, and Tread products at POP starting in calendar 2023.
You can always find the latest information about the rumored Peloton Rowing Machine on this page.
---
Want to be sure to never miss any Peloton news? Sign up for our newsletter and get all the latest Peloton updates & Peloton rumors sent directly to your inbox.