Two Peloton instructors were recently inducted into their high school halls of fame. Robin Arzón was honored by Abington High School in Abington, Pennsylvania; and Ash Pryor was honored by Westerville North High School in Westerville, Ohio.
Both instructors shared their achievements via social media. Robin posted on Instagram:
⭐️HALL OF FAME⭐️
With the power of curiosity and reinvention, ANYTHING IS POSSIBLE. So honored and nostalgic to be back where it all began. Thank you to my high school for planting the seeds that have led me to where I am today. It is incredible to be in such great company as a HALL OF FAMER at Abington Senior High School!
PS – I made this invite on an old Mac with clip art. I was always doing the most 😂😭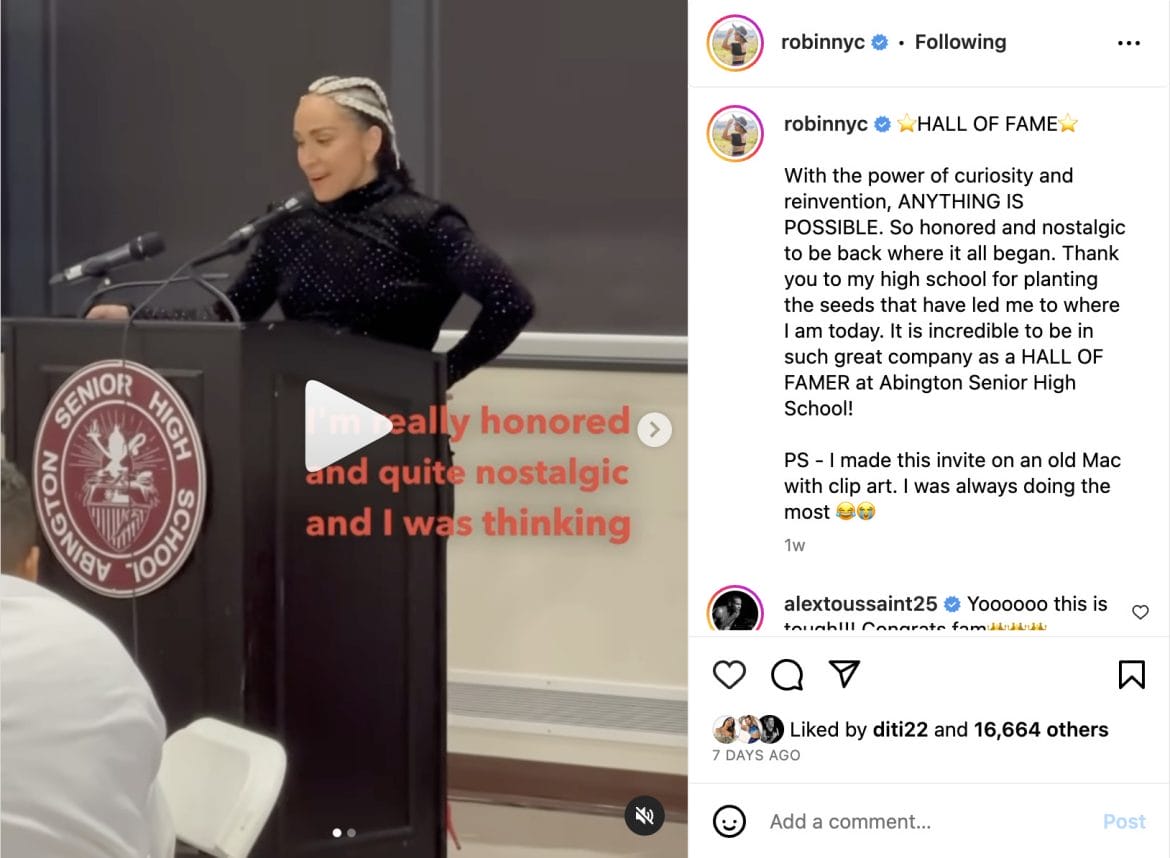 Robin was inducted into the hall of fame along with 11 other alumni. She spoke about not being an athlete in high school, and how surprised her high school-age self would have been at the thought of being inducted into the hall of fame for athletics.
If you're interested, you can check out Robin's complete speech via Instagram. She also recently posted additional photos from her trip.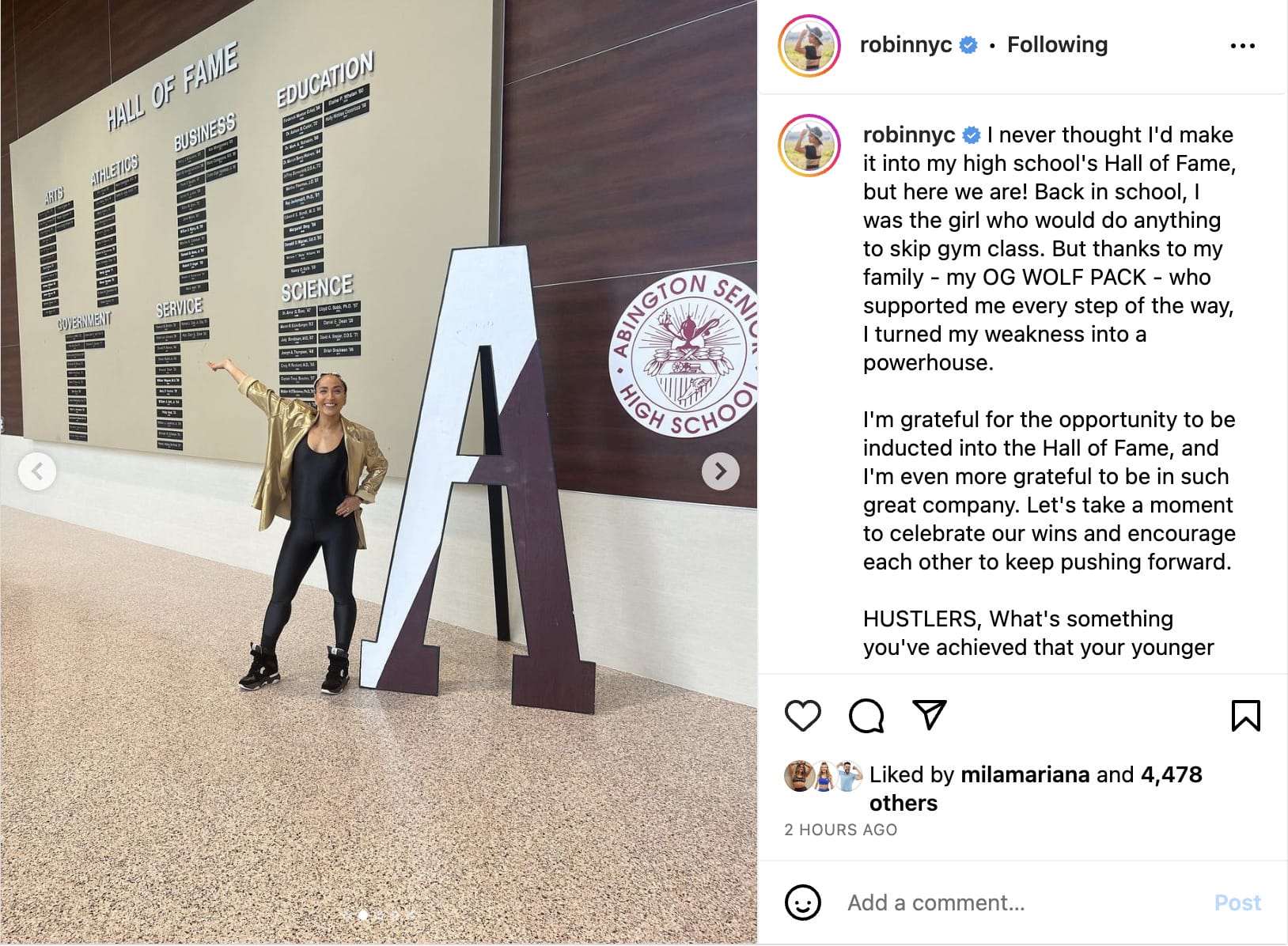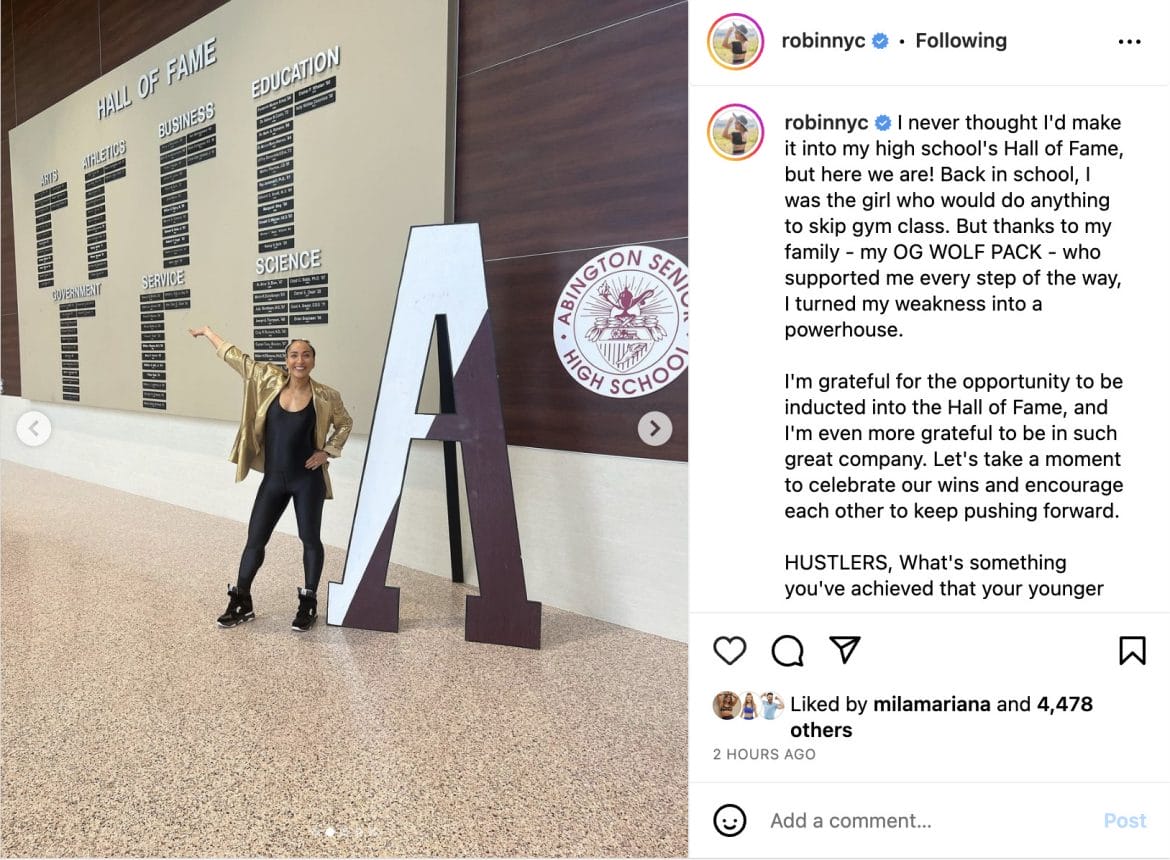 Ash posted her experience on Instagram as well:
I am still in awe of last week. At the end of the Instructor summit I flew back to Ohio to be inducted into my High School Hall of Fame, April 14th, 2023. 81 out of 18,000 alumni are currently inducted. I am now one of those 81. My HOF nomination was in reference to my academic & career impact. I am so grateful for Mrs. Linnea Wilcox for seeing me and nominating me.
Mrs. Wilcox is a @onepeloton member who works at my high school and has the trifecta. The Bike, Tread, and Row. She met me on the row. Through Peloton she has grown to understand my story and grown in her own passion for rowing. It's been amazing to go through this process with her as a member turned friend.
I mention all the time about doing the work because you never know who's watching. This was so unexpected and extremely special. I am so proud my mom has been able to see all the sacrifice and hard moments pay off. I'm surprised she doesn't have any gray hair because ya girl was stressing her out 🤣But even with her worries she let me follow my heart. Thank you to everyone for the support whether through the years or newly joined, I appreciate you propelling me to live freely, boldly, and giggly. #ohio #peloton #westerville #halloffame #alwaysreppin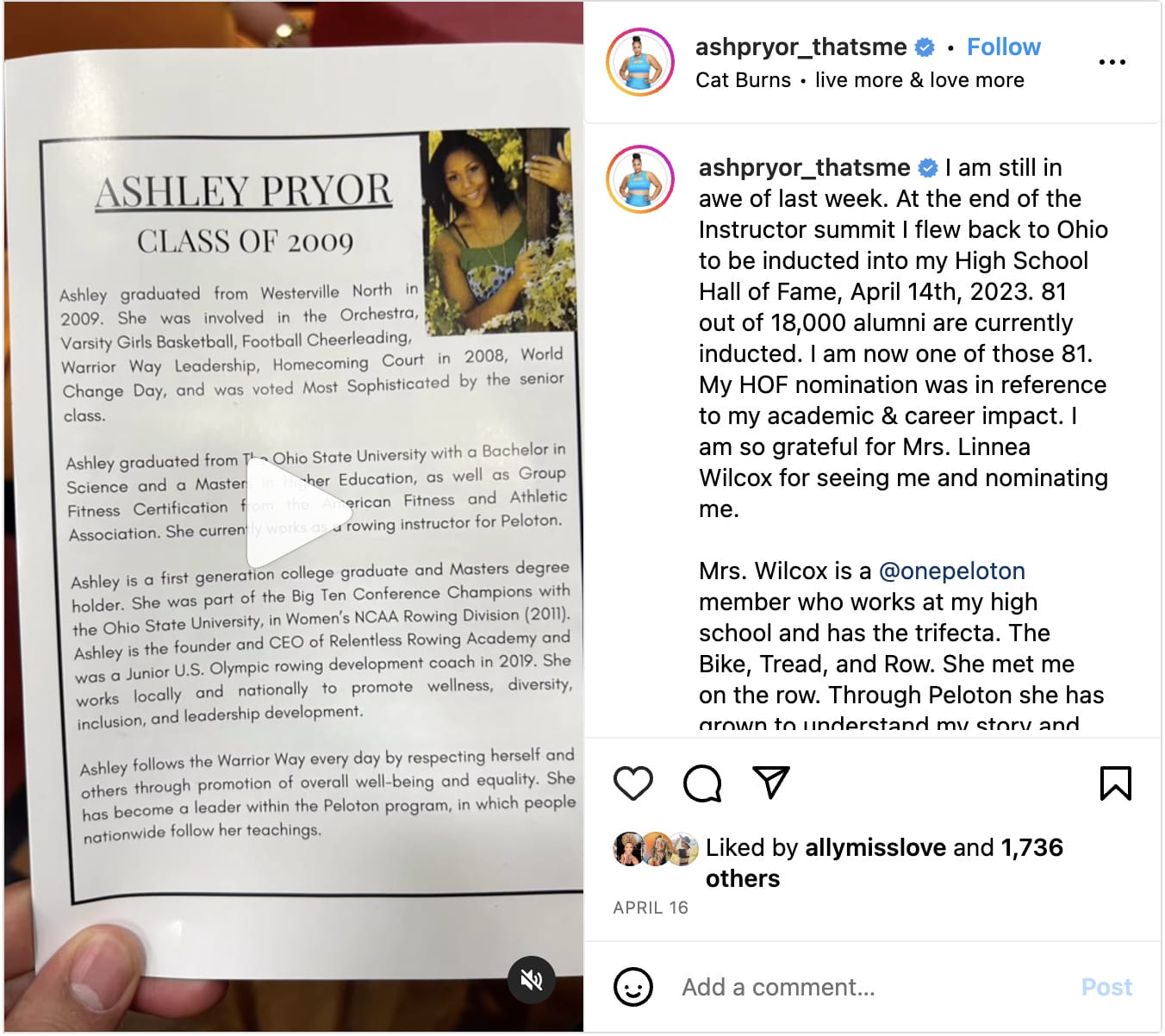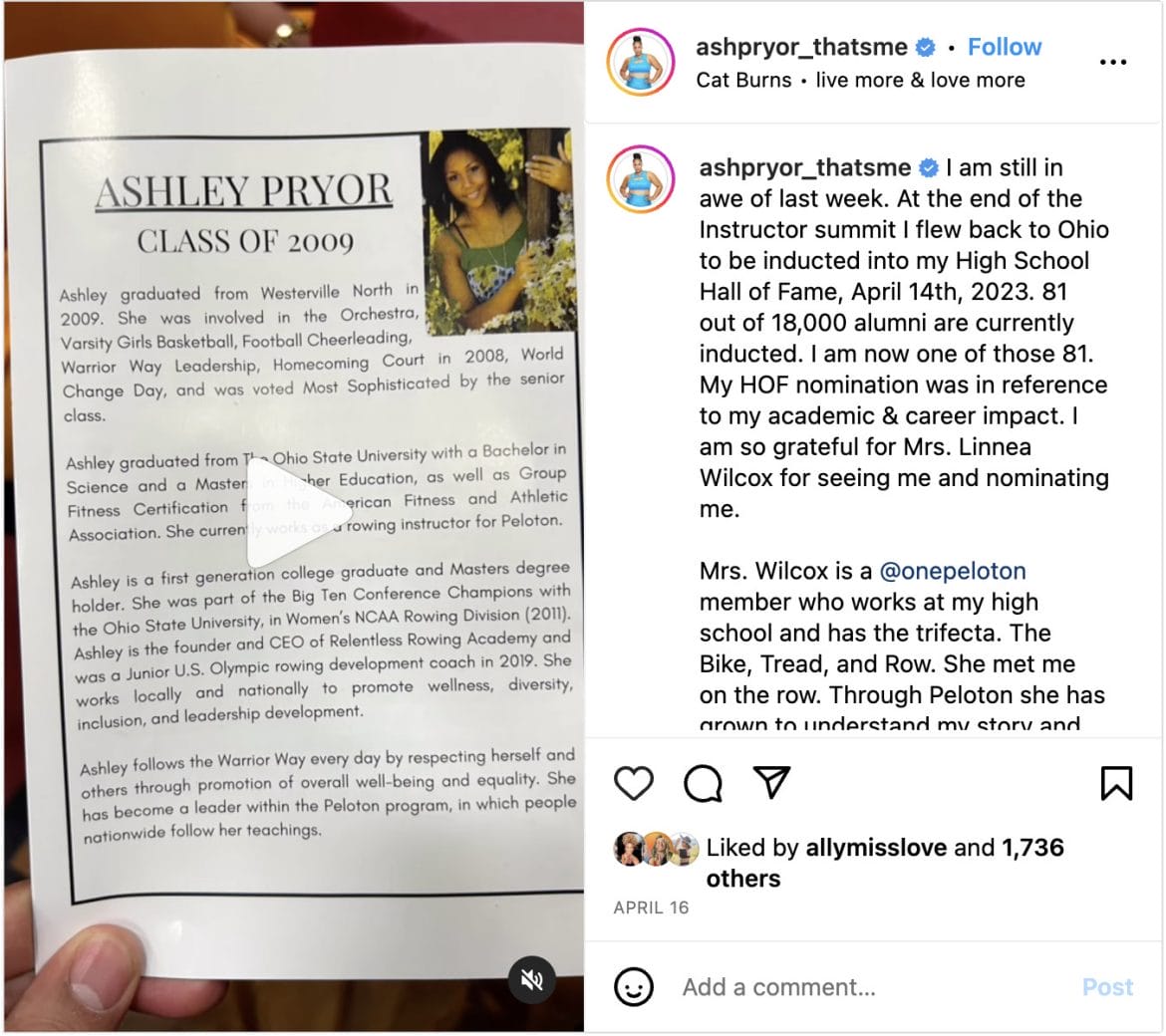 The video highlights her trip back to Ohio, visiting her high school, and giving a speech at the event. Ash is one of only 81 alumni to be inducted into her high school hall of fame. She was nominated by a Peloton member who works at her alma mater.
Congratulations to Robin and Ash!
---
Want to be sure to never miss any Peloton news? Sign up for our newsletter and get all the latest Peloton updates & Peloton rumors sent directly to your inbox.