Peloton has announced an expansion of their partnership with Hilton to Puerto Rico, the United Kingdom, Germany, and Canada. The two companies shared the news in a press release:
Today, Hilton (NYSE: HLT) and Peloton Interactive, Inc. (Nasdaq: PTON) are expanding their industry-first partnership to Puerto Rico and three new international markets – Germany, the U.K. and participating properties in Canada – providing guests with an elevated wellness experience, now in approximately 5,400 hotels around the world. Following the original partnership announcement in October 2022 that introduced Peloton Bikes to all Hilton-branded hotels within the U.S., at least one Peloton Bike will be featured in fitness centers in these markets by this summer.
Peloton first announced their partnership with Hilton in 2022, but it was limited to the U.S. This year they are expanding into international markets.
By summer of 2023, more than 5,000 Hilton hotels around the world will have at least one Peloton Bike in their fitness centers.
In addition, Hilton Honors members in the U.K., Germany, and Canada – who are not yet Peloton Members – can secure an extended three month free trial of the Peloton app. Those interested must do so by July 4, 2023. Members who take advantage of the extended free trial offer will also be eligible for discounts on Peloton hardware during this period.
Peloton has published a new support page for each market, linked below:
The offers are available starting today, April 5 and run through July 4, 2023. The same offer was available to U.S.-based Hilton Honors members upon the initial launch of the partnership last year, but the promotion expired on January 1.
The preferred pricing varies by market, and is outlined below:
United Kingdom: £100 off Bike/Bike+/Tread; £25 off Guide
Germany: €100 off Bike/Bike+/Tread
Canada: $100 CAD off Bike/Bike+/Tread; $25 CAD off Guide
Note that you must be a first-time Peloton user to take advantage of these offers. In other words, if you are an existing Peloton member and also a Hilton Honors member, you do not qualify.
Peloton sent an email to U.K. members announcing the expanded partnership:
On a great workout streak and want to keep it going whilst away? You're going to love our Peloton X Hilton partnership!
Following its kick off in the US, we're excited to announce the next stage of our Peloton x Hilton partnership. In the coming months, all UK and Germany Hilton-branded hotels – from Hampton by Hilton to Waldorf Astoria, will feature at least one Peloton Bike in their fitness centre. So you can keep up with all your favourite classes and stay feeling super-motivated while you're away.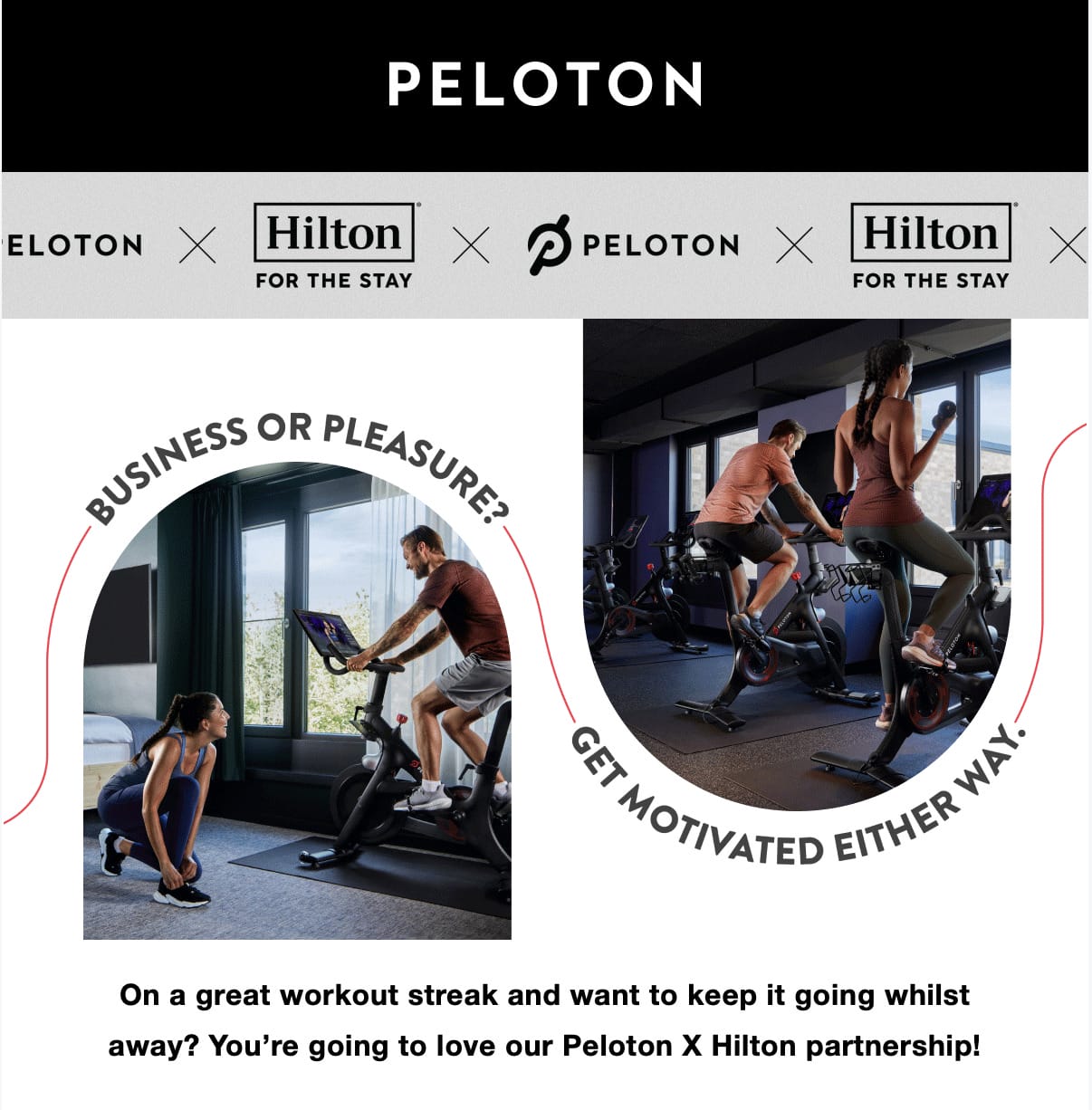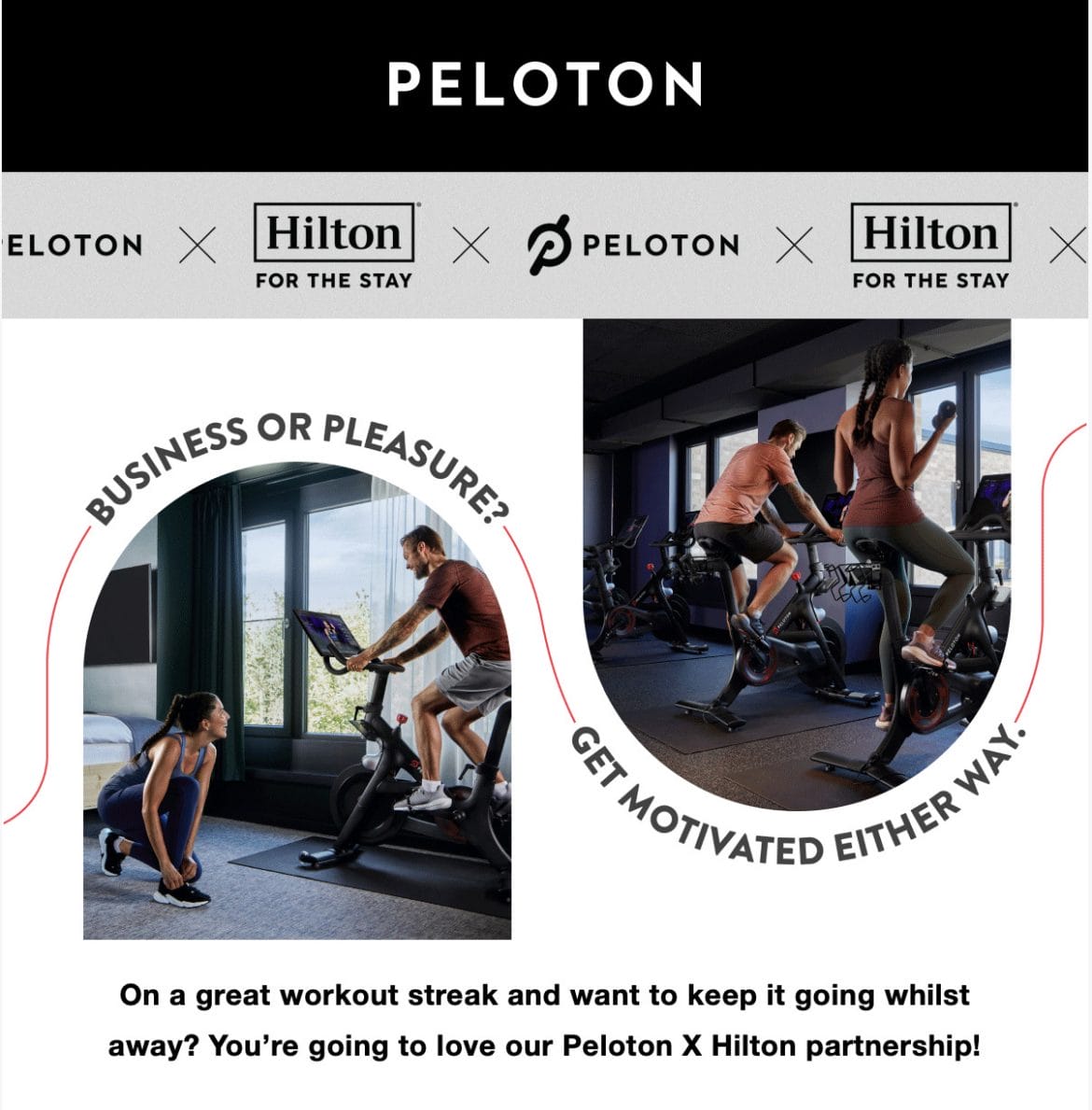 As a reminder, if you're traveling and want to have access to Peloton equipment, be sure to bookmark our guide. You can browse in a number of different ways to find what you're looking for: a map view of locations, list by city, Tread-specific list, cruise ships, vacation rentals, and more.
For more information on the expanded Peloton and Hilton partnership, you can access the press release or the country-specific support pages.
---
Want to be sure to never miss any Peloton news? Sign up for our newsletter and get all the latest Peloton updates & Peloton rumors sent directly to your inbox.