Peloton has announced a new partnership with Hilton: all 5,400 Hilton-branded hotels in the United States will feature at least one Peloton Bike in their fitness center by the end of 2022. Peloton shared the news via press release:
Today, Hilton (NYSE: HLT) and Peloton Interactive, Inc. (Nasdaq: PTON) announced an industry-first partnership, making Hilton the first hospitality brand to feature Peloton Bikes across its entire U.S. hotel portfolio of 18 award-winning brands. By the end of the year, nearly all 5,400 U.S. Hilton-branded hotels – from Hampton by Hilton to Waldorf Astoria – will feature at least one Peloton Bike in every fitness center, providing guests with a more holistic wellness experience, including access to Peloton's world-class instructors and expansive connected fitness content.
In addition, Hilton Honors members will receive special offers through Peloton, such as an extended 90-day free trial of the Peloton App and preferred pricing on certain hardware. Peloton has launched a new landing page and support page for the partnership.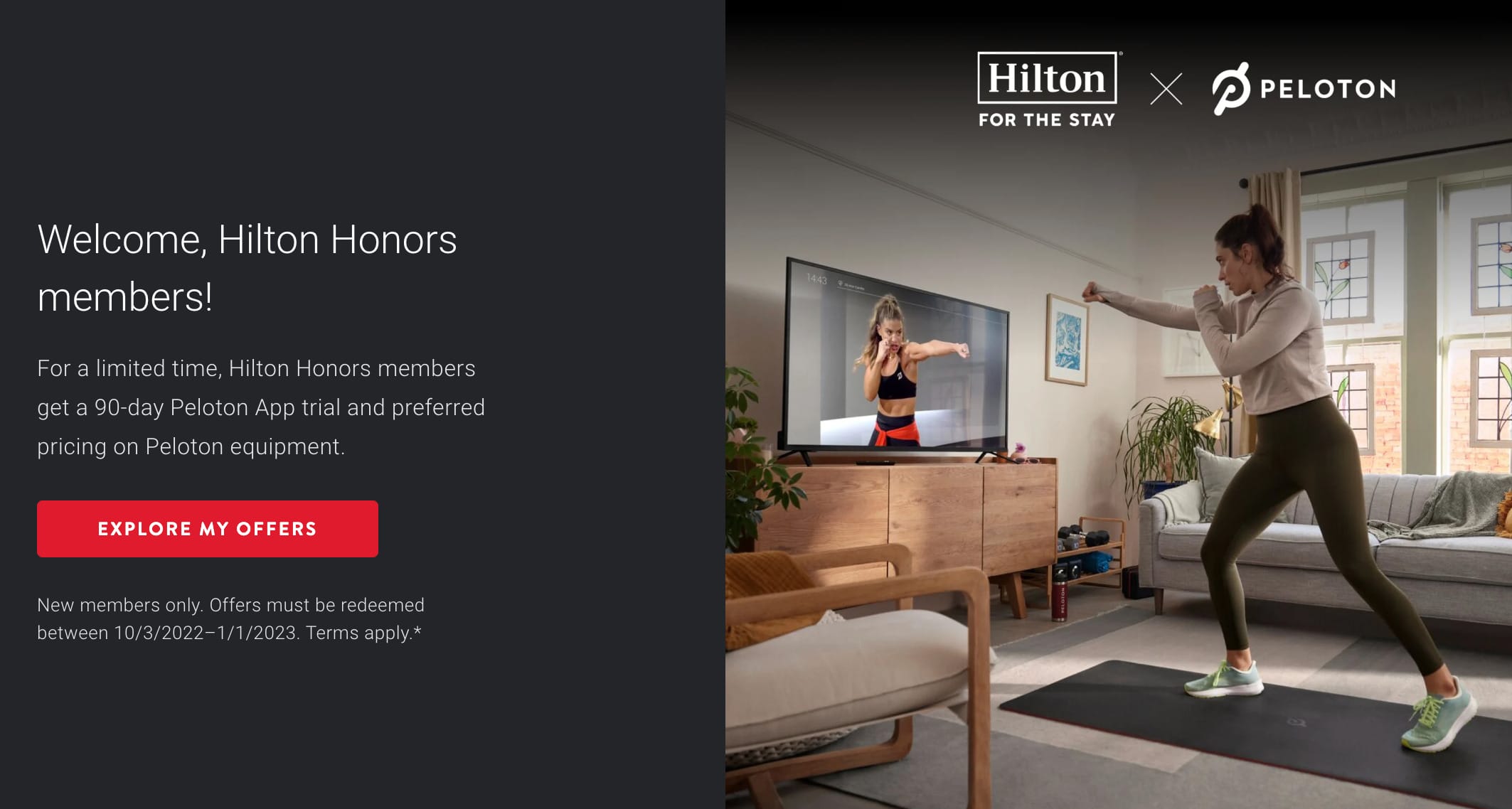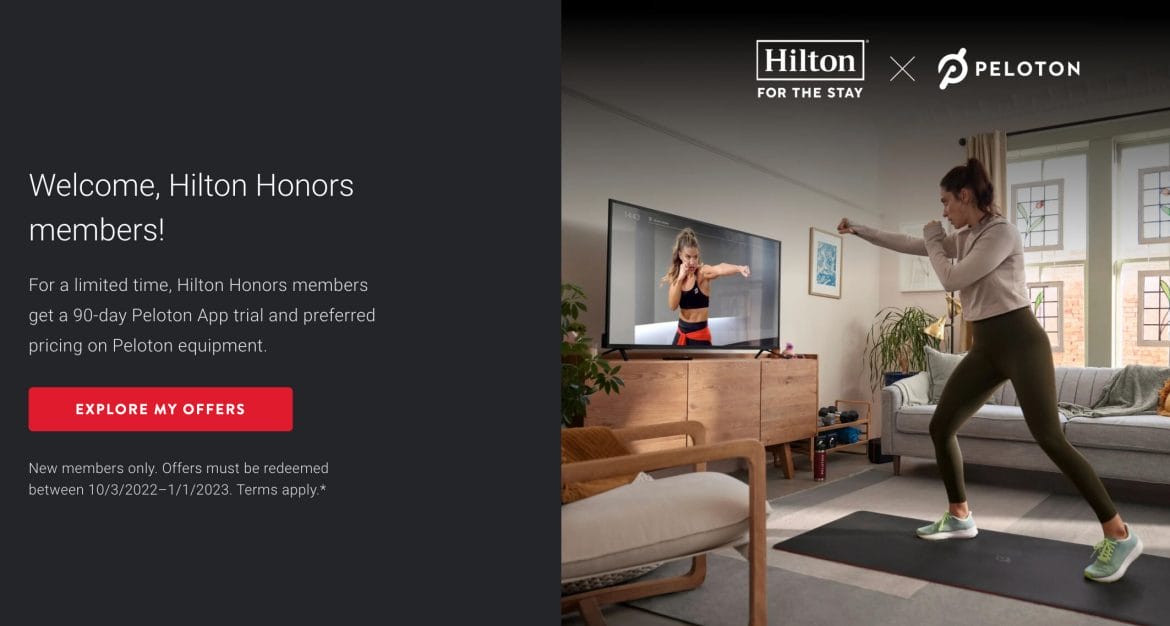 The discount on Peloton equipment for Hilton members is $100 off Bike & Bike+, $100 off Tread, and $25 off Guide.
The offers are available starting today, October 3 and run through January 1, 2023. One interesting item of note: the offers include discount codes listed here on Peloton's site, and it is currently unclear whether or how Peloton will verify that those who use the codes are actually Hilton Honors members.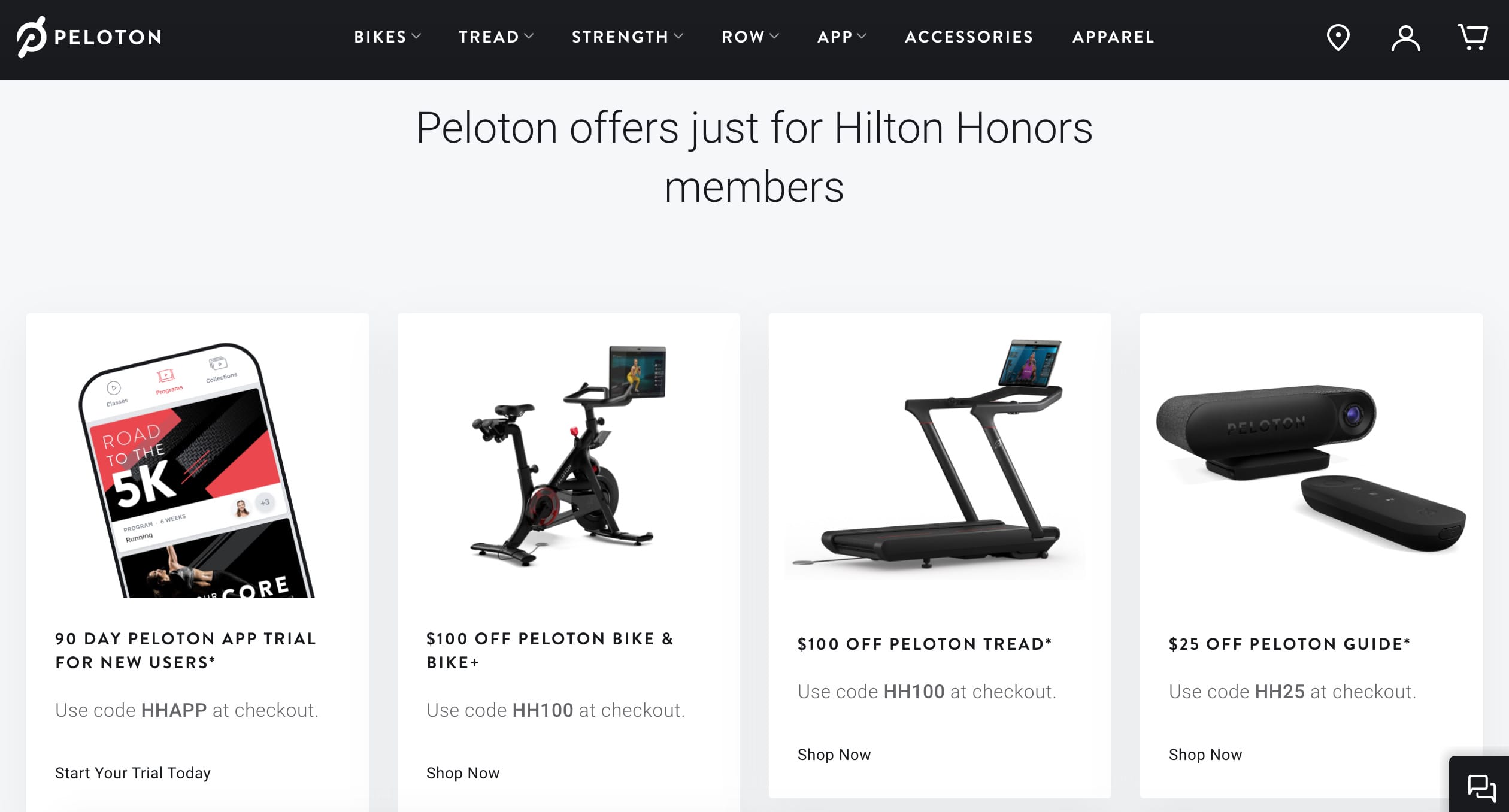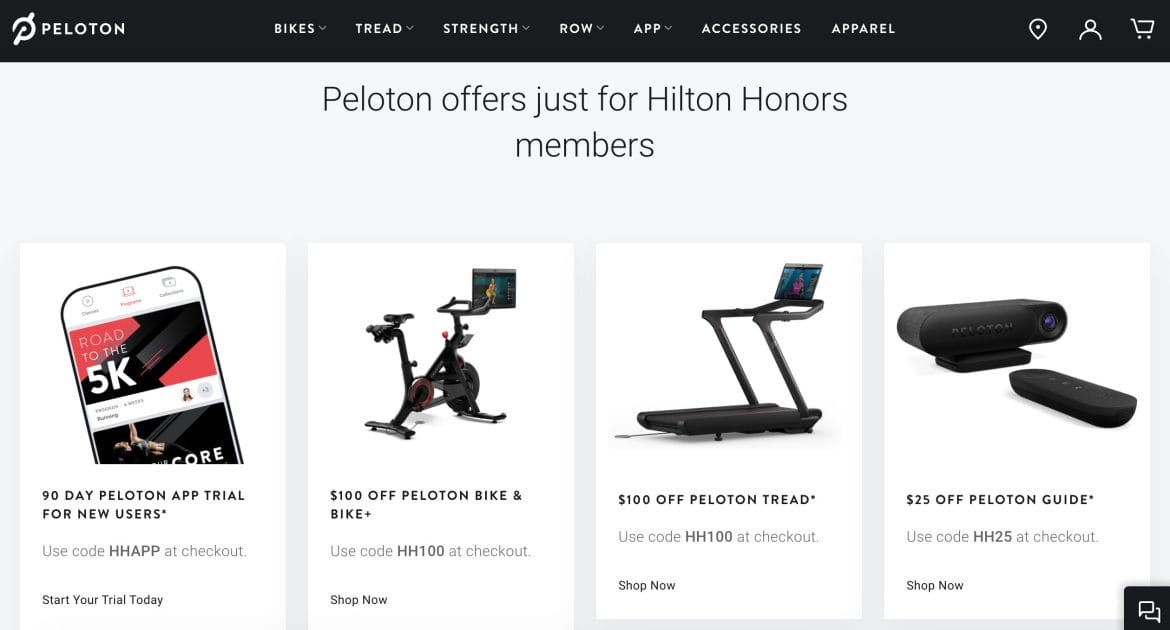 As a reminder, if you're traveling and want to have access to Peloton equipment, be sure to bookmark our guide. You can browse in a number of different ways to find what you're looking for: a map view of locations, list by city, Tread-specific list, cruise ships, vacation rentals, and more! We'll be adding all these hotels as the bikes are confirmed to be in various locations.
For more information on the Peloton and Hilton partnership, check out the new landing page and support page.
As always, there are important eligibility details to be aware of:
The preferred pricing for Hilton Honors members provides $100 off a Peloton Bike, Bike+, or Tread purchase, and $25 off a Guide purchase.
You must be a first-time Peloton user. In other words, if you are an existing Peloton member and also a Hilton Honors member, you do not qualify for these special offers.
You must live in the U.S.
---
Want to be sure to never miss any Peloton news? Sign up for our newsletter and get all the latest Peloton updates & Peloton rumors sent directly to your inbox.