Peloton has announced a new partnership with Accor, Australia's largest hotel operator. Peloton shared the news via press release:
Australians will now be able to earn more than just endorphins after a workout when travelling, with leading fitness brand, Peloton, and Australia's largest hotel operator, Accor, announcing a new partnership today.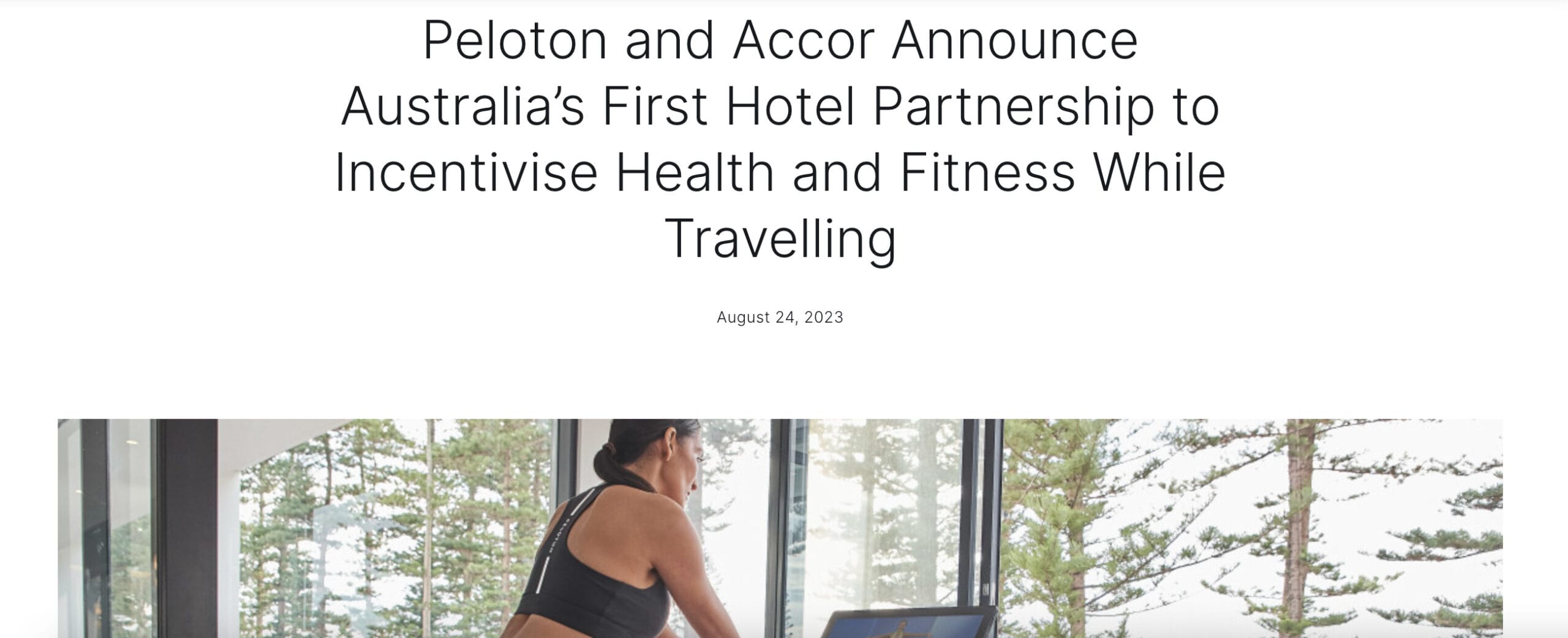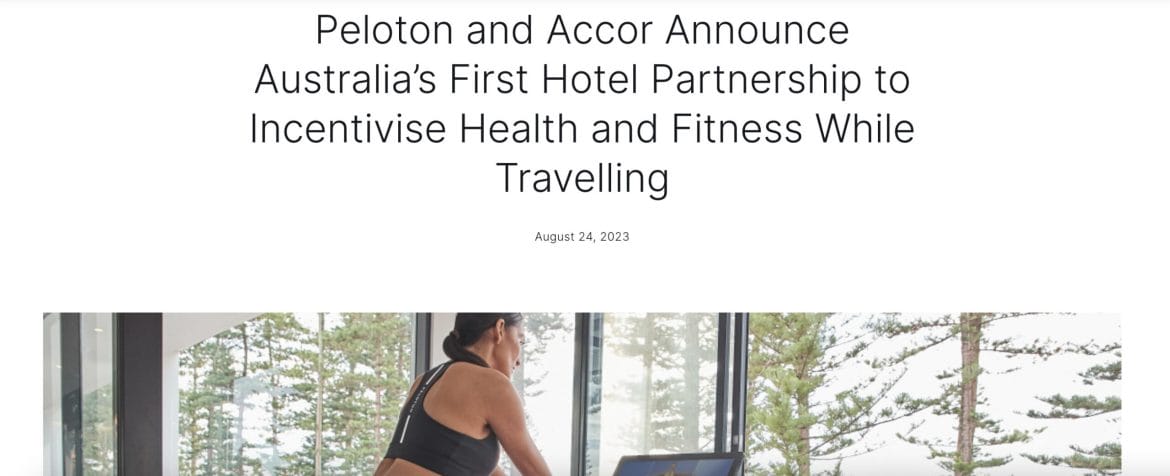 As part of the agreement, Peloton Bikes will be placed in more than 50 Accor hotels, resorts, and apartments around Australia. In addition, guests who exercise with Peloton on the Bike or the App during their stay will be eligible to earn Accor loyalty points.
There will also be an offer to fast-track your Accord status to gold. This will be emailed to eligible Peloton members.
The press release states:
Following the successful launch of Peloton into select Accor hotels around 2022, the expanded agreement will see Peloton Bikes installed in more than 50 of Accor's most popular hotels, resorts and apartments across Australia. Plus, in the first of its kind program in Australia and for a limited time, guests will be rewarded for working out with Peloton – with the ability to earn 100 ALL – Accor Live Limitless Reward points when they workout on the Peloton Bike or the Peloton App during their stay at one of the participating Accor hotels, including Mövenpick Melbourne, Pullman Hyde Park, Sofitel Darling Harbour, Novotel Perth Murray Street and Peppers Soul Surfers Paradise.
Guests will need to display their Peloton App workout history to the gym staff or the hotel's front desk prior to check-out. A QR code will be provided, and guests can register for the limited time offer. Loyalty points should appear on the user's account within two weeks, and can then be used on future vacations or to secure tickets to live events.
Peloton has also published a new support page regarding the partnership. The FAQ section states that individuals can earn 100 reward points per stay, and can only do so three times within one year.
Amanda Gilmore, Peloton's Country Manager for Australia, provided the below quote about the collaboration with Accor:
"Whether Aussies are travelling for work or leisure, our research tells us that they're making health and wellness a priority. We're thrilled to introduce Peloton to more Australian travellers and also provide the vibrant community of Australian Peloton Members access to Peloton while they're staying at Accor hotels across the country. With expert instructors, thousands of classes and a Member community by your side when you need it, Peloton offers an expansive range of classes that are adaptable for every level and ability, so you can get a workout boost whether at home, or travelling."
As always, if you're looking to access a Peloton device while traveling either in the United States or abroad, be sure to check out our hotel finder tool.
You can read more details about the new partnership between Peloton and Accor via the press release or the dedicated support page.
---
Want to be sure to never miss any Peloton news? Sign up for our newsletter and get all the latest Peloton updates & Peloton rumors sent directly to your inbox.