Peloton has announced that there will be no live classes from either Peloton Studios New York (PSNY) or Peloton Studios London (PSL) from Saturday, December 24 through Monday, January 2 so that the Peloton team can enjoy a holiday break. Peloton shared the news to their Instagram stories, and also posted an update in the Official Peloton UK Member Group on Facebook:
Our studios will be closed for live classes between Saturday 24 December – Monday 2 January to observe the holidays. Be sure to check out our new content releases and on-demand library, and look out for our Top 50 countdown list as well as other exciting classes coming to you from 26 December onwards!


We had previously reported that the studios would be closed to the public the weekends of Christmas and New Year's – which Peloton announced earlier than usual since members would potentially be looking to book in-person classes. However, this latest update indicates that the studios will be closed with no opportunity for live classes for a full ten days, their longest closure in recent memory.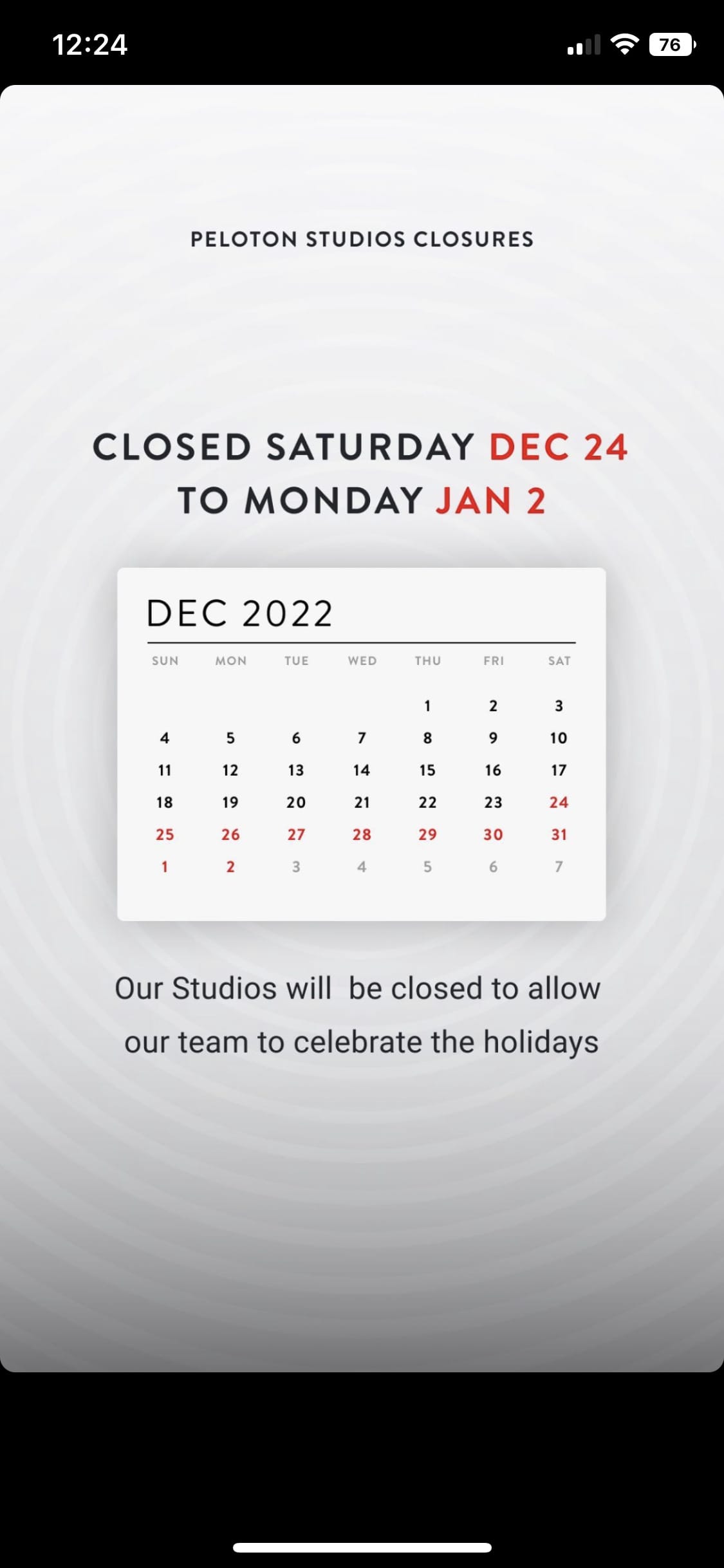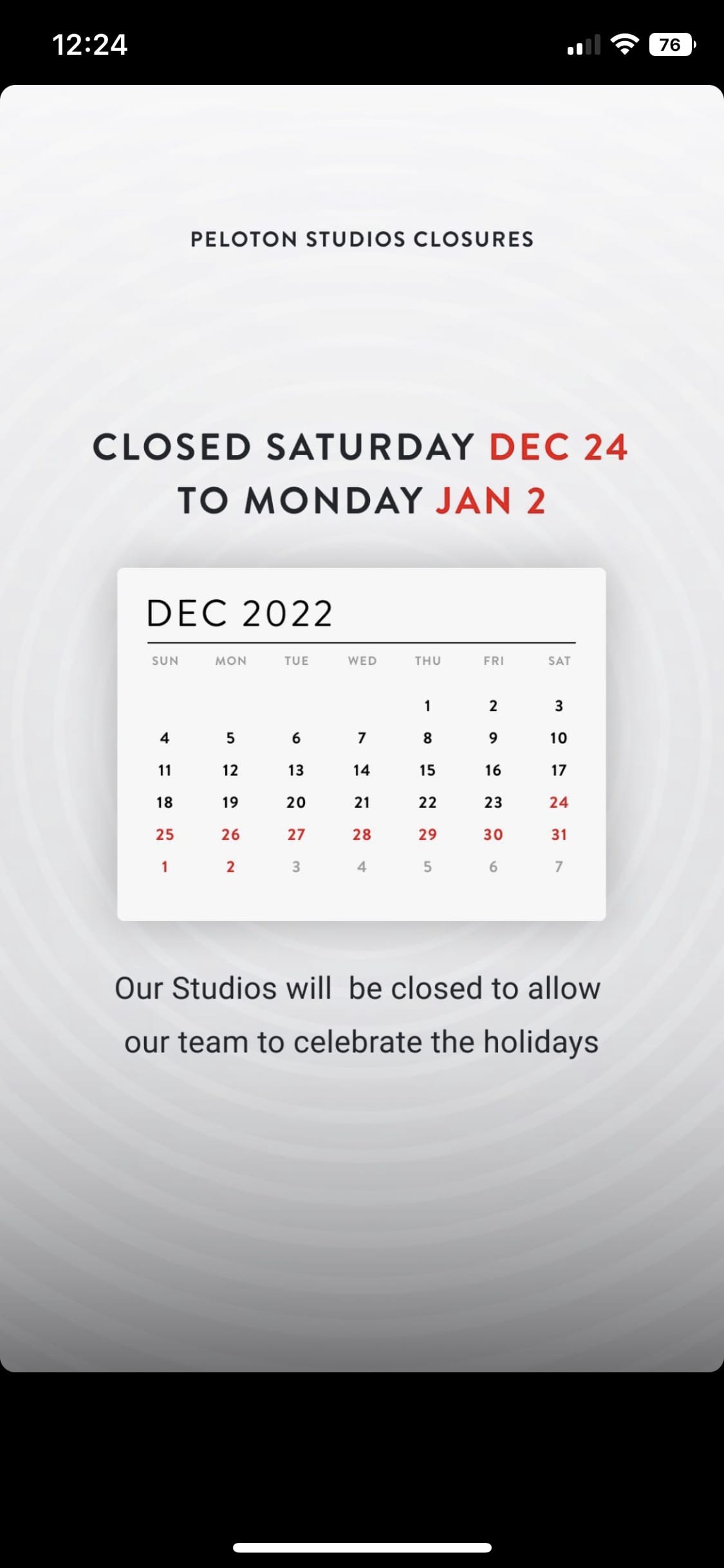 Nevertheless, members can still look forward to new content during the studio closure, including the Top 50 Countdown, during which Peloton counts down the top 50 most-loved tracks by members from the past year. Though the Top 50 Countdown classes have been live for the past two years, it appears they will be pre-recorded and released on demand this year. It is currently unclear whether the series will include a ride, run, and strength class for each installment, but we will share updates as soon as they become available.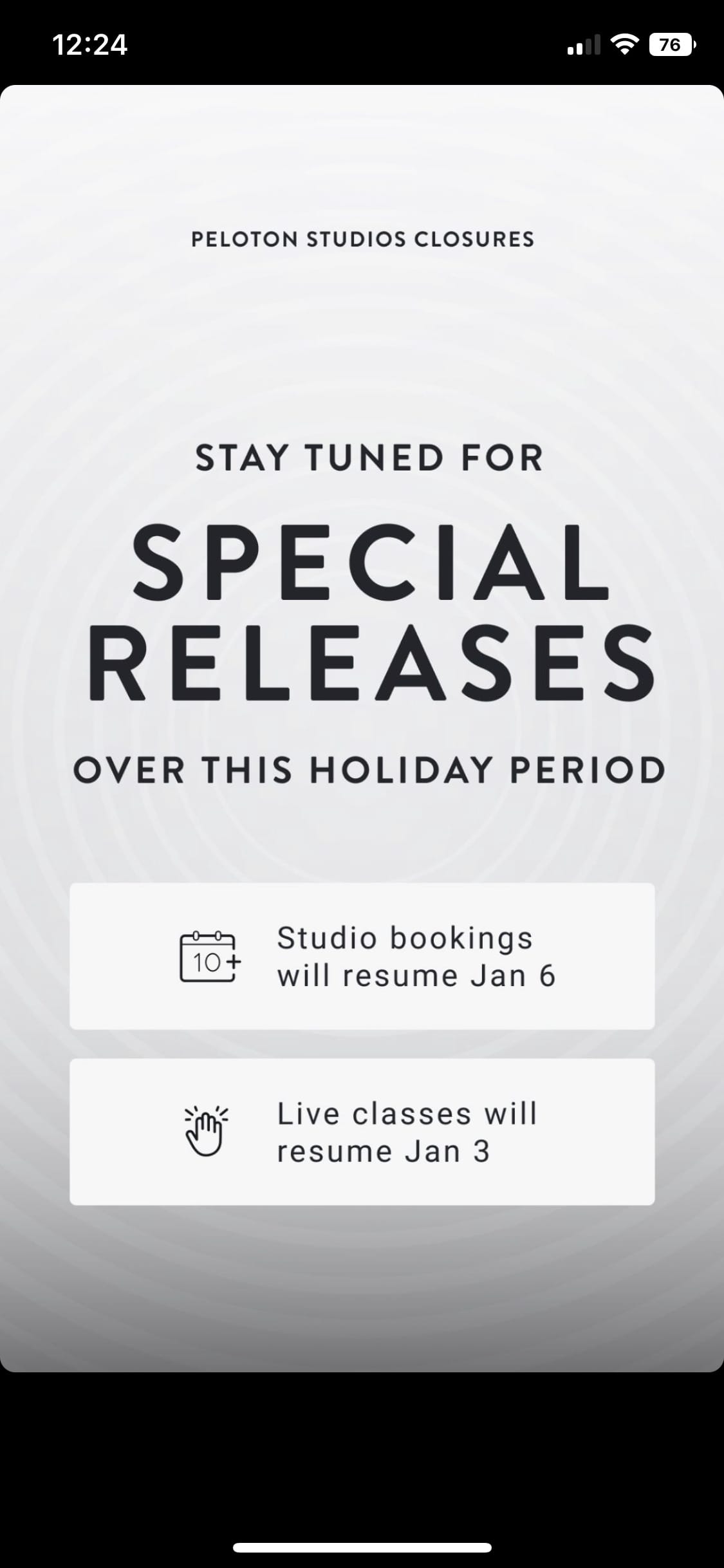 In addition, there may still be an opportunity for a major artist series on Christmas Day, which Peloton has done for the past two years. Peloton dropped major artist series classes on Christmas Day in both 2021 (Taylor Swift) and 2020 (The Beatles). They have not yet hinted that they will do the same in 2022, but it is still possible since none of those classes were live anyway.
The last live classes from PSNY and PSL will be on Friday, December 23, but the classes will not have members in them (as they usually do on Fridays).
Live classes will resume on Tuesday, January 3; and studio bookings will resume on Friday, January 6.
---
Want to be sure to never miss any Peloton news? Sign up for our newsletter and get all the latest Peloton updates & Peloton rumors sent directly to your inbox.