Peloton's studios in both New York City and London will be closed to the public during two weekends next month, for the Peloton team to enjoy some time off for the Holidays. Peloton posted the update in the Official Peloton Member Facebook page:
Our team is taking time to enjoy the holidays. From December 23 to 25 and December 30 to January 1, there will not be any in-studio class bookings for Peloton Studios New York and London. During this time, you can join our scheduled encore and on-demand classes.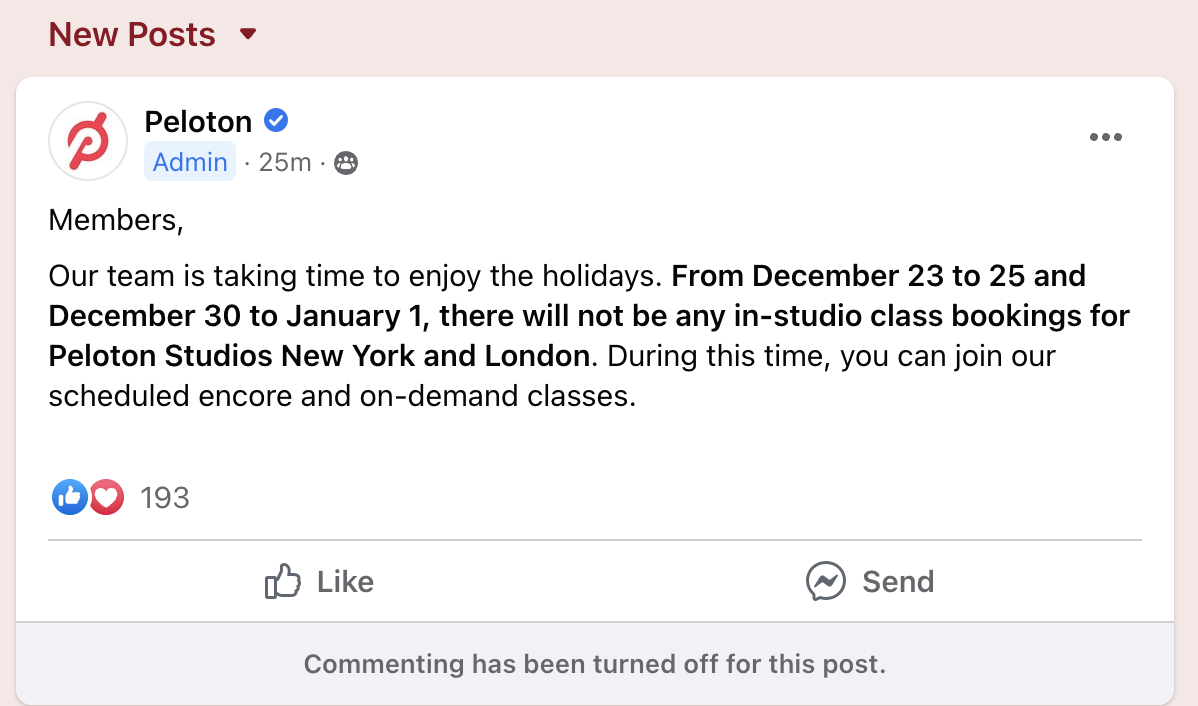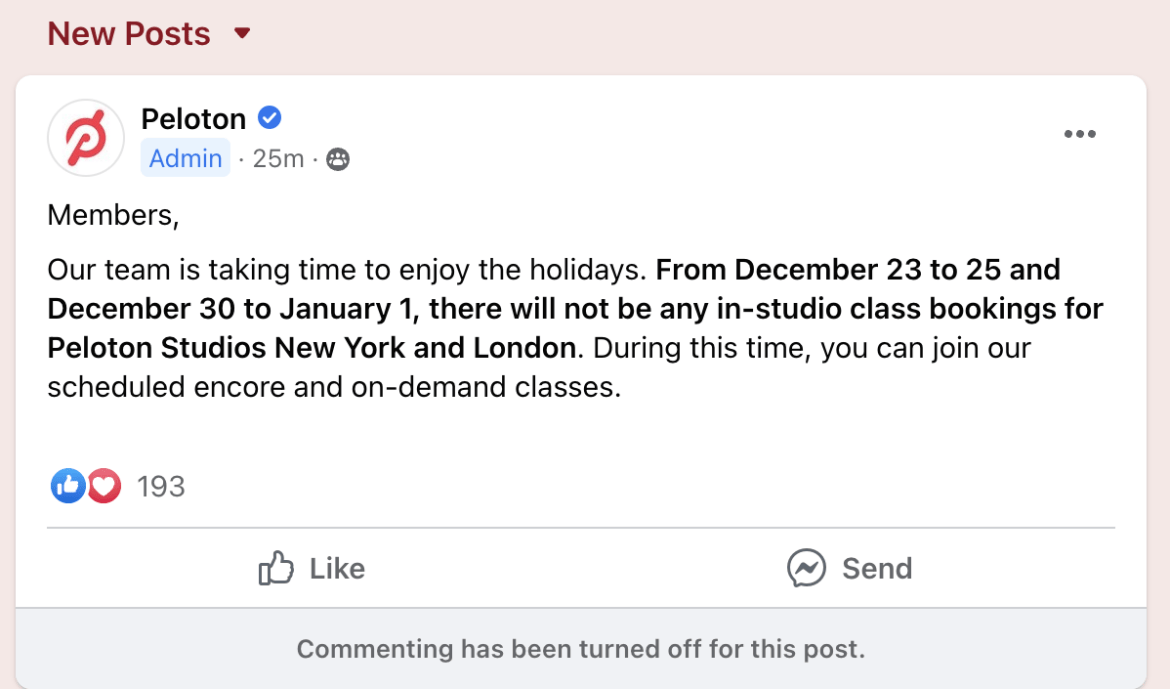 Since studio bookings open six weeks out, Peloton is likely sharing this message now so that members know in advance that they will be unable to attend in-person classes during the weekends of Christmas and New Year's. Peloton has historically closed for approximately three days during both holidays – but this year the holidays fall on weekends when PSNY and PSL would typically be open to members.
Peloton did end up officially posting a message on the studio booking website noting that there will be two weeks where live classes aren't posted for bookings, advising members to check back November 28th for the next round of studio bookings.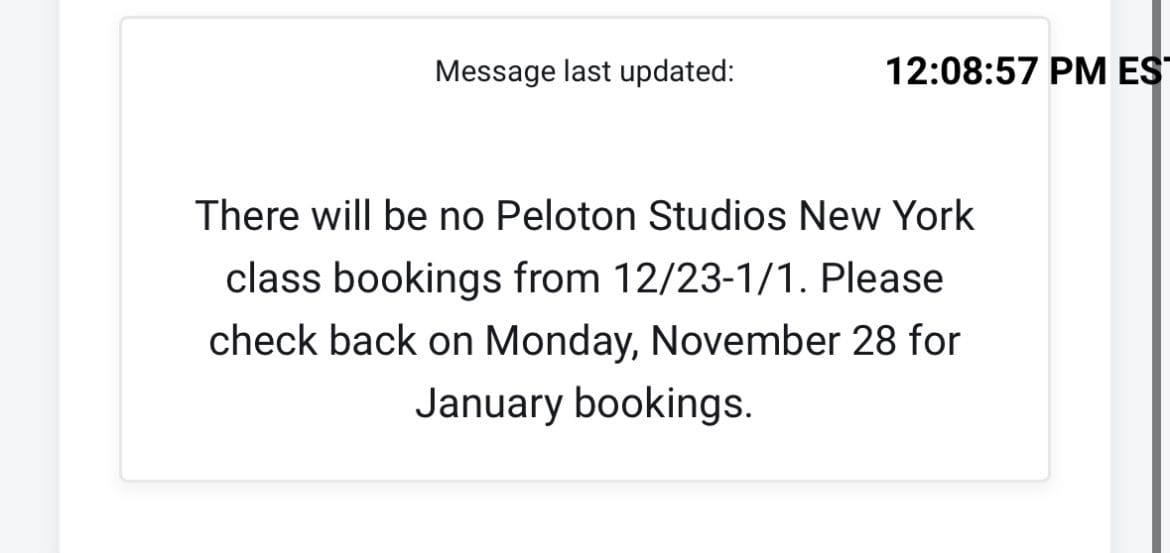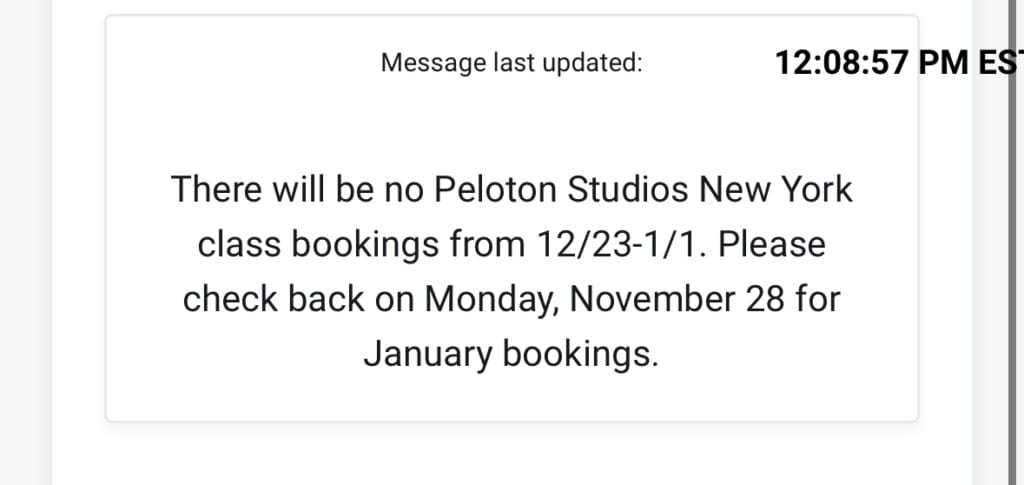 Even though the studios will be closed, there may still be new classes released, in addition to an encore schedule. Peloton dropped major artist series classes on Christmas Day in both 2021 (Taylor Swift) and 2020 (The Beatles). They have not yet hinted that they will do the same in 2022, but it is still early.
Peloton has also held Top 50 Countdown classes for the past two years in between Christmas and New Year's Eve, during which they count down the top 50 most-loved tracks by members from the past year.
Peloton has not yet announced their holiday programming, but they have historically held a number of special classes throughout the month. The studio schedule already shows one or two holiday classes taking place over weekends where members will be in the studio. We will be keeping a close eye on potential 2022 programming, and in the meantime you can read about the 2021 holiday content via our site.
Note: The title of this article was updated to better reflect the message was about in-person studio classes.
---
Want to be sure to never miss any Peloton news? Sign up for our newsletter and get all the latest Peloton updates & Peloton rumors sent directly to your inbox.