Peloton is once again renewing their "Annual Challenge" for 2023, also known as "The Annual 2023". Members can now view and opt in to the Annual Challenge for 2023 under the "upcoming" tab on the challenges page. The description of the challenge reads:
A year-long challenge that helps you build habits for success. You'll gain the discipline and consistency to create and maintain an active lifestyle. Take any class on the Bike, Tread or Peloton App to have your minutes count toward the challenge. Let's put in the time together for 2023.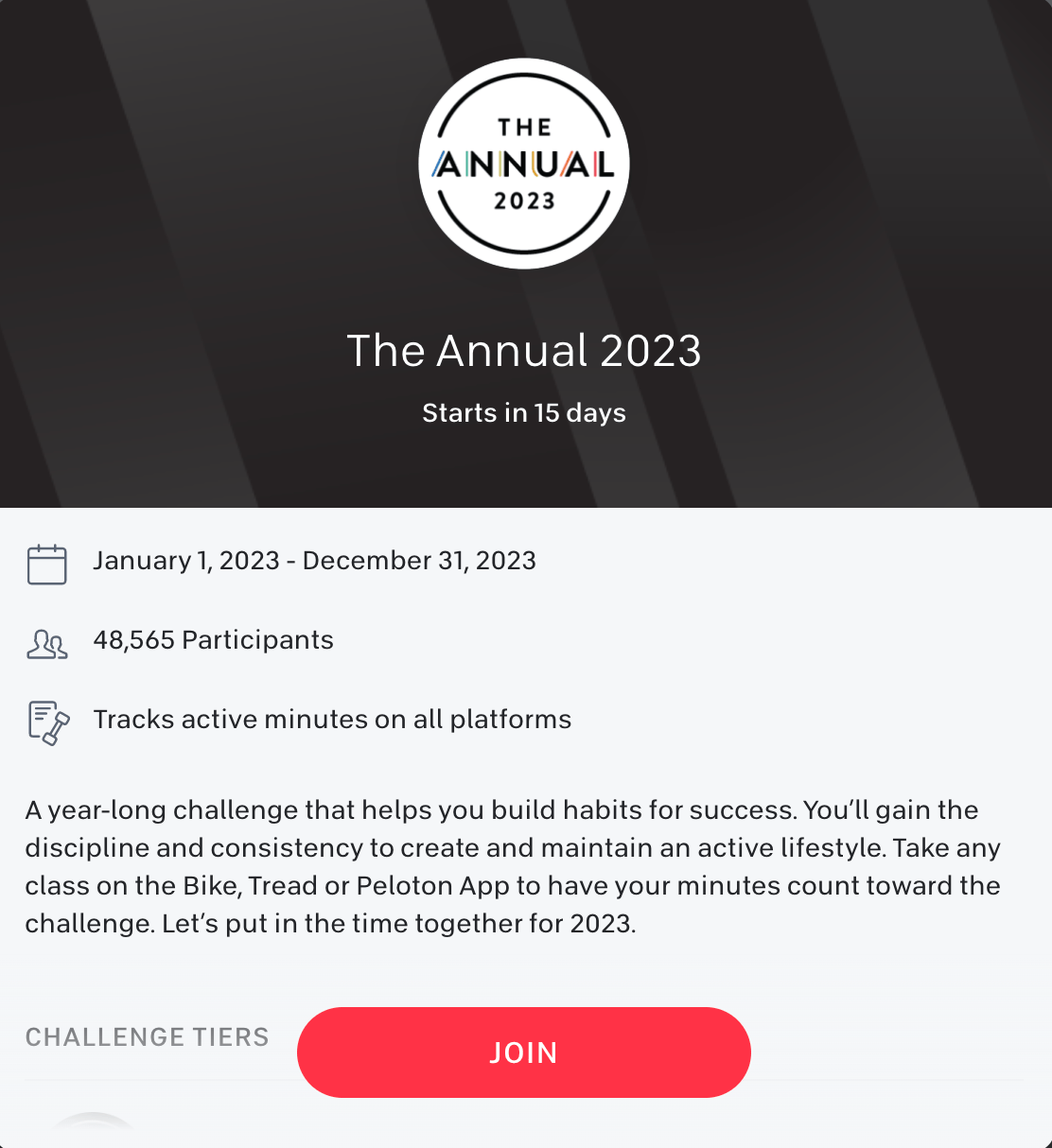 Now in its fourth year, the Annual Challenge measures members' total active minutes across all modalities available on the Peloton platform. Members will earn badges for minute totals between 1,000 and 20,000 minutes, with a total of 13 tiers available: 1,000 through 10,000, plus 15,000, 18,000 and 20,000.
Peloton has slowly increased the number of badges available for the Annual Challenge since its inception. During the first year in 2020, the badges only went up to 5,000 minutes, and later expanded to 10,000 minutes in August. When the 2021 Annual Challenge was launched, it included badges for up to 15,000 minutes. Later that year Peloton added two new tiers for 18,000 and 20,000 minutes. As of right, now the 2023 tiers appear to be the same as the 2022 tiers.
Last year we unveiled our Peloton Annual 2021 Calculator for those trying to determine how many more minutes they need to work out to reach a certain tier of the challenge. If you're still trying to reach a certain tier by the end of the year, you can use our Peloton Annual 2022 Calculator to easily determine how many minutes you have left to complete in order to reach your goal. We will have a new calculator for 2023 by the beginning of the year, so be on the lookout!
Earlier this year Peloton mailed select apparel items as gifts to members who completed at least 15,000 minutes in 2021. There is no word yet on whether they will do the same for 2022.
You can opt into the 2023 Annual Challenge now on your Peloton App, web browser, or hardware device. Head to the Challenges page and select "Upcoming."
Are you happy with your annual total number for 2022? Let us know if you're looking to increase or scale back in 2023!
---
Want to be sure to never miss any Peloton news? Sign up for our newsletter and get all the latest Peloton updates & Peloton rumors sent directly to your inbox.