If you have asked a UK Peloton rider in the last few months how Peloton can improve, the most common answer you might receive would be "Add live classes better suited for UK riders". Today, Peloton is making that happen. They posted in the Official Peloton UK Member Group, sharing that:
We are excited to announce that as of Monday, July 27th, there will be additional live rides from our London studio in the morning and early evening UK time. Check out the schedule and count yourselves in by visiting: members.onepeloton.co.uk/schedule/cycling.
As with most things, everyone won't be 100% satisfied with this, as some people will request even earlier morning rides, or rides later in the evening. Just as an example, for the upcoming week, here are the current times the UK instructors are scheduled to be teaching classes at:
Monday: 7:30am, 8:05am, 2:00pm, 5:30pm
Tuesday: 7:30am, 7:55am, 2:00pm, 5:30pm
Wednesday: 7:30am, 12:00pm, 12:25pm, 2:00pm, 5:30pm
Thursday: 7:30am, 7:55am, 2:00pm, 5:30pm,
Friday: 1:00pm, 1:25pm
Saturday: 11:00am
Also, UK riders are still able to ride live with the US-based (and German language instructors) as well, so there are many more live ride options than shown above – those are *just* the live rides taught by the 4 English language UK-based instructors [Ben Alldis, Hannah Frankson, Leanne Hainsby, and Sam Yo].
Peloton UK also notes that the London studio does still remain closed to the public, and don't currently have an estimate when they will allow the public to start booking classes again to ride in-studio with the instructors. However, many of the UK showrooms are reopened, so this is another step in Peloton returning their operations to normal.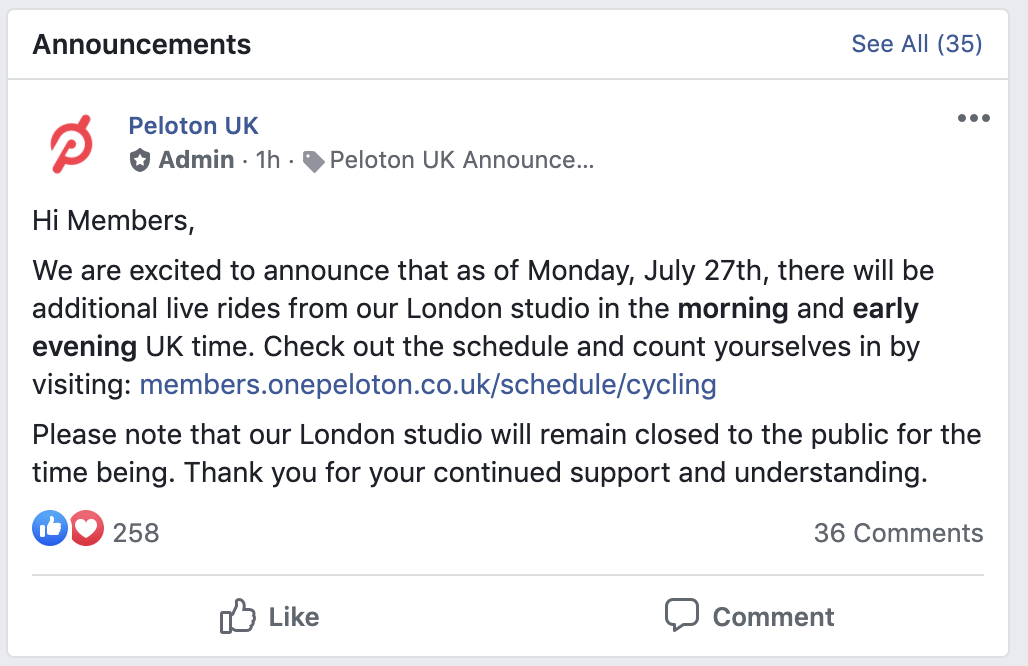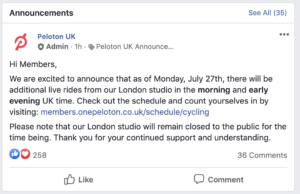 ---
Want to be sure to never miss any Peloton news? Sign up for our newsletter and get all the latest Peloton updates & Peloton rumors sent directly to your inbox.