Peloton has officially fully rolled out their certified pre owned program – which is being called "Peloton Certified Refurbished" (affiliate link).
The news was announced via a press release, which said:
Every refurbished product is thoroughly inspected, cleaned and tested to ensure it meets Peloton standards, and is backed by the same 12-month limited warranty that comes with new bikes so you can ride with confidence. Peloton Certified Refurbished bikes include the same features as a new Peloton Bike/Bike+, including access to Peloton's variety of classes, instructors, disciplines, and music through your All Access Membership.


"We are excited to offer refurbished Peloton bikes at these new price points, opening the engaging Peloton experience to even more Members," said Amanda Shulman, Vice President of Emerging Business & Strategic Partnerships. "All pre-owned bikes have been refurbished and checked to meet our rigorous quality standards, and our new program allows us to find these bikes a second home."
Through the Peloton Certified Refurbished program, you can buy a refurbished Peloton bike for $1,145, or a refurbished Peloton Bike+ for $1,995. Both of these include shipping & delivery.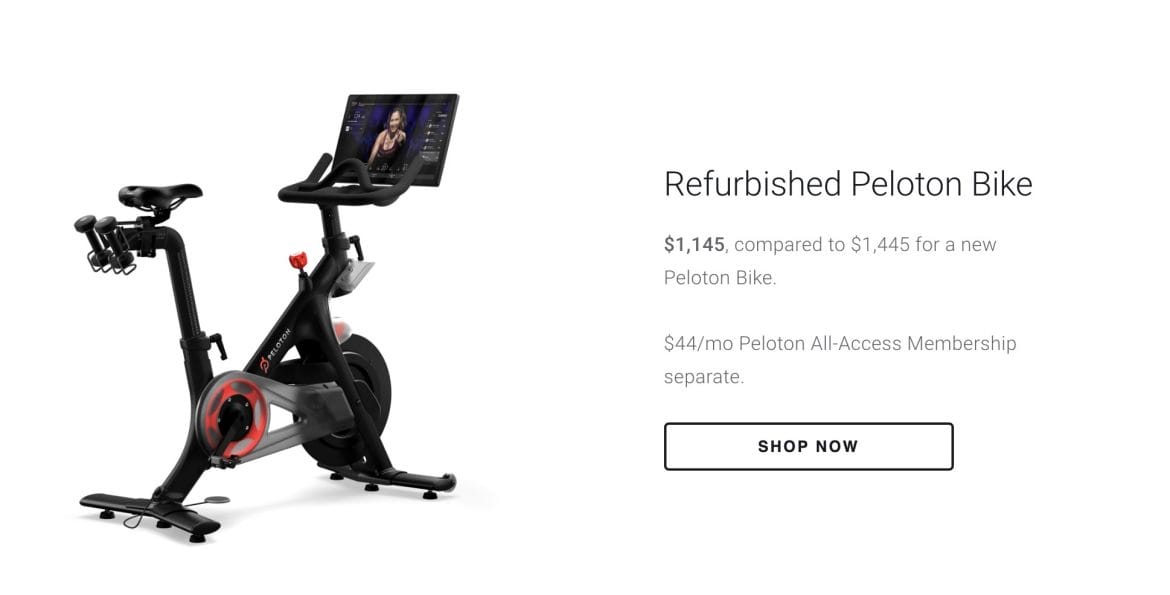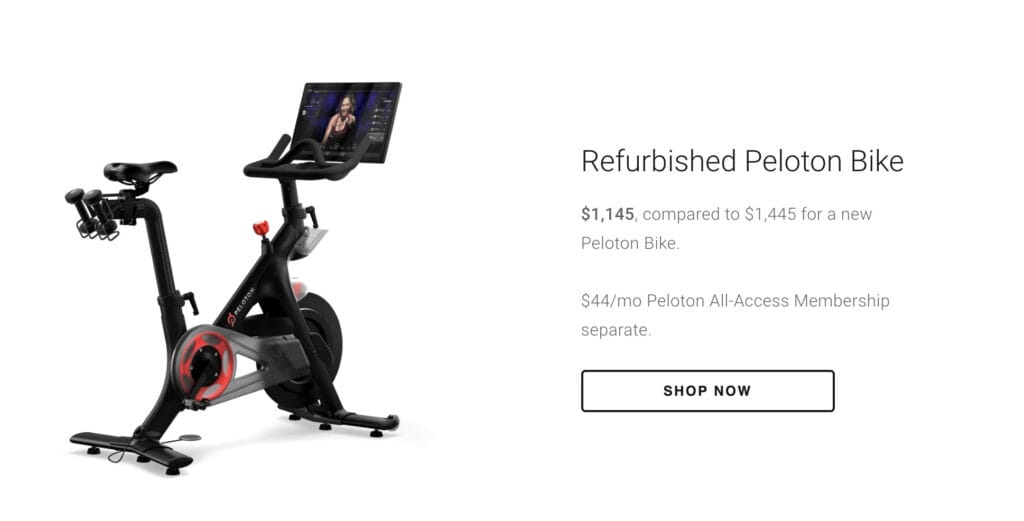 At current pricing, this equates to a refurbished Peloton Bike being a $300 discount over a new bike; or a refurbished Peloton Bike+ being a $500 discount off the sticker price.
Currently, the program is only available in the continental US & Canada. According to a new FAQ about the program, there is not "any plans to offer Peloton Certified Refurbished Peloton Bikes/Bike+ in other markets." However, Peloton offers refurbished Peloton Bikes through eBay in other markets – starting with Germany, and expanding to the UK recently.
Members can purchase refurbished bikes either online or via showrooms.
There are also currently no refurbished Peloton treadmills or refurbished Peloton rows as part of the program.
The refurbished Peloton bikes come with a standard one-year warranty, just like a new bike would. You also have the option to buy an extended warranty. All sales of refurbished bikes are final.
Peloton is calling this the official launch of their certified pre-owned program, saying:
Today Peloton announced our new refurbished bikes program, Peloton Certified Refurbished. This new offering, available across the continental US and in Canada, represents a new way for even more people to unlock the same motivating Peloton experience for less.
However, Peloton has been quietly trying out its refurbished program several times over the last year. Most recently, Peloton offered refurbished bikes & bike+ at the end of October. While it was billed as "contact us to see if you qualify", anyone who reached out was able to buy one.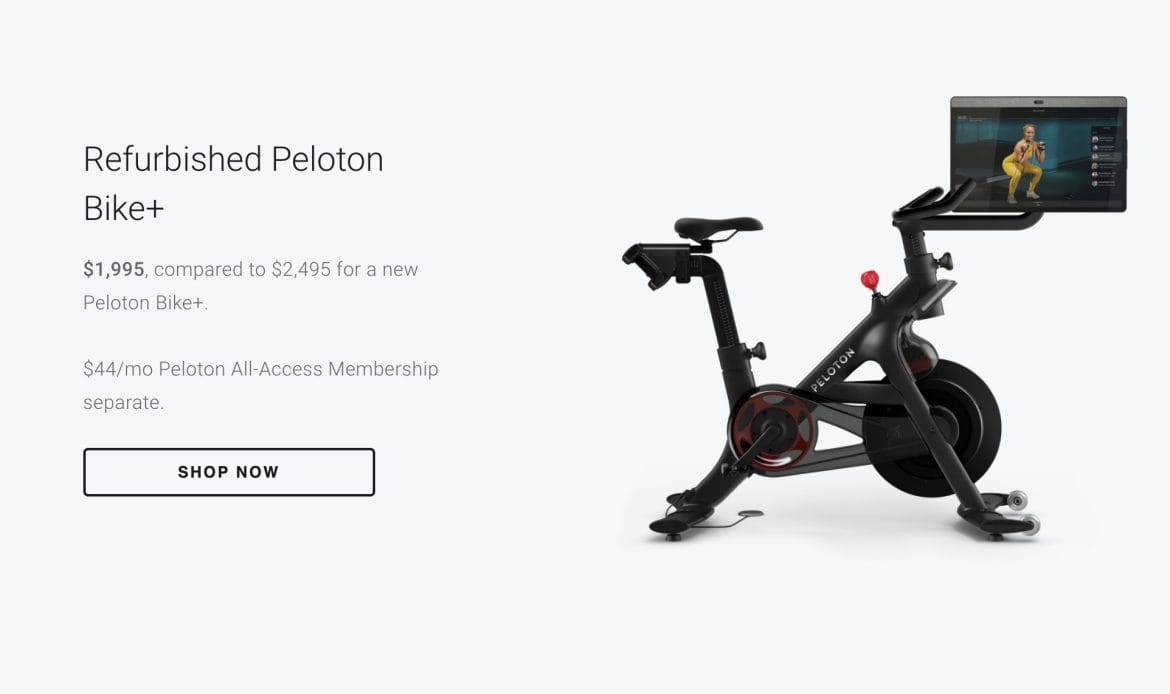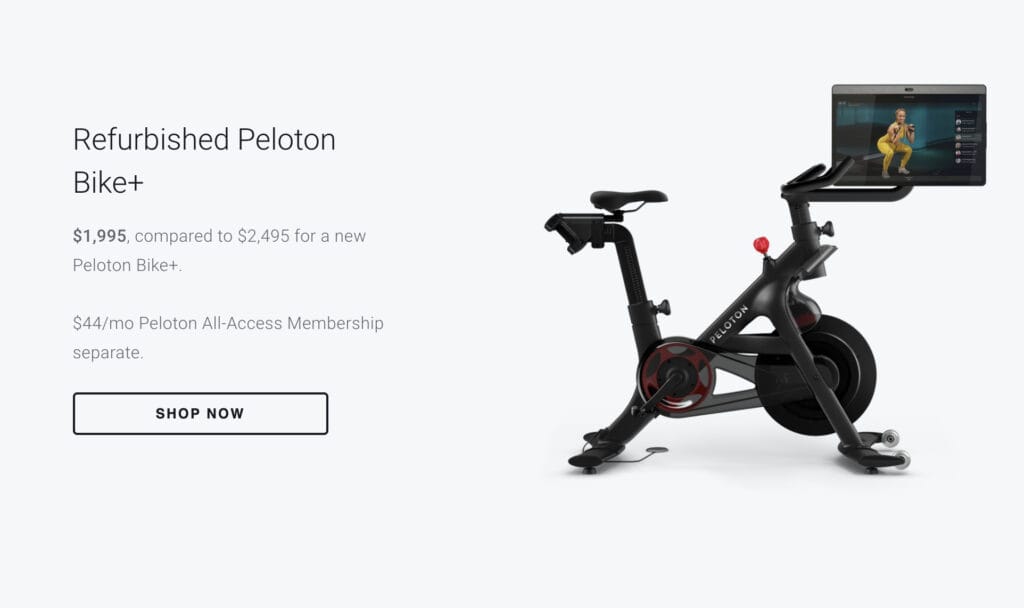 During that last sale, a refurbished bike was only $995 (compared to the $1,145 it is being sold for today). The Bike+ was available for the same $1,995 price.
If you are interested, you can see details and availability on refurbished Peloton bikes here.
---
Want to be sure to never miss any Peloton news? Sign up for our newsletter and get all the latest Peloton updates & Peloton rumors sent directly to your inbox.