Peloton has debuted a new official class type: Low Impact Cardio. Instructor Rebecca Kennedy shared the news via Instagram:
LOW IMPACT CARDIO IS HERE!!!
Finally a cardio workout thats easy on your joints and requires NO hardware!
We get our heart rate up to Zone 2 – the aerobic zone – and keep it steady there the whole class before cooling it down.
On Demand today! Find it under "Collections" on the App, on your bike, tread or rower!
LOW IMPACT. HIGH VIBES. ⚡️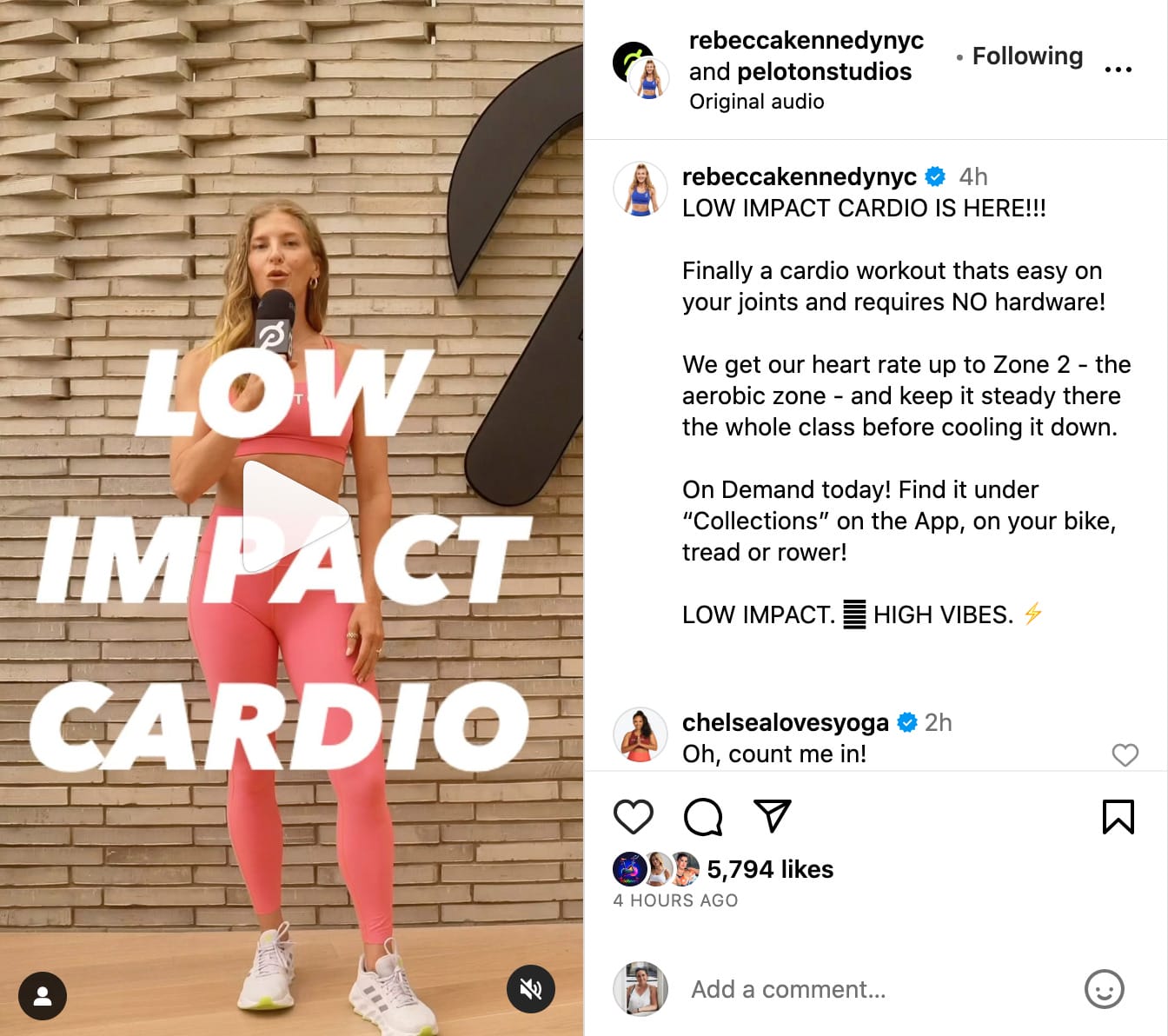 A new collection is available via the Peloton website, app, and hardware devices. The collection currently contains three classes, all released to the on-demand library on September 13 at 10:00am ET. The official description reads:
Welcome to Low Impact Cardio! This cardio workout on the mat is designed to get your heart rate up using familiar aerobic exercises. These classes are high energy, low impact, and require no equipment. See you on the mat.


There is a 10 minute class, a 20 minute class, and a 30 minute class. None of the classes require equipment and can be taken anywhere. All Peloton low impact cardio classes are currently taught by Rebecca Kennedy.
As of publishing time the classes do not appear in Peloton's Cardio modality with the rest of the on-demand library, meaning that you must go to the specific collection in order to access them.


If you're familiar with Peloton's standard HIIT Cardio classes, you know that they are designed to increase your heart rate to the higher zones and often include a lot of jumping movements. This new Low Impact format keeps the heart rate in an aerobic zone and is more endurance-based, offering a great option for members who may be recovering from an injury or illness, or looking for a lower impact workout on the mat.
In the video, Rebecca specifically mentions how these new low impact cardio classes will have no jumping, no dancing, and no burpees. The high intensity exercises are swapped out for low impact versions – but still keeping it fun.
The inclusion of Rebecca's image on the collection header suggests that she will be the only instructor to teach this format – though that could potentially change.
You can take Peloton's new Low Impact Cardio classes via the dedicated collection on your app, hardware device, or web browser.
Will you be trying this new class format?
---
Want to be sure to never miss any Peloton news? Sign up for our newsletter and get all the latest Peloton updates & Peloton rumors sent directly to your inbox.