Peloton has quietlly hit a new milestone – one of their classes has now been taken more than 1 million times! The class to hit that milestone is Emma Lovewell's 10 minute core strength class from 4/30/19 @ 3:00 PM ET.
Back on June 8th, Emma shared via Facebook that the class was at 830,000 views, and challenged her followers to see if it could be taken a million times by the end of the summer. She stated:
Peloton! Excited to see this 10 min Core class (part of Crush Your Core) has 830,000 views! (omg!) I love setting goals for myself, (and us), do you think we can get to 1 MILLION views by the end of this summer??
There are 35k people that follow this page, that means we all have to take it 4.9 times before the end of August to reach that goal. Can we do it? If we do, this will be the first class to ever hit 1 MILLION. Who's in?!
A little over a month later, that challenge was met. According to Emma, this milestone has resulted in "10 million minutes of core work, and 1 million minutes of bicycle crunches! Slow slow, quick quick quick quick!"
This class was part of the "Crush Your Core" program with Emma Lovewell. If you haven't already, head over to the programs section of your bike, tread, or iOS app where you can find details on the full 4 week program. Alternatively, you can find an overview of Emma Lovewell's Crush Your Core program here!
You can click the image below to go straight to the 10 minute core class from 4/30/19 as well that hit 1 million views!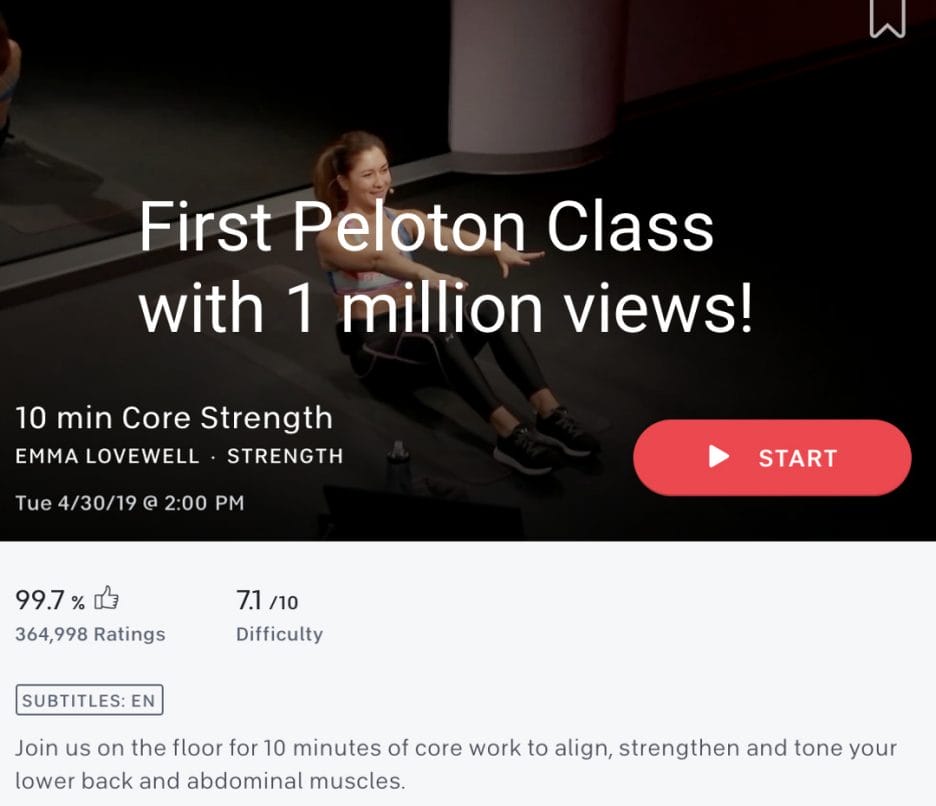 With Peloton now having more than 2,000,000 subscribers, we will likely start seeing more classes hit this milestone as well.
---
Want to be sure to never miss any Peloton news? Sign up for our newsletter and get all the latest Peloton updates & Peloton rumors sent directly to your inbox.