There will be no live classes this upcoming Monday & Tuesday – September 19-20, 2022 – Peloton has cancelled all classes on both days, across both Peloton Studios.
According to Peloton, Peloton Studios London (PSL) will be closed for Queen Elizabeth II's funeral on Monday, and Peloton Studios New York (PSNY) will be closed for maintenance on both Monday & Tuesday. Peloton posted the comment in reply to a member question in the Official Peloton Member Facebook Page:
In light of Queen Elizabeth II's funeral and, as a mark of respect, all of our UK showrooms will be closed on Monday September 19th. Deliveries and service appointments will also be paused. If you have an existing showroom, delivery or service appointment scheduled, our teams will reach out to you to confirm an alternative date. Lastly, there will be no live classes from Peloton Studios London on this day.
Our NYC Studio will be closed Monday, September 19 and Tuesday, September 20 for maintenance.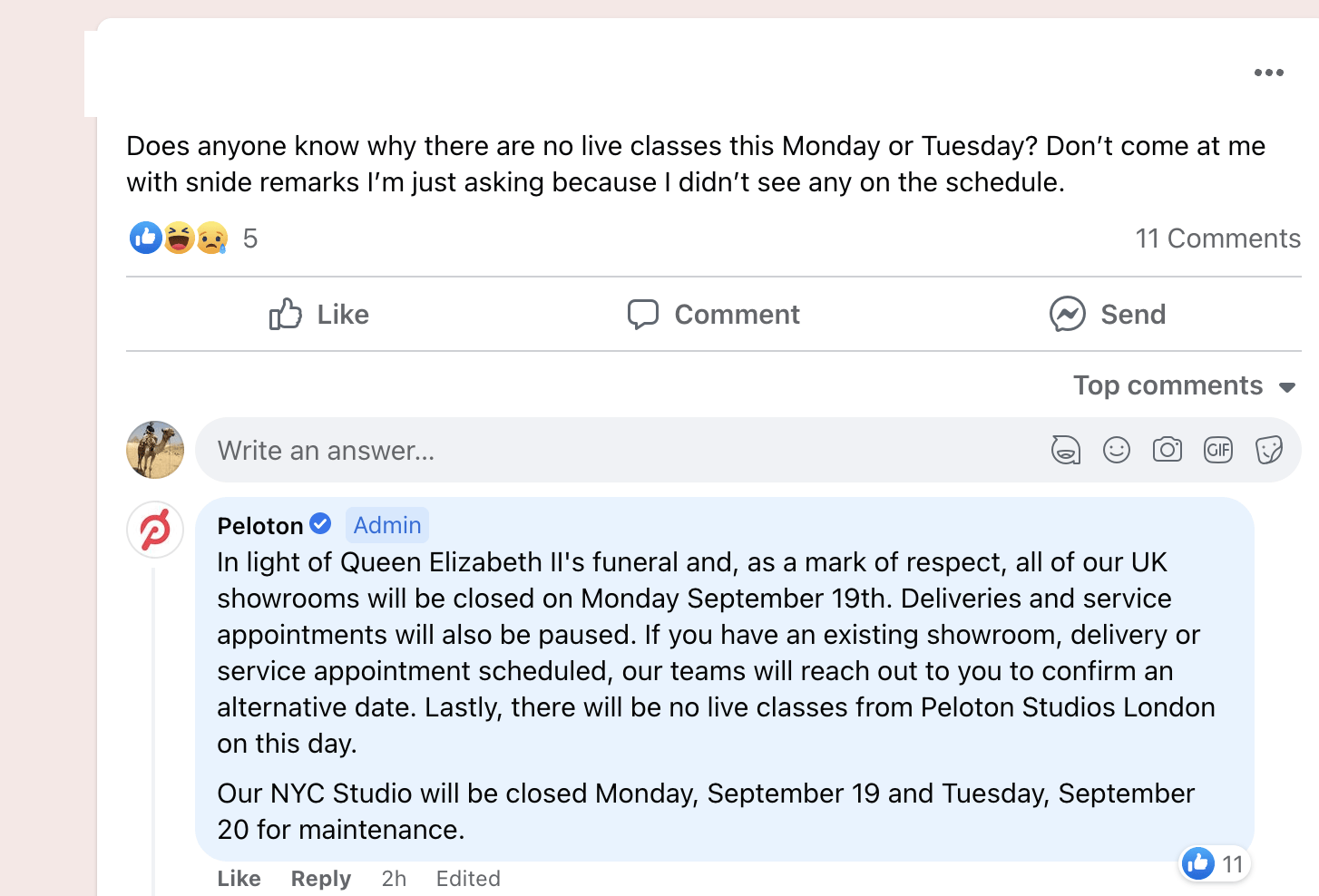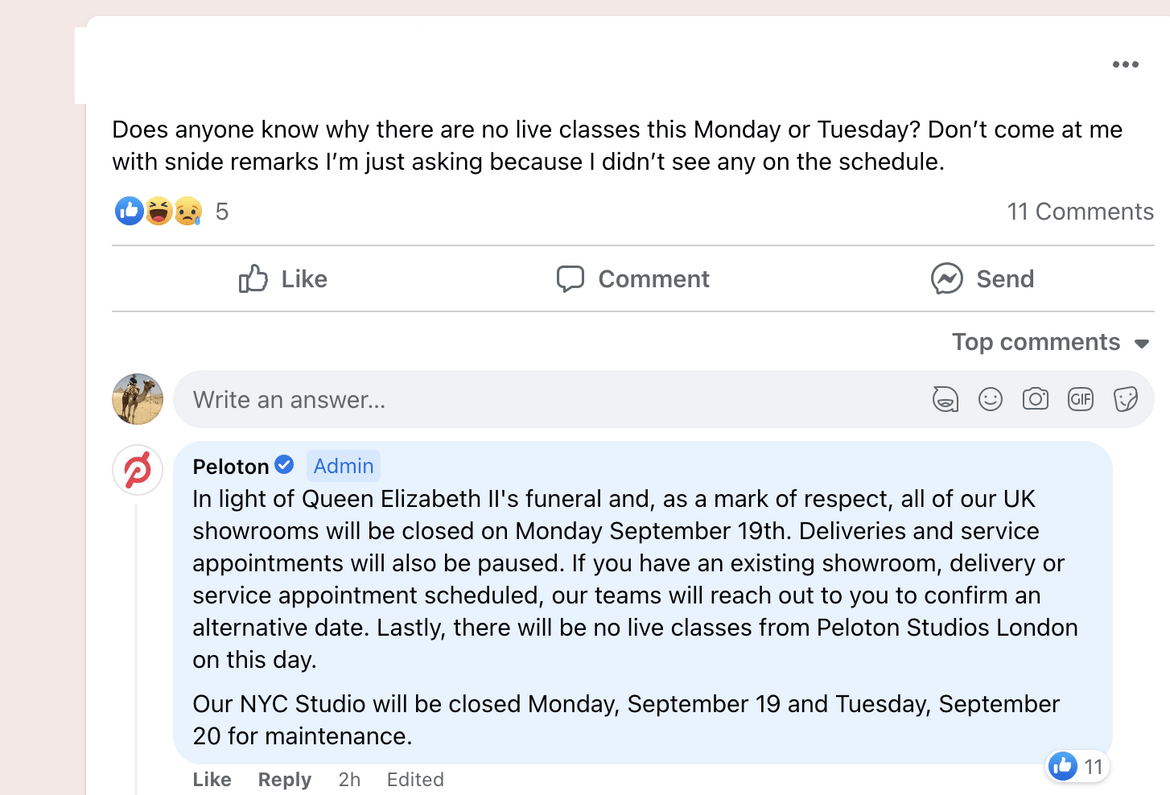 Although Peloton's statement only references the Peloton London studios being closed Monday, there are no live classes on the schedule Tuesday as well (along with NYC).
In addition to no live classes from the London studio on September 19, all United Kingdom showrooms will be closed and Peloton will not make any deliveries or service visits on that day. Queen Elizabeth II's funeral will take place on Monday and will bring in hundreds of world leaders from around the globe, shutting down most of the city and the country.
However, it is worth noting that the upcoming schedule has shown entirely encore classes for both PSL and PSNY on both the 19th & 20th before the Queen's passing. In addition, PSL is also closed on Tuesday, September 20 even after the Queen's funeral. Yet Peloton's statement indicates that only PSNY will be undergoing maintenance.
Though we cannot say with absolute certainty, this could provide further evidence that the Peloton rower (Peloton Row) will finally launch on Tuesday, September 20. Earlier this week we speculated that this could be the launch date after Peloton posted another rower teaser that has since been deleted.
The video showed a computer screen typing out onepeloton.com/row, and Matt Wilpers was heard saying, "Alright, get ready! 5, 4, 3, 2…" in a voiceover. About an hour after it was posted, Peloton deleted the video from all platforms. Ever since Peloton added the Row to the website earlier this month, they have been phrasing the release as a "countdown." Since the video was posted on Thursday, September 15 and the countdown started at 5, that would suggest a launch date of Tuesday, September 20. Of course, this has not yet been confirmed.
If you missed our recent reports on the rower, it is rumored to cost $3,195 in the US, we believe we know who 3 new coaches are, and we had a sneak peek of it in the NYC studio.
If the Peloton Row does launch on Tuesday, it will likely be strictly pre-orders, with the actual shipping of the device still weeks or months away.
We'll be keeping a close eye on any potential announcements early next week and will share updates as soon as they become available. In the meantime, you can catch up on all the recent rower news here and check out the upcoming Peloton schedule here.
---
Want to be sure to never miss any Peloton news? Sign up for our newsletter and get all the latest Peloton updates & Peloton rumors sent directly to your inbox.