The Week in Review is a round-up of interesting tidbits from the Peloton universe. We share some of these stories via our Facebook page, Facebook group, and Instagram, but not all of it makes it there so be sure to check in weekly for the latest!
Ross Rayburn, who joined the company this past March, was promoted to be a "Master Instructor of Yoga". It isn't yet clear if there will only ever be one person in this role, or if other Yoga instructors will have the opportunity to grow into this role as well.
Arianna Huffington interviewed Robin Arzon this past week for her "Thrive Global" podcast. The 40 minute podcast interview covers a range of topics
You may be used to seeing Robin Arzon astride her Peloton bike, exhorting you to work out your hardest to the tune of one of her signature playlists. As the company's VP of Fitness, Robin embodies the saying "life is a marathon, not a sprint" — she's run 26 of them, including one time, 5 races in 5 days. A former 80-hour-a-week corporate lawyer and the survivor of a harrowing attack, Robin has channeled these life experiences into a popular book, "Shut Up and Run," and an undeniably refreshing outlook. "We can repair. We're made to repair," she tells Arianna Huffington. Tune in to the last episode of the season to give your own well-being a workout.
Vanity Fair has a nearly 30 minute video interview with the CEO of Peloton, John Foley. They cover a wide range of topics, from the recent IPO, how they pick new instructors, to whether he might run for public office one day.
Artist Series Workouts: P!NK
2 of the 3 P!NK workouts are available on demand, and the third will be shortly. If you haven't taken them yet, give them a try. Feedback has been overwhelmingly positive with lots of reports of these workouts causing all the feelings. You can find the ride & run workouts on-demand with the links below. P!nk herself gave a shoutout to the upcoming classes on a facebook post this weekend.
Yoga with Ross – 11/4/19 @ 6:00pm
Discover all the other Artist Series musicians Peloton has collaborated with here!
Halloween costumes & workouts
The Peloton team really got into Halloween this year, with dozens of themed workouts. Instructors did workout in costumes – we saw Emma as Princess Leah, Kendall as Gwen Steffani, Matt Wilpers as Cody Rigsby, and many many more. Matty Maggiacomo also pulled off a Halloween prank on Jess Sims live during a class – captured on the video below.
Continuing the interview trend this last week, UK instructors Ben Alldis & Leanne Hainsby sat down for an interview for The Clip Out podcast.
New York City Marathon
This weekend both Matt Wilpers & Becs Gentry took part in the New York City marathon. Becs crushed her old PR by more than 12 minutes to finish in 2:37:03 (that's an exact 6:00 min/mile pace!!), while Matt also got a big PR, breaking 3 hours for the first time to finish in 2:54:53.
While they were running, several of the other Peloton instructors took to the streets to cheer them, and all the other runners, on. Robin led a cheering squad around mile 23, and was joined by Andy, Chase, Hannah, Jess, Kendall, Ross, Tunde, and more!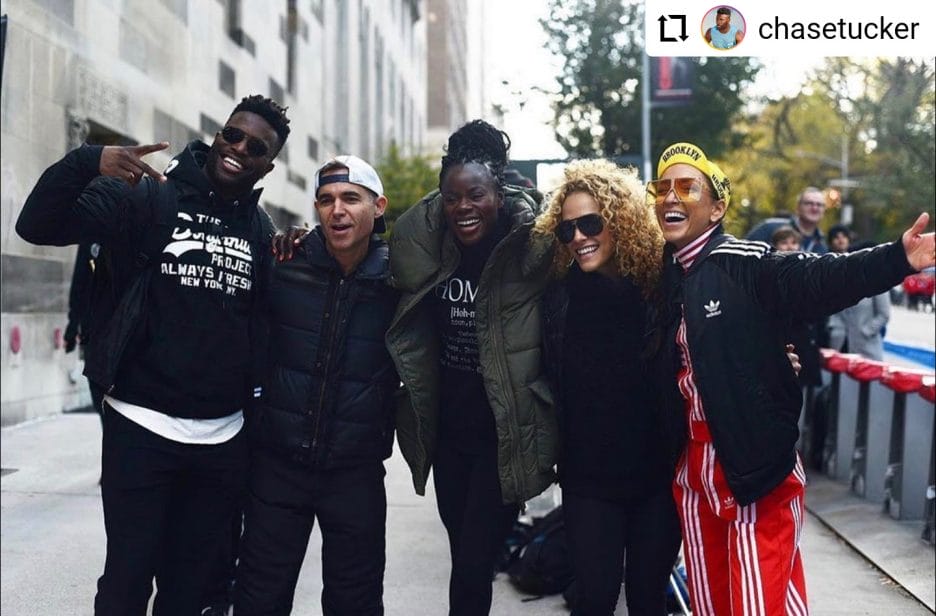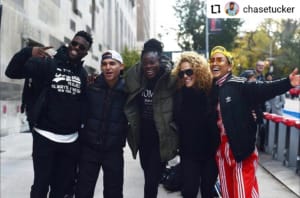 In general sports-tech news, it was announced on Friday that Google would be acquiring Fitbit. There are some concerns around Google having access to all of that personal health data, but if the acquisition closes, expect to see some new wearable devices from Google/Fitbit in the future.
Apple announces new Apple AirPods Pro
After releasing a 2nd generation of their popular AirPods this spring, Apple last week announced a pro version of the AirPods – the AirPod Pros. These feature noise cancellation technology, in addition to coming with 3 different sizes silicone tips to create a better fit for your ears. AirPods Pros should be compatible with Peloton bike & treads – just note there are reports of people who have to deal with quirks with volume (the volume being very low when they start a workout), as well as issues getting a solid connection from time to time with the Gen1 & 2 versions of the AirPods.
---
Want to be sure to never miss any Peloton news? Sign up for our newsletter and get all the latest Peloton updates & Peloton rumors sent directly to your inbox.