Documents have recently turned up that explicitly state Peloton's plans to get into the rowing business, as well as the plan to bring yoga classes from the UK studio. The one catch is that these are older documents – from 2018.
These documents come from permitting plans related to the new Peloton UK Studio, located in Covent Garden in London. After making their initial launch in the UK with a temporary production studio, Peloton announced plans to create a state of the art production facility for the UK team to record from. This new UK studio just opened last month.
As part of the build out & permitting process for the new UK studio, Peloton had to submit a series of documents to the UK government, detailing their plans for the building, what activities would take place, capacities, and more. One of those document was their "Operations and Management Statement", which was drafted in August 2018.
On the first page of the document, Peloton provides a high level overview of the company, including their current products (Bike & Tread), as well as describing the type of classes they teach. In talking about some of the new things they are working on, Peloton specifically mentions Peloton Rower classes.
Peloton opened its first treadmill studio, from which it streams its indoor treadmill classes, in the spring of 2018. Peloton continues to expand into other forms of group exercise content that it will make available to its at-home customers, which will include rowing classes.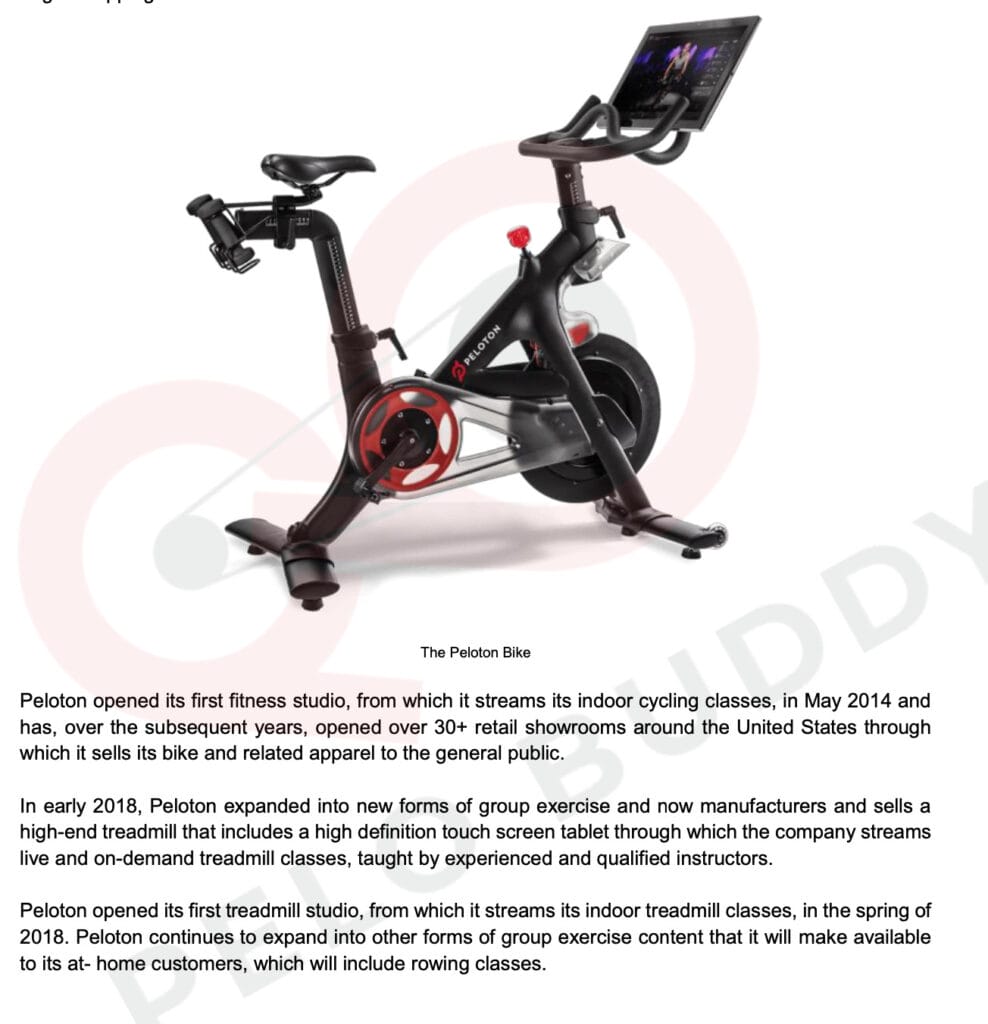 In addition to plans to get into Peloton rowing classes, the documents also reveal that Peloton has plans to bring yoga classes live from the UK Studios. Multiple places in the document make reference to this:
Peloton will use this location at the Property as a fitness and production studio focused on bike-based, treadmill-based, as well as floor-based cardio, strength, stretching, and yoga workouts designed for both its studio and at home customers.
Another area talks about how some of the yoga classes will be complimentary for those taking them in-person:
The first classes of the day will be a maximum of one spin and one treadmill class only, with the number of sessions and complementary yoga and meditation sessions being increased during the day.
Ross Rayburn, Peloton's director of Yoga, is actually in London right now. This could be a coincidence/vacation, or could be related to Peloton yoga in London.
As mentioned, this document is from 2018, so clearly, plans have been delayed or put on hold. However, it would seem this is the most official confirmation to date of Peloton's plans related to rowing.
Of course, there have been plenty of unofficial confirmations that plans for rowers are still in the works – but it's just taking a little longer than expected. In July 2021, a brand new job listing indicated that the employee hired would be working on a Rower. In August 2021, a report indicated that the Peloton app had been updated with hidden references to rowing classes. Fortune reported seeing a rower in a Peloton R&D lab in early 2021.
Most recently, plans for Peloton's new US manufacturing factory have shown rooms and spaces specifically for rower testing.
However, with all this, it's worth pointing out that recent comments from Peloton executives have indicated that it seems like Peloton might plan to launch a strength product before coming out with the rower. Any time someone from Peloton talks about new products, it's in the form of "new strength products" – while a rower would likely be considered a new cardio product for them.
In fact, it sounds like Peloton is getting close to releasing a new strength accessory, called the Peloton Guide. This would allow for form feedback during yoga & strength classes, and possibly rep counting. A class that was briefly available on-demand mentioned the new product like it was already available.
You can always stay up to date with the latest news on the Peloton Rower here.
---
Want to be sure to never miss any Peloton news? Sign up for our newsletter and get all the latest Peloton updates & Peloton rumors sent directly to your inbox.