Peloton launched their Barre classes in September 2020. The initial series was 10 classes that went straight to on-demand, taught by Ally Love & Hannah Corbin. Ever since then, one recurring question has been "When will more Peloton Barre classes be added?" Peloton has said they were coming, with some messages specifying March 2021.
Today, Ally Love took to the @onepeloton Instagram Live account with what will be a welcome message for fans of barre classes. Not only is Peloton adding more barre classes, but there will now be live Peloton Barre classes on the schedule
Here's what she had to say in her message on Instagram:
Hey Peloton, it's Ally Love here. You've been asking for live Barre, and guess what? We are bringing it to you. Yes! Go ahead and swipe up and count yourself in because I am kicking us off with the first ever live Barre class: Wednesday, March 24th @ 5:30pm ET. And it's a special one because it's a Women's History Month Barre class. You don't want to miss this, add it to your weekly schedule.
As Ally alluded to, it sounds like this is planned to be a regular weekly occurrence for Wednesdays @ 5:30pm ET. Looking ahead and the live schedule, Hannah Corbin is scheduled to be teaching a Live Barre class on March 31st @ 5:30pm ET.
Schedule of live Peloton Barre Classes
Ally Love – 30 minute WHM Barre – 3/24/21 @ 5:30pm ET
Hannah Corbin – 45 minute Barre – 3/31/21 @ 5:30pm ET
Hopefully also to be announced soon will be more pilates classes & more pilates instructors!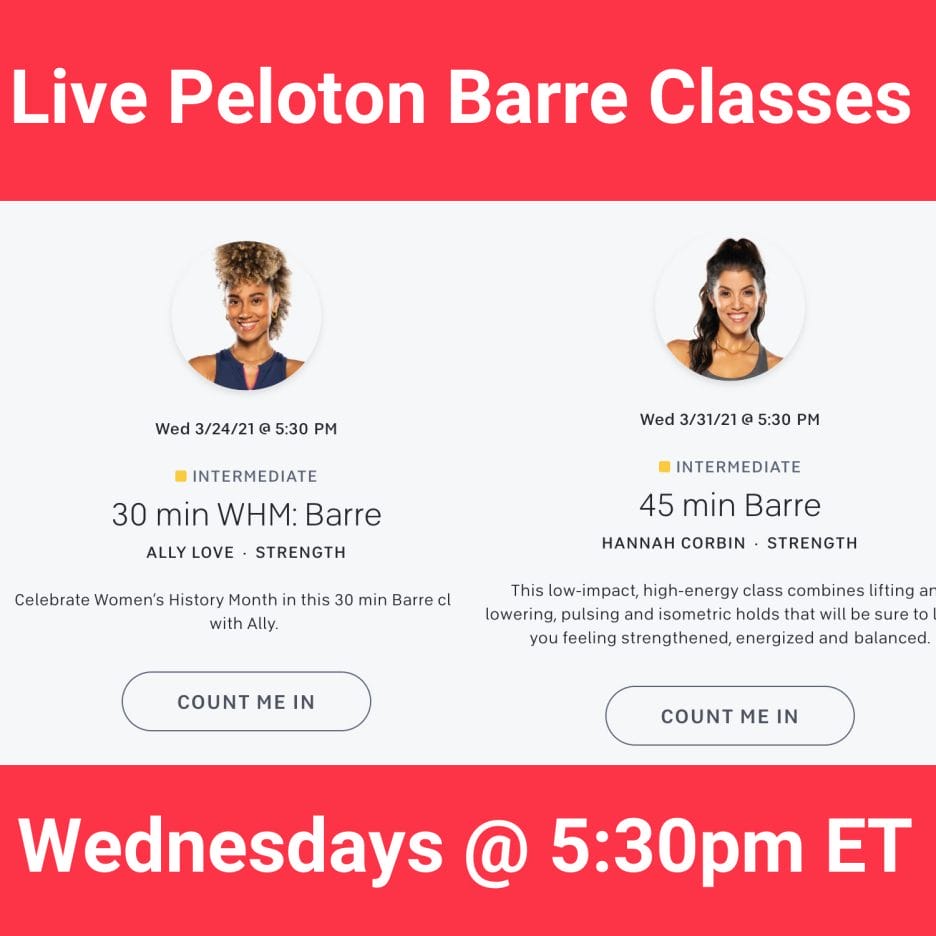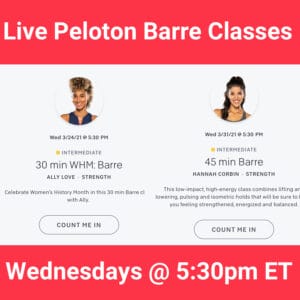 ---
Want to be sure to never miss any Peloton news? Sign up for our newsletter and get all the latest Peloton updates & Peloton rumors sent directly to your inbox.