For the past several months, Peloton CEO Barry McCarthy has mentioned in almost every interview and earnings call that new pricing tiers for the Peloton App were going to be launching. We covered in detail several months worth of his comments here, and then later shared what some of the rumored differences between tiers would be
Today, Peloton has officially launched new app tiers as part of the bigger Peloton Brand relaunch.
Update – Added information about temporary "Peloton Legacy" App Tier, as well as student, teacher, and military discounts.
Peloton notes that all the changes today are part of a "strategic evolution" of how the company positions itself. They point out that more than 50% of workouts were not cycling related, and that strength is the most popular class type on the app:
Based on Peloton's data from its most recent financial quarter, more than half of all workouts were not cycling related. Today's strategic evolution is about mirroring the usage and experience of its Members who engage with the company's 16 fitness modalities from Yoga and Meditation to Walking and Strength – the most popular form of fitness for Peloton's digital subscribers. To broaden access to its diverse fitness content for all, the Peloton App will offer, for the first time, the most expansive collection of free classes since it first launched in June 2018.
Before today, there was only one App tier available. In addition, there is the All-Access tier for those who own a Bike, Row, or Tread, plus the Guide membership for those who own a Peloton Guide.
Now, there are 3 different tiers available on the app (plus the All-Access & Guide tiers remain).
The three Peloton App Tiers are now: Peloton App Free (or Freemium), Peloton App One, and Peloton App+. Each of them come in with very different price points (free for Peloton App Free, $12.99 USD / month for Peloton App One, and $24 USD / month for Peloton App+) as well as big differences in what types and how many classes you are able to access.
This new chart from Peloton provides a high level overview of some of the differences: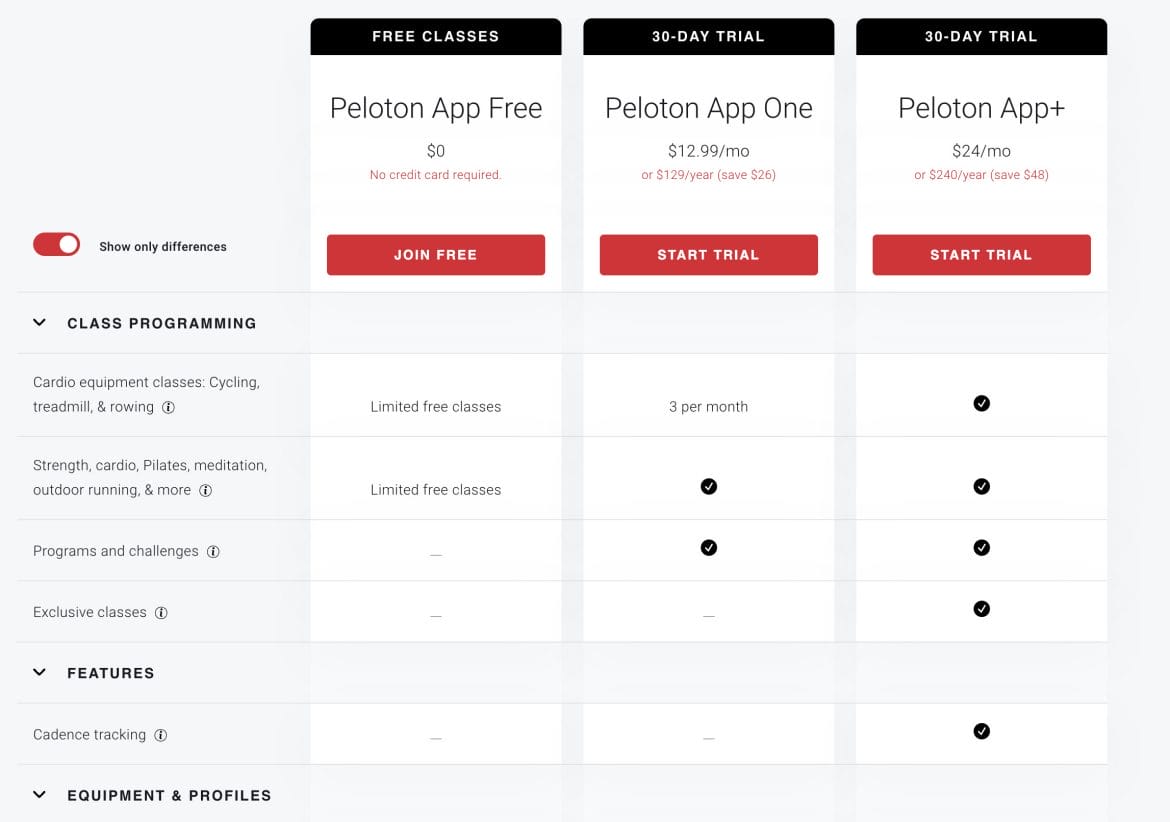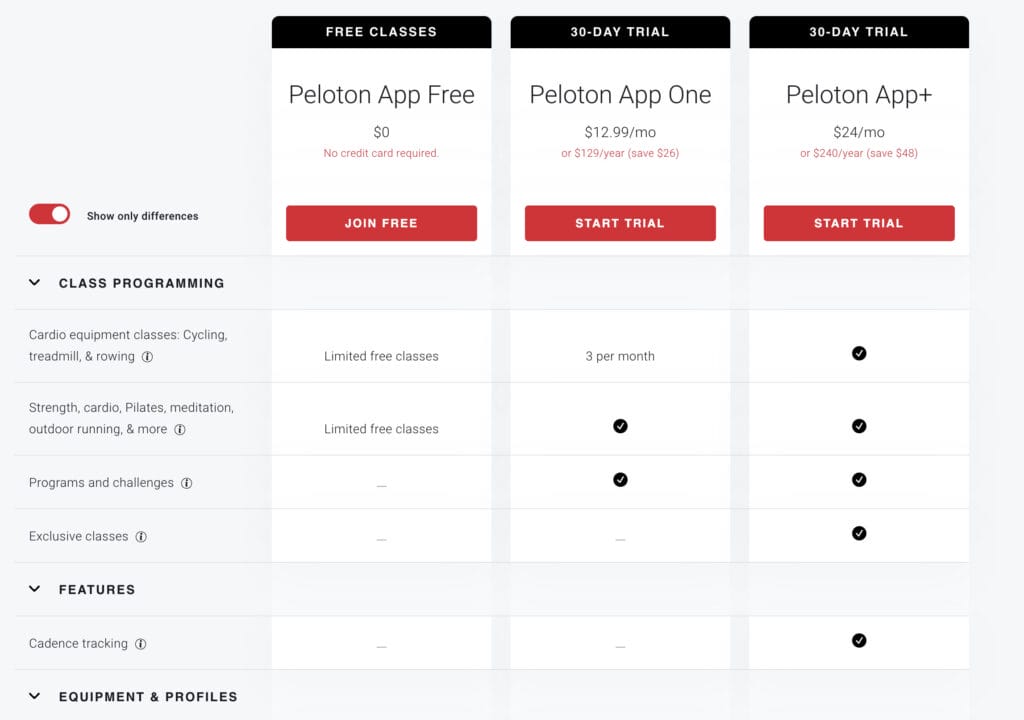 If you are a Peloton Guide or Peloton All-Access member, your experience in the app will look like the highest tier Peloton App+ – you'll have access to all classes in the Peloton App (including rowing classes as of today).
Peloton describes the new app tiers as giving members more choices, and allowing them to tailor their Peloton experience to fit their needs. It also gives Peloton an easier way to get new users to try out the Peloton experience, by trying out the new Peloton Free Tier. The press release today gives the intro the tiers as follows:
The new App tiers allow beginners and enthusiasts alike to workout with or without equipment – at home, outdoors or at their gym – independently or with instruction. In addition, for the first time, Peloton Row content will be available on the App. Across all App tiers, Peloton Members will have access to expert instruction; the ability to track workouts with the Just Work Out feature; and the fitness industry's leading music library. The new App tiers allow users to personalize their Peloton experience to suit their daily fitness needs – which, for many, vary on a daily basis
One big question we know people are going to have is what happens to existing app members who had the old monthly app subscription, or those who recently signed up for a full year of app subscription.
In either case, your pricing will not change until December 5th, 2023. All current paying app members will get all the features of App+ as of today, but pay their existing monthly price until December (but new users signing up starting today pay the current new pricing). Starting December 5th, members will either start paying the new price for App+, or need to downgrade to App One or App Free. For those members who signed up for a year's subscription, they will get the features of App+ until their year subscription ends, at which point, they'll need to pay the current new price for App+ (or downgrade to App One). This will give current Peloton members a few months to figure out which app tier their usage habits fit into.
Until then, your membership level will show up as "Peloton App Legacy" or "Peloton Legacy". The app will tell you at what point you will have to start paying more for App+. But again – Peloton App Legacy will function just like App+ will until you pick which plan to convert to – and you'll have all those features.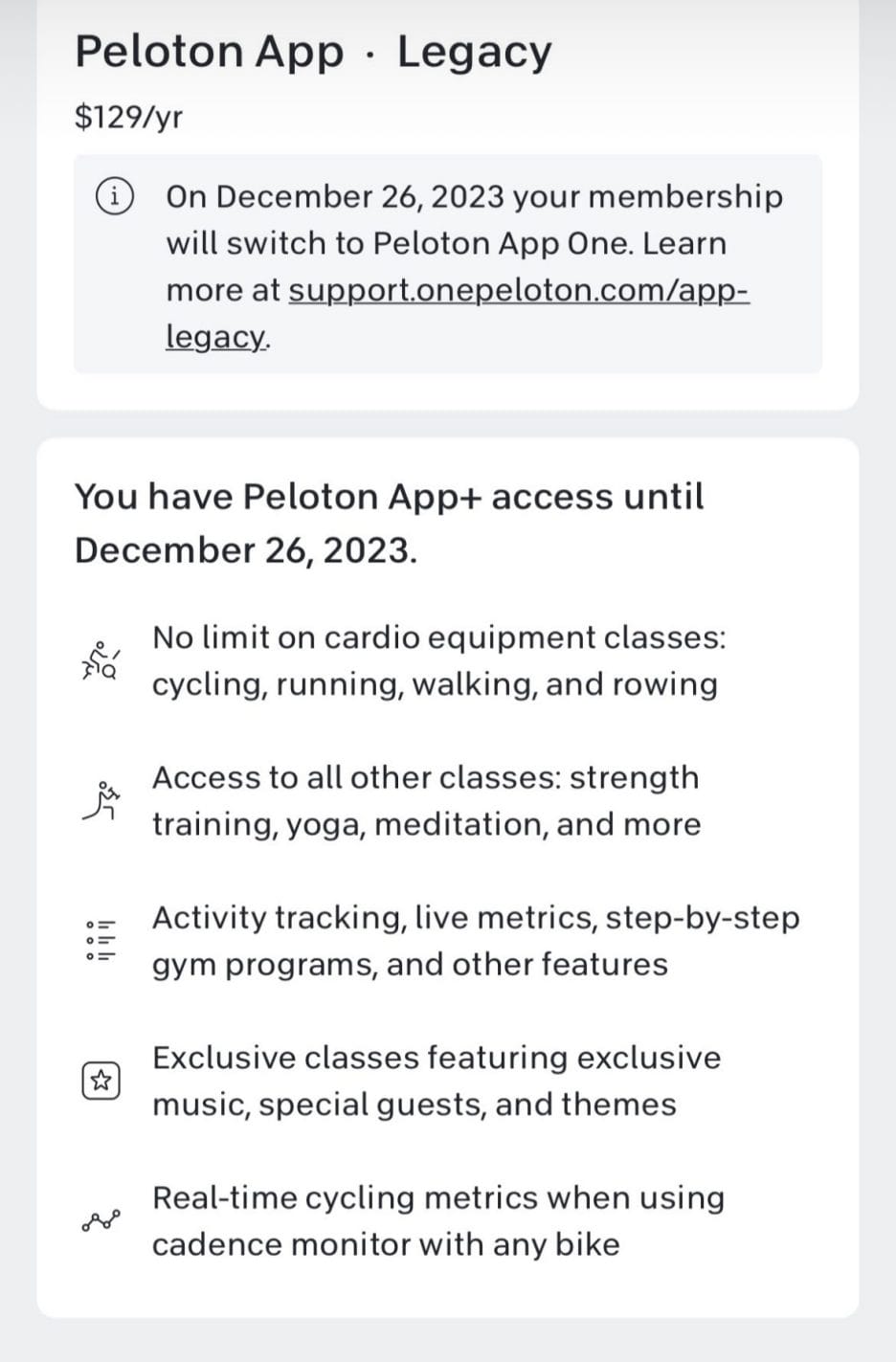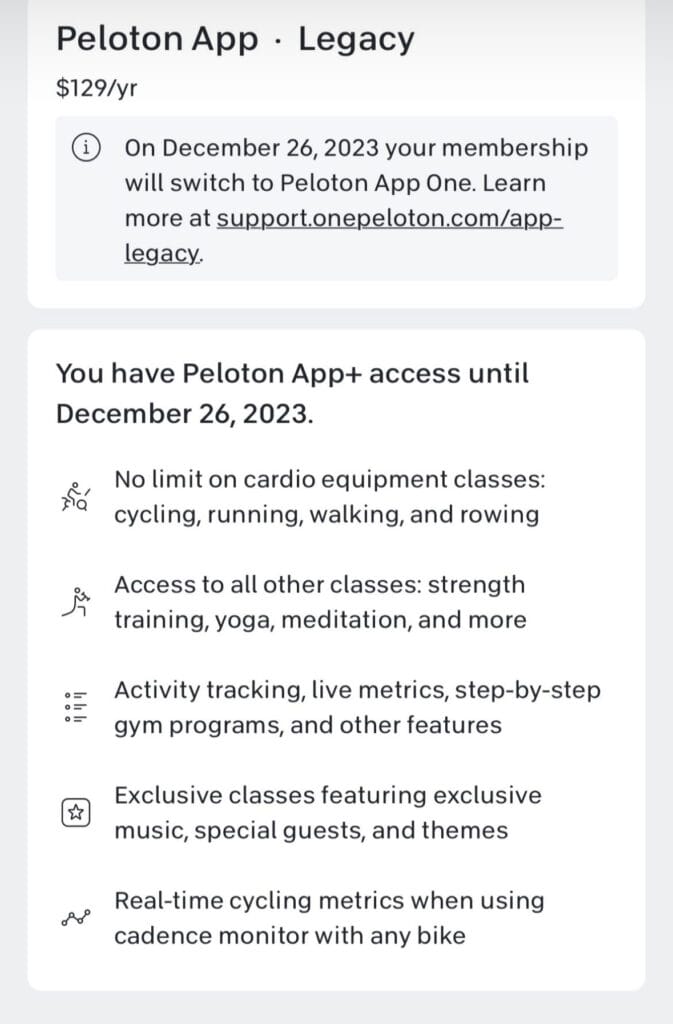 For existing app members – App+ is essentially what the access level you have had in the app until today, plus the addition of rowing & row bootcamp classes, plus the new Peloton Gym feature. And yes, Peloton Row classes are available in the Peloton App now.
The first new tier launched today is the Peloton App Free tier. This app level is free, and does not require a credit card to sign up – think of it as the freemium Peloton app experience. Members can stay on this tier as long as they want. There will be a list of 50 free classes members can choose from, plus a few "featured" extra classes beyond those 50 that will be rotated on a periodic basis.
The description for Peloton App Free is:
Designed to supplement a user's current workout routine or as a taste-test of all Peloton has to offer for a newbie. This tier currently provides more than 50 classes curated across 12 of Peloton's modalities to enable the user to pair workouts to meet their individual interests, even as those goals change over time. It will also include a rotating set of featured classes that will be refreshed on an ongoing basis. (Free. Zippo. Zilch. Nothing.)
The 12 modalities that the 50 free classes will be pulled from are: Cycling, Running (Indoor), Walking (Indoor), Outdoor (Walking & Running), Strength, Yoga, Mediation, Cardio, Stretching, Barre, Pilates and Boxing. That means you will not have access to tread bootcamps, bike bootcamps, rowing, and row bootcamps (unless those happen to be one of the handful of rotated featured free classes).
Peloton recommends the Peloton App Free for "if you're just getting started on your fitness journey or not sure if Peloton is for you."
The next tier available is Peloton App One. This is the tier that will feel most different to current users. App One costs $12.99 USD / month, or you can pay $129 for the year (equivalent to two months free). This is the same price that the previous app subscription cost before today.
With App One, you'll get access to the majority of classes, for class types that don't require hardware like the Bike, Tread, or Row. Plus, each month you can take 3 hardware-based classes a month. Peloton describes this option as being best for "People who are primarily looking for strength, floor cardio, and recovery classes that can be taken any time, anywhere to fit a busy schedule and help hold you accountable. Looking to supplement your current fitness routine with fun and entertaining workouts? This option is for you!"
Designed for the Member who wants unlimited access to thousands of classes across 9 of Peloton's 16 modalities, including Strength, Meditation, Outdoor Walking, Yoga, and more as well as all the classes included in the free tier. App One Members can also take up to three hardware-based classes per month (Cycling/Tread/Row). New on-demand and live classes will be offered almost daily as well as access to Peloton's Challenges, Programs, and Collections. ($12.99 per month, $129 per year)
The 9 modalities you have unlimited access to include: Strength, Yoga, Meditation, Outdoor (Walking & Running), Cardio, Barre, Pilates, Boxing and Stretching.
Then, you'll be able to take 3 classes a month from across these other class types: Cycling, Running (Indoor), Walking (Indoor), Rowing, Bike Bootcamp, Tread Bootcamp, and Row Bootcamp.
Not specifically mentioned above is also the restriction that there will now be the "latest specialty content" that is only available to highest tier of App+ members (and All-Access & Guide members) for a limited time – which means that content wouldn't be available to App One and App Free members.
However, "speciality content" is not explicitly defined in the press release or other material. One can imagine Peloton speciality content would include things like the LOL Cody series, the "Our Future Selves" Ashton Kutcher run series, appearances by artists in the studio like Lizzo, Mariah Carey and others, as well as special last minute artist series drop like Harry Styles, this week's surprise drop of Lewis Capaldi classes, and more.
Note that these classes would only restricted to App+ for a limited time, as it is just the "latest" speciality content that is available to App+ members. After some unspecified amount of time, they would become visible to App One users.
Finally, the highest tier is the new Peloton App+. This includes access an unlimited number of classes (except scenic & Lanebreak, which remain only available on hardware devices), across all class types (including rowing). In addition, this tier will get immediate access to the "latest speciality content" as described above. As also covered above: Peloton Guide, and Peloton Bike/Tread/Row owners will be considered to have App+ access through their apps.
Peloton App+ will cost $24 USD /month, or $240 / year (again, 2 months free if you sign up for the year).
The official description for App+ is:
Designed for the user who wants frictionless, unlimited access to Peloton's vast library (not including Lanebreak or Scenic classes). This tier includes all of App One's offerings and unlocks access to thousands of equipment-based cardio classes to take on any indoor bike, treadmill, or rower. This tier also offers exclusive access to classes, featuring the latest specialty content. ($24 per month, $240 per year)
Peloton goes on to describe App+ as being "ideal if you have your own non-Peloton indoor exercise bike, treadmill, or rower or frequently use the ones at your gym or while traveling but want fresh, motivating classes to help you fall in love with your routine all over again."
As we mentioned above, the App+ experience should feel pretty similar to what App Members have had until now (as well as All-Access / Guide members). It's the ability to take any class with no restrictions. It also layers on the addition of rowing & row bootcamp which is new, plus the new Gym feature.
Of course, the price is nearly double what it used to be yesterday – going from $12.99 USD / month to $24 / month. However, if you sign up for the year, your effective price becomes $20 USD / month. This is actually close to what the Peloton App used to cost a few years ago – in December of 2019, the Peloton App was lowered from its old $19.49 / month price to the $12.99 / month price it has been until today.
All 3 app tiers will also get access to the brand new Peloton Gym feature – this allows members to take a structured strength workout at their own pace, but without an instructor leading the workout. You can read much more about this new feature in our overview article about Peloton Gym here.
Peloton has historically had discounted pricing for students, teachers, first responders, military, and educators in the US. The support page for that has been udpated today, and clarifies that discounted pricing is only available for App One subscribers. There will be no teachers, student, or military discounts for the Peloton App+. The student discount will bring App One down to $6.99/month, while the first responder, military, educator and medical discount will bring App One down to $9.99/month.
You can read Peloton's entire press release about all of today's changes, which also includes the brand relaunch and Peloton Gym, here.
---
Want to be sure to never miss any Peloton news? Sign up for our newsletter and get all the latest Peloton updates & Peloton rumors sent directly to your inbox.