Peloton has released two new classes in collaboration with Lewis Capaldi, a Scottish singer-songwriter who is also known for going viral on TikTok. Peloton shared the news via Instagram:
The viral TikTok star himself, @lewiscapaldi, in celebration of his new album "Broken by Desire to be Heavenly Sent," gives an exclusive and highly valuable lesson in the artistry of TikTok creation to Peloton's own @benjaminalldis 👀 Trust us, you don't want to miss the NEW Lewis Capaldi classes.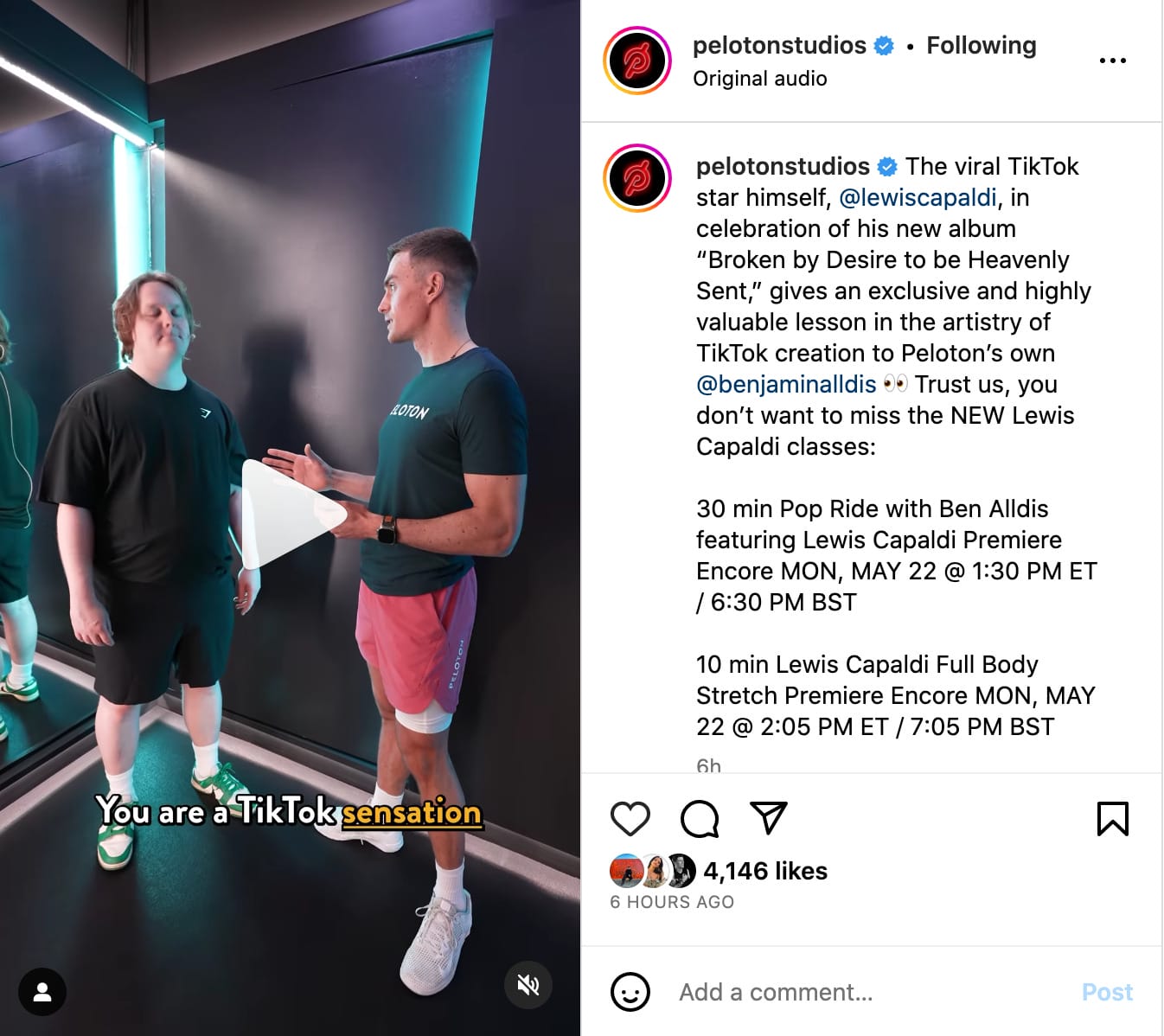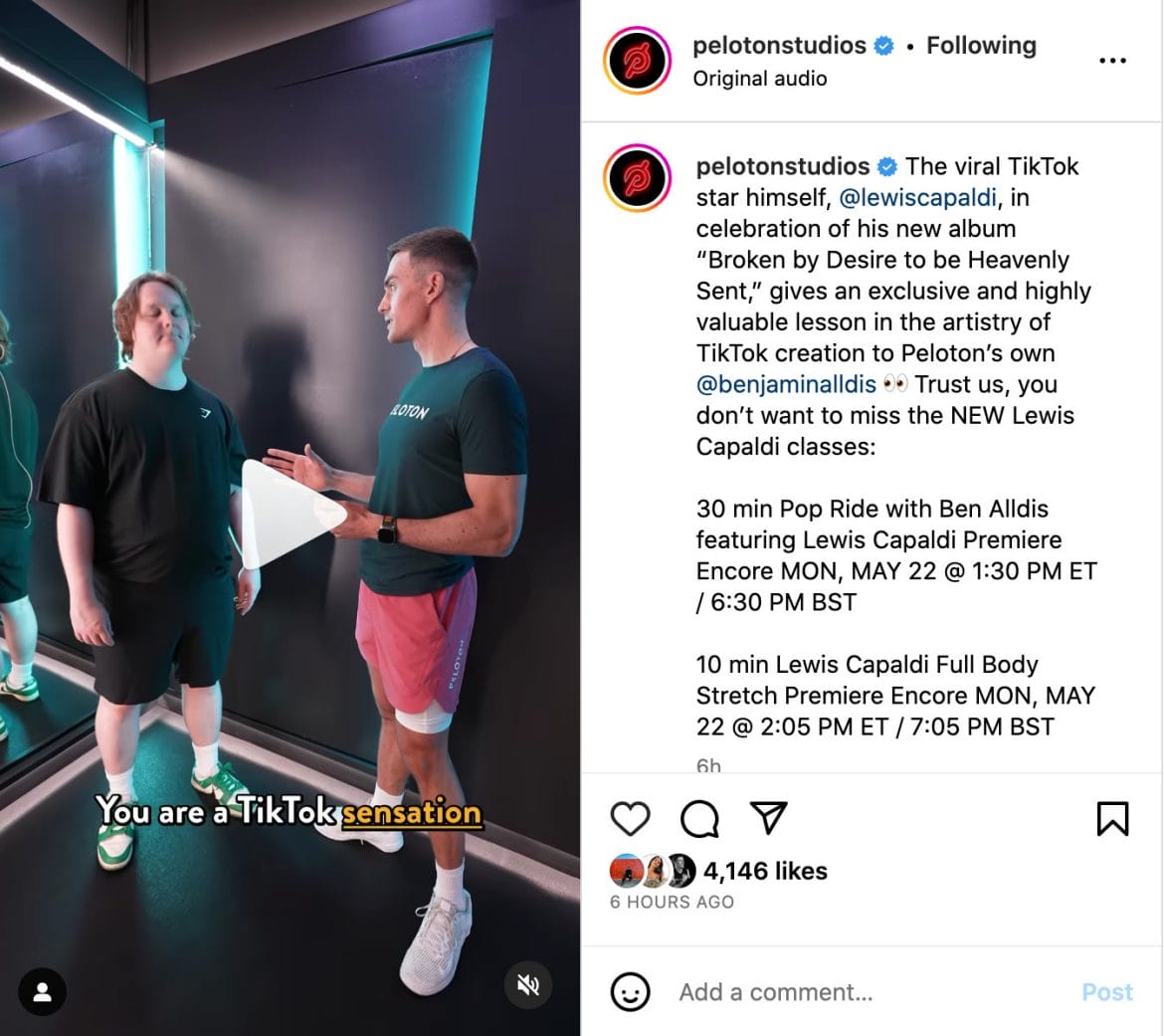 Capaldi's latest album, Broken by Desire to Be Heavenly Sent, was released on May 19. According to instructor Ben Alldis' Instagram post, Capaldi visited Peloton Studios London (PSL) that same week:
The one and only @lewiscapaldi dropped by to see us at Peloton Studios London last week and we co-created and filmed two of the most incredible classes together🤩
Lewis has just finished a 2 month tour across America and we were excited to celebrate the release of his new album 'Broken by Desire to Be Heavenly Sent' and the huge success of his latest Netflix documentary 'How I'm Feeling Now'.
He is as authentic and hilariously funny as we expected and these two classes are classes not to be missed.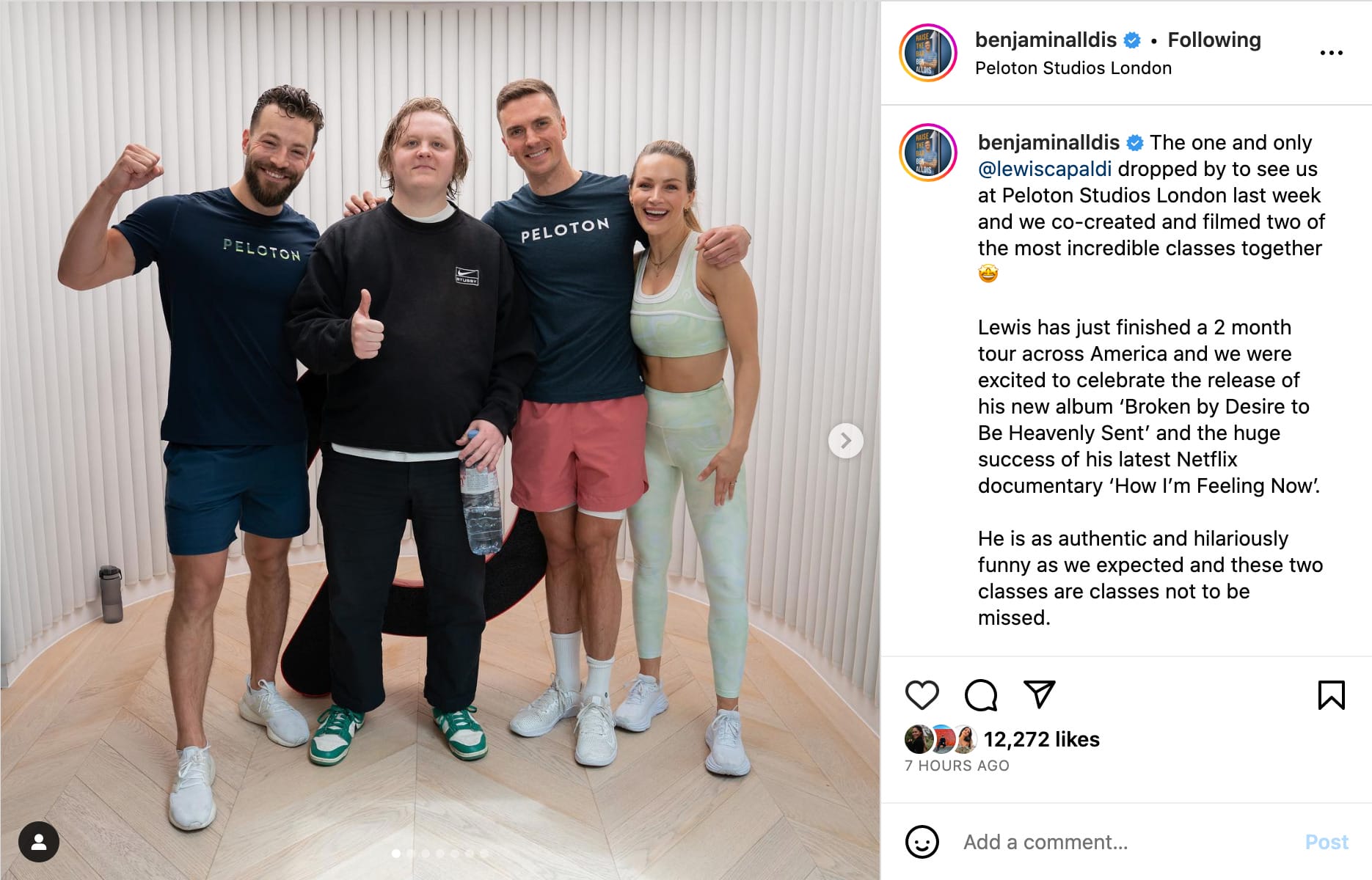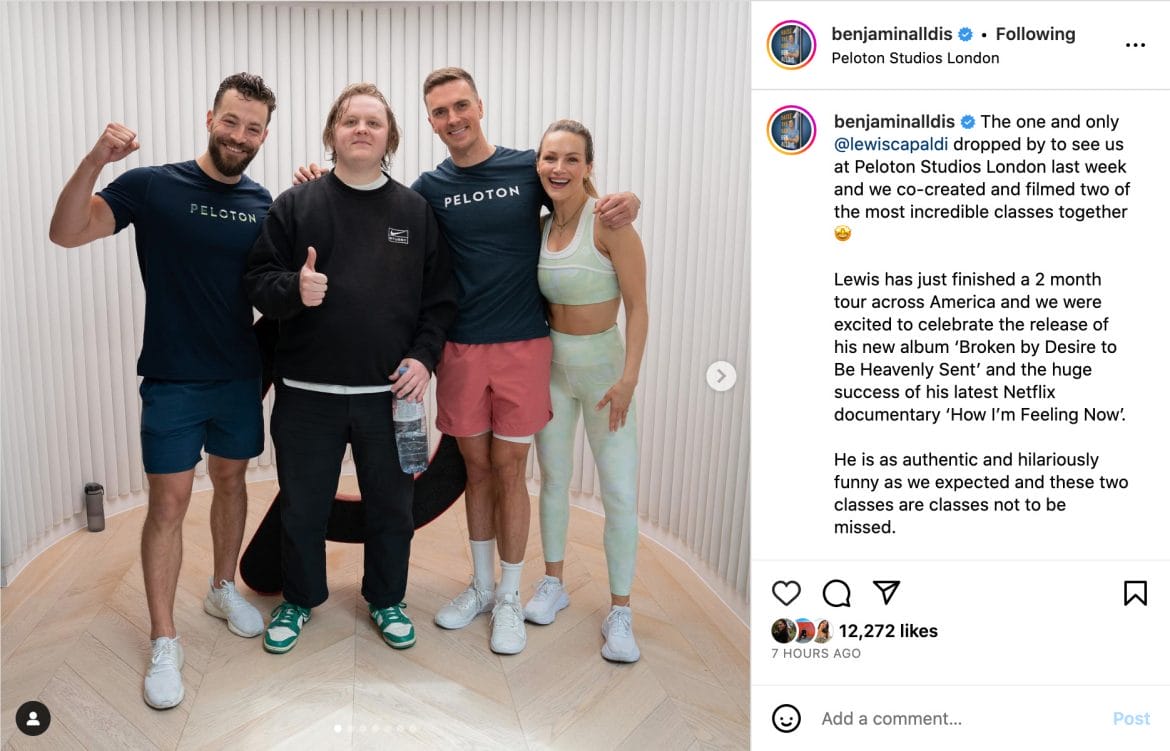 There are two new classes now available on the Peloton platform, both of which include appearances by Capaldi himself:
Lewis Capaldi Peloton Classes & Workouts
30 min. Pop Ride – Ben Alldis – 5/22/23 @ 1:30pm ET
10 min. Lewis Capaldi Full Body Stretch – Ben Alldis – 5/22/23 @ 2:05pm ET


Note that the Pop Ride features music from artists in addition to Capaldi, so it is not considered a Lewis Capaldi artist series class. However, Capaldi rode live in the studio at PSL – along with instructors Leanne Hainsby and Erik Jäger – and chats with Ben throughout the class, and he appears at the very end of the full body stretch as well. Capaldi also reportedly co-created both class playlists with Ben.
Interestingly, an explicit language pop-up appears at the beginning of the Pop Ride:
Warning
Content within this class is suitable for mature audiences only.
Strong explicit language is used and may be considered offensive.
And we do mean really really strong language!
Viewer discretion advised.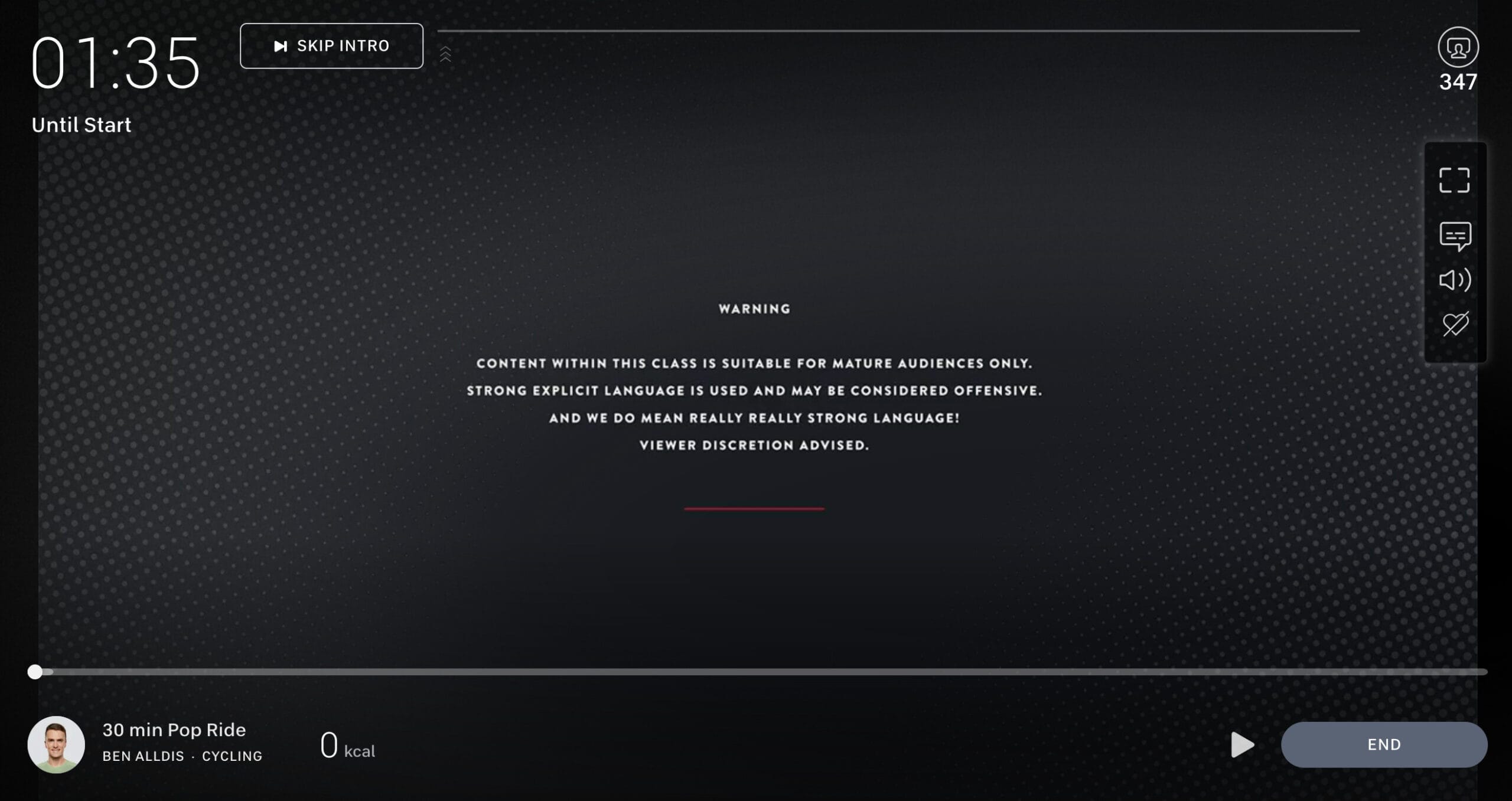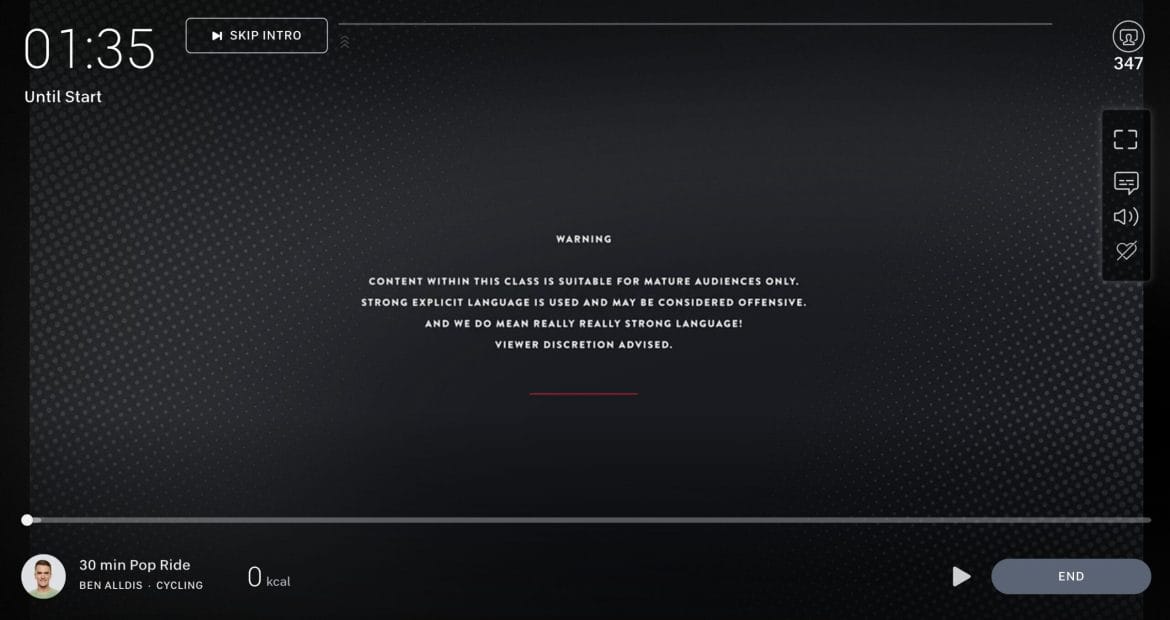 This warning is stronger than the standard explicit label given to any class that contains explicit language.
Both Lewis Capaldi classes can now be accessed via the Peloton app, website, and applicable hardware devices. Will you be opting in?
---
Want to be sure to never miss any Peloton news? Sign up for our newsletter and get all the latest Peloton updates & Peloton rumors sent directly to your inbox.