Multiple signs seem to point to Peloton working behind the scenes to develop a voice interface (including a voice search) for Peloton hardware products. This would likely start with the Peloton Bike / Bike+ & Peloton Tread / Tread+, but could eventually expand to the Peloton Rower and/or a Peloton Strength Device (Focus or Platform).
This voice interface could potentially be used in a number of ways (all of these are speculation) – from allowing users to quickly search & pull up classes from a certain date, or all classes from one coach by just asking Peloton. This type of voice search capability seems like the most likely starting point for voice technology in the Peloton products at this time. However, many other features would be possible using voice. Once the pause button is added you could pause the class by voice too. It theoretically could also allow for members to adjust resistance during a ride, speed during a run, or similar settings during a row or strength workout.
The following are the signs pointing towards Peloton working towards a voice interface:
First – Peloton's accessibility page notes how Peloton is continuing to strive towards making their products more accessible and more user friendly. Having the capability to navigate the interface using your voice rather than requiring sight & touch would be a big step forward towards being more accessible. The page includes the following text:
For the Peloton Bike, Tread, and App, we are committed to the research and development of new features that enhance the accessibility of these platforms. We engage in user research with members of our community with disabilities, in order to be thoughtful about introducing accessibility features in a way that provides an intuitive, seamless, and comprehensive experience to allow our community to connect, bond, inspire, and grow stronger together.
Secondly – Peloton acquired Aiqudo earlier this year, which is a company who specialized in AI Voice Technology. Specifically, they were developing "the most versatile white label Voice To Action® platform that enables brands to build their own custom voice experience" This acquisition led to Peloton gaining 20-30 team members with a lot of experience building voice functionality into products.
Thirdly – Peloton is actively hiring a number of other people with experience in voice technology. There are (at time of publishing) at least 3 distinct voice related roles open on the Peloton team. One for "Workstream Lead QA – Voice", another for "Backend Software Engineer – Voice", and finally one for "Senior Software Development Engineer in Test – Voice Technology" The job descriptions contain mentions like how their "work will positively impact the ability of members to interact and engage with Peloton's products in new and meaningful ways, from powering new modes of interaction to improving accessibility for all members." One also contains mention of how it might be beneficial if a candidate had "Experience working directly with people and communities of consumers with disabilities."
Finally – it has been reported that the Peloton app contains hidden references to a "Voice search" capability, which would seem like a big indication Peloton is working on the functionality, and possibly even testing it with a small group of members. Note that hidden references in apps do not guarantee a feature would definitely be released. The Peloton app also is reported to contain hidden references to the Peloton Rower as well.
Peloton has recently introduced new voice to text functionality with the new feature of subtitles being available in live classes. This requires near real time voice recognition and transcription capabilities. The underlying technology & voice recognition that was likely used to create this feature could be used to power voice recognition of member's spoken commands, a necessary component of a voice interface. Additionally, Peloton can use the speech of the coaches to further train their voice recognition data models, to improve it prior to releasing any new voice recognition capabilities to members.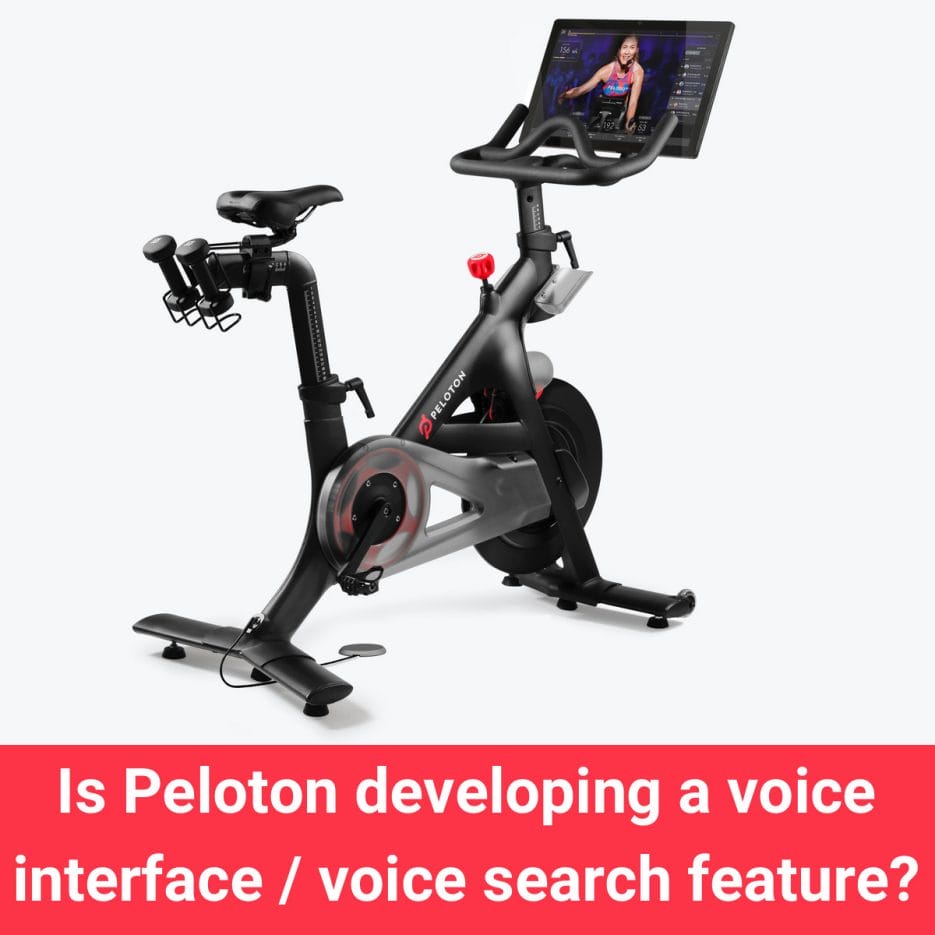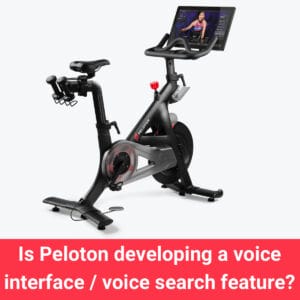 ---
Want to be sure to never miss any Peloton news? Sign up for our newsletter and get all the latest Peloton updates & Peloton rumors sent directly to your inbox.