Owners of the Peloton Row now have access to new guided scenic content. Filmed in Hilton Head Island in South Carolina, three new guided scenic rows are available with Alex Karwoski and Ash Pryor:
15 min. Hilton Head Island Row – Ash Pryor
20 min. Hilton Head Island Row – Alex Karwoski
15 min. Hilton Head Island Row – Alex Karwoski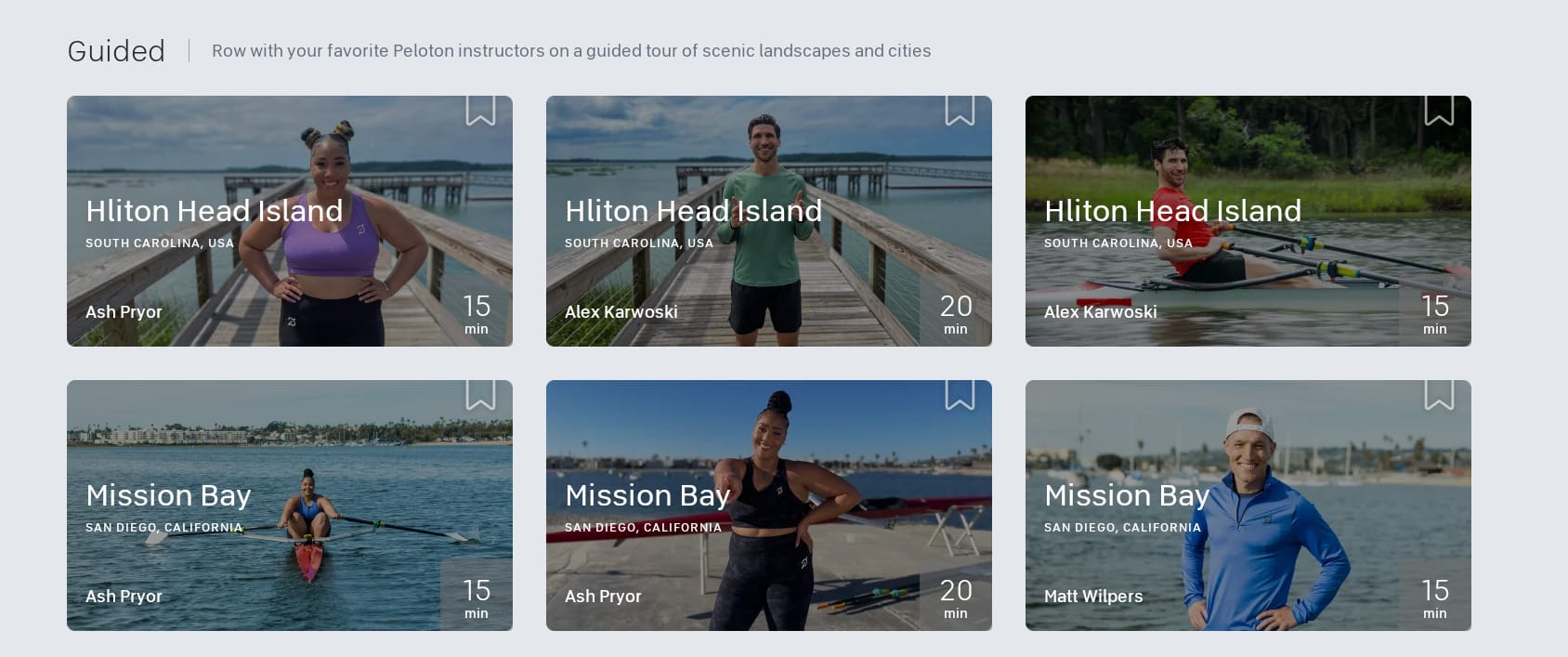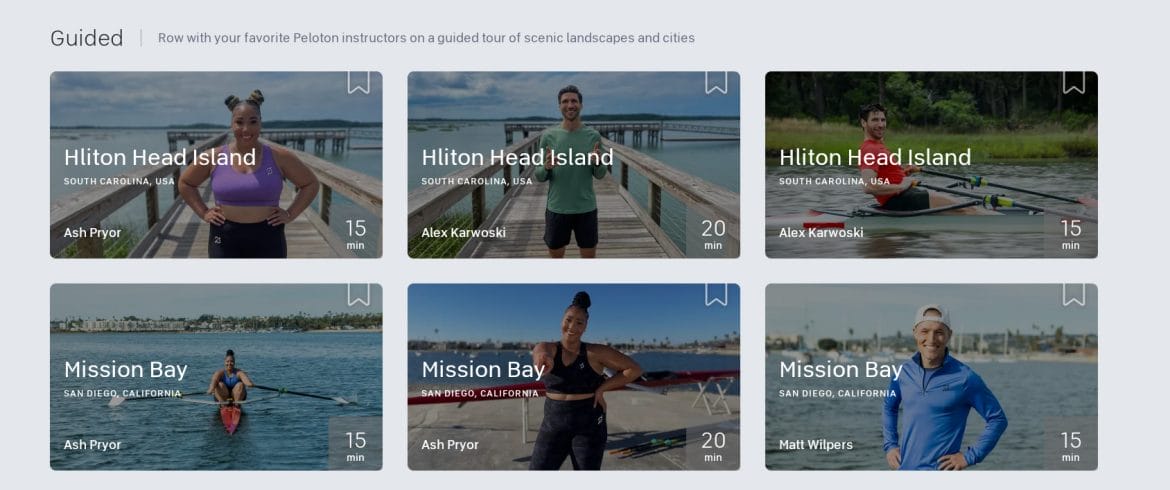 Peloton shared the news via Instagram, which features a video showing behind the scenes footage of the trip:
Favorite part of the South Carolina shoot: the BTS 🎬 Join Ash and Alex on the water in new Guided Scenic rowing classes! Available on-demand, exclusively on the Row 🚣‍♂️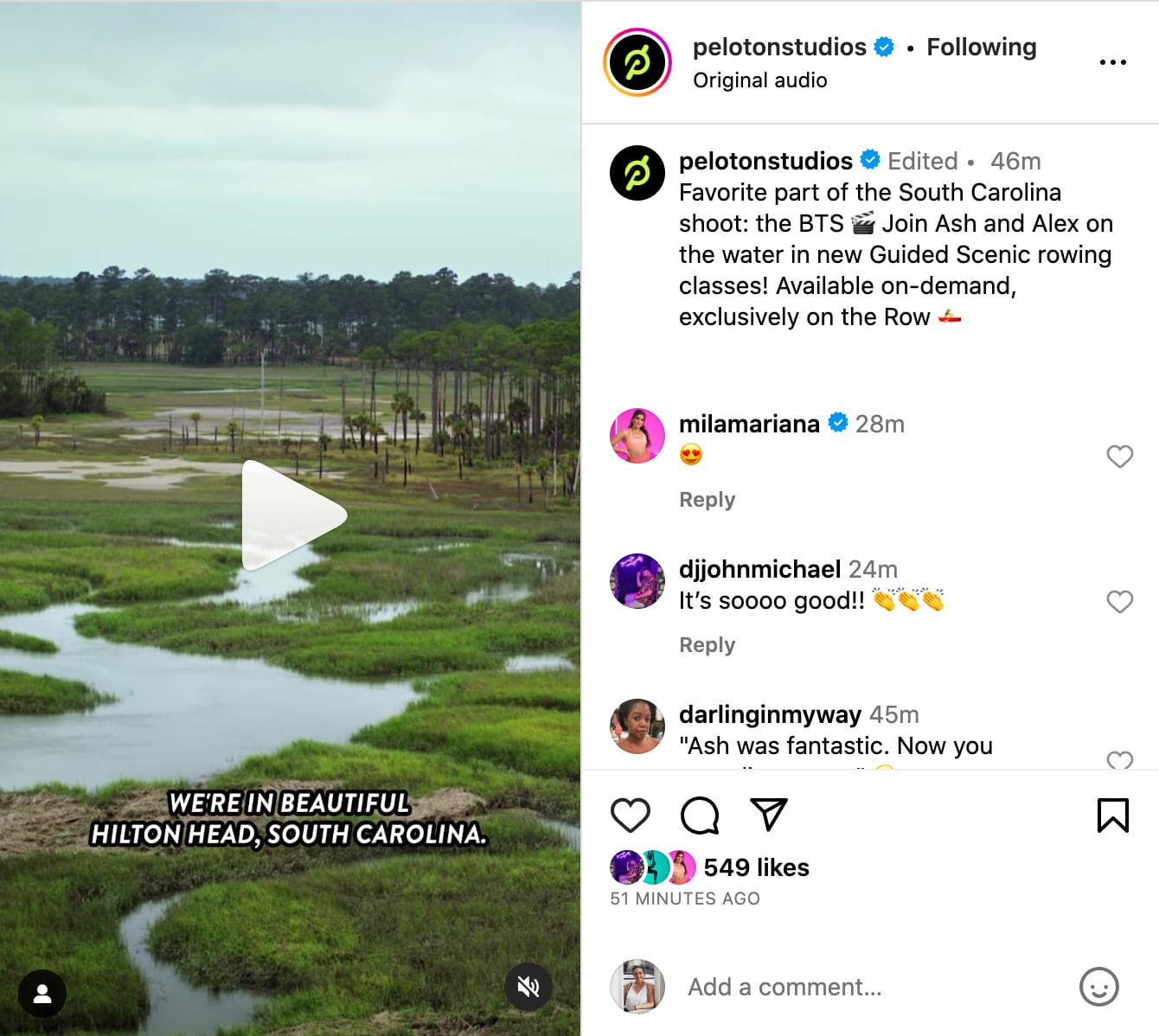 We previously shared that guided scenic rows with Alex from South Carolina were likely on the way after a Peloton filming crew was spotted this past Spring.
In addition to the new guided classes, there are also three time-based scenic rows (10 minutes; 15 minutes; and 30 minutes) and three distance-based scenic rows (1 km; 1.5 km; and 2 km) – all located in Hilton Head Island.
This is the second guided scenic drop for the Row. At the beginning of the year Peloton unveiled their first guided scenic rows with Matt Wilpers and Ash Pryor from Mission Bay in San Diego, California. Peloton also recently released new guided scenic content for the Bike and Tread with Rebecca Kennedy and Jeffrey McEachern from the Canary Islands.
For non-guided scenic content, you can check out "Peloton Radio," which allows members to select their playlists to listen to while in a time or distance-based scenic class.
As a reminder, scenic content is only available to members who own a Bike, Tread, or Row and is not accessible to Peloton App members. Furthermore, you can only access the content that is specific to your device. For example, this new rowing content will not appear on Bike or Tread devices. Peloton made this change in 2021 as part of their scenic content relaunch.
Though you won't be able to begin the classes from the App or web browser, you can still view the complete list of scenic rides and runs using our guides.
---
Want to be sure to never miss any Peloton news? Sign up for our newsletter and get all the latest Peloton updates & Peloton rumors sent directly to your inbox.