Update – This program is now officially available. You can find full details on the new program here.
Thanks to a power zone class that was temporarily available on-demand this week, we got a sneak peak at a new training program that appears set to launch soon. This new program sounds like it will be called "Build Your Power Zones", and is potentially a follow up (not replacement) to the beginner "Discover Your Power Zone Program", which was recently updated with new classes.
A 60 minute Olivia Amato Power Zone Endurance (PZE) ride was temporarily made available through the on-demand library, listed as 4/23/21 @ 9:00am ET – however, it was only added this week, and wasn't available over the weekend.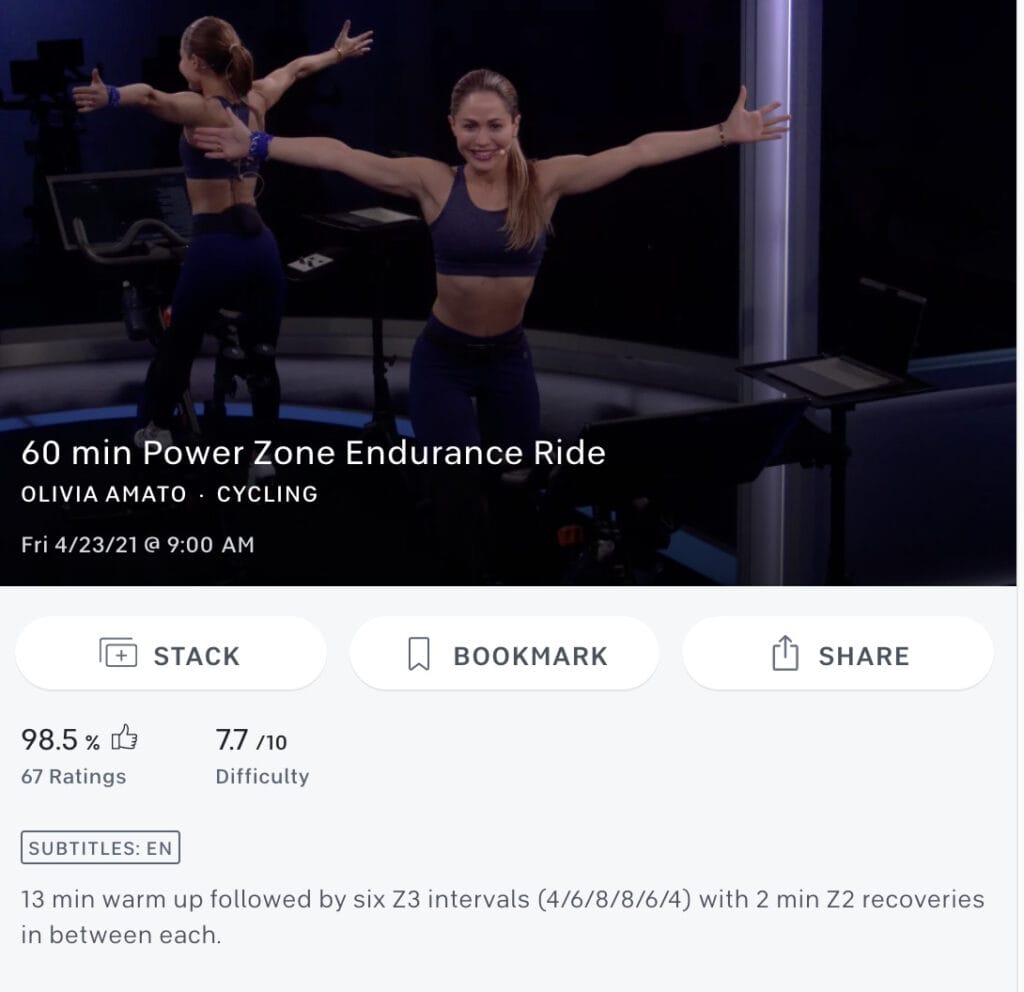 In the class, Olivia describes how the class she is teaching is the "6th workout in the Build Your Power Zones Program" – and that it concludes Week 2 of the program. From this, we can conclude that at least for the first two weeks, the new Peloton Build Your Power Zones program will be a 3-ride a week training program. Given it's the second week of the program and she is leading people through a 60 minute PZE class, this also indicates it is an intermediate program, designed to be taken after people have completed the more beginner friendly "Discover Your Power Zones" training plan.
Olivia discusses how the goal of the program is to work on improving your FTP.
While the full length of the program isn't known as this time (will it be a 6 week program? 8 weeks?), Olivia shares that Week 3 of the Peloton power zone training program will start off with a power zone class that incorporates Z4 & Z5. The long ride for Week 3 of Build Your Power Zones is revealed to be "a long PZE ride similar to this one"
From this one class, it's also not clear which power zone instructors will be involved, but one would imagine the program will include classes with Matt Wilpers, Denis Morton, and Christine D'Ercole as well. With the addition of Ben Alldis to the power zone team this week, he might see a class or two included in the program as well.
One other interesting note about this class? The description of the class included the zone structure of the class. It stated "13 min warmup followed by six Z3 intervals (4/6/8/8/6/4) with 2 min Z2 recoveries in between each". This level of detail in the description for power zone classes would be a new (and welcome) change.
For those who get into power zone training, don't forget to check out Home Fitness Buddy's Power Zone Timer & Library. This free tool lets you browse the structure & graph for power zone rides before taking them, as well as having a timer for each class so you can be notified when zone changes are supposed to occur – perfect for those who might want to ride with their own music.
This is the second new training program that was discovered this week thanks to a temporarily available class. Peloton is also rumored to be launching their version of a Couch To 5K Program for the Peloton Tread. This new program will be called "You Can Run" and will lead runners as they build their endurance up to running for 30 minutes straight.
---
Want to be sure to never miss any Peloton news? Sign up for our newsletter and get all the latest Peloton updates & Peloton rumors sent directly to your inbox.