Update – Peloton has provided an official statement confirming that moving forward the new scenic classes will only be available for Bike & Tread, and old scenic classes are archived.
This afternoon, Peloton began sending out an in-app message to some users alerting them scenic rides will be removed from the Peloton apps starting tomorrow, April 30th.
The message states: "Please be advised that scenic rides and runs will no longer be available on our Apps starting April 30, 2021"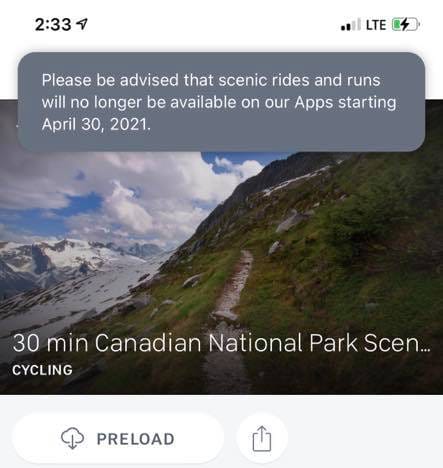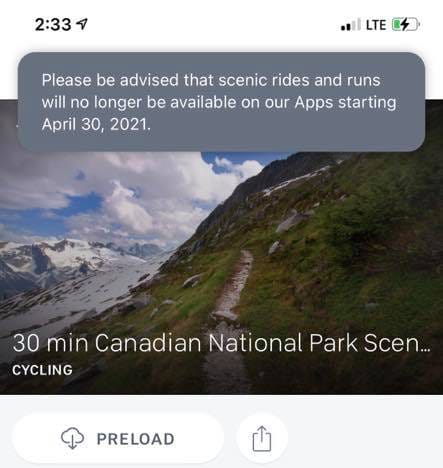 These messages are not showing up for all users – it isn't immediately clear how Peloton is choosing which members to show the message to.
This message doesn't mean scenic rides are completely going away, as long as you own a bike or Tread. Everything so far indicates scenic rides & runs will still be able to be taken on Peloton hardware. What isn't 100% clear yet is if you own a Peloton Bike or Tread – will you still be able to take it on the app (meaning they are being removed for Peloton Digital users), or are they going away on the app for all users?
In messages to customer support, one or two agents have replied that "I do know they are planning to add some new ones". We reported in March that Peloton was preparing their system for new types of classes which could include distance & guided cycling. It's possible those could be new types of scenic rides that would be added – possibly announced at Peloton Homecoming this weekend?
A closer look at some of Peloton's support pages does seem to indicate Peloton is making a shift to only having scenic classes be available for those who own Peloton hardware. Even if they were to add new classes, the support pages make it sound like they would be for bike/tread owners only.
Peloton Support has a page that details the differences between Peloton Digital & Peloton All-Access (the membership you get with a Bike or Tread).
On the page, it specifies that Peloton Digital members will have "access to Peloton's complete live and on-demand library"
On that same page, for the All-Access membership (included with Bike & Tread), you get "Access to a growing library of live streaming and on-demand classes, scenic rides, challenges, and real-time performance tracking."
Peloton has another page about "What does the Peloton Digital Membership Offer". That page states it includes "a diverse selection of indoor cycling, running, walking, bootcamp, floor (formally known as Beyond the Ride), and outdoor (audio-only) classes." Note that scenic rides aren't mentioned.
On a similar page that details "Rides included with the All-Access membership", you "have unlimited access to a growing library of live streaming and on-demand classes, scenic rides, challenges, and real-time performance tracking. No classes offered by Peloton are off limits." Scenic rides are specifically mentioned here.
We will update this article or provide an update on new post once more information is available.
---
Want to be sure to never miss any Peloton news? Sign up for our newsletter and get all the latest Peloton updates & Peloton rumors sent directly to your inbox.