After months of teasers and speculation, Peloton finally launched the long-awaited rower (Peloton Row) this morning. The launch is for presale only, and you can find all of the details regarding price, delivery, and more in our latest article.
A newly published FAQ page regarding the rower has revealed a very important detail: rowing classes sounds like they will be locked to Peloton Row owners only at launch. This means that if you are an existing member – whether All-Access with a Bike or Tread, or the app only in the US – you will not have access to the rowing classes when they launch.
The FAQ page states:
Q: Which platforms and markets will Peloton Rowing content be available?
A: Rowing content will only be available on Peloton Row in the US only.
Q: Will Peloton Rowing content be available on the App?
A: Rowing content will not be available on the Peloton App at launch. Please stay tuned for more information soon.
Q: When will rowing content be available?
A: Rowing content will be available at launch on Peloton Row only. Please stay tuned for more information soon!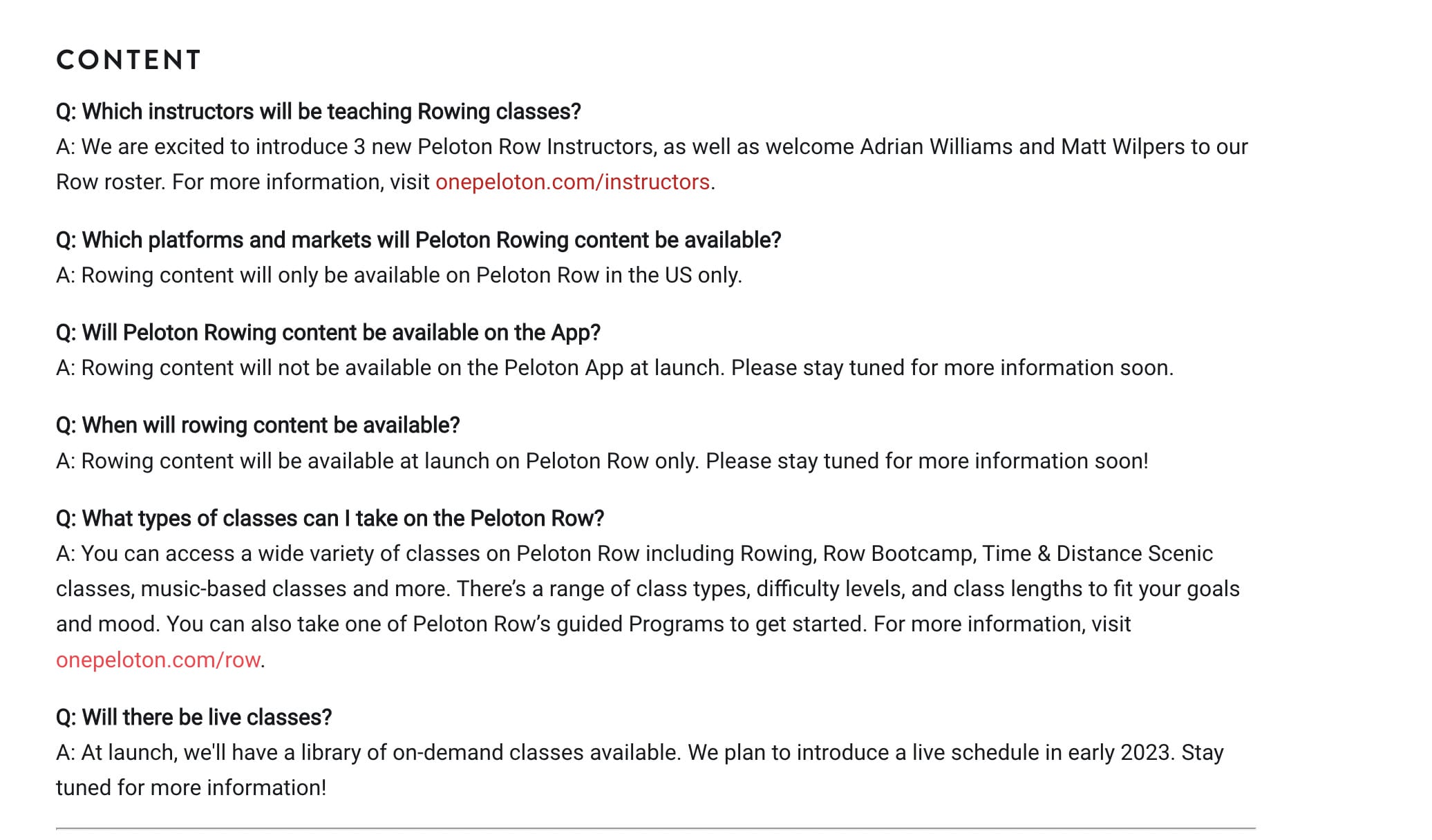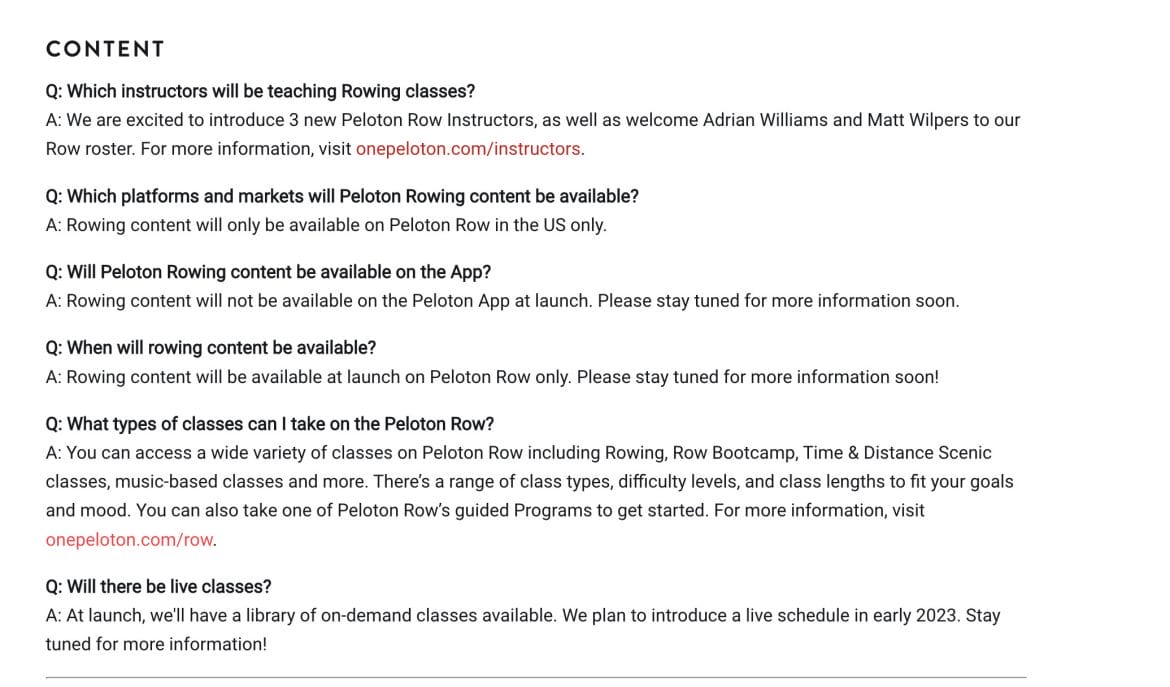 Since international members (Canada, the United Kingdom, Germany, and Australia) can not buy the rower yet – it's not clear how this will work for them. One FAQ does mention "in the US only" so it's possible there might be different rules in other countries until the Rower launches everywhere.
Peloton's social media posts announcing the Row have been flooded with comments and questions, and they've reemphasized the exclusivity of the content in their replies. A reply to a member Tweet states:
Our full library of Rowing content will only be available on the Peloton Row in the US. A small subset of Rowing classes will be available at a later time on iOS, Android and web for existing Members to trial. Please stay tuned for more information soon!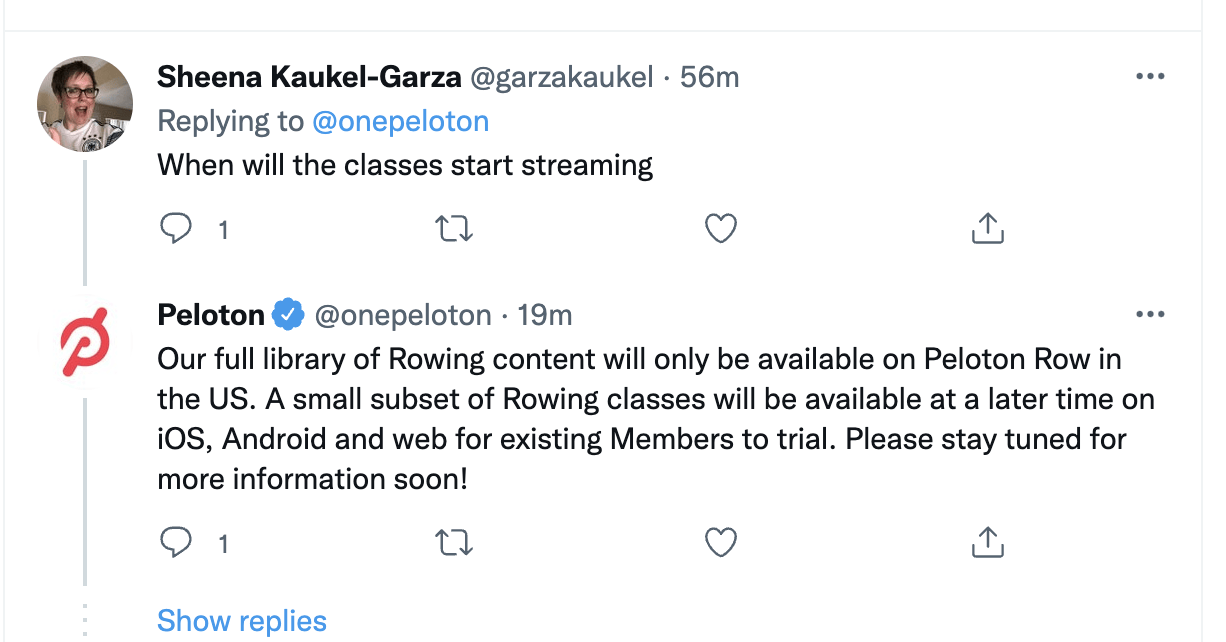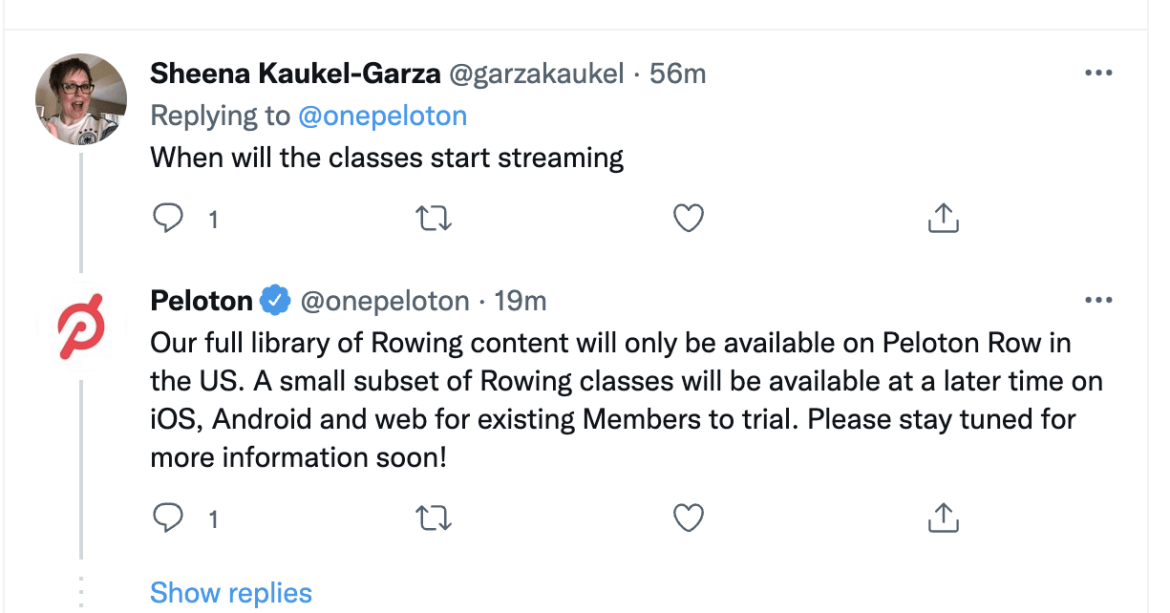 This suggests that the full catalog of Peloton rowing content will be locked to Row owners, and that existing members will only be given a small selection of classes that are available to take on other rowing devices.
This would be a major departure from their previous policies. Up until now, all classes have been available on the Peloton App. So for example, if you don't own a Peloton Bike, you can still take the classes on another exercise bike. If you don't have a Tread, you can still access all of the running classes and take them on any treadmill.
Peloton has started to introduce locked content after the release of the Guide, their first-ever strength connected device that was released earlier this year. They've introduced a number of new programs (such as Floor Bootcamp, split strength programs, and Arms with Tunde) exclusively to Guide owners. However, after seven weeks each of these programs has become available to all Peloton members – and Peloton has communicated from the beginning of each program launch that the content will be available to everyone after seven weeks.
The language Peloton is using in regards to the Row indicates that the full inventory of rowing content will be exclusive to Row owners – permanently. In other words, if you own another rower and were hoping to take Peloton's rowing classes on that device, you may only have a small number of classes to choose from. There is a chance that the FAQ answer is meant to be worded a different way, but between the FAQ as well as Peloton's replies on social media – it is sounding like the content will be locked.
While locking the rowing classes to Row owners only could potentially encourage more people to purchase the device, many have pointed out that the price tag of the Peloton Row ($3,195 before taxes and shipping) is significantly higher than other rowers on the market. For example, Hydrow (one of Peloton's top competitors in the rowing spaces) retails their original rower for $2,495 – $700 less than what Peloton is offering their rower at. The Hydrow Wave, Hydrow's newest and lower cost rower, retails at $1,495 – $1,700 less than what Peloton is offering their rower at.
As noted in our article about the Row launch, shipping of the device is still months away – with deliveries starting in December – so a lot could change in the next few months as Peloton rolls out the Row.
That being said, what do you think about Peloton's decision to keep rowing content exclusive to Row owners?
---
Want to be sure to never miss any Peloton news? Sign up for our newsletter and get all the latest Peloton updates & Peloton rumors sent directly to your inbox.