Update – It now sounds like Peloton has opened up the event to more people. You can email studioeventsny@onepeloton.com to RSVP to see if there are still spaces left according to a post on social media.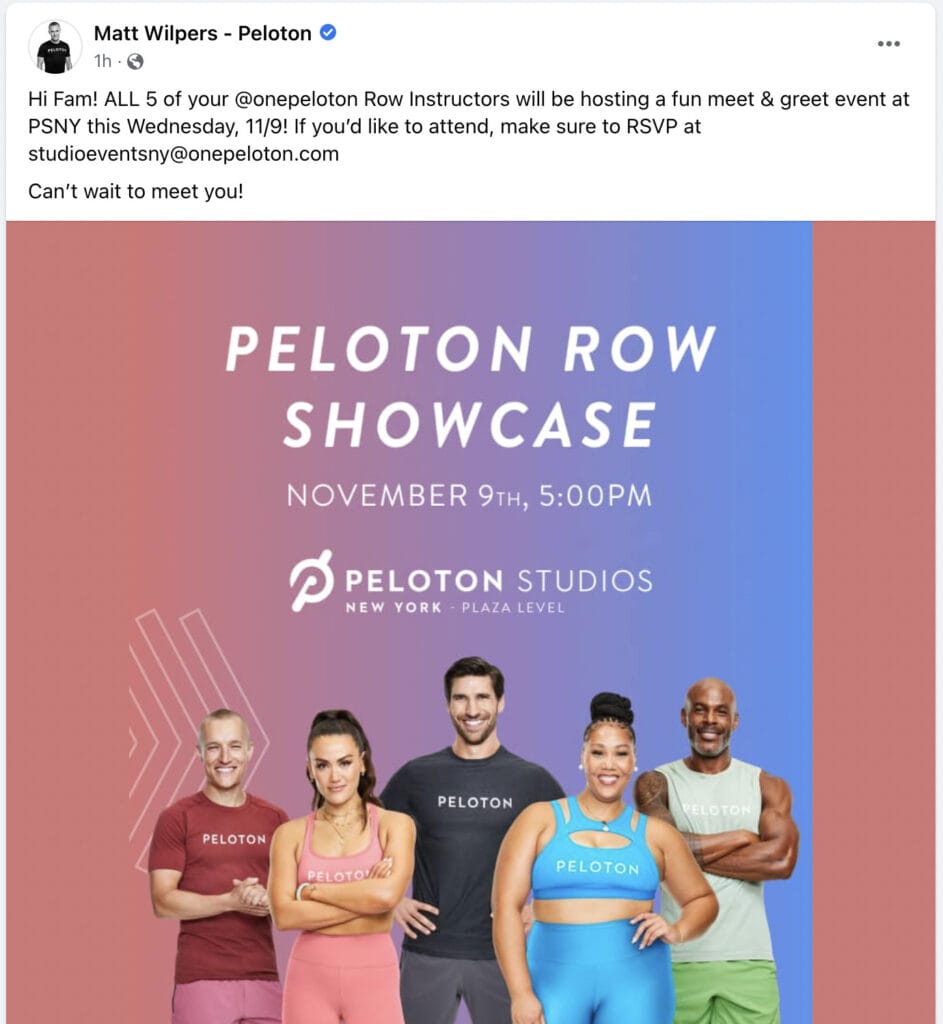 Peloton is holding a special event for the Peloton Row at Peloton Studios New York (PSNY) on Wednesday, November 9th. The event, called a "Peloton Row Showcase" appears to be invite-only a, as Peloton has not publicly shared any information about the event, yet some members have reported receiving an email invitation. The email reads:
Exciting news – you are personally invited to a Peloton Row Showcase event on Wednesday, November 9 from 5:00 PM to 6:30 PM.
We will be introducing the entire rowing instructor team – featuring some familiar faces – and will have rowers in the space for members to try!
Go head to head with friends in a 1 minute row sprint coached live and in person by your favorite (or soon to be favorite) instructors, take photos with the team, and mingle at Peloton studios New York. Our juice and snack bar will be open with refreshments available for purchase.
Capacity for this event will be limited, please be sure to RSVP.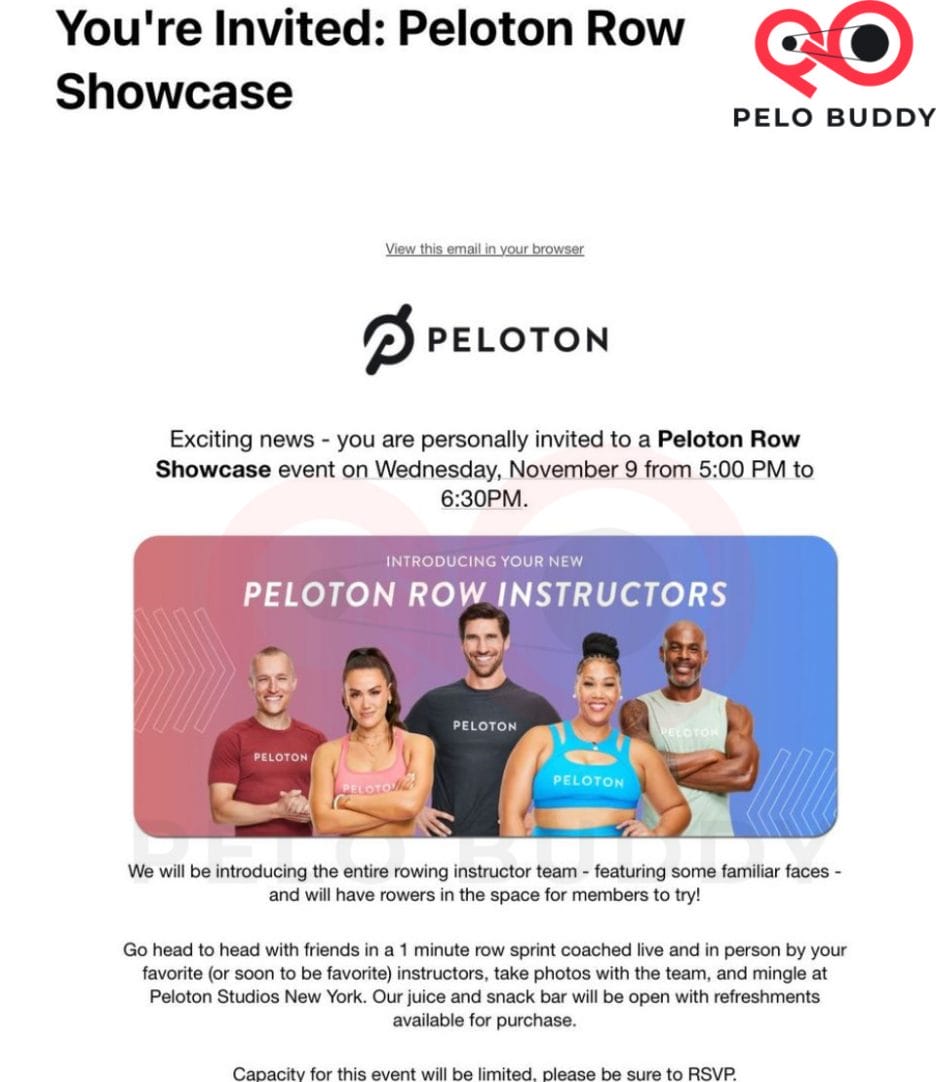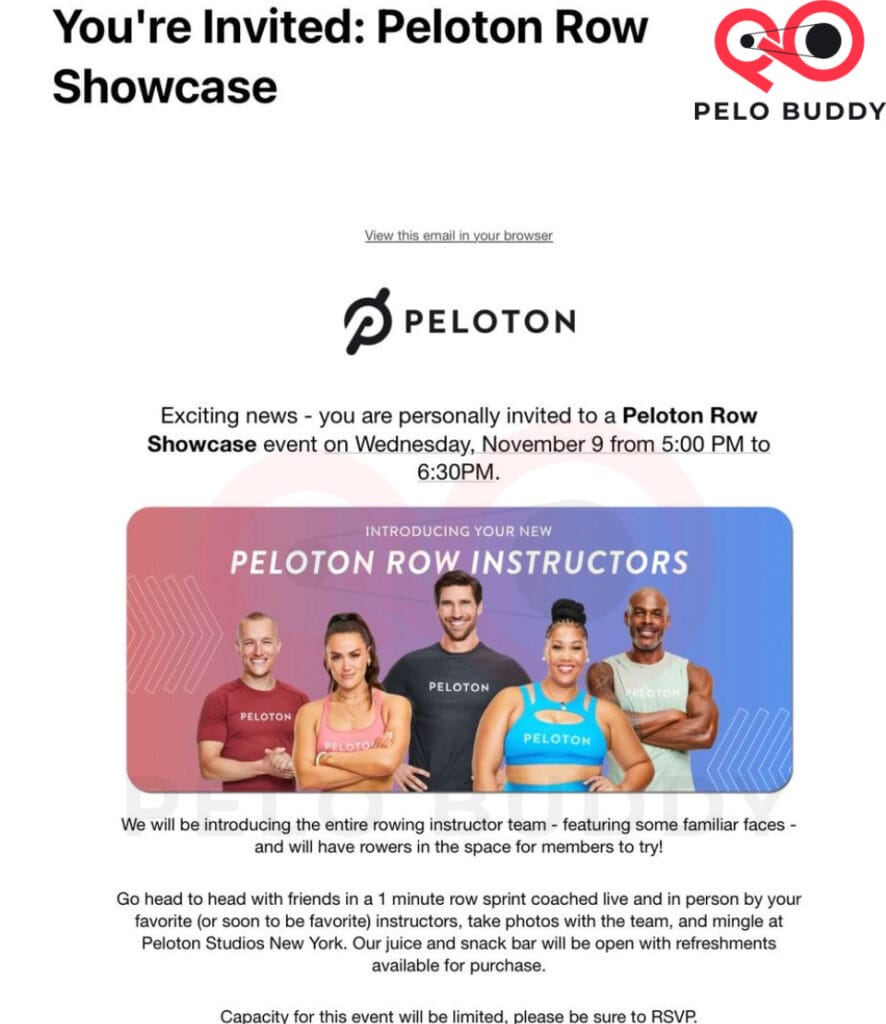 It is currently unclear how Peloton is selecting which members receive the invitation. This is not the first time Peloton has sent exclusive invites – the Babyface artist series and Cody Rigsby's new "LOL, Cody" series both had invites sent to specific members inviting them to join in the studio.
Peloton has recently held numerous events in advance of their rowing launch. Last month they sponsored the Head of the Charles Regatta, one of the most famous rowing competitions in the world. Peloton had their own tent at the event where event goers had the opportunity to meet rowing instructors Ash Pryor, Alex Karwoski, and Adrian Williams.
In addition, Peloton held two meet & greet events at showrooms in New Jersey and Virginia, where members could see the Peloton Row in-person and meet instructors Ash Pryor and Alex Karwoski (NJ), and Katie Wang and Matt Wilpers (VA).
You can always stay up to date on the latest Peloton Row news via our site. The device is still in the presale phase and Peloton is saying deliveries should begin in early December.
---
Want to be sure to never miss any Peloton news? Sign up for our newsletter and get all the latest Peloton updates & Peloton rumors sent directly to your inbox.