Update – The Babyface Peloton artist series has been confirmed for Oct 21.
R&B icon Babyface will reportedly appear in-person at Peloton Studios New York (PSNY) for an upcoming featured artist series later this month.
Peloton sent an email invitation to certain members inviting them to sign up for two classes in the studio on October 21: a run with Kirsten Ferguson and a ride with Ally Love. The date will coincide with the release of Babyface's new album, "Girls' Night Out." The text of the email reads:
I want to personally invite you to join me in celebrating my new record Girls Night Out, featuring some of my favorite women in R&B, with special classes on Peloton. I'll be the host for the evening in Ally Love's cycling class and Kirsten's tread class.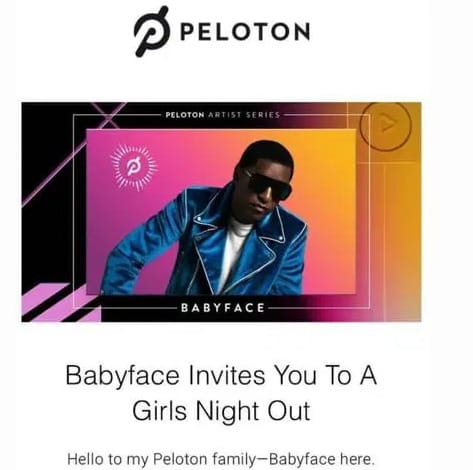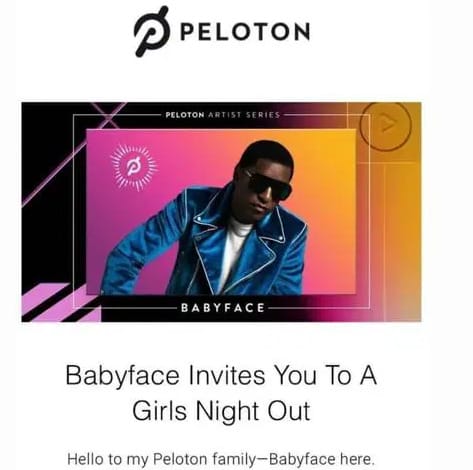 Interestingly, the live spots for these classes appear to be "invite-only," as they do not show up on the studio booking site. Yet, members who received the email invitation were able to secure a spot. It is unclear who exactly received the email invitation, or whether there will be additional classes in the artist series besides the run and the ride.
Babyface will be the latest in a recent trend of artists appearing in-studio. Lizzo surprised members in the two-for-one ride back in July, and T-Pain appeared in the studio with both Camila Ramón and Jess Sims during Peloton's 2022 All For One Music Festival.
Babyface also met with the Peloton instructors during their global meet-up in New York City earlier this year.
As always, we will share the full details of the Babyface featured artist series once they are announced!
---
Want to be sure to never miss any Peloton news? Sign up for our newsletter and get all the latest Peloton updates & Peloton rumors sent directly to your inbox.