Peloton is launching a new strength series on Monday, May 2. The Peloton Strength "Roll Call" classes will initially take place at 7:30am ET Monday through Friday, with different instructors teaching the classes. Peloton teased this announcement when they released the Guide, and the classes are now showing up on the schedule for the first time. Peloton "Roll Class" strength classes are described as follows. It also answers the question "What are Peloton Roll Call Strength Classes?"
Our favorite strength instructors will teach at the same time every week, Monday to Friday. Everyone who is a Peloton Member can take these classes live and on-demand, but only Members using the Peloton Guide will have access to the Strength Roll Call program! We'll be creating a collection of the weekly Strength Roll Call classes into a program exclusively available on Peloton Guide. Live, Made for Movement Tracker classes will start soon!
Peloton Roll Call strength classes will be strength classes that vary in length and focus on a different area of the body each day, such as full body, glutes & legs, upper body, and core – while taking place with a consistent live schedule. So far, the following Peloton instructors are on the schedule for the roll call classes: Jess Sims, Selena Samuela, Ben Alldis, Jermaine Johnson, Callie Gullickson, and Adrian Williams.
Strength Roll call classes are "designed to help you take the guess work out of your strength training."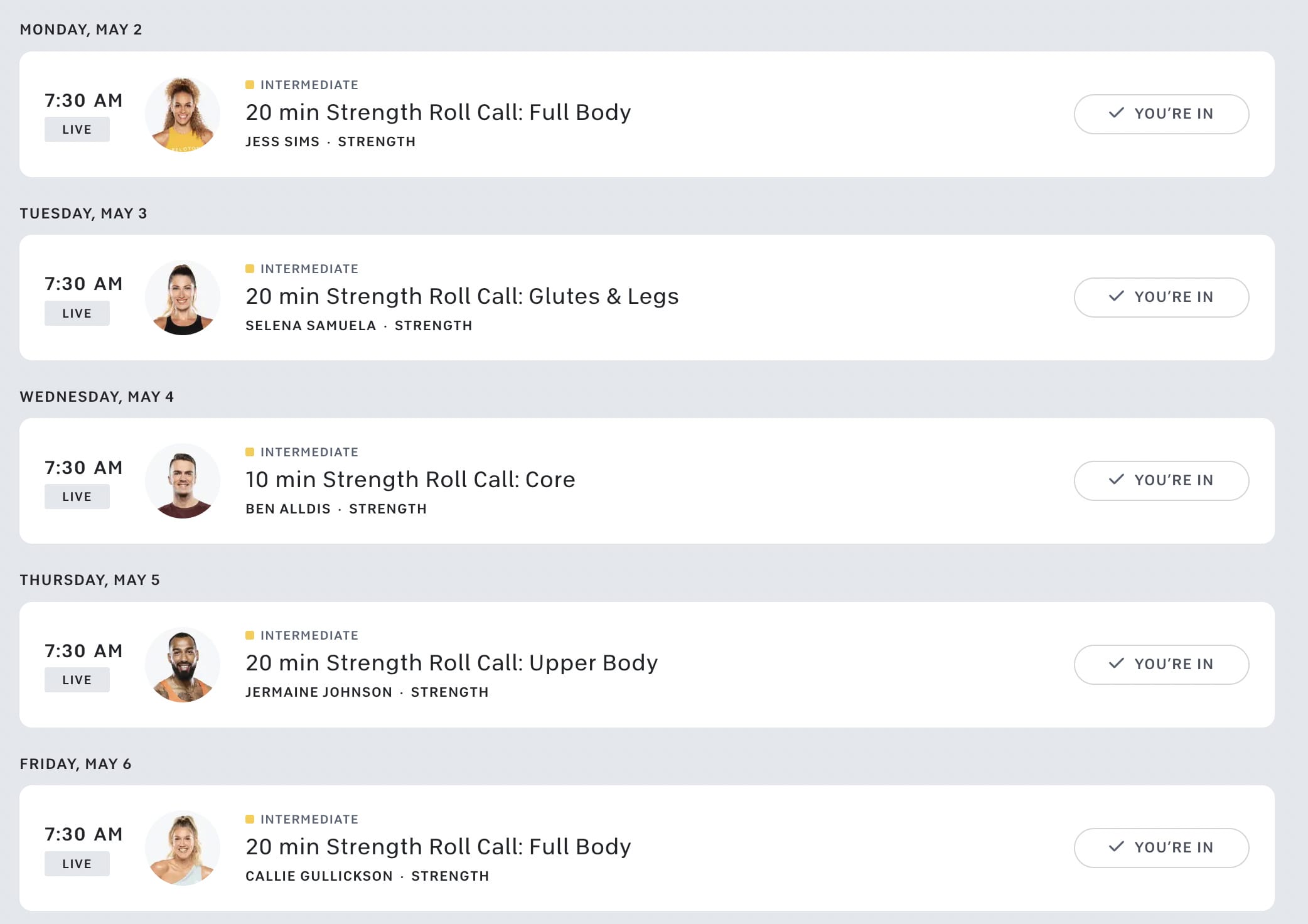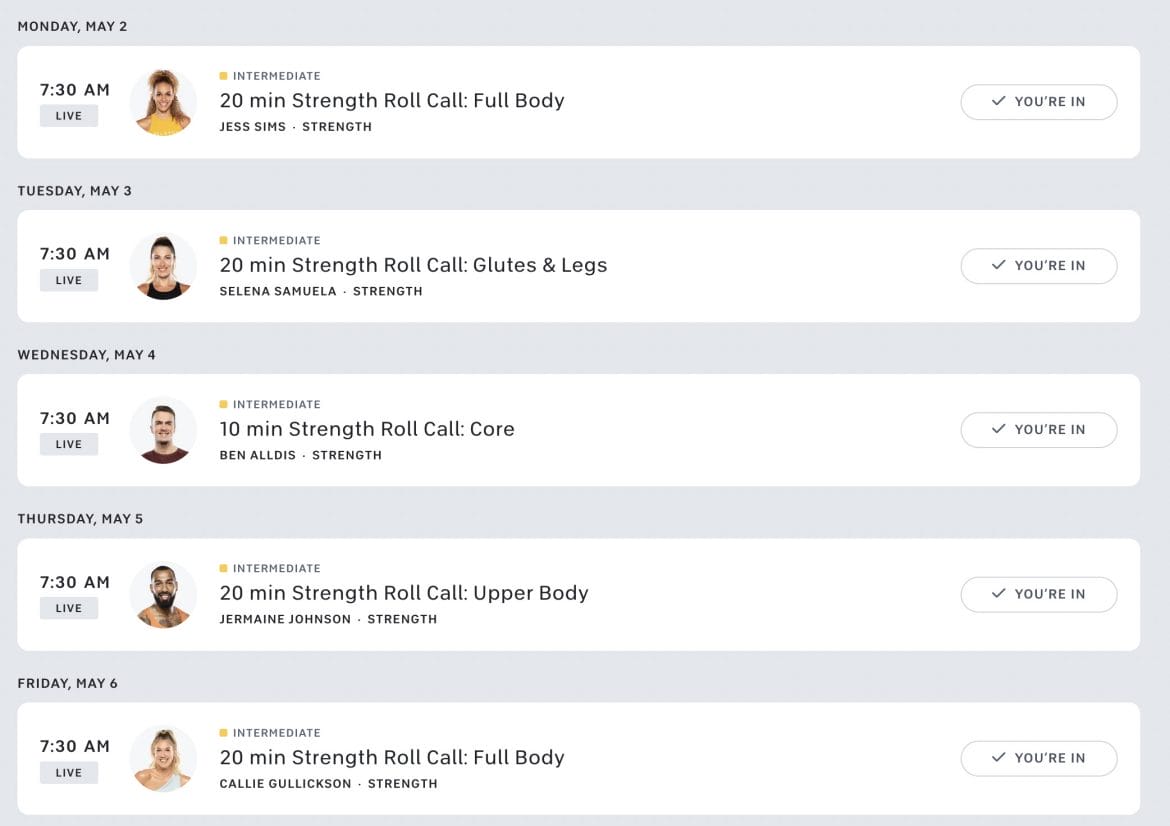 The weekly schedule seems like it will remain the same pending a seasonal schedule change, and classes will focus on the same body area on each day of the week (such as full body on Mondays; glutes & legs on Tuesdays; and so on). This way members know what to expect and can track their progress each week. You can find the top level class description for each day of the Roll Call strength classes below:
Monday (Full Body): Kick off your week, with a full-body workout, designed to target every major muscle group as part of your weekly Roll Call routine. Incorporate at least one full-body class every week as part of your strength training.
Tuesday (Glutes & Legs): It's leg day! The largest muscles in your body deserve extra attention, so commit to Tuesday's glutes & legs and train all of your lower-body muscles as day 2/5 of your weekly Roll Call routine.
Wednesday (Core): Wednesdays are all about the core. Join us on the floor to strengthen muscles in your midsection and lower back. Take this as part of your weekly Roll Call routine mid week or stack with any Peloton workout from cardio to strength to yoga.
Thursday (Upper Body): On Thursdays, it's upper body! Grab those dumbbells because today's focus is on arms & shoulders. This class can complement any lower-body, cardio and core class or act as day 4/5 of your weekly Roll Call strength regiment.
Friday (Full Body): On Fridays, it's full body! Whether incorporating this workout as the final training day to your week of Roll Call or tackling as a standalone, you're guaranteed to feel accomplished by the end.
The Roll Call classes can be taken live or on demand, regardless of whether you own the Guide. However, Peloton will be curating the classes into a Guide-exclusive Roll Call program at some point in the future.
This is the latest in a series of new programs and content released following the Guide, Peloton's first-ever strength connected device. In April Peloton released two new programs that are exclusive to Guide until late May/early June: Floor Bootcamp and four new Split Strength programs. If you don't have the Guide and are interested in taking the classes now, you can find links to specific classes via the program pages linked above.
Peloton has not yet indicated when exactly the new Roll Call strength classes will be developed into a Guide-exclusive program, but you can catch the first live Peloton Roll Call Strength class on Monday, May 2 with Jess Sims.
---
Want to be sure to never miss any Peloton news? Sign up for our newsletter and get all the latest Peloton updates & Peloton rumors sent directly to your inbox.