Peloton is partnering with retail store DICK'S Sporting Goods to sell Peloton equipment at Dicks.com and more than 100 DICK's retail locations across the United States. Peloton shared the news this morning via press release.
The products included in the partnership are the original Bike, Bike+, Tread, and Guide, as well as select accessories. The products are expected to become available at DICK'S "early in the holiday season."
DICK'S has launched a new landing page for Peloton products indicating they are "coming soon." Consumers can also browse the list of DICK'S retail locations that will offer Peloton products.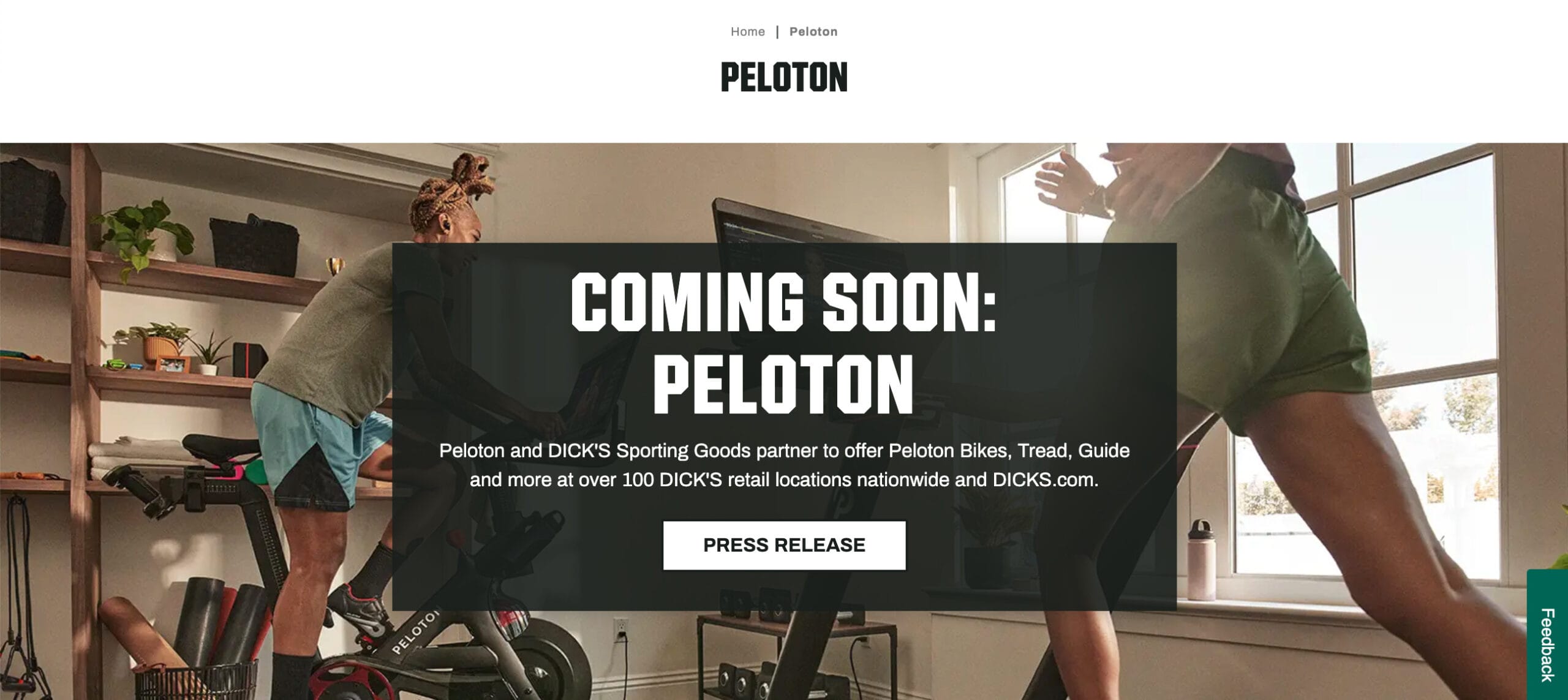 The press release provides additional insight into this new partnership:
Outside of Peloton's owned sales channels, DICK'S will be the only retailer to carry this selection of Peloton's connected fitness equipment. The collaboration is the latest effort by Peloton to reach new audiences, expand its total addressable market and drive Member growth, by having its products available at the largest U.S. sporting goods retailer. It will expand Peloton's U.S. geographic footprint and complement its retail presence, as the company pivots to growth, in the next phase of its transformation journey. For DICK'S, Peloton becomes another high value brand that is expected to bring new customers into its brick and mortar and eCommerce environments.
Peloton will reportedly train DICK'S employees on the available equipment. Orders placed via DICK'S for the Bike, Bike+, and Tread will be delivered by Peloton with the standard in-home delivery and set-up. Certain purchases will be available to take home directly from the DICK's store.
Note that the Peloton Row, which was made available for presale earlier this month, is not included in the partnership as of now.
This is Peloton's second major retail partnership in recent weeks. Just last month they announced a partnership with Amazon, marking the first time ever new Peloton products were available from another retailer. However, only the original Bike, Guide, and select accessories are available via Amazon – whereas the partnership with DICK'S includes all of Peloton's available hardware devices. Peloton has also been running a trial in Germany selling refurbished bikes on eBay, but has not done so in any other countries.
You can read the full press release about Peloton's partnership with DICK'S via their press release.
---
Want to be sure to never miss any Peloton news? Sign up for our newsletter and get all the latest Peloton updates & Peloton rumors sent directly to your inbox.